New Mexico Slot Canyons
Canyoneering, climbing, hiking and Special Canyons
NEVER ENTER A SLOT CANYON WHEN HEAVY RAIN IS IN THE FORECAST
see also: http://www.dougscottart.com/hobbies/waterfalls.htm  …for New Mexico Waterfalls
…for info on Doug Scott Outdoor Books see: http://www.dougscottart.com/Books.htm
And another fine website: http://canyoneeringnm.org/ by Daniel Creveling
<![if !vml]>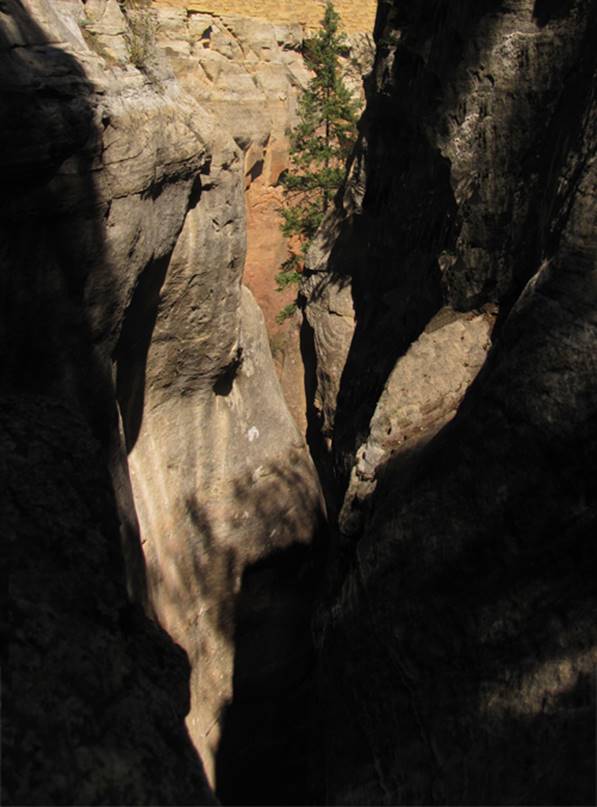 <![endif]>
…a 200' deep section of lower Laguna Canyon in Chama Canyon Wilderness
Each canyon is listed by name with its location letter & number below this map.
<![if !vml]>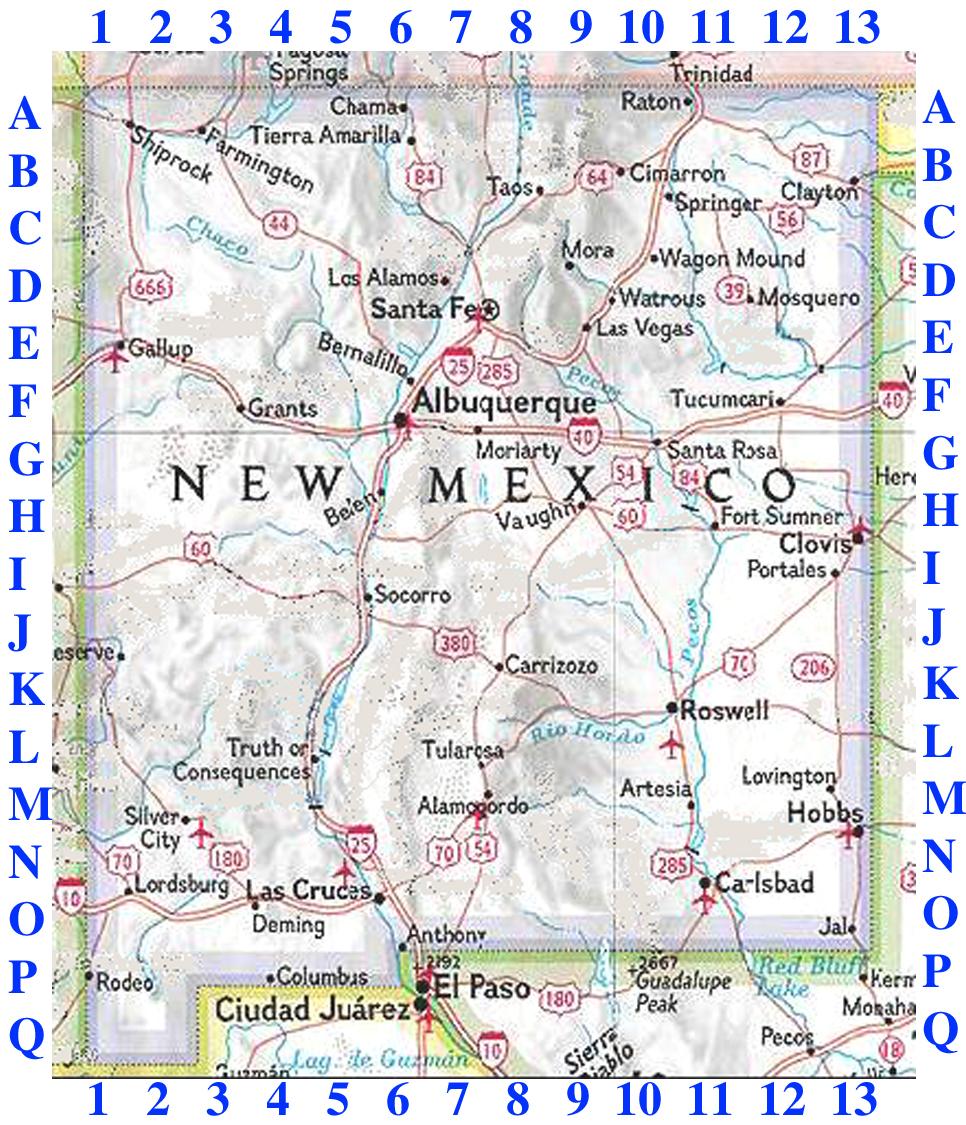 <![endif]>
NEVER ENTER A SLOT CANYON WHEN HEAVY RAIN IS IN THE FORECAST…!!!
Click on the canyons below for photos, topo maps and text information
…the pages that are not linked yet, are not finished yet…
please be patient with us
…and only click on the pages that are underlined…and…ah…er…even then… this site is brand-spank'n new…maybe nuth'n is running good yet
Not all of these canyons are slot canyons, some are box canyons...
<![if !supportLists]>1. <![endif]>A-6    Cañones Box
<![if !supportLists]>2. <![endif]>A-7    Brazos Box 
<![if !supportLists]>3. <![endif]>A-7    Toltec Gorge      ACA Canyon Rating  2
<![if !supportLists]>4. <![endif]>A-7    Beaver Creek Box     ACA Canyon Rating  1
<![if !supportLists]>5. <![endif]>A-8    Bear Canyon         ACA Canyon Rating  1
<![if !supportLists]>6. <![endif]>B-5    Gallina Canyon      This is the mother canyon who's tributaries show as the next ten listings below this line
<![if !supportLists]>7. <![endif]>B-5    Little Deadman Canyon     ACA Canyon Rating  2 & 3
<![if !supportLists]>8. <![endif]>B-5    Middle Deadman Canyon     ACA Canyon Rating  2 & 3
<![if !supportLists]>9. <![endif]>B-5    Deadman Canyon           ACA Canyon Rating  2 & 3
<![if !supportLists]>10. <![endif]>B-5    Big Canyon               ACA Canyon Rating  2 & 3
<![if !supportLists]>11. <![endif]>B-5    Alabaster Canyon      ACA Canyon Rating  2 & 3
<![if !supportLists]>12. <![endif]>B-6    Cañon de la Alameda "box canyon"
<![if !supportLists]>13. <![endif]>B-6    Middle Canyon        ACA Canyon Rating  3
<![if !supportLists]>14. <![endif]>B-6    Little Canyon        ACA Canyon Rating  2 & 3
<![if !supportLists]>15. <![endif]>B-6    Gallegos Canyon      ACA Canyon Rating  2 & 3
<![if !supportLists]>16. <![endif]>B-6    Laguna Canyon        ACA Canyon Rating  3
<![if !supportLists]>17. <![endif]>B-6    Golondrina Canyon      ACA Canyon Rating  2
<![if !supportLists]>18. <![endif]>B-6    Huckaby Canyon       ACA Canyon Rating  3
<![if !supportLists]>19. <![endif]>B-6    Chavez Canyon       ACA Canyon Rating  2
<![if !supportLists]>20. <![endif]>B-6    Chavez Nicho        ACA Canyon Rating  1
<![if !supportLists]>21. <![endif]>B-6    Echo-north Canyon *       ACA Canyon Rating  1
<![if !supportLists]>22. <![endif]>B-6    Echo-north Slot Canyon *       ACA Canyon Rating  2
<![if !supportLists]>23. <![endif]>B-6    Box Canyon at Ghost Ranch     ACA Canyon Rating  1
<![if !supportLists]>24. <![endif]>B-6    Vertedero Canyon          ACA Canyon Rating  2 & 3
<![if !supportLists]>25. <![endif]>B-7    Potrero Gorge            ACA Canyon Rating  2
<![if !supportLists]>26. <![endif]>B-7    Cañada del Borracho      ACA Canyon Rating  2
<![if !supportLists]>27. <![endif]>B-9    El Salto Falls             ACA Canyon Rating  2 & 3
<![if !supportLists]>28. <![endif]>C-5    Cañon de Coloures *       ACA Canyon Rating  2 & 3
<![if !supportLists]>29. <![endif]>C-5    Cougar Canyon *    ACA Canyon Rating  3
<![if !supportLists]>30. <![endif]>C-6    Cañada de Presa           ACA Canyon Rating  2 & 3
<![if !supportLists]>31. <![endif]>C-6    Ojitos Canyon
<![if !supportLists]>32. <![endif]>C-6    Potrero Slot Canyon       ACA Canyon Rating  3
<![if !supportLists]>33. <![endif]>C-6    Dome Slot Canyon        ACA Canyon Rating  3                                                                                        
<![if !supportLists]>34. <![endif]>C-6    un-named slot canyon across the street from Echo Amphitheater    ACA Canyon Rating  2 & 3
<![if !supportLists]>35. <![endif]>C-6    Rim Canyon         ACA Canyon Rating  2
<![if !supportLists]>36. <![endif]>C-6    Talus Canyon *      ACA Canyon Rating  2 & 3
<![if !supportLists]>37. <![endif]>C-6    Bull Canyon         ACA Canyon Rating  3
<![if !supportLists]>38. <![endif]>C-6    Rio Puerco Gorge    ACA Canyon Rating  2 & 3
<![if !supportLists]>39. <![endif]>C-6    Cuesta Navajo Canyon     ACA Canyon Rating  3
<![if !supportLists]>40. <![endif]>C-7    Red Wash            ACA Canyon Rating  2
<![if !supportLists]>41. <![endif]>C-7    Plaza Blanca Canyon      ACA Canyon Rating  2
<![if !supportLists]>42. <![endif]>C-8    Agua Caliente Canyon    ACA Canyon Rating  2
<![if !supportLists]>43. <![endif]>C-8    Angostura Canyon        ACA Canyon Rating  2
<![if !supportLists]>44. <![endif]>D-5    San Ysidro Slot Canyon    ACA Canyon Rating  1
<![if !supportLists]>45. <![endif]>D-6    East Fork Jemez Gorge   ACA Canyon Rating  2
<![if !supportLists]>46. <![endif]>D-6    Battleship Canyon          ACA Canyon Rating  1
<![if !supportLists]>47. <![endif]>D-6    Rio Guadalupe Box       ACA Canyon Rating  2
<![if !supportLists]>48. <![endif]>D-6    Cochiti Canyon        ACA Canyon Rating  2
<![if !supportLists]>49. <![endif]>D-7    Cuesta Blanca Canyon, Chino Canyon & Cañon Caja ACA Canyon Rating  2 & 3
<![if !supportLists]>50. <![endif]>D-11   Beaver Canyon       ACA Canyon Rating  2
<![if !supportLists]>51. <![endif]>E-5    Cañon Guadalupe    ACA Canyon Rating  1
<![if !supportLists]>52. <![endif]>E-5    Cañon Salado       ACA Canyon Rating  2
<![if !supportLists]>53. <![endif]>E-5    Cañon Tapia       ACA Canyon Rating  1 with 2 accessible
<![if !supportLists]>54. <![endif]>E-5    Cañon Canoa       ACA Canyon Rating  2
<![if !supportLists]>55. <![endif]>E-5    Cañon del Puente     ACA Canyon Rating  2
<![if !supportLists]>56. <![endif]>E-5    Cañada Ancha Slot     ACA Canyon Rating  2
<![if !supportLists]>57. <![endif]>E-6    Colle Box (slot) Canyon     ACA Canyon Rating  2
<![if !supportLists]>58. <![endif]>E-6    Tent Rocks Slot Canyon     ACA Canyon Rating  1
<![if !supportLists]>59. <![endif]>E-6     Walatowa Slot Canyon         ACA Canyon Rating  2 & 3
<![if !supportLists]>60. <![endif]>E-6     Travertine Maze and Gypsum Slot Canyon     ACA Canyon Rating  2
<![if !supportLists]>61. <![endif]>F-5     Canada de la Apaches               ACA Canyon Rating  2
<![if !supportLists]>62. <![endif]>F-2    Red Wall Canyon             ACA Canyon Rating  1
<![if !supportLists]>63. <![endif]>F-2    Bluewater Box Canyon      ACA Canyon Rating  1
<![if !supportLists]>64. <![endif]>F-2    El Morro Box Canyon …see: http://www.sangres.com/newmexico/national-parks/elmorro.htm#.VJXwKV4AA    ACA Canyon Rating  1
<![if !supportLists]>65. <![endif]>F-7    La Cueva Canyon Narrows    ACA Canyon Rating  2
<![if !supportLists]>66. <![endif]>G-4    Painted Arch Canyon        ACA Canyon Rating  3
<![if !supportLists]>67. <![endif]>I-6    Arroyo del Tajo           ACA Canyon Rating  1
<![if !supportLists]>68. <![endif]>J-1     Frisco Box            ACA Canyon Rating  2
<![if !supportLists]>69. <![endif]>J-4    North Fork Potato Canyon    ACA Canyon Rating  3
<![if !supportLists]>70. <![endif]>K-4    Garcia Falls Canyon     ACA Canyon Rating  2
<![if !supportLists]>71. <![endif]>L-1     Sipes Canyon Slot     ACA Canyon Rating  2
<![if !supportLists]>72. <![endif]>L-1     Mule Creek Slot Canyon      ACA Canyon Rating  2
<![if !supportLists]>73. <![endif]>L-2    Spruce Creek Slot Canyon     ACA Canyon Rating  2
<![if !supportLists]>74. <![endif]>L-2    West Fork Mogollon Slot Canyon   ACA Canyon Rating  3
<![if !supportLists]>75. <![endif]>L-2    Middle Fork Rain Creek Gorge    ACA Canyon Rating  3
<![if !supportLists]>76. <![endif]>L-3    Little Bear Canyon     ACA Canyon Rating  1
<![if !supportLists]>77. <![endif]>M-1    Rough Canyon Slot       ACA Canyon Rating  2
<![if !supportLists]>78. <![endif]>M-4   Percha Narrows and Wicks Gulch Slot       ACA Canyon Rating  2
<![if !supportLists]>79. <![endif]>M-3   Sapillo Box and Cow Creek Slot Canyon & waterfalls     ACA Canyon Rating  2    Cow Cr Slot ACA Canyon Rating  3
<![if !supportLists]>80. <![endif]>M-2   Hell's Half Acre ....has a dozen or more individual slot canyons, several are over a mile long and up to 200' deep   ACA Canyon Rating  2
<![if !supportLists]>81. <![endif]>M-3   Skates Canyon       ACA Canyon Rating  2 & 3
<![if !supportLists]>82. <![endif]>M-3   Purgatory Chasm        ACA Canyon Rating  1
<![if !supportLists]>83. <![endif]>M-3   Lake Roberts Slot Canyons    unknown number of canyons - ACA Canyon Rating  1, 2 & 3
<![if !supportLists]>84. <![endif]>M-4    Circle Seven Slot Canyon     ACA Canyon Rating  1
<![if !supportLists]>85. <![endif]>N-5    Broad Canyon …see: http://southernnewmexicoexplorer.blogspot.com/2012/04/broad-canyon.html    ACA Canyon Rating  1
                                           …and: http://southernnewmexicoexplorer.blogspot.com/2012/04/more-broad-canyon-photos.html
<![if !supportLists]>86. <![endif]>N-5    Slot Canyon at Broad Canyon …see: http://southernnewmexicoexplorer.blogspot.com/2013/11/slot-canyon-broad-canyon-ranch-state.html    
<![if !supportLists]>87. <![endif]>N-5    Twin Slot Canyons – Robledo Mtns …see: http://southernnewmexicoexplorer.blogspot.com/2014/01/robledo-mountains-twin-slot-canyons.html  
<![if !supportLists]>88. <![endif]>N-5    Spring Canyon – Robledo Mtns …see: http://southernnewmexicoexplorer.blogspot.com/2013/09/spring-canyon-robledo-mountains.html        
<![if !supportLists]>89. <![endif]>O-5    Valles Canyon …see: http://southernnewmexicoexplorer.blogspot.com/2012/02/valles-canyon-sierra-de-las-uvas.html
<![if !supportLists]>90. <![endif]>O-6    Long Canyon …see:  http://southernnewmexicoexplorer.blogspot.com/2011/12/slot-canyons.html
<![if !supportLists]>91. <![endif]>O-6    Upper Long Canyon …see: http://southernnewmexicoexplorer.blogspot.com/2014/09/upper-long-canyon-organ-mountains.html
                         *  denotes a privately used name                                       Large map of slot canyons near and within Chama Canyon Wilderness
Send questions and comments to dscott@TheMarbleSculptor.com