Beaver Canyon
This canyon is a little too wide to be a true slot canyon
ACA Canyon Rating – 2A III
 NEVER ENTER ANY SLOT CANYON WHEN HEAVY RAIN IS IN THE FORECAST
<![if !vml]>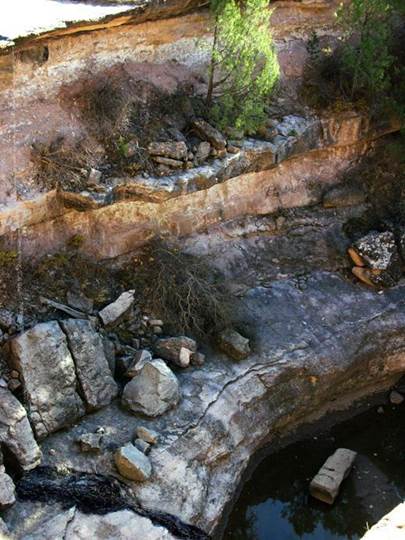 <![endif]>
Beaver Canyon Falls is about 50' high.  Climbing around it without ropes is a headscratcher… but, I hunted around and found a way down and back up
beta facts:
name- Beaver Canyon
elevation- 5050'
GPS coordinates- ±35°55.055'N 104°19.900'W
flow- intermittent
season- NEVER ENTER ANY SLOT CANYON WHEN HEAVY RAIN IS IN THE FORECAST
accommodations- none
ownership- public - State of New Mexico – permit required (see story below)
access- a one mile difficult hike with no trail  (see story below)
nearest town- Roy is 9 miles east of here
fun fact- Mother Nature painted a painting of a beaver upon a large white rock in this canyon.
essay bro:
Beaver Falls within Beaver Canyon is about 50' high and is in the heart of two adjacent sections of land (#36 & #31) that is owned by the state of New Mexico.  A special use permit for recreation is required to legally enter this beautiful sand stone wonderland and other state owned lands.  This permit can be purchased for $25 a year from the New Mexico State Land Office at     310 Old Santa Fe Trail     PO BOX 1148      Santa Fe, NM  87504.
The setting for this beautiful desert gem is a "slickrock" type canyon about 4 miles long, that conflues with the Canadian River, approximately one mile below the waterfall.  This canyon's lower 2 miles is the state land mentioned above and is the deepest part of canyon with the most sheer rock walls.  This wild and pristine scenic ravine parallels NM hwy 120 just east of the bridge over the Canadian River between Wagon Mound and Roy, New Mexico.  The best way to access it is to park along hwy 120.  Be sure to display your special use permit on your dashboard before hiking north, down into Beaver Canyon.  I like to park just above where the highway flattens out on top.  See the map below.
In wet years the flow from the spring above the falls trickles on down the clean and wide "hard-pan" streambed and over the falls as shown in the above photo.  In dry years, it does not.  THIS SMALL DRAINAGE MUST ROAR WITH KILLING FLOODWATERS DURING SUMMER THUNDERSTORMS.  SEEK HIGH GROUND IMEDIATELY DURING ANY THUNDERSTORM….!!!!!!!
The most amazing phenomena of this area is "THE BEAVER".  About a quarter-mile above Beaver Falls, is a natural occurring, near-perfect image of a brown beaver upon the large smooth surface of a light colored bolder.  This image is approximately 4 feet wide and appears just over head-high while hiking in the dry creek bed.  Perhaps this is why the canyon is called "Beaver"… Extending your hike below the falls for a half-mile will take you thru a very interesting and clean "slickrock" slot canyon to the Canadian River, where catfish swim.
 <![if !vml]>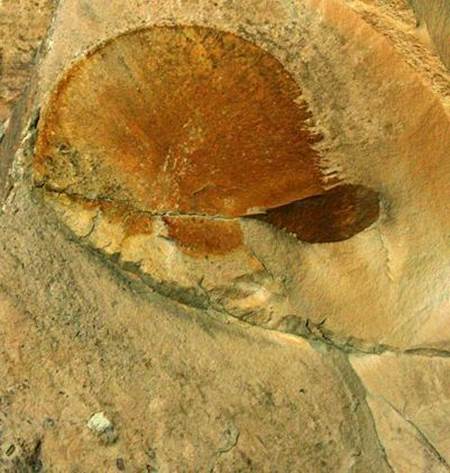 <![endif]>                                <![if !vml]>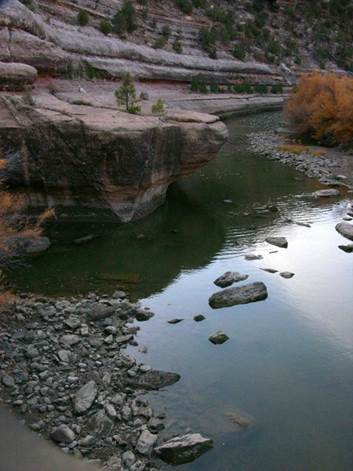 <![endif]>
   "THE BEAVER"…is a natural occurring mosaic painting by Mother Nature.      The confluence of Beaver Canyon and the Canadian River.
<![if !vml]>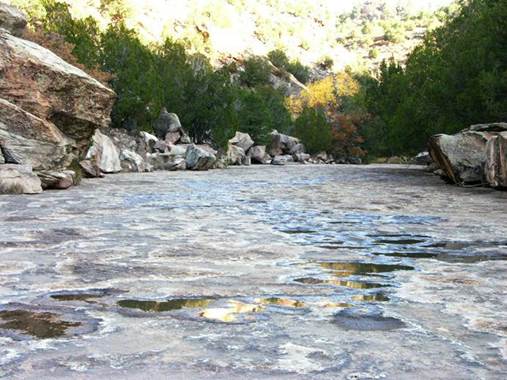 <![endif]>                                  <![if !vml]>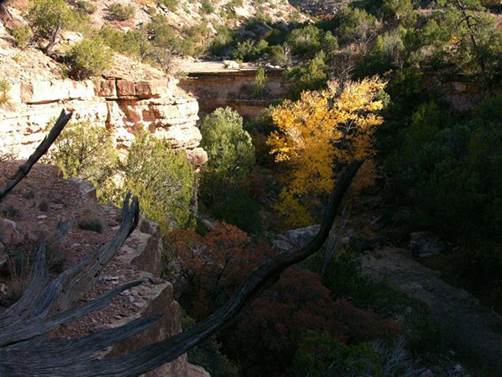 <![endif]>
Spring water flows over clean bedrock on its way down to the falls.             Below the falls the seeping creek bed drops into a sheer wall inner gorge slot canyon .
Enhanced USGS 7.5' topo map
<![if !vml]>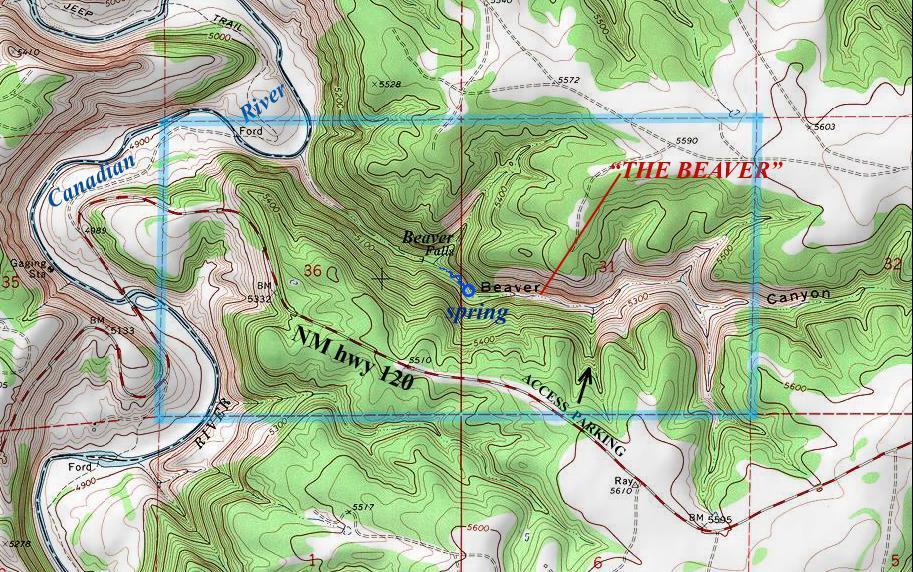 <![endif]>
the thin  red lines above represent one mile squares
Send questions and comments to doug.vivian@yahoo.com