Deadman Canyon
https://www.youtube.com/watch?v=MVj3XP2vsOg
ACA Canyon Rating – 3A III 
 NEVER ENTER ANY SLOT CANYON WHEN HEAVY RAIN IS IN THE FORECAST…!!!
Kelton sets a "ghost" leave-no-trace anchor for the final rappel in the middle "crux" section of Deadman Canyon Slot.  Ghosting allows those who follow us to feel as tho no one has ever been here before.....
<![if !vml]>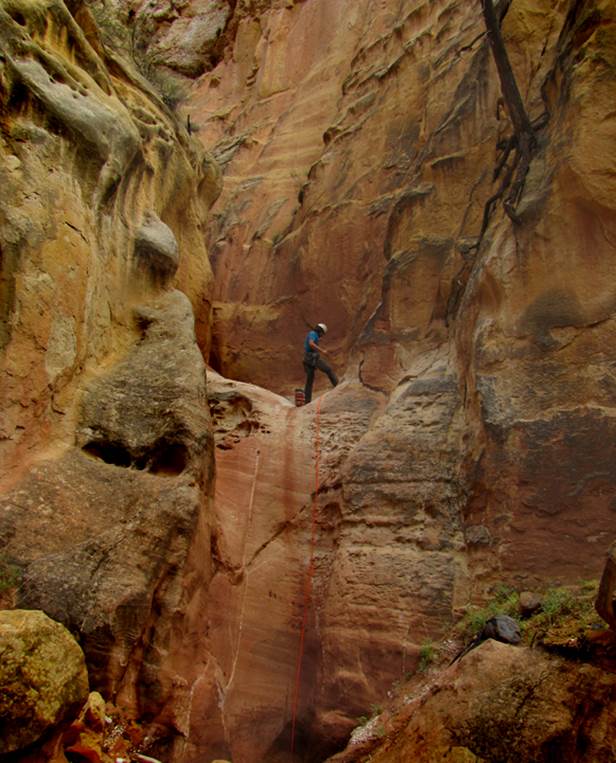 <![endif]>
hands on the walls... Nicoli Carr stares down into the narrow crux of Deadman Slot
<![if !vml]>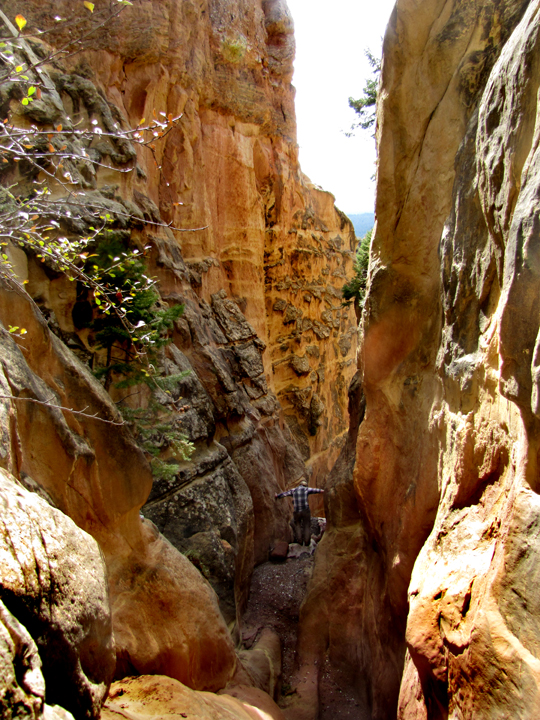 <![endif]>
Below is a Kelton Manzanares photo of me trying to keep my 64 year old bones out of the cold, muddy water
<![if !vml]>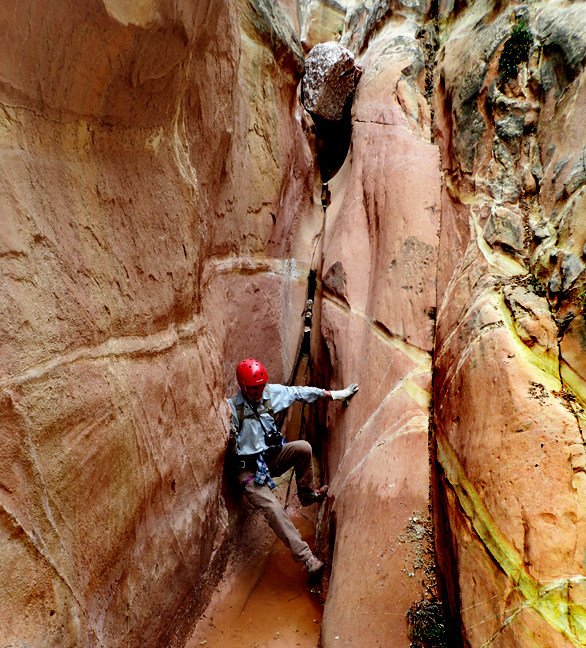 <![endif]>
Our footprints are in the mud in this photo below... after a partially controlled butt-slide down the first 20' drop
<![if !vml]>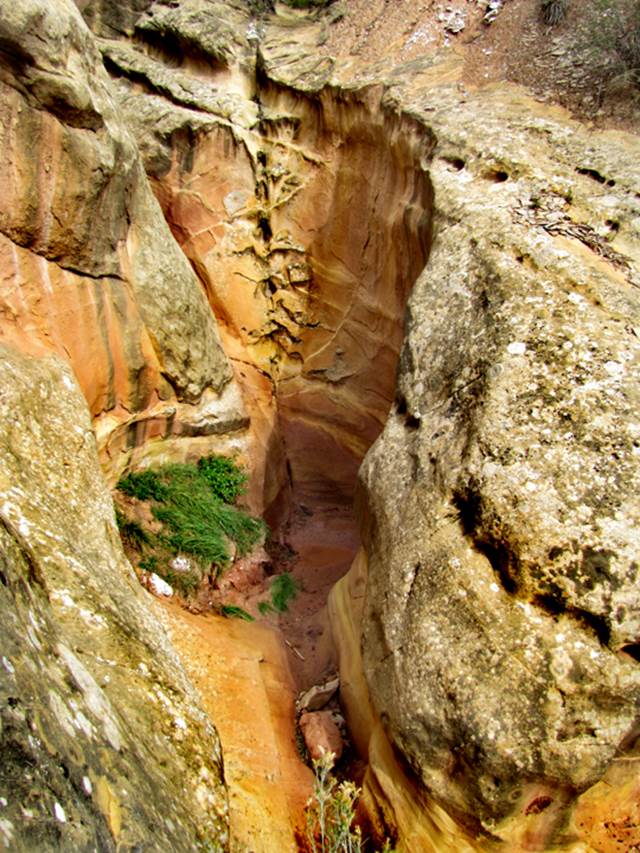 <![endif]>
I don't how far Kelton had to lean out over the edge to capture me getting "off-rope" crotch-deep in a cold water pothole
<![if !vml]>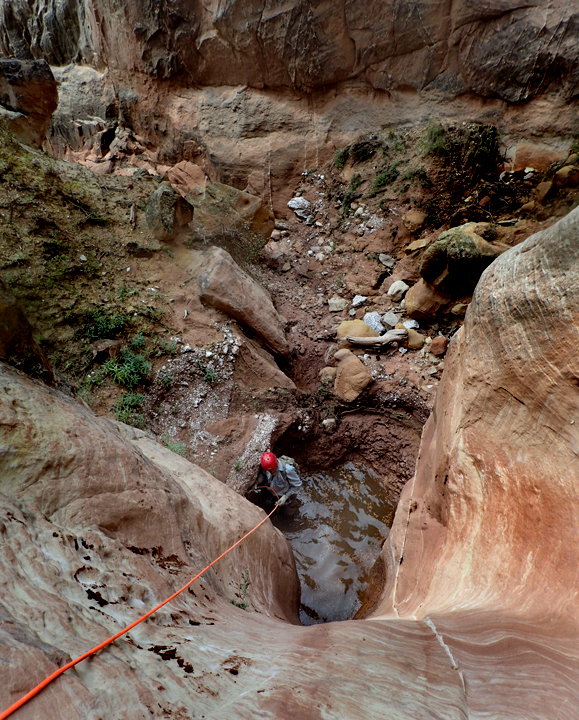 <![endif]>
The two photos below are Kelton Manzanares' shots of me in the alabaster tunnel of Deadman Slot Canyon
<![if !vml]>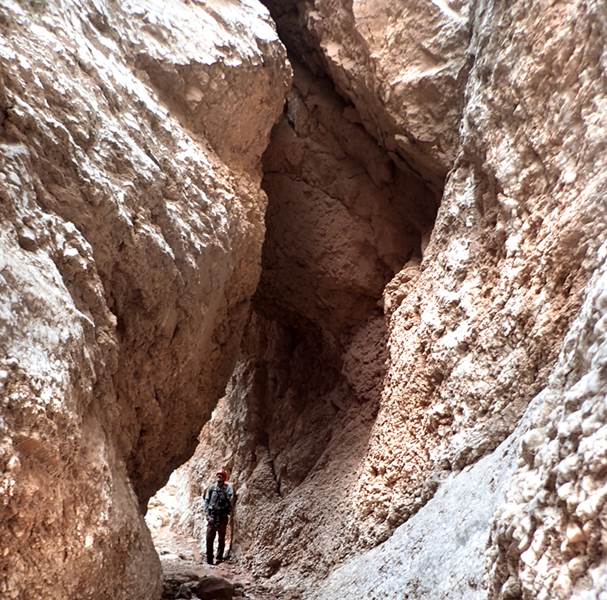 <![endif]> <![if !vml]>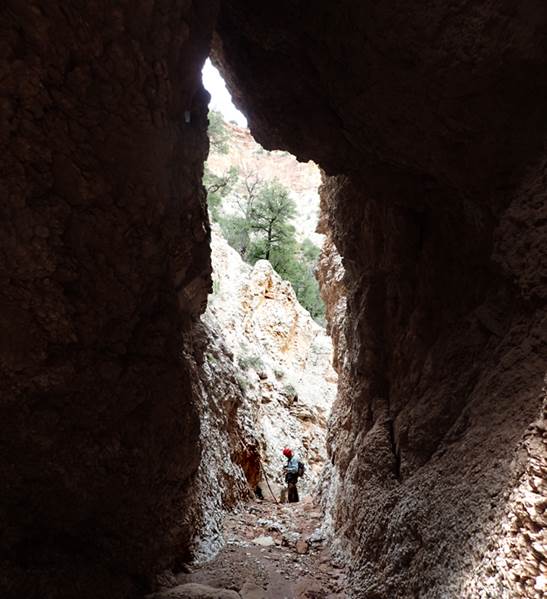 <![endif]>
The photo below shows the view looking back up at the 500' high, rope-less descent thru upper Deadman Canyon
<![if !vml]>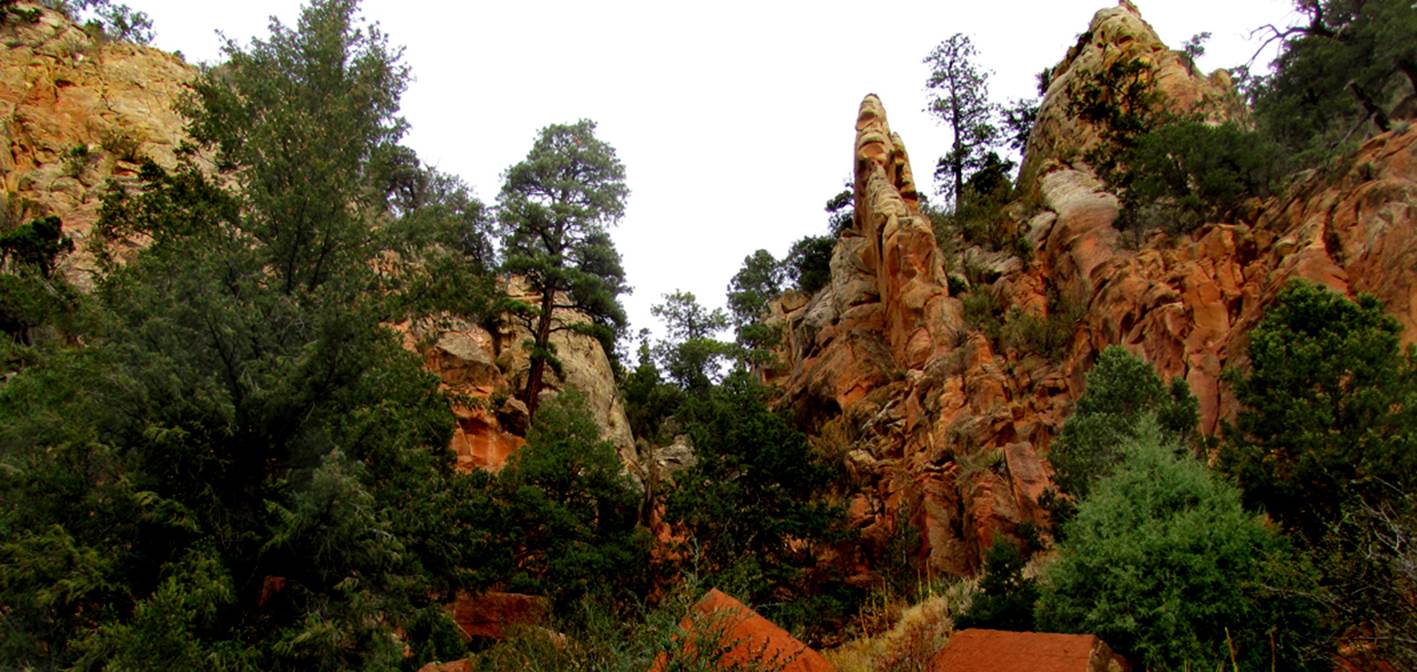 <![endif]>
...Nicoli, stemming the potholes...
<![if !vml]>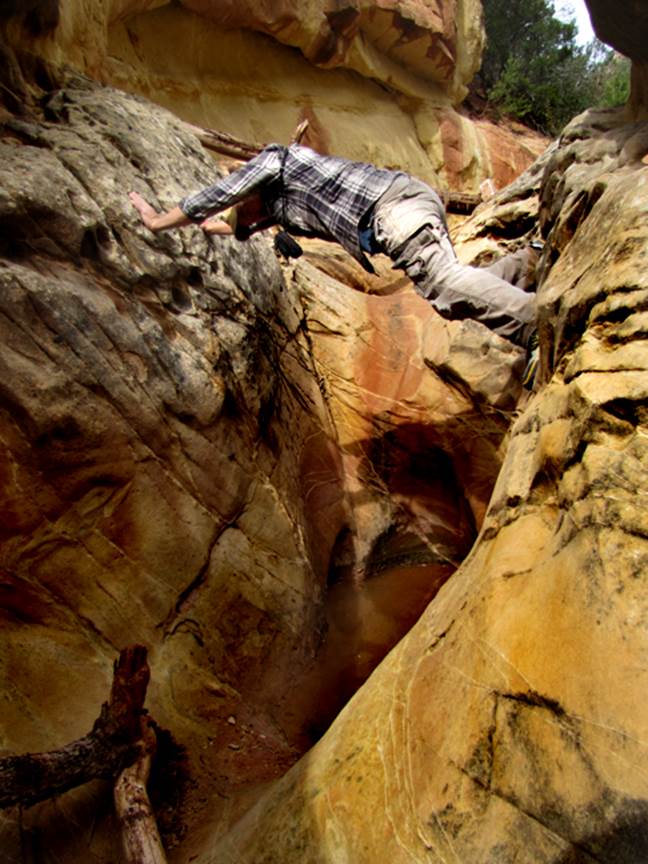 <![endif]>
the lower half of Deadman Canyon Slot is shining white alabaster… very beautiful
<![if !vml]>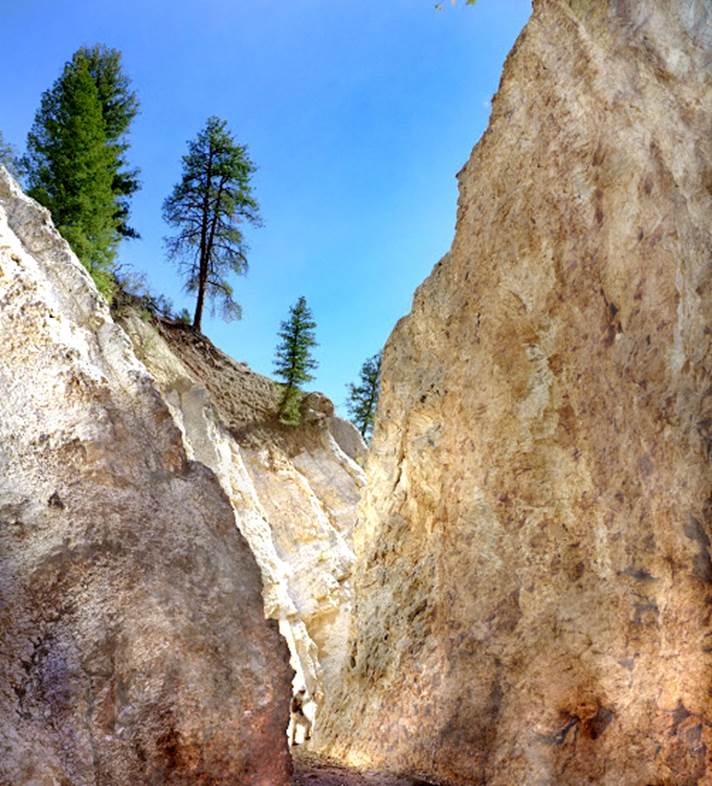 <![endif]>
A Nate Bartnick Photo above
<![if !vml]>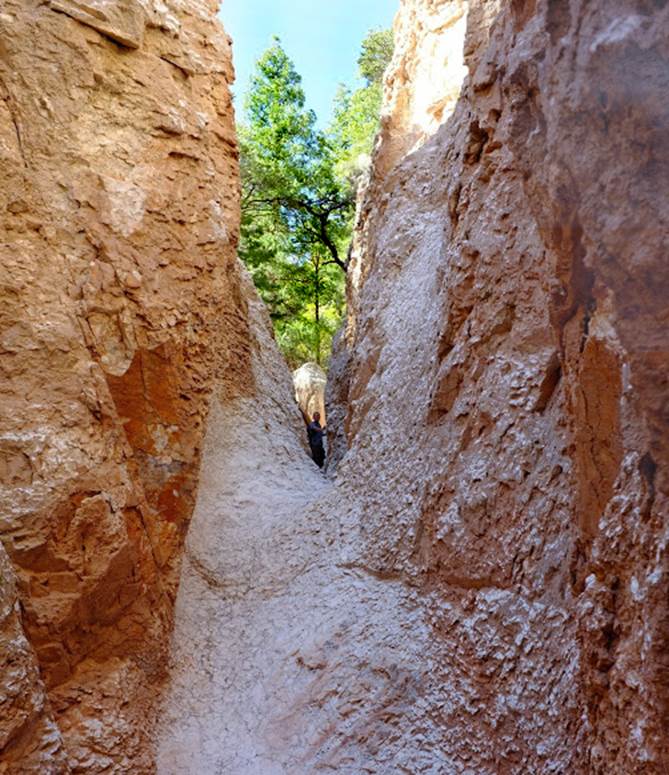 <![endif]>
Nate above in a tributary, this 25' drop had just enough slope and texture for us to both ascend and descend it without technical protection
beta facts:
name- Deadman Canyon
length of slot canyon portion- just over a mile...
elevation- 8100' at the top down to 6800' at the bottom
GPS coordinates at midway- ±36°25.045'N 106°45.713'W
flow- intermittent
season to visit- drier months of the year, like May, June, September, October and November… NEVER ENTER ANY SLOT CANYON WHEN HEAVY RAIN IS IN THE FORECAST…!!!
accommodations- NONE –Chama Canyon Wilderness Area
ownership- Santa Fe National Forest
access- is from either Deadman Peak or the Chupadero Area - see the map and text below
nearest town- Gallina is about 15 miles south of here
fun fact- this is mountain lion country
essay bro
All three of these Deadman Canyons (Little Deadman, Middle Deadman and Deadman Canyons) are reserved for the hardy... and not for the faint of heart. They are VERY REMOTE and have many dry falls as down-climbs and rappels. These canyons can be partially visited without ropes but the climb-out and around these drops are extremely steep, strenuous and dangerous. There are NO TRAILS in or around these canyons.
 Most of Deadman Canyon is slot that widens occasionally.  The lower half is all alabaster.  The upper half is steeper and predominately Entrada Sandstone.  Perhaps because it faces south, Deadman Canyon seems quite desert-like for its high elevation.
Descending Deadman Slot goes like this: Parking shown on the map below is near GPS: 36°25.646'N 106°46.095'W ele- 8337'.  Hike south-southwest about ¼ mile, down thru a meadow and into a small canyon at GPS: 36°25.294'N 106°46.213'W ele-8006'.  Even tho this upper end of Deadman Slot Canyon drops more than 500 feet extremely steep, we found that descending it is a very safe, rope-less down-climb.  This narrow steep canyon is about ¼ mile long.  After another ¼ mile of steep hiking the main Slot canyon will begin slowly, getting deeper and narrower as you descend.  Both the far upper portion and the upper half of this main portion of Deadman Slot are mostly composed of Endrada Sandstone...very beautiful.
At GPS: 36°25.064'N 106°45.974'W ele-7565' is a 20' drop followed closely by a 40'er.  A butt-slide and a down-climb worked here for us. These dry falls mark the beginning of a series of a half-dozen or so 20 to 40 foot rappels and/or down-climbs thru the deepest and most narrow portion of the Deadman Slot.  Anchors will be hard-to-find here.  The slot canyon walls rise to 100 or more feet overhead and close-in quite narrow.
This entire "crux" of the canyon may be circumvented by back tracking upstream 50 yards to a major tributary entering from the west.  Walk up this trib a short ways and scramble 30 feet up a steep dirt slope.  Holding this same elevation, you are soon hiking the rim of Deadman Canyon.  Continue south about ¼ mile and drop down back into Deadman Canyon at GPS: 36°24.990'N 106°45.981'W ele- 7433'.  Once in the streambed, hike back upstream to see the exit of this wonderful slot.  This section is marked in yellow with the word "route" on the map below.
From this point on downstream, Deadman Slot will be alabaster instead of sandstone.  Within the next couple hundred yards is the "Tunnel" in the midst of a half dozen or so 15 to 30' rappels and/or down-climbs in a narrow and curving alabaster slot canyon.  Anchors are abundant and easy here.   This technical slot can be circumvented on the opposite side of the canyon via a steep and crumbling route to a major east-side tributary which has two rope-less down-climbs.  Please note that both of these climb-around routes are shown with a yellow line on the map below.  This alabaster climb-around is labeled only with a yellow, small-case letter "r" on the map while the one above it is labeled "route". 
One last difficult drop will meet you another ¼ mile downstream.  This 20 foot drop can be done with a line rope instead of a rappel, or...if you are up for a challenge, it has been both up-climbed and down-climbed "ropeless".  From here downstream is an easy, scramble/hike all the way to the Rio Gallina at 6700' elevation.
We like to do Deadman Canyon Slot from the top, parking near Deadman Peak lookout Tower.  See map below.  After the descent, Deadman Canyon can be hiked back up using the climb-arounds mentioned above and shown on the map below with yellow lines.  Also, you will likely have time to look into or traverse one or both of the other two Deadman Canyons - Middle Deadman Canyon and little Deadman Canyon.
Kelton Manzanares and I did what we believe to be the first descent of Deadman Canyon Slot on Oct 29, 2015.... after earlier scouting trips with Nicoli Carr and Nate Bartnick.
Driving Access
The Deadman Lookout Road (Forest Road 507) is accessed from Hwy 112 about 4 miles north of Llaves, NM to Forest Road 7 one mile to Forest Road 6 followed by about 4 miles to Forest Road 507. This is where you have to be careful. Do not take Forest Road 507. Instead, drive a few feet past it to a small 2-track "un-named" road and turn right on this road. In less than a mile this small 2-track road will reach a flat open area 400' directly below the Deadman Lookout Tower. A gentle, quarter mile hike to the south-southeast will quickly drop into the beginnings of the upper Deadman Slot (@ 36°25.405'N 106°46.187'W).  Use this same route to reach any one or all of these three wonderful Deadman Slot Canyons. We wish you the best...
Another way to reach these canyons is from the bottom... walking along the Rio Gallina. Chupadero Road access is three and a half miles up the Rio Gallina from its Deadman Canyon Confluence. A map showing Cupadero Road can be found by clicking this link: http://www.dougscottart.com/hobbies/SlotCanyons/Gallina.htm - Gallina Canyon is a beautiful creek-side stroll that will please and amaze you.
Please be careful of the private land here.  It is marked as shaded gray on our map below and it is easy to walk around their fences to stay on public land.
DO NOT TRESPASS…!!!
However…
A very pleasant way to maximize enjoying Gallina Canyon is to plan a vacation at:
Gallina Canyon Ranch
…it is Amazing…!!!
They have campgrounds and wonderful cabins "just for you" right in the middle of a dozen slot canyons...! ! !
Click this link: http://gallinacanyonranch.com/
Forest Road 474, Abiquiu, NM 87510
(505) 490-3333
Gallina Canyon Ranch a great way to visit and enjoy these amazing "slot canyons" of the Chama Canyon Wilderness.  Several amazing slot canyons are easy to visit with normal hiking from here.  In fact, vacationing at Gallina Canyon Ranch will put you in the heart of New Mexico's best slot canyon country...!!!  Gallina Canyon Ranch is truly amazing and is a great access to this western portion of the Chama Canyon Wilderness.   
Click this link to access a detailed topo map that shows this entire area: http://www.dougscottart.com/hobbies/SlotCanyons/Gallina.htm
Enhanced USGS topo map by Doug Scott
The thin Red Lines depict sections of "slot canyons" and/or "box canyons" …… the thicker Red Lines show the boundries of Chama River Canyon Wilderness Area <![if !vml]>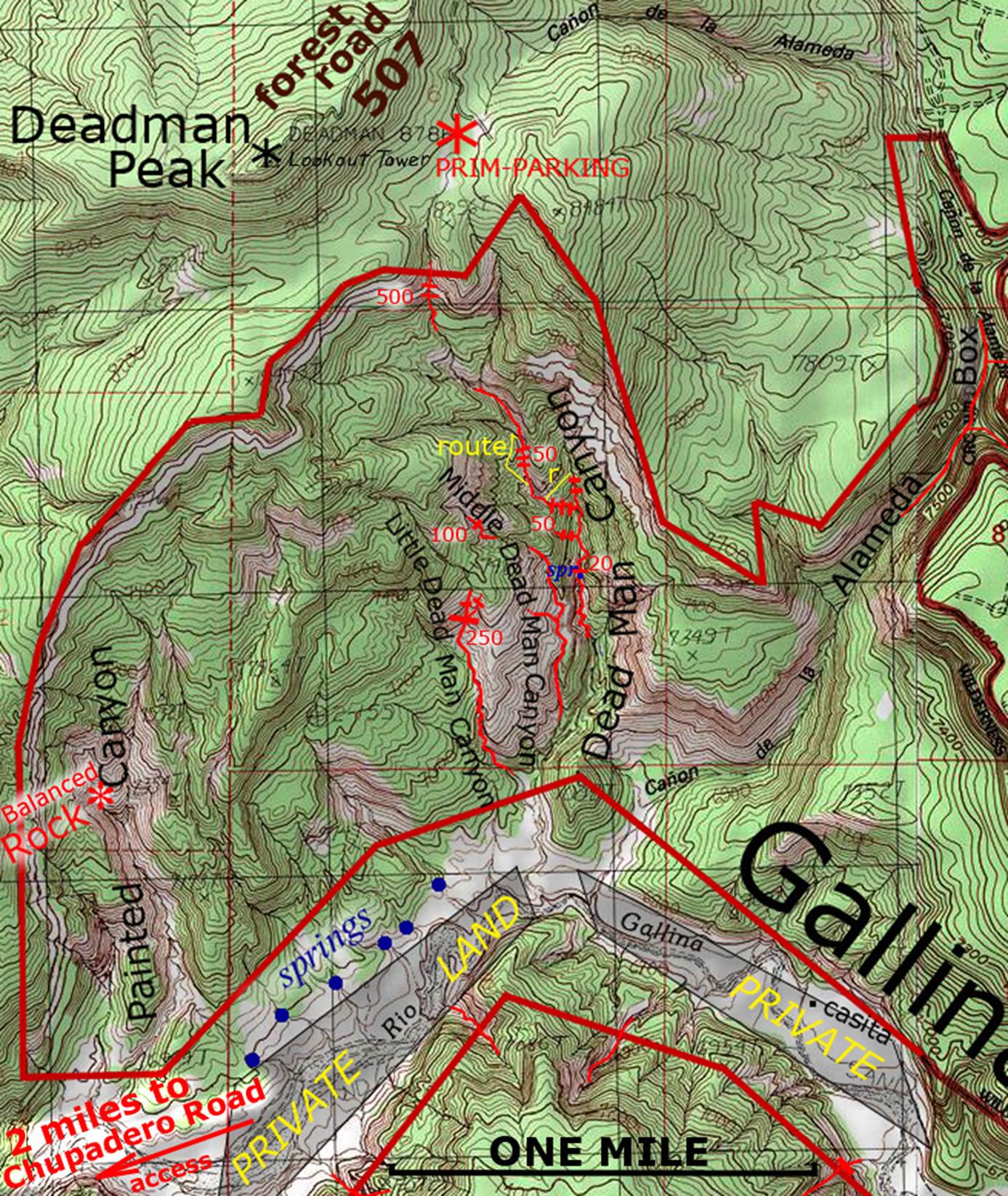 <![endif]>
Back to New Mexico Slot Canyons
Send questions and comments to dscott@themarblesculptor.com