Colle Box Canyon and vicinity
ACA Canyon Rating – 2A III
NEVER ENTER ANY SLOT CANYON WHEN HEAVY RAIN IS IN THE FORECAST…!!!
Many of us have been exploring this area for 50 years
Down in the narrow crux of Colle Canyon Slot is a 20 foot high climbable drop where often climbers desire a rope belay
<![if !vml]>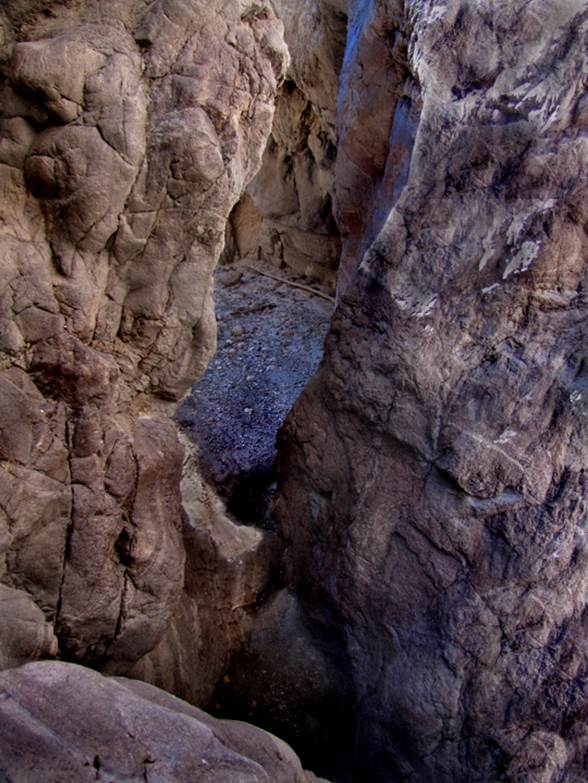 <![endif]> 
below and above this narrow section is a very high and sheer walled box canyon almost a mile long.... extremely spectacular...! ! !
<![if !vml]>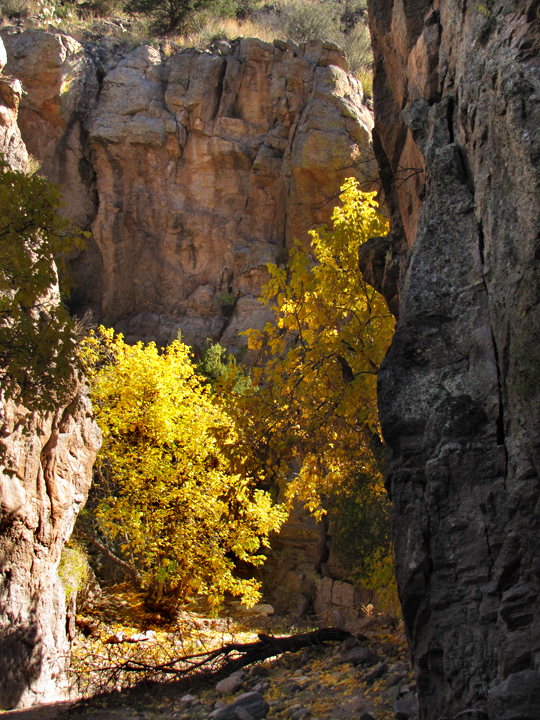 <![endif]><![if !vml]>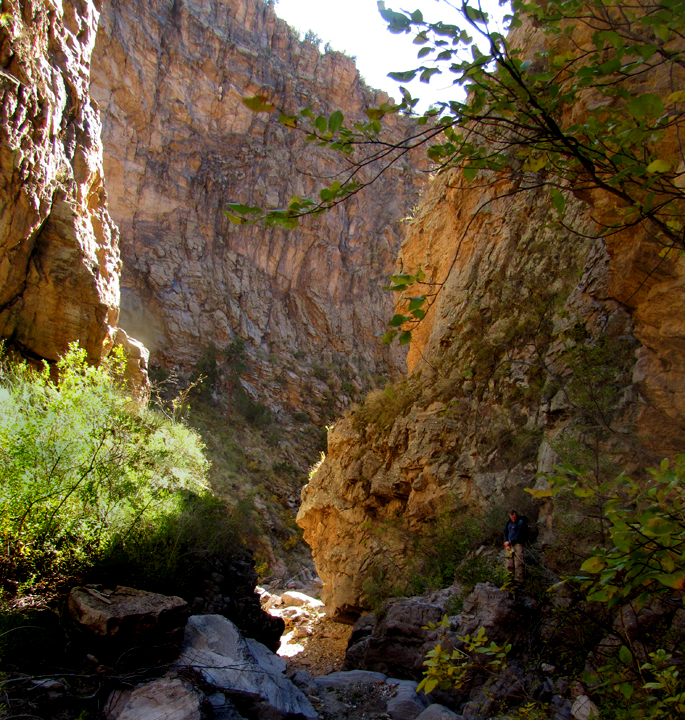 <![endif]>
a hiker rests, in the photo above to the right ...and below are deep narrow Colle Slot Canyon Chambers
<![if !vml]>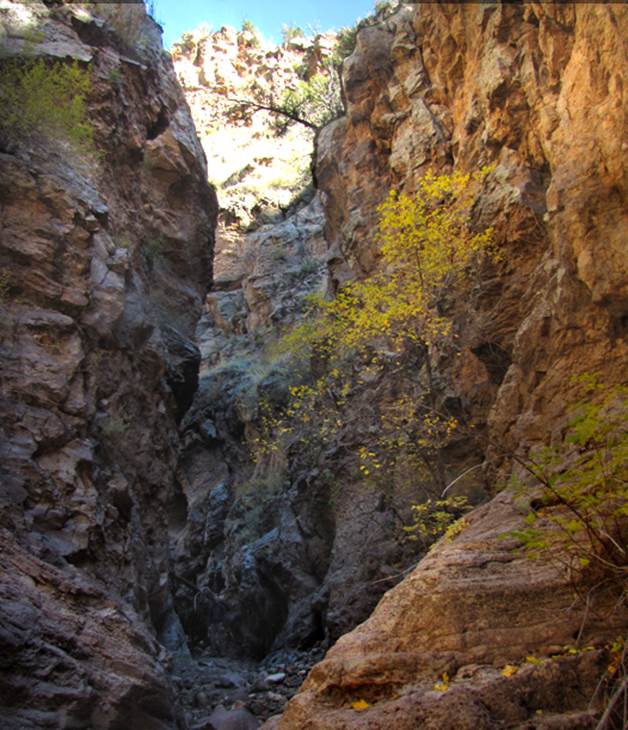 <![endif]><![if !vml]>
<![endif]>
Below is photos of a wonderful, whimsical, 1/8 mile long slot canyon that we call "Elves Delight"...it is up Peralta Canyon a mile and a half above Colle Canyon
<![if !vml]>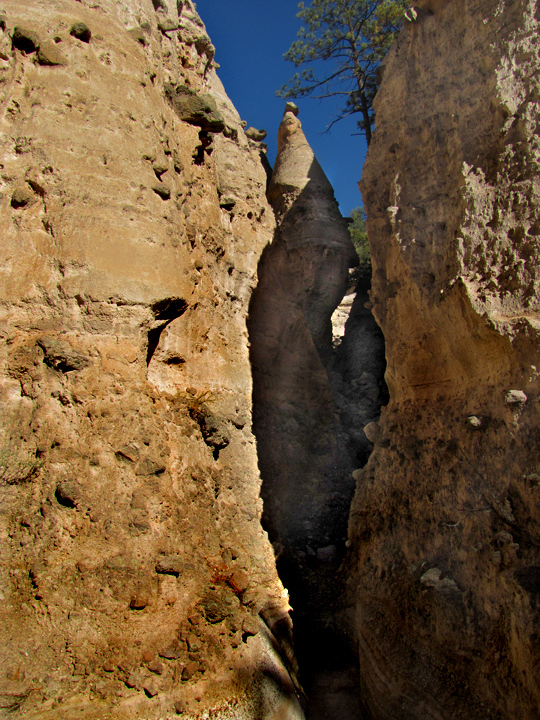 <![endif]> <![if !vml]>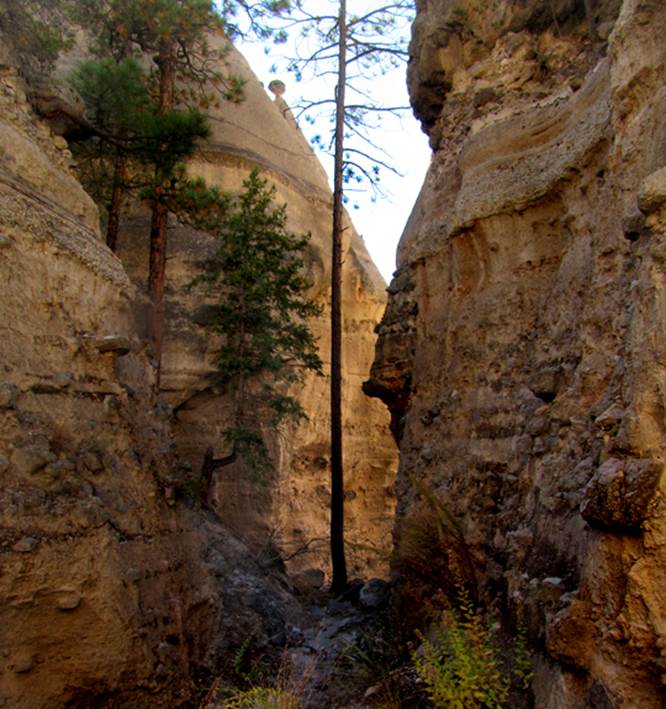 <![endif]>
 up in the far top-left-hand corner of the topo map below is a place named "Bear Jump"... here tiz:
<![if !vml]>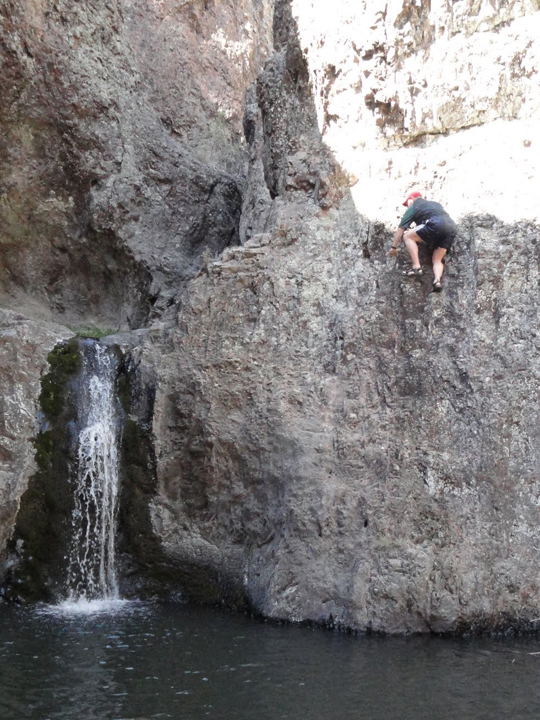 <![endif]>
TJ Middleton is the real "Bear" of Bear Jump                          TJ Middleton Photo
Below is a photo of the spring-fed, 30' high, Bearhead Falls + 35°41.457'N 106°27.389'W  -this falls is at the upper end of the amazing Bearhead Box
<![if !vml]>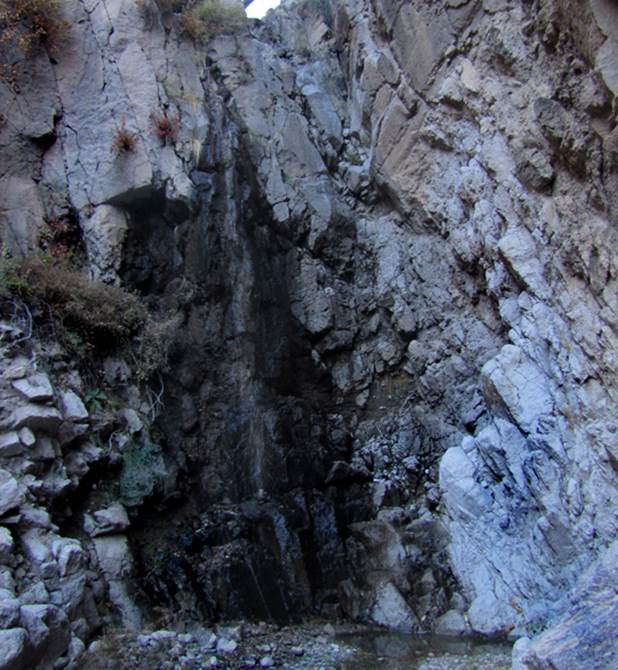 <![endif]> <![if !vml]>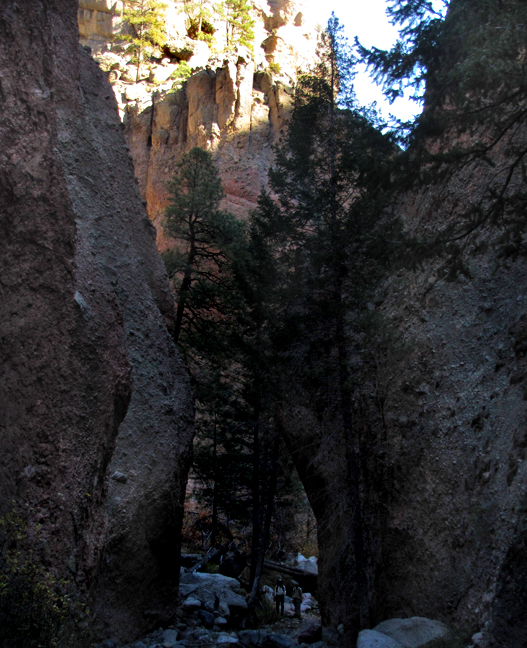 <![endif]>
The right-hand photo above shows Randy and Evan quite small within the depths of the amazing Bearhead Box Canyon
Unfortunately... the University of New Mexico left many 20 foot long pieces of sheet metal as litter nailed to the beautiful walls of Bearhead Box...!!!
<![if !vml]>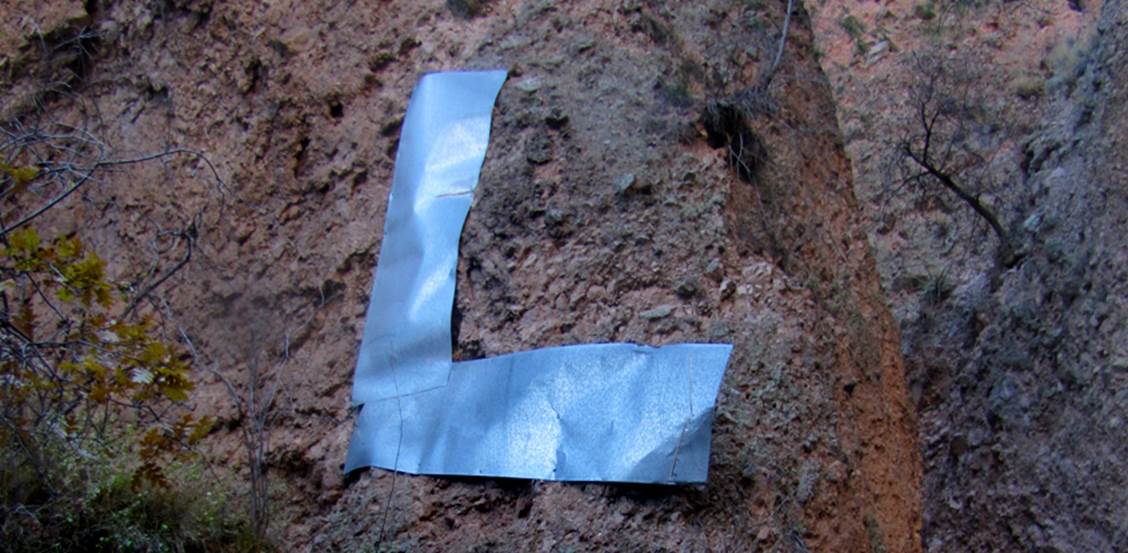 <![endif]>
...and the photo below shows the Albemarle Mine Wagon Road as it cuts above what we call "Dr Sues Land" 
<![if !vml]>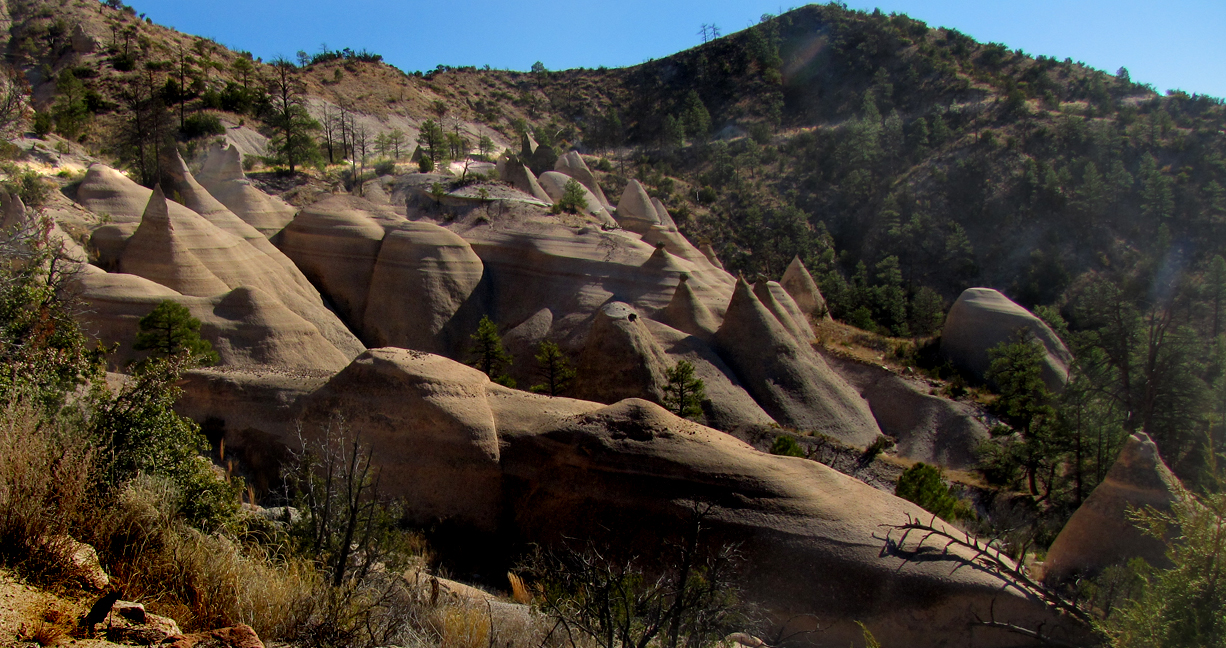 <![endif]>
...notice that the Dr Sues tuff formations are MUCH bigger than the very large Ponderosa Pine trees
<![if !vml]>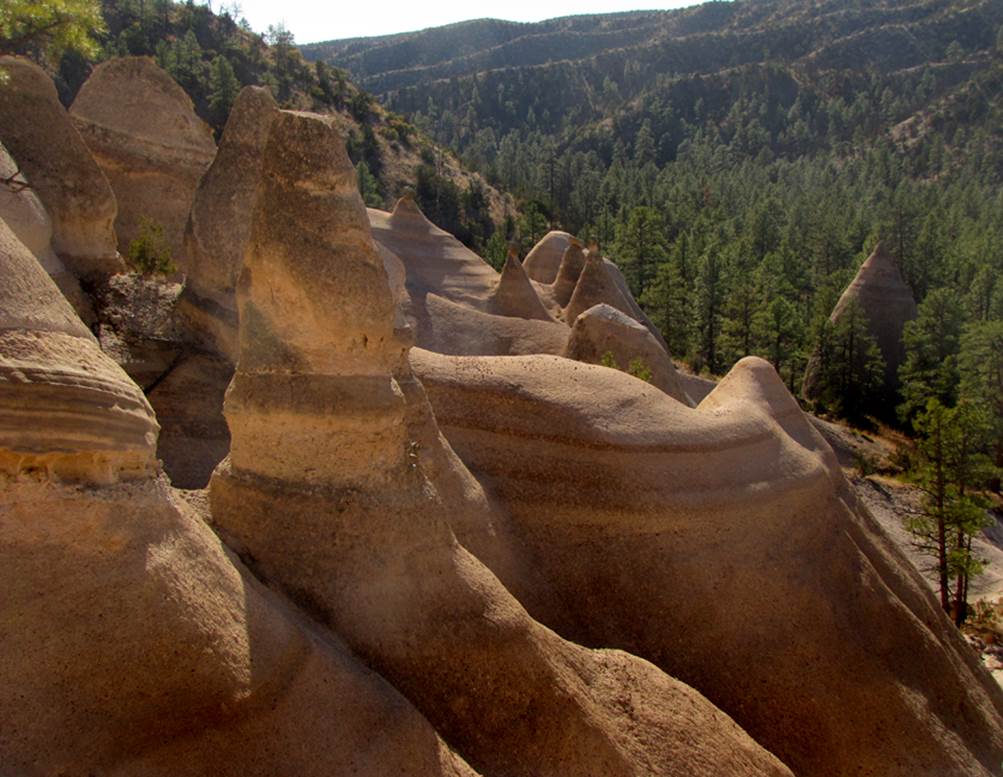 <![endif]>
The hiker at the bottom of this lower photo appears quite small under a Dr Sues Tent Rock
<![if !vml]>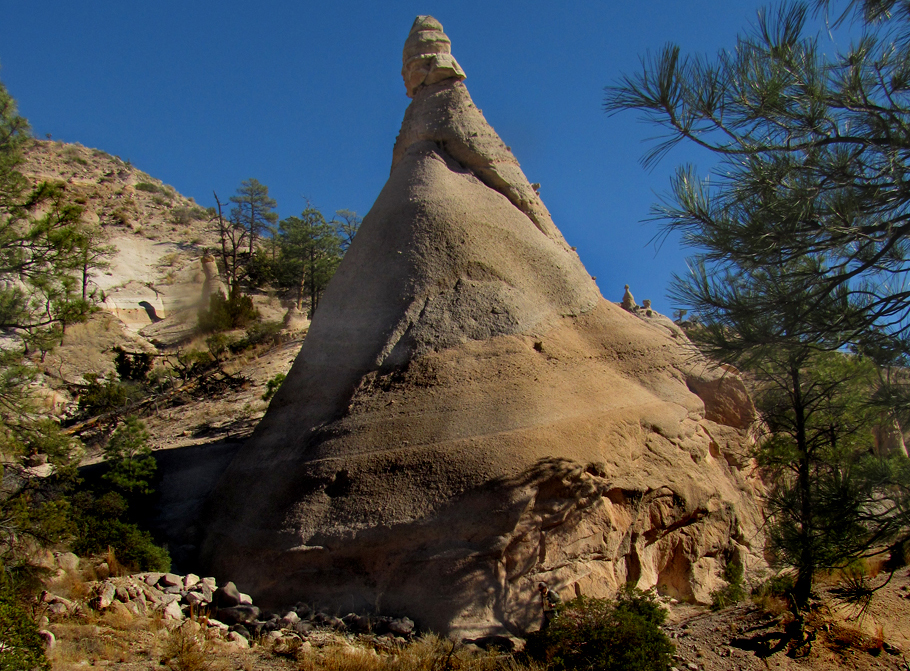 <![endif]>
The photo below shows the ONLY posted sign that is true and legal.  OBEY THIS SIGN.
<![if !vml]>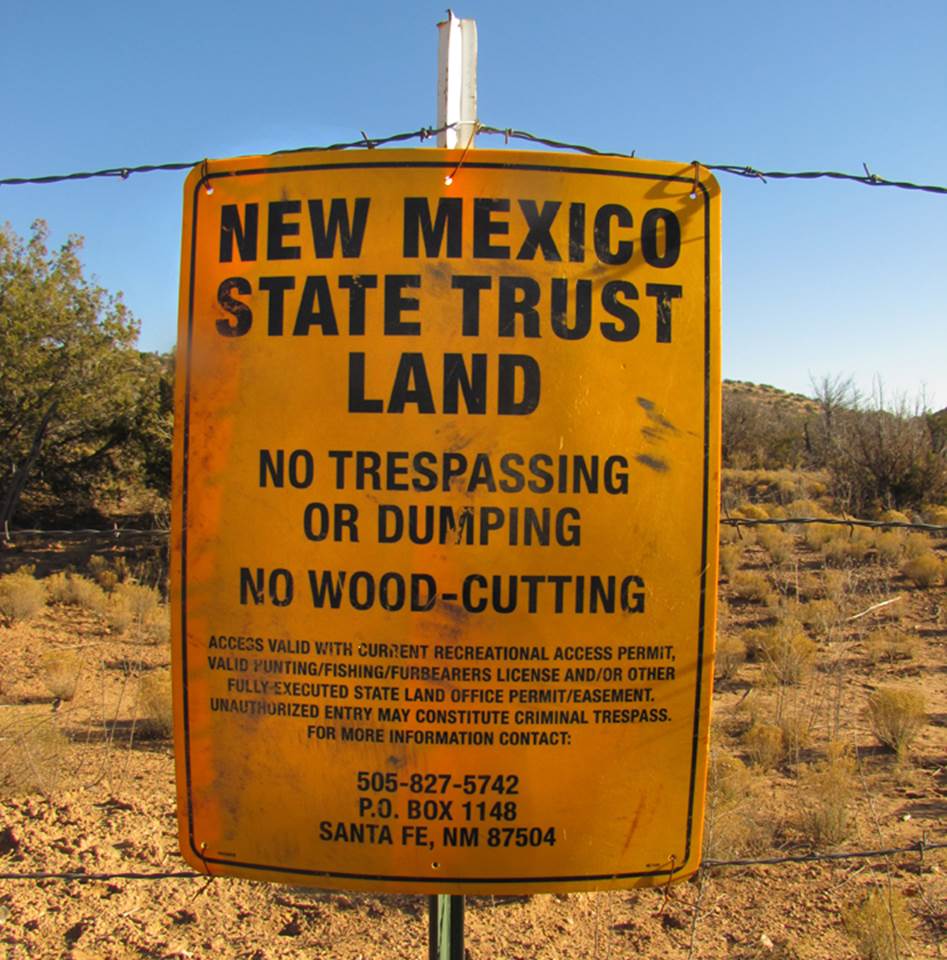 <![endif]>
Other signs claiming "Private Ranch" are neither truth nor legal
beta facts:
name- Colle Box Canyon
depth of canyon- 300 feet and more
length of slot canyon- just under a mile
elevation- 6000'
GPS coordinates- ±35°40.390'N 106°25.955'W
flow- intermittent
season to visit- most of the year.   NEVER ENTER ANY SLOT CANYON WHEN HEAVY RAIN IS IN THE FORECAST…!!!
accommodations- NONE
ownership- State of New Mexico Lands
access- is from Bland Canyon Road –see maps below
nearest town- Cochiti Pueblo is about 8 miles southeast of here
fun fact- the "Albemarle Mine Wagon Road" is one of New Mexico's most AMAZING trails, but it is in need of repair
access
Bland Canyon Road is on State of New Mexico Trust Land.  This is not public land.  State Trust Lands are the subject of a public trust created to support the education of New Mexico's children.    The area of concern here can be accessed legally via a special permit.  This special use permit for recreation is required to legally enter this beautiful area as well as other State Trust Lands. This recreational permit can be purchased for $25 a year from the New Mexico State Land Office at: 310 Old Santa Fe Trail PO BOX 1148 Santa Fe, NM 87504.  This permit is also available online at: http://www.nmstatelands.org/Recreational_Access.aspx#RecreationalPermit
The Cochiti Highway is paved for a few short miles above the village of Cochiti Lake.  At the end of the pavement the highway is barricaded at the State Land Boundary, but the dirt road continues on as Bland Canyon Road and eventually dead-ends within Santa Fe National Forest.  Up until December first 2015 this gate has been unlocked and unposted, and we have been accessing this amazingly beautiful canyon country for many years. 
However, Dec 1, 2015 the gate at the end of the paved highway became locked.  Unfortunately when this gate is locked,  access is greatly hampered because of the long walk in to reach Colle Canyon.  We are unsure of the future of this sweet access that we have enjoyed for decades.
When traversing the Colle Box, remember that the lower half of it is private land, so be sure to turn around there and return back the same way you came in.  All climbs are very do-able as up-climbs or down-climbs.  But be sure to allow time to continue on hiking up and over the ridge on the Albemarle Mine Wagon Road –shown in yellow on the map below.  It is marked on the map below as the "Old Miner's Wagon Road".  This is an amazing trail and it opens up access to Elves Delight Slot Canyon, Bearhead Box and on into Peralta Canyon.......! ! !
...by the way... it involves some difficult all-fours scrambling to reach Bearhead Falls and a few good climbers scale the cliff to the left of the falls and continue farther upstream 
See maps below... AND
Please right-click-save-as our map below, so you can make a hard copy to carry with you on your hike.  No other map on earth, will show anywhere near these details.
Enhanced USGS topo map  - red lines depict "slot" and/or "box" canyons
<![if !vml]>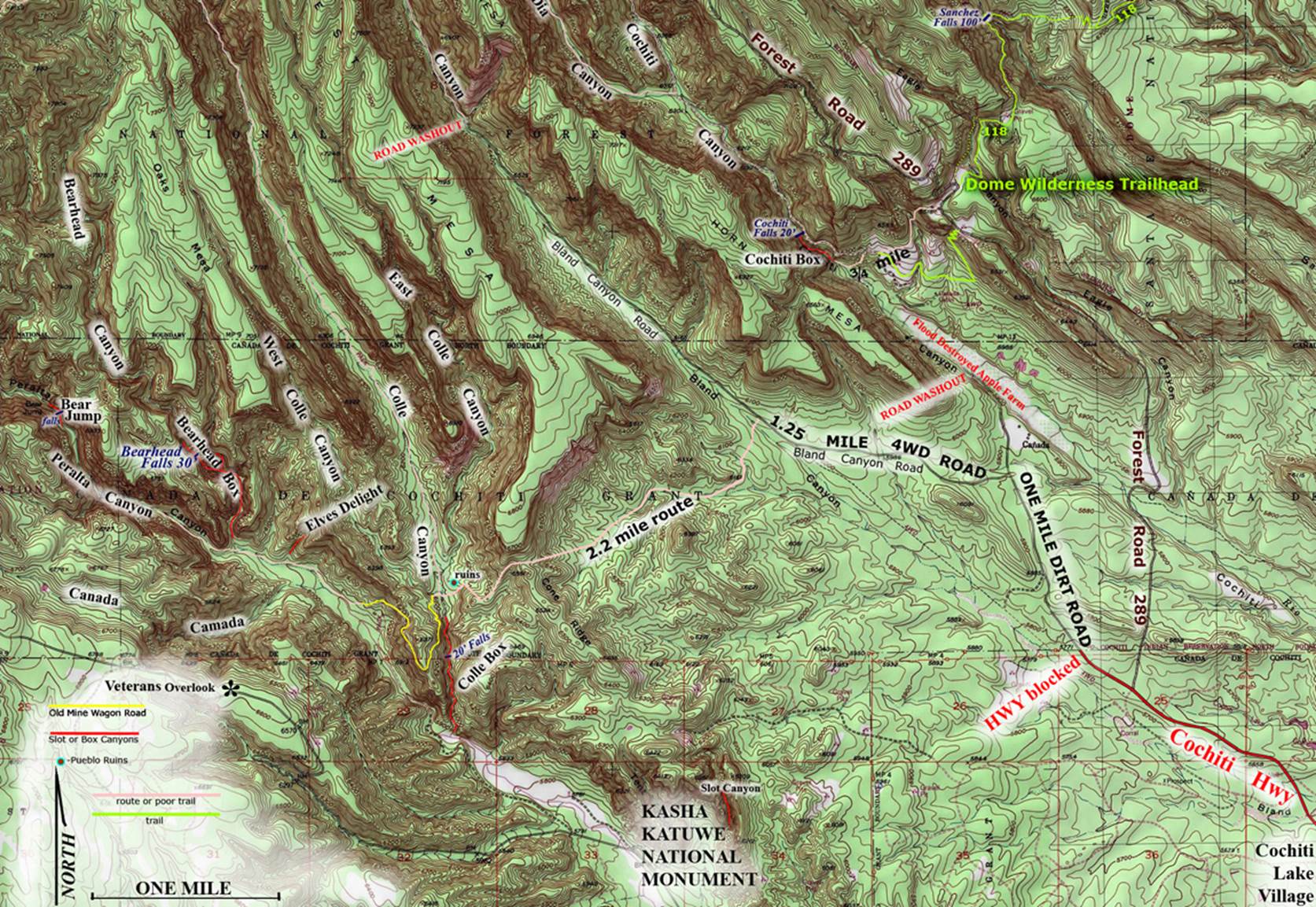 <![endif]>
The map below shows land ownership in this area
<![if !vml]>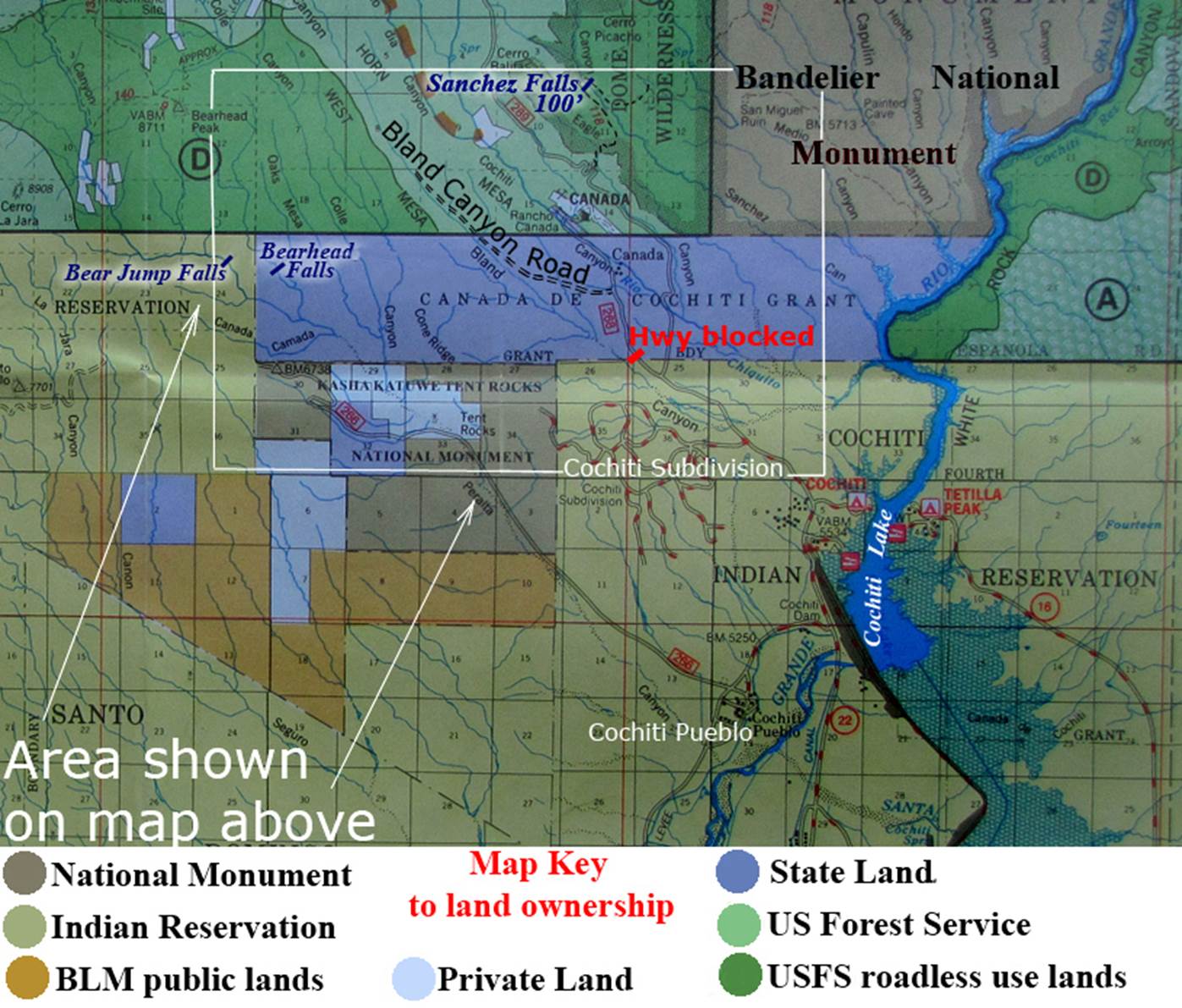 <![endif]>
Back to New Mexico Slot Canyons
Send questions and comments to dscott@themarblesculptor.com