Cañon de ColouresSpanish
Canyon of ColorsEnglish
ACA Canyon Rating – 2B III
This entire canyon can be hiked without ropes but it is difficult and should only be attempted by experienced canyoneers
This is an "extreme" hikers dream canyon... rope-less...!!!
NEVER ENTER ANY SLOT CANYON WHEN HEAVY RAIN IS IN THE FORCAST…!!!
<![if !vml]>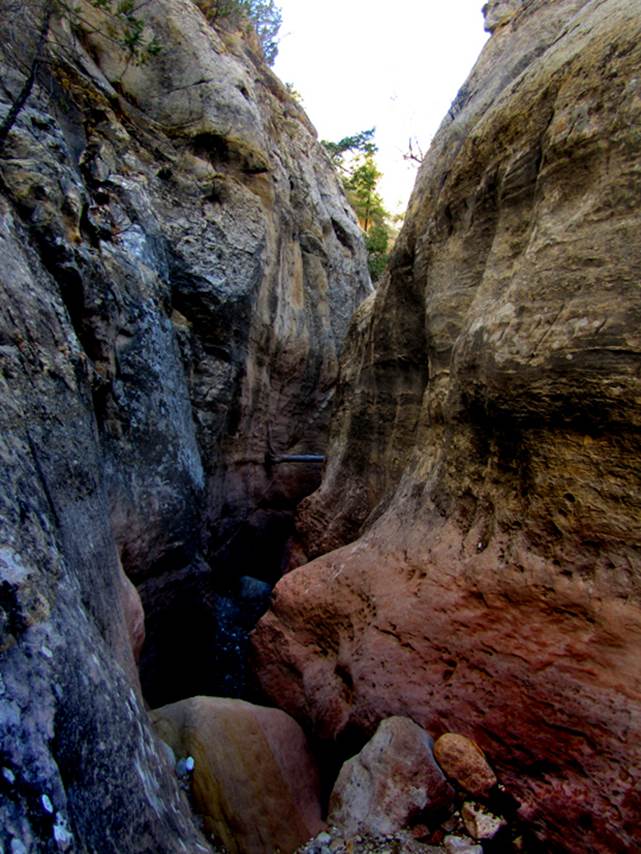 <![endif]> <![if !vml]>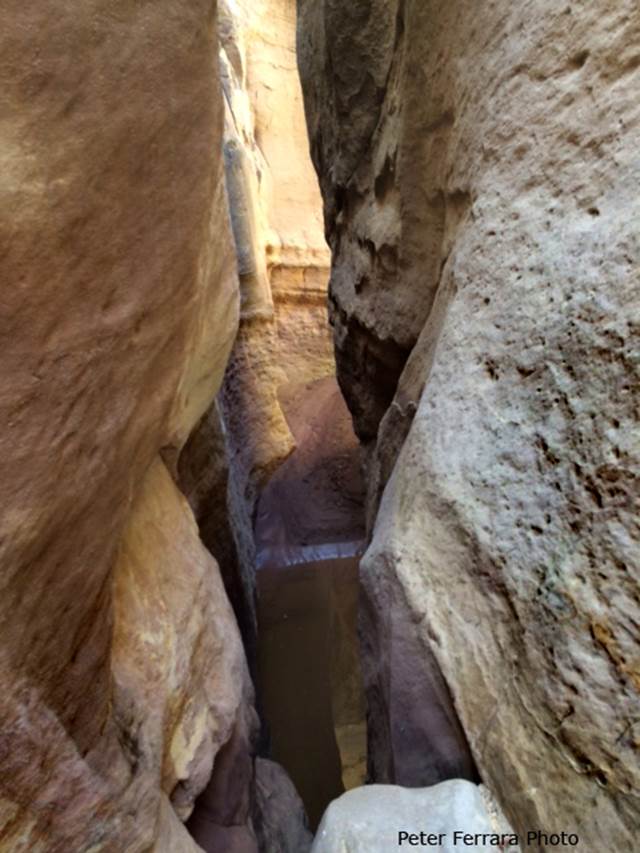 <![endif]>
Cañon de Colores means Canyon of Colors... yellows, reds, blues & purples... a narrow slot 100' deep 
<![if !vml]>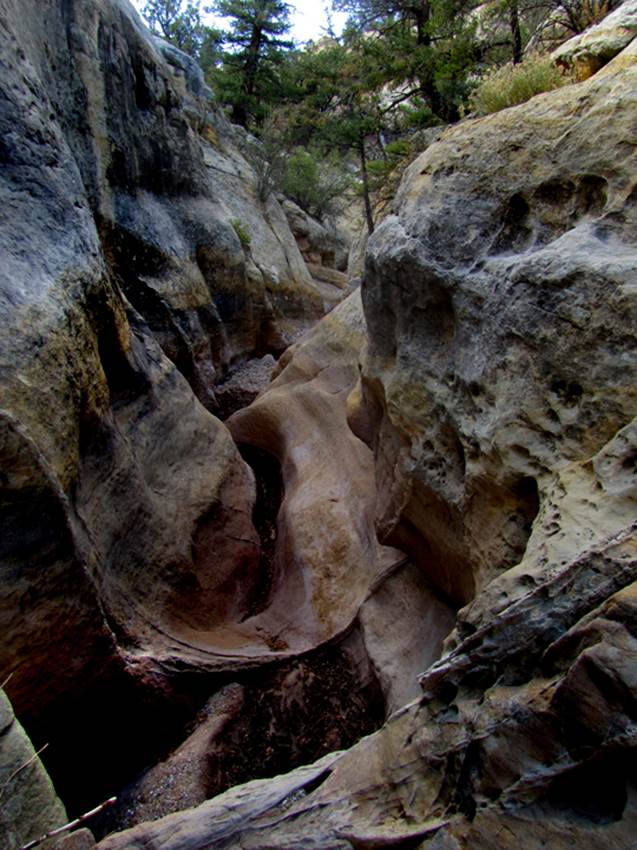 <![endif]> <![if !vml]>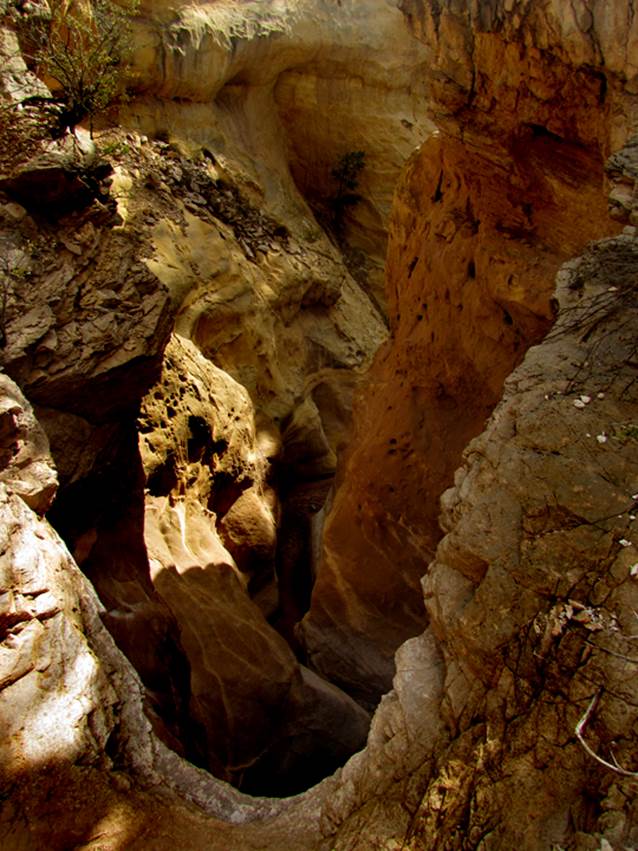 <![endif]> 
…and beautifully sculpted…
<![if !vml]>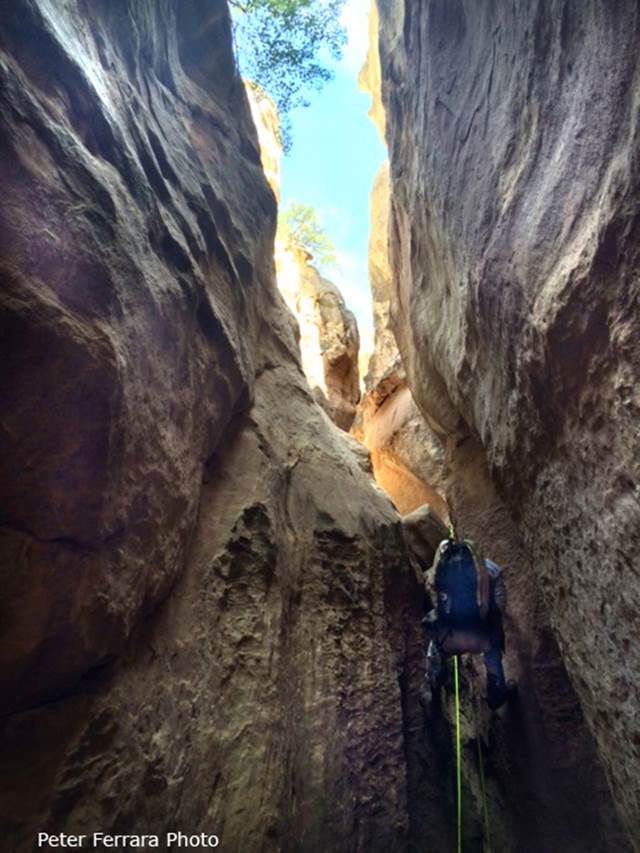 <![endif]>
...once committed in the deep narrow slot portion there is no escape or turning back...
We called this rock outcropping in the upper canyon… "Dog Rock" –and notice the rocks we threw into the mud to give us "stepping-stones" –sometimes there is no mud or water.
<![if !vml]>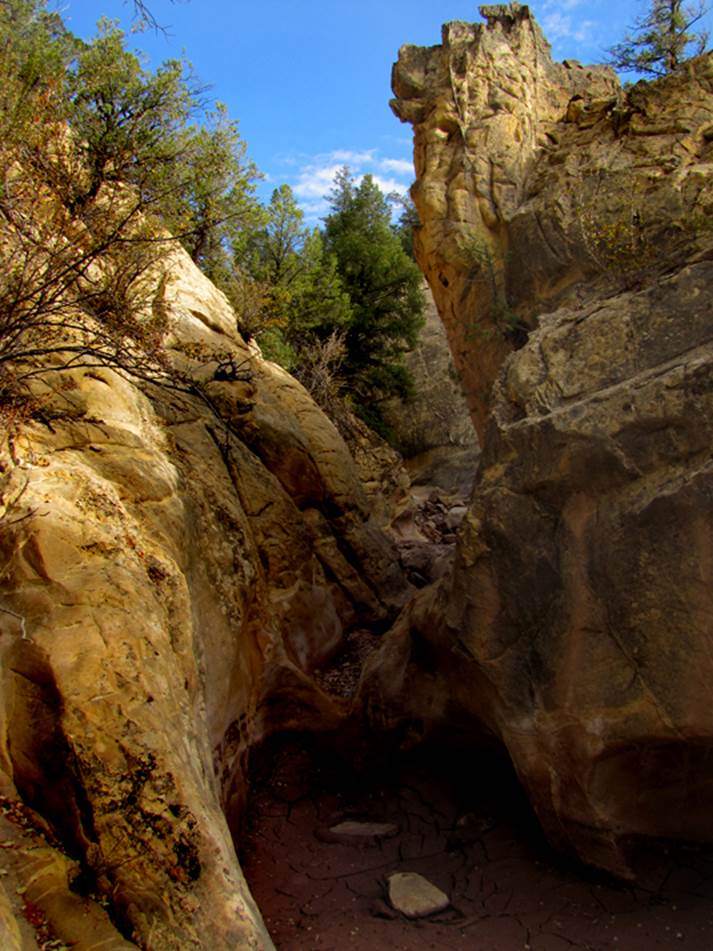 <![endif]>
<![if !vml]>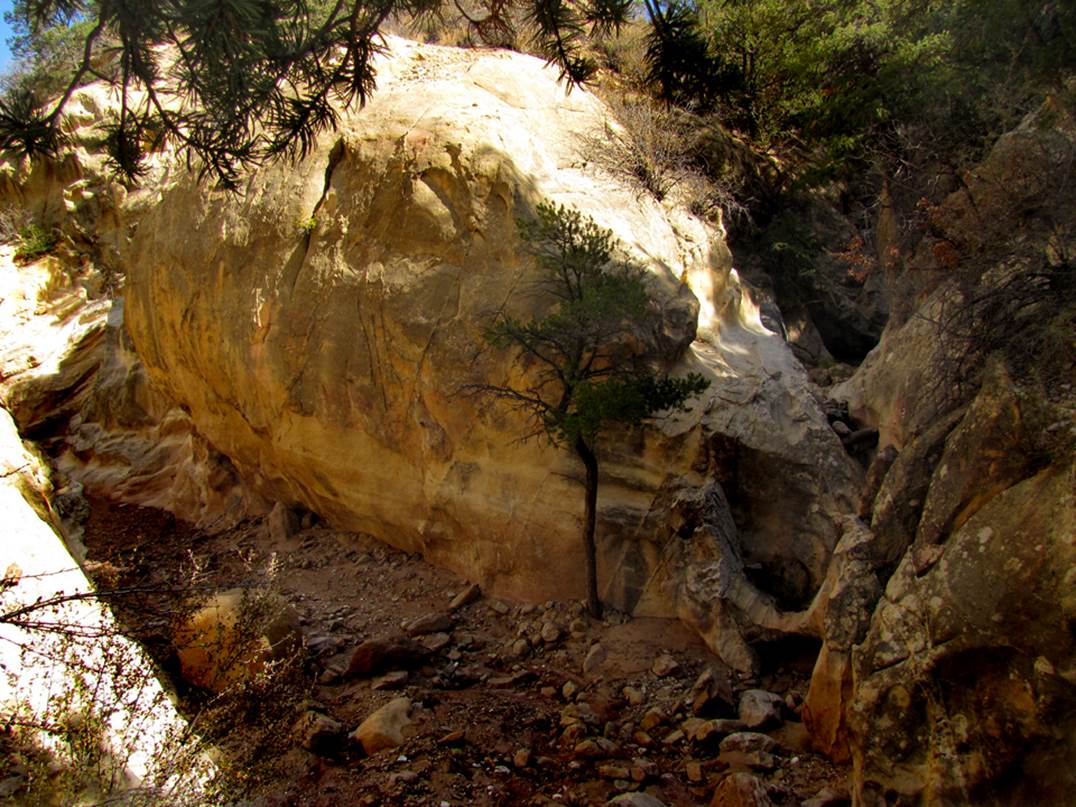 <![endif]>
This photo above shows the confluence of Cañon de Coloures' largest tributary, called the "Middle Fork" …see the map below
In the photo below, Chris Erwin descends a steep hand-line, 25' high, within the crux of Cañon de Coloures "Middle Fork".  We believe that the agile canyoneer can ascend this Middle Fork as an optional, return to your parked wheels… but it will take extreme effort, knowledge, endurance as well as a full bag of tricks...! ! !  -at least bring a 40' hand-line.
In fact it may be best to descend this Middle Fork slot first …and return via the main canyon...!!!
<![if !vml]>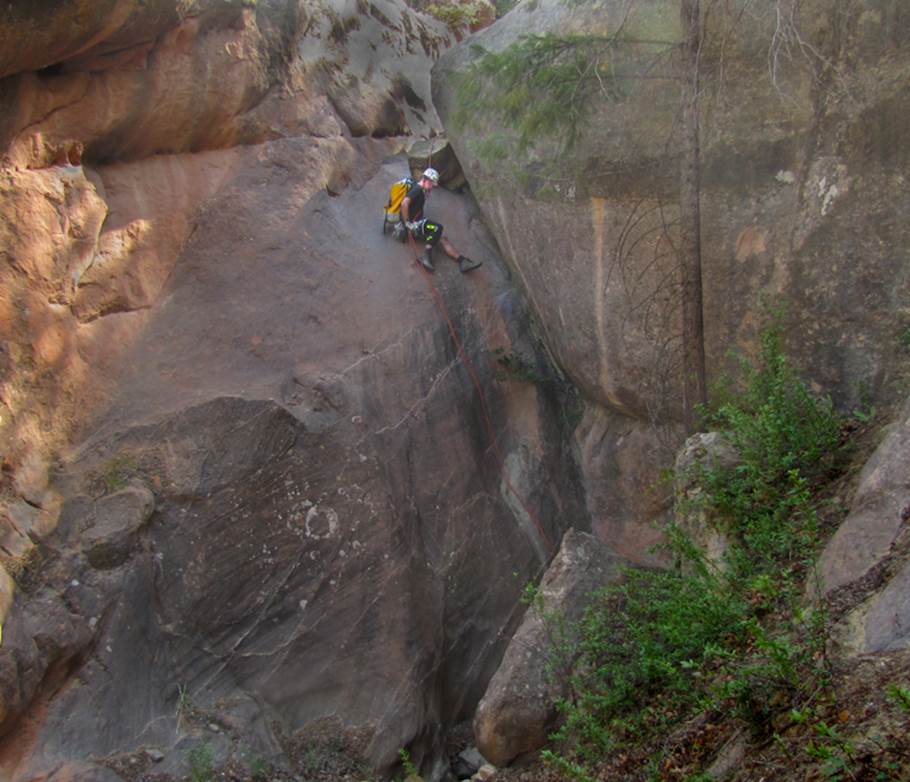 <![endif]>
The photo below shows a ten foot wide natural bridge made of dirt …in the lower canyon
<![if !vml]>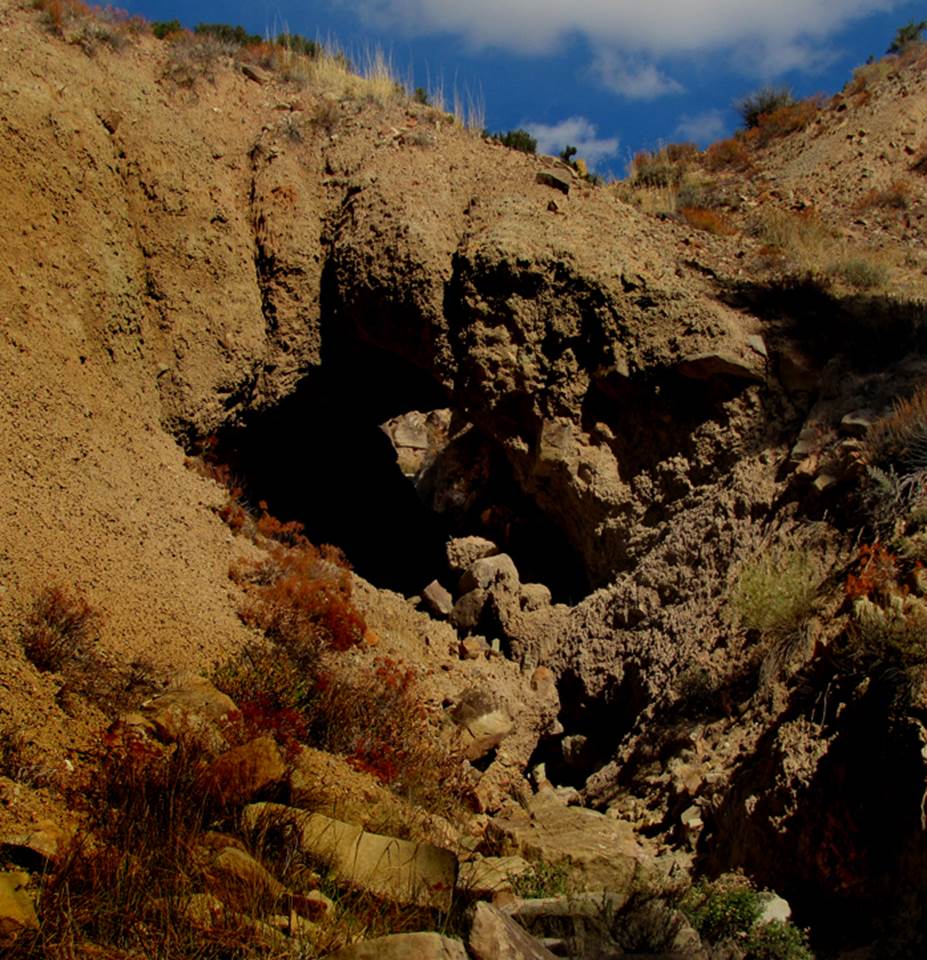 <![endif]>
And this last photo is a 400' high cliff of "Purple Hoodoos"
<![if !vml]>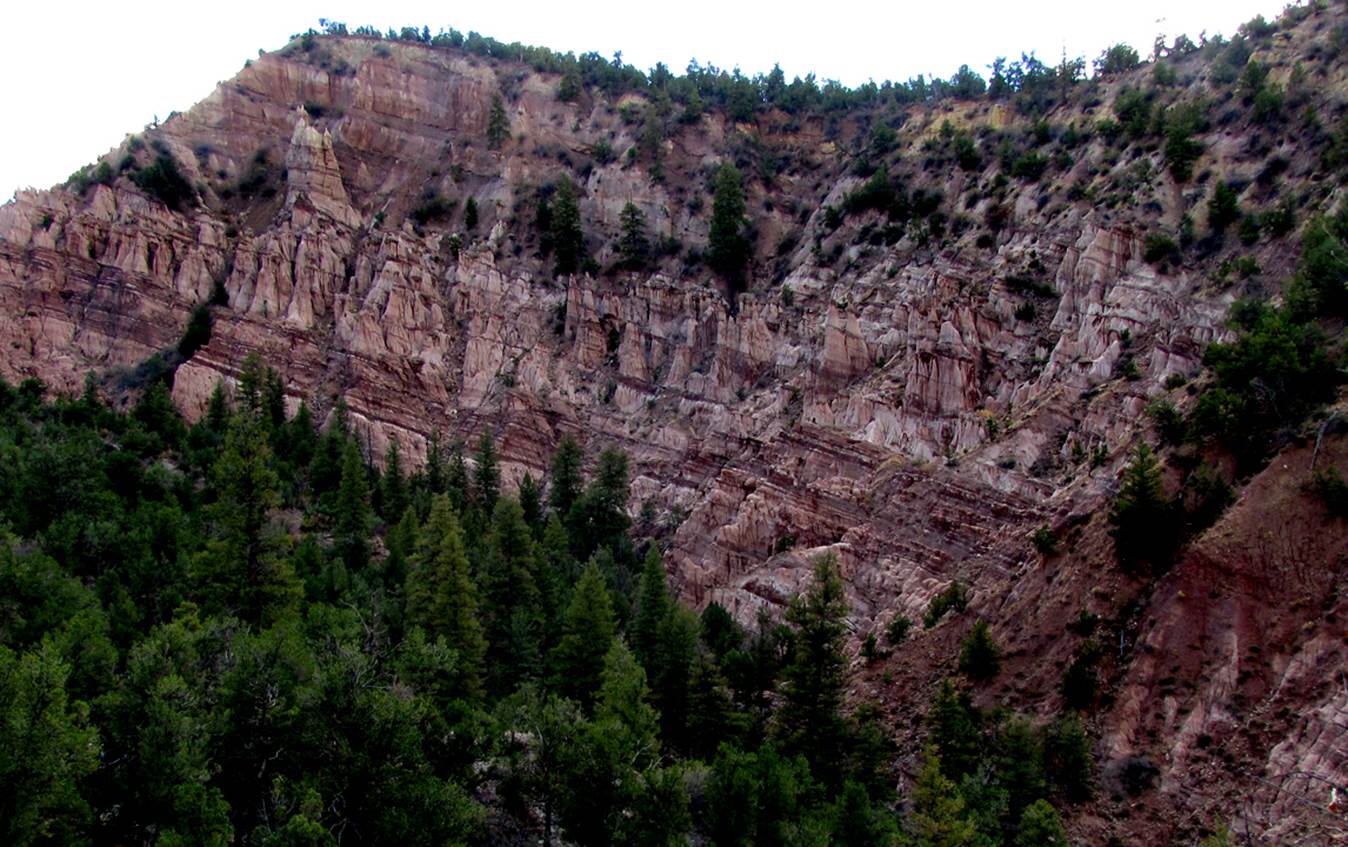 <![endif]>
beta facts:
name- Cañon de Coloures or in English= Canyon of Colors
depth of slot - 100 feet
=elevation- 7900'at the top down to 6900'at the bottom
GPS coordinates- ±36°21.391'N 106°48.387'W at the top and ±36°20.652'N 106°49.721'W at the lower end
flow- intermittent
season to visit- drier months of the year, like May, June, September, October and November… NEVER ENTER ANY SLOT CANYON WHEN HEAVY RAIN IS IN THE FORCAST…!!!
accommodations- NONE
ownership- Santa Fe National Forest
access- is from Dry Lake 4WD Road off of Forest Road #8… see the map below
nearest town- Gallina is about 15 miles southeast of here
fun fact- this is a wonderful desert canyon 
essay bro
The first known descent of Cañon de Coloures Slot was done by Peter Ferrara and J Martin on Saturday, May 21, 2016
Peter's notes are below:
The drive out there takes a while. From the car, we crossed through the small saddle and followed the terrain down to the drainage and just kept walking down the drainage. At one point we started to question if we were in the proper canyon at all, because it just seemed to be a drainage. But once we found "Dog Rock," we knew we were in the correct place.
A short distance down from Dog Rock we came to the first obstacle which we decided to rappel. This first rappel is only about 15 feet. We used a large boulder at the top to build a ghosting anchor. Once down, we tried to pull the anchor, but last rap ring got stuck. So we climbed up as high as we could and cut as much of the webbing as we could, but did end up leaving a short bit behind.
Continuing down for about another 15-20 mins before entering the narrows and deepest part of canyon. This required a few down climbs into water that was not more than knee deep. Then coming to the next (2nd) rappel. Which is maybe 20 feet, but requires a rappel. There are many escape routes in this canyon and ways we felt we would be able to scramble out if we had to. Which was a big comfort and allowed us to continue moving forward, because we never felt as if we were going to be trapped.  The 2nd rap required that we build a chock stone anchor. We used a small rock from the previous down climb and wedged it between the canyon wall and large boulder at top of rap.  Both of these first 2 raps had a way to step down into the slot and get on the rope comfortably before starting to rappel. This rap descended into the deepest water we encountered which was waist deep and absolutely freezing cold. The mud in the canyon is also very soft and deep. In some places our foot sank almost a foot deep into pure almost quick sand like mud.
Upon coming to the 3rd and final rappel, which is also the highest at maybe 30 feet, we choose to sit and have our lunch. This obstacle can be climbed around, but what fun is that. So we used a Pinon tree to build an anchor. There exists a small ledge to enter the rappel, but this required a small step out and swing into the rappel - a bit unnerving, but completely exhilarating at the same time. After this the canyon opens up and flattens out. One is heading toward the purple hoodoos, we choose to end here and start our climb back up and out. It took us 2 hours and 45 mins to complete the canyon. Although, now having done it and knowing what to expect, I feel it could be done much quicker.
The climb out is steep. We kept climbing up and to our right, choosing to pass through the saddle that is visible from both the front side (car park side) and back side (canyon side).  Climbing down
the crumble and hiking back to our cars. The whole trip for us was just under 4 miles and took just under 5 hours.
Editor's notes: We have found that the easiest return to our parked wheels, is to back-track right up the same canyon we came down...Cañon de Coloures ...only scrambling up – out – and around all of the un-climbable places on the northwest side of each narrow impasse...  Some of these escape routes are quite difficult, but this allows another slightly different view of Cañon de Coloures on your way out.   It also means that Cañon de Coloures can be visited end to end – both directions – without ropes and gear... just hiking and scrambling.  You will miss traversing the 1/3 of a mile of a true "slot canyon" section, while not really missing it at all.  Because you non-technical canyoneers – can actually walk from either end (top and/or bottom of this slot...) all the way to it's one rappel ...so you actually miss nothing.
The 30' rappel that is the farther-most downstream, has a very steep and dangerous climb-around to your right-hand side... rocks here are crumbly and loose... 
Today- July 4, 2017 Chris Erwin and Doug Scott just did a first descent of Cañon de Coloures Middle Fork.  See map & photos...  This is Canon de Coloures' largest tributary.  We believe this Middle Fork can be traversed both directions... down-climbing and up-climbing, which is just like the main Cañon de Coloures below.  However, it will take a full bag-of-tricks and at the very least, a 40' hand-line rope.­
The Twin Slots shown on the map below are canyons consisting of solid alabaster.  Neither of these have been traversed that anyone knows of.  We suspect them to be steep and dangerous.  Alabaster is brittle and does not hold anchors or hardware of any kind.  
Click this link to open a large detailed topo map of the entire slot canyon area near and within the western Chama Canyon Wilderness: http://www.dougscottart.com/hobbies/SlotCanyons/Gallina.htm
Enhanced USGS topo map by Doug Scott
The Red Lines depict sections of "slot canyons"
<![if !vml]>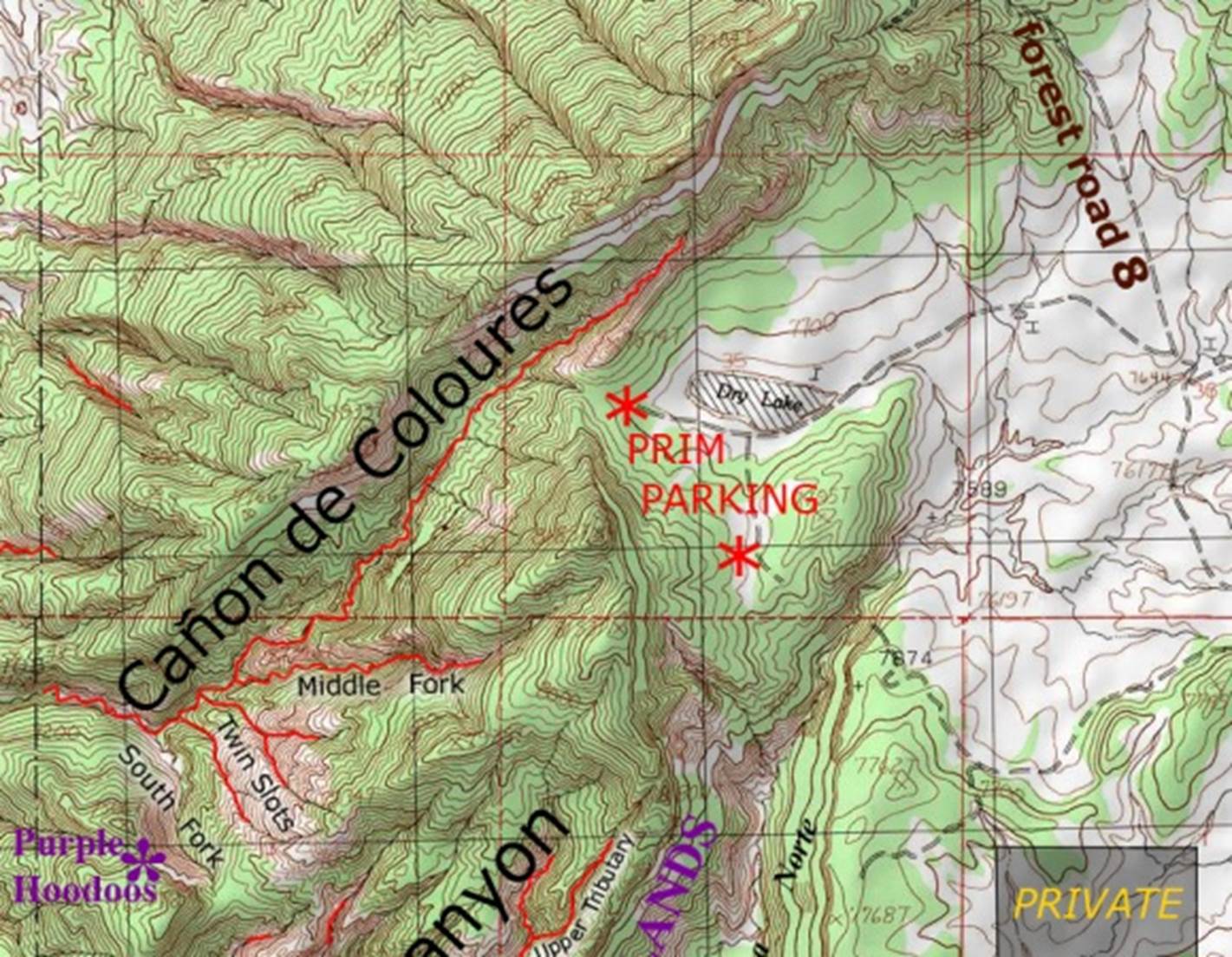 <![endif]>
___________one mile__________
Click this link to open a large detailed topo map of the entire slot canyon area near and within the western Chama Canyon Wilderness: http://www.dougscottart.com/hobbies/SlotCanyons/CCWslotsMap.htm
Back to New Mexico Slot Canyons
Send questions and comments to dscott@themarblesculptor.com