Gallegos Canyon
ACA Canyon Rating – 3A III
 Experienced Canyoneers Only
NEVER ENTER ANY SLOT CANYON WHEN HEAVY RAIN IS IN THE FORECAST…!!!
However, this is the only tributary in this area that has a rope-less, non-tecnical route from top to bottom…!!!  See map and description below
the map below shows a non-technical route dropping you into the lower slot canyon section without ropes to only visit part of this slot canyon…also the upper slot can be hiked well into without technical equipment…only the middle portion is technical.
 <![if !vml]>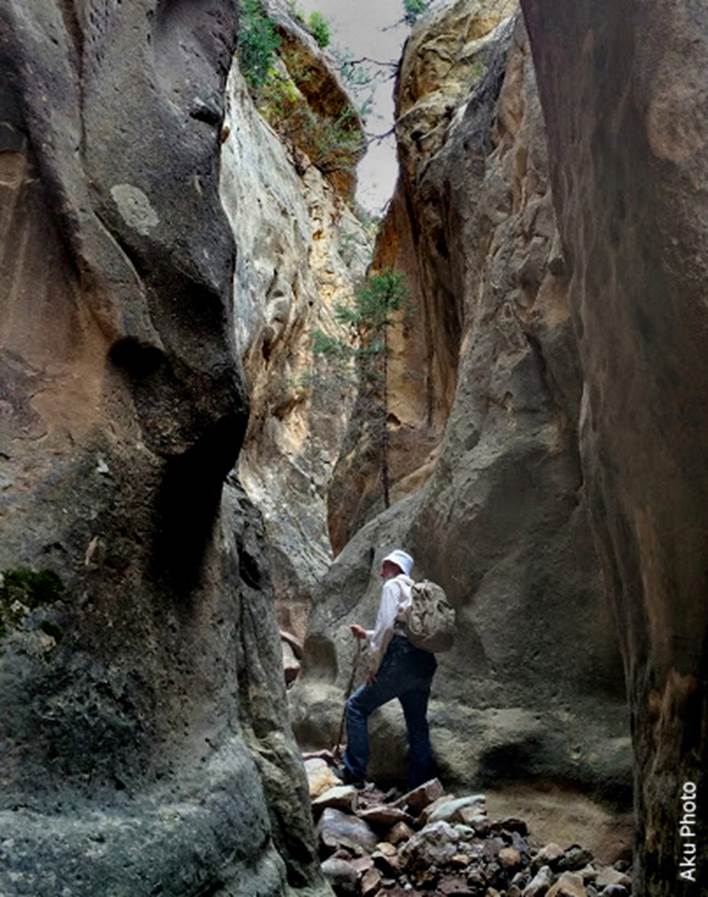 <![endif]> <![if !vml]>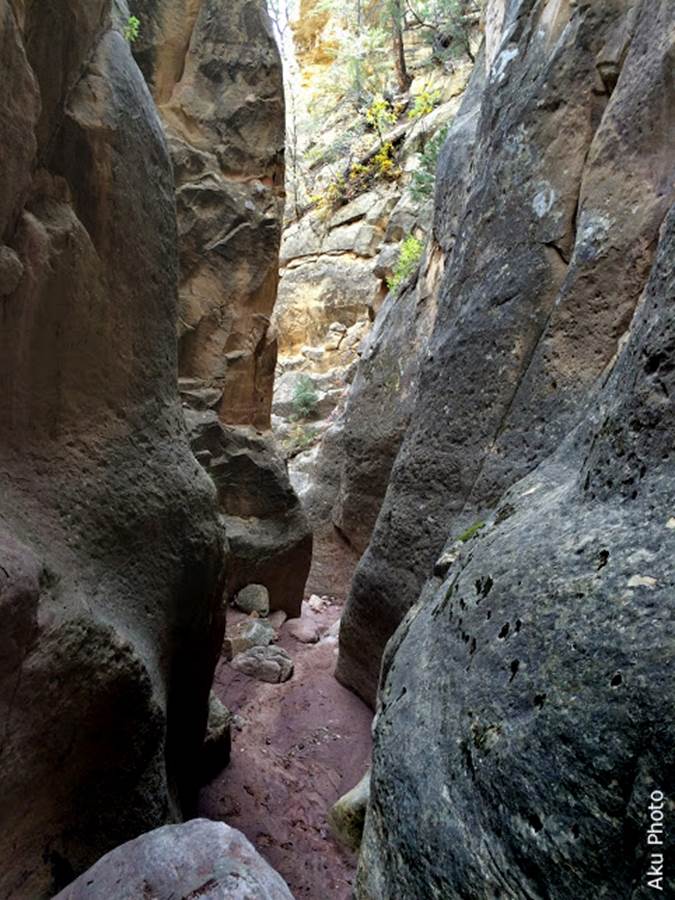 <![endif]>
Gallegos Canyon has a wonderful "slot" section… that can be traversed around using an extremely steep and difficult route/scramble…that can be done without ropes.  I call this route a 4.11 climb as it has some low class 5 moves with exposure that is low enough to not require ropes…!!!
<![if !vml]>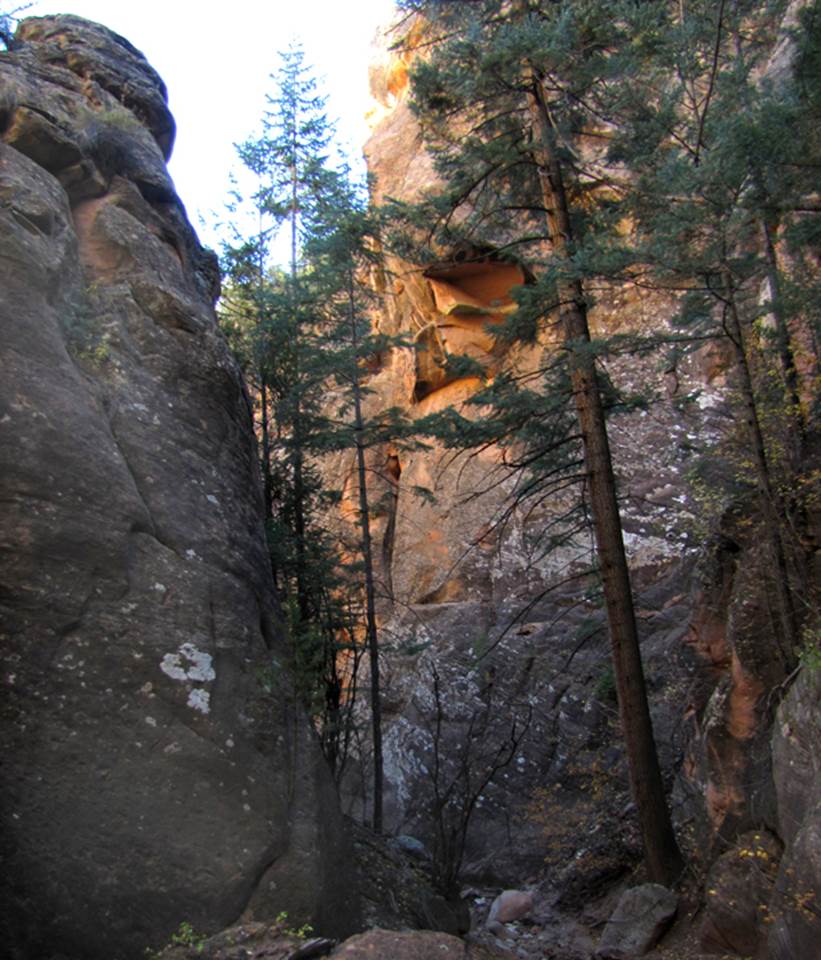 <![endif]>
Very tall, slender, Douglas Firs climb skyward seeking light from the depths of this deep narrow slot canyon
beta facts:
name- Gallegos Canyon
depth of slot portion- 300 feet
length of slot canyon portion- about a half-mile
elevation- 7200' at the top down to 6700' at the bottom
GPS coordinates- ±36°21.951'N 106°44.076'W
flow- intermittent with perennial springs outside of the slot canyon sections
season to visit- drier months of the year, like May, June, September, October and November… NEVER ENTER ANY SLOT CANYON WHEN HEAVY RAIN IS IN THE FORCAST…!!!
accommodations- NONE –Chama Canyon Wilderness Area
ownership- Santa Fe National Forest
access- is from above on Forest Road #8 and #11… see the map below
nearest town- Gallina is about 12 miles south of here
fun fact- this is a special slot canyon in that it can be navigated from top to bottom, via a very special, hard-to-locate route.  see description below:
essay bro
Gallegos Canyon Slot is special because it is a hike/scramble down from the top to a two-tiered 40' high waterfall that is shown on the map below.  This falls has tremendous mud-holes below it that are too long to get across without getting extremely muddy.  Sooo… after retreating back up the canyon a short ways to where a non-technical climb-out is possible… over a ways, to a steep ravine that allows a non-technical climb/scramble down to the slot canyon floor in the lower end.  Gallegos Slot Canyon can be ascended upstream from there.  In this manor Gallegos Canyon Slot can be experienced… for the most part, without ropes or technical canyoneering equipment…  The GPS cords for this steep ravine to descend is :  ±36°21.979'N 106°43.905'W 
…please understand that this non-technical route around the 40' falls of Gallegos Slot Canyon… is extremely difficult.  ONLY HARTY CLIMBERS SHOULD ATTEMPT THIS…!!!
…and actually there are more than one steep ravine that works to reach the canyon floor, but only the one mentioned above circumvents the entire canyon
UNLESS you wish to book a cabin or campgrounds at:
Gallina Canyon Ranch
…it is Amazing…!!!
Click this link: http://gallinacanyonranch.com/
Forest Road 474, Abiquiu, NM 87510
(505) 490-3333
Gallina Canyon Ranch a great way to visit and enjoy these amazing "slot canyons" of the Chama Canyon Wilderness.  Several amazing slot canyons are easy to visit with normal hiking from here.  In fact, vacationing at Gallina Canyon Ranch will put you in the heart of slot canyon country...!!! ...AND- you will be in a great position to visit some of the best parts of some of the best slot canyons in New Mexico, without technical rock climbing and repelling equipment or even having much canyoneering experience.  Gallina Canyon Ranch is truly amazing and is the only easy hiking access to this western portion of the Chama Canyon Wilderness.   
Click this link to see a larger map of this entire area: http://www.dougscottart.com/hobbies/SlotCanyons/Gallina.htm
Enhanced USGS topo map by Doug Scott
The thin Red Lines depict sections of "slot canyons" and the thicker Red Lines show the boundries of Chama River Canyon Wilderness Area
<![if !vml]>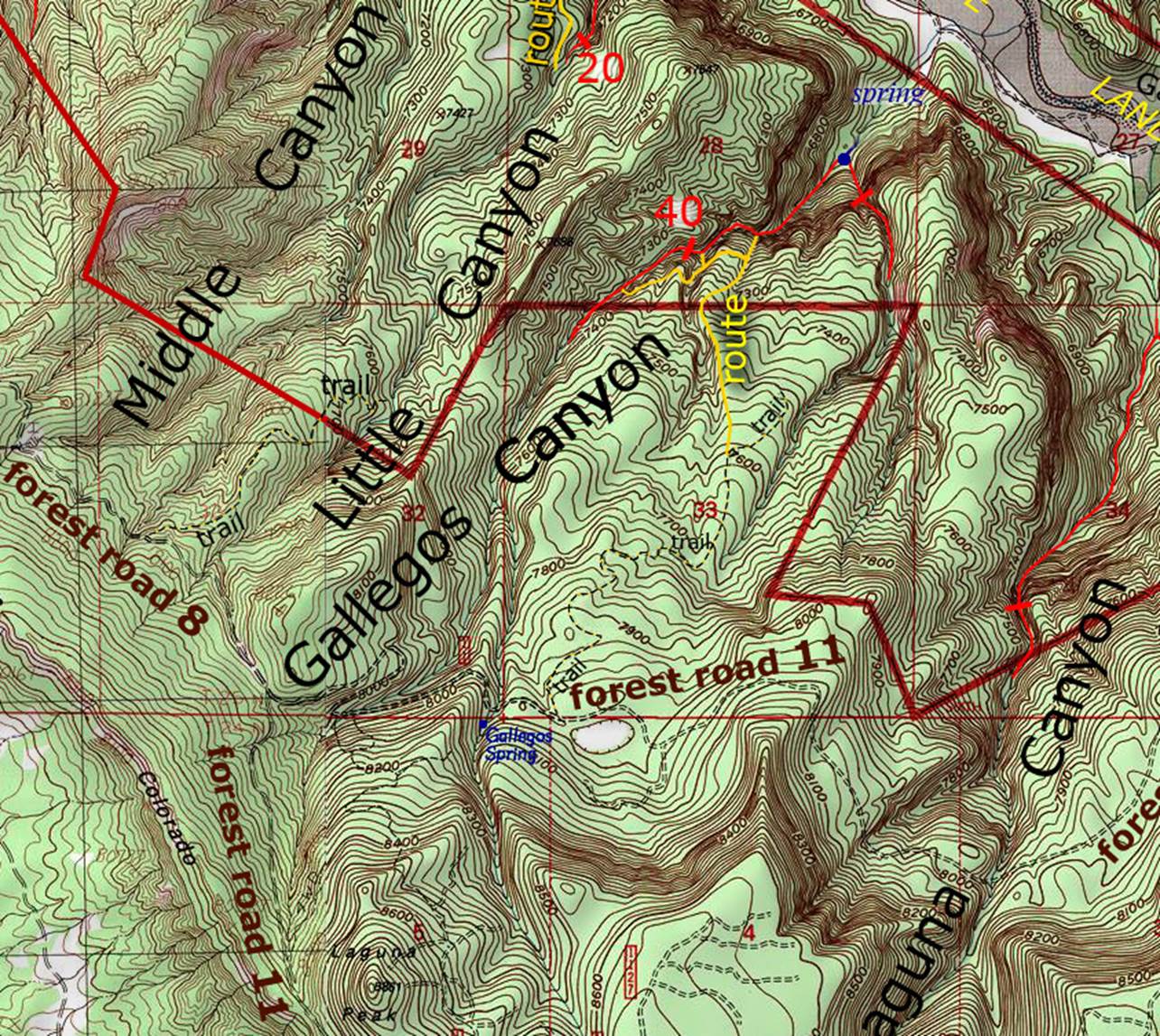 <![endif]>
_____________one mile____________
Back to New Mexico Slot Canyons
Send questions and comments to dscott@themarblesculptor.com