Walatowa Slot Canyon
ACA Canyon Rating – 3A II
However... most of these two slot canyons can be visited via scrambling rope-less
NEVER ENTER ANY SLOT CANYON WHEN HEAVY RAIN IS IN THE FORECAST…!!!
<![if !vml]>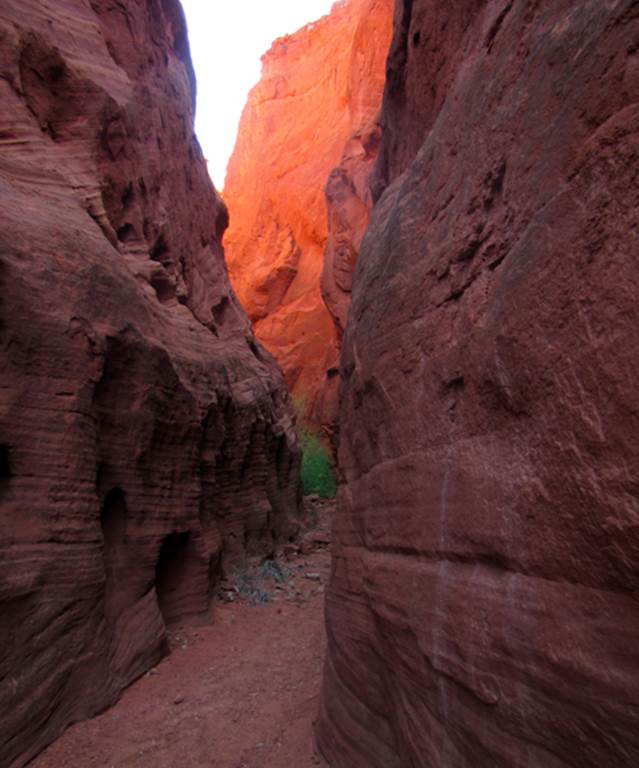 <![endif]>  <![if !vml]>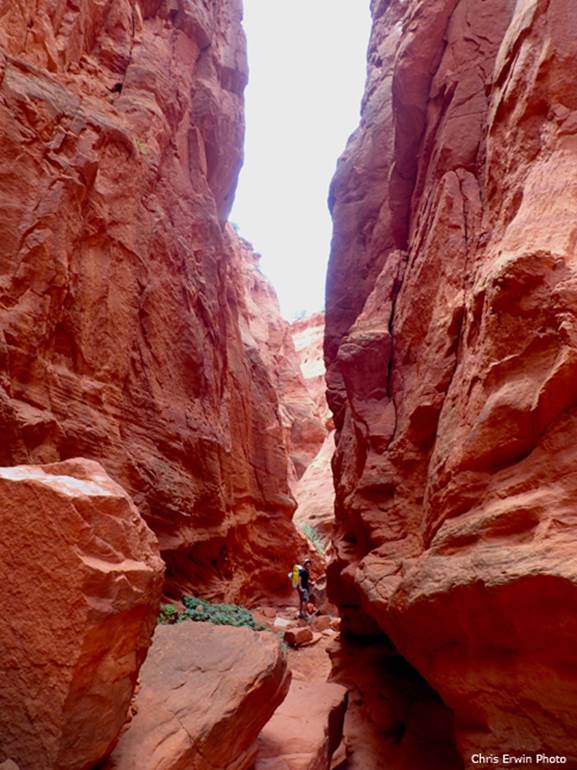 <![endif]>
Beautiful Walatowa Slot Canyon
is now open to the public for a small $5 hiking permit fee...! ! ! –see details below-
-

see

more photos below –
This is a place that I plan to return to often
beta facts:
name- Walatowa Slot Canyon
depth of slot portion- 200 feet
length of slot canyon- .2 mile ...while an upper slot canyon above the main one is about .1 mile long
elevation- 6000'at the top down to 5700'at the bottom
GPS coordinates- ±35°39.157'N 106°42.932'W at the top and ±35°38.969'N 106°43.096'W at the downstream end
flow- intermittent –bone dry most of the time
season to visit- anytime
accommodations- available across the street at the Walatowa visitor center – where the $5 permit is purchased
ownership- Jemez Pueblo Land access and a little bit of Santa Fe National Forest land appears at the extreme upstream end of this canyon
access- is from across the street at the Walatowa Visitors Center … see the map below
nearest town- Jemez Pueblo is about 2 miles south of here
fun fact- The opening of this area for public hiking, is a very positive thing...! ! !
No matter what your personal beliefs are... PLEASE...!!! respect this NATIVE LAND...!!!
-DO NOT LITTER-
... and purchase your $5 hiking permit ...
It is an extreme gesture of kindness that the Jemez Nation has opened this wonderful area to public hiking.  At this special place nature displays extreme grandeur with astounding beauty.  This is an area much larger than what first meets the eye.  Amazing beauty goes on and on here....... This hike is an experience to be remembered for a life-time.  The earth here, amazes me.  You will think you are within a National Park.....! ! !
Your five dollar hiking permit is available at the Walatowa Visitor Center which is directly across State Highway #4 from the Red Rocks Trailhead.  Hiking begins on a 2-track dirt road.  But keep an eye out, to your right-hand side, for the foot-trail veers off from the road within a quarter of a mile or less.  In another quarter-mile or so, the trail will split-right-and-left.  This split is a loop trail, that returns to it-self – either way.  Look for the trail to cross the road a couple more times thru-out this loop.  There are several nice footbridges installed for comfortable arroyo crossings.
At one point the trail dead-ends, heading upstream into a very deep and narrowing canyon.  From here... continue on upstream, rough hiking and scrambling will take you up the usually dry streambed into the main slot canyon.  This slot canyon will get deeper and more amazing the farther you go.  A smooth, un-climbable, sheer wall, 80 feet high will turn you around and head you back to the loop trail.  Perhaps a couple hundred feet downstream from this impassable sheer wall will be a difficult place to pass.  It is a difficult boulder blockage about ten feet high – straight up... however there is a steep scramble on your right-hand side that allows the hearty sort continue on to the impasse turn-around chamber above........
After returning back to the loop trail and continuing on, a steep and difficult "off-trail" scramble near ±35°38.820'N 106°43.186'W lifts one above the cliffs to hike along the rim above the slot canyon and into the upper slot canyon above.  This is extremely difficult and to be attempted only by expert mountaineers.
-Right-click-save-as on our map and print a hard copy to take in hand with you on your hike-
Enhanced GOOGLE Satellite map
The Red Lines depict sections of "slot canyons"
<![if !vml]>

<![endif]>
The only total descent of both slot canyons that anyone knows of was Chris Erwin and Doug Scott on Monday May 8, 2017.
We saw no evidence of any previous rappels anywhere.  The photos below show Chris on the 80' rappel and Doug on the 35' rappel.
<![if !vml]>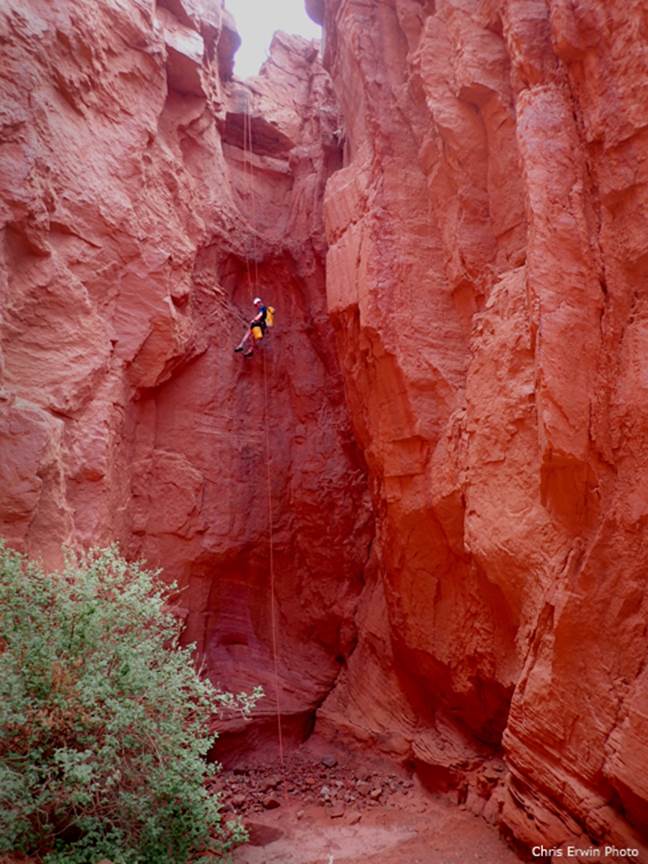 <![endif]>  <![if !vml]>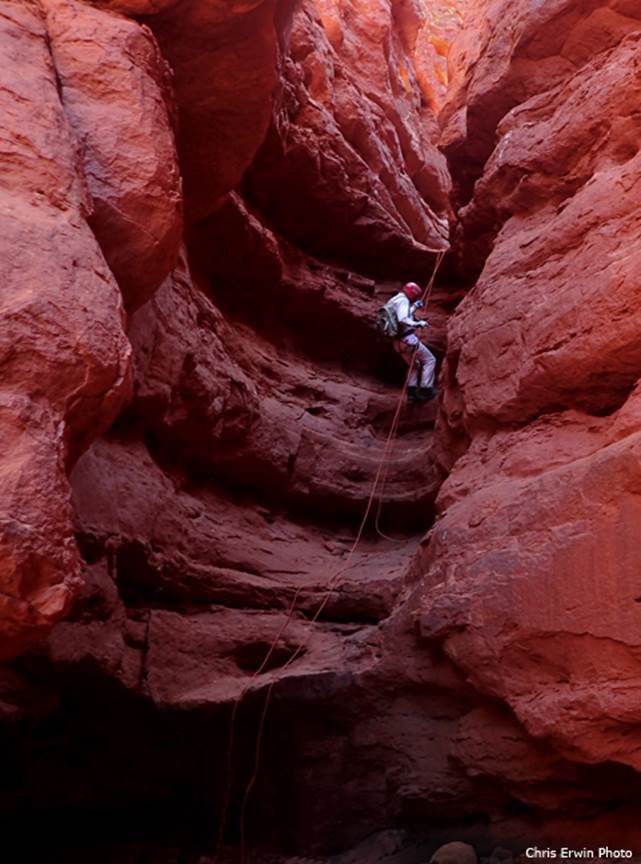 <![endif]>
Chris straddles a waterpocket in the upper slot
<![if !vml]>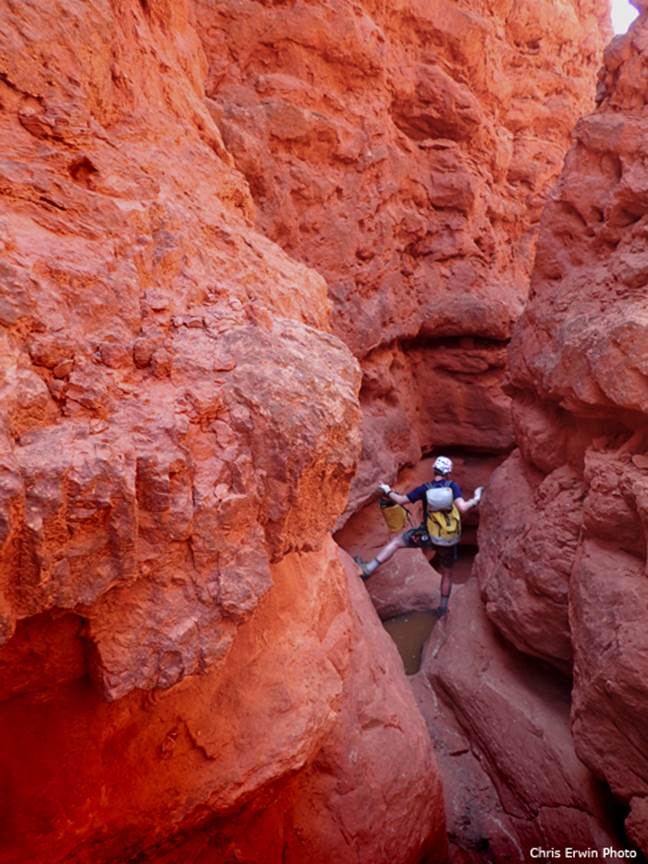 <![endif]>
The photo below shows the dirt road about ¼ mile from the start of the trail.  Also visible, the trail is lined with rocks in the lower left-hand corner of this photo and the slot canyon is noted just beyond the two buttes near the top of the photo.
<![if !vml]>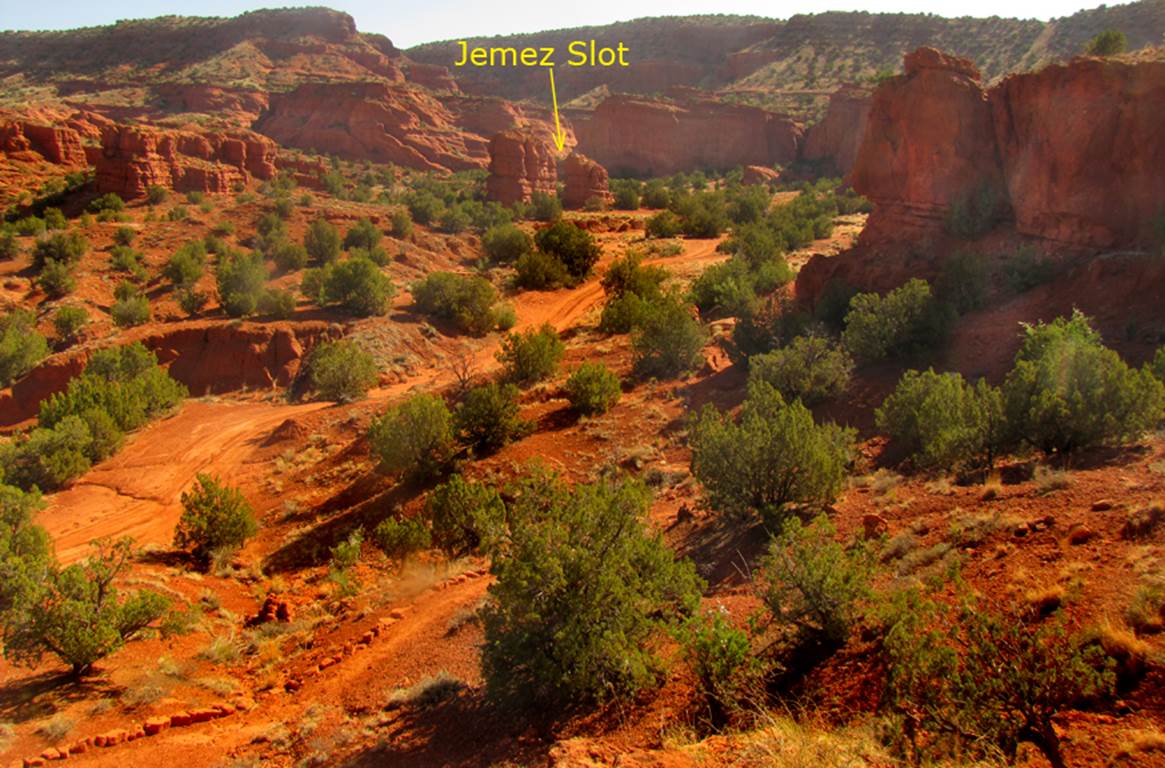 <![endif]>
The Upper Slot Canyon gets extremely narrow in it's upper portions where more technical drops hideout.....
<![if !vml]>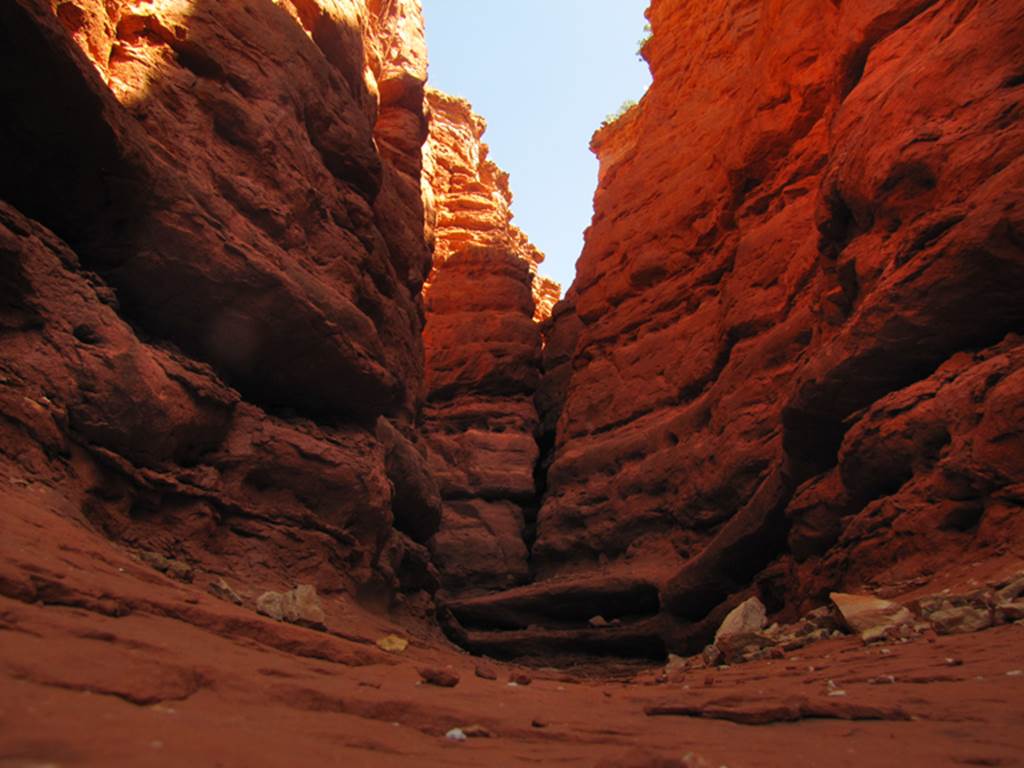 <![endif]>
Walking this flat rock ledge up above the rim of the main slot canyon, leads you past a natural arch and on to the upper slot canyon
<![if !vml]>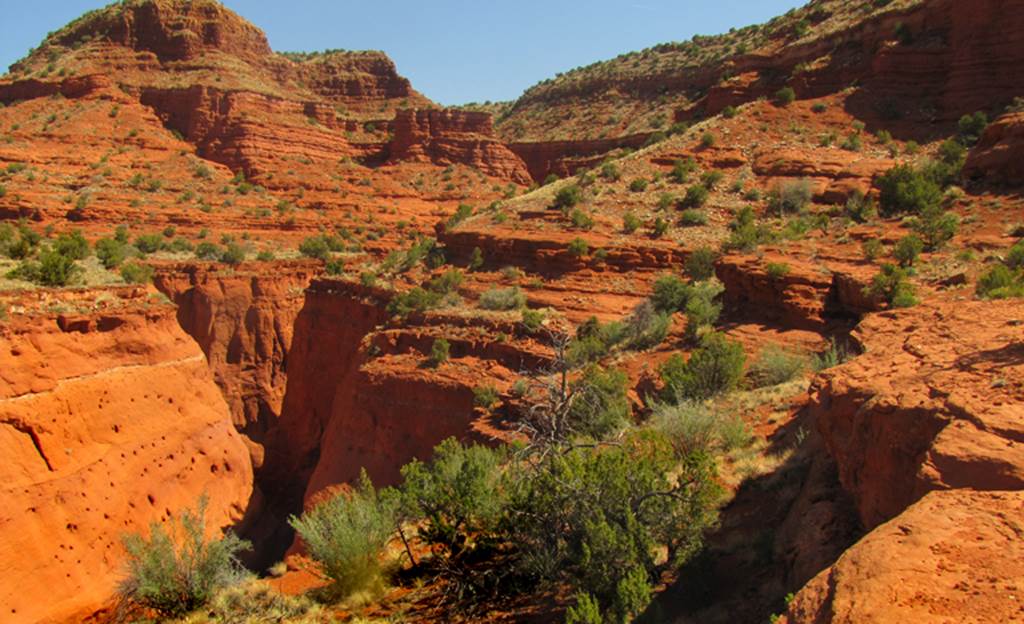 <![endif]>
This small natural arch shown below, appears along the east-side of the canyon cliffs, just downstream from the Upper Slot Canyon: ±35°39.050'N 106°42.960'W.
The opening is maybe two or two & a half feet wide
<![if !vml]>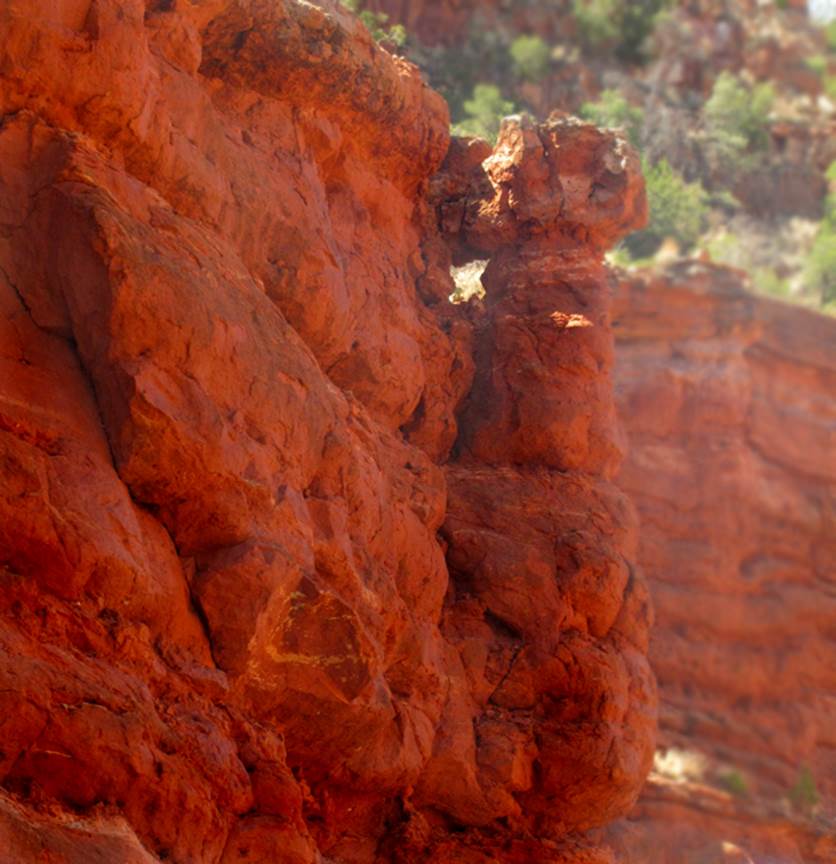 <![endif]>
Another natural arch- very small, but very beautiful appears next to the loop trail, about ¼ mile south of the main slot canyon
<![if !vml]>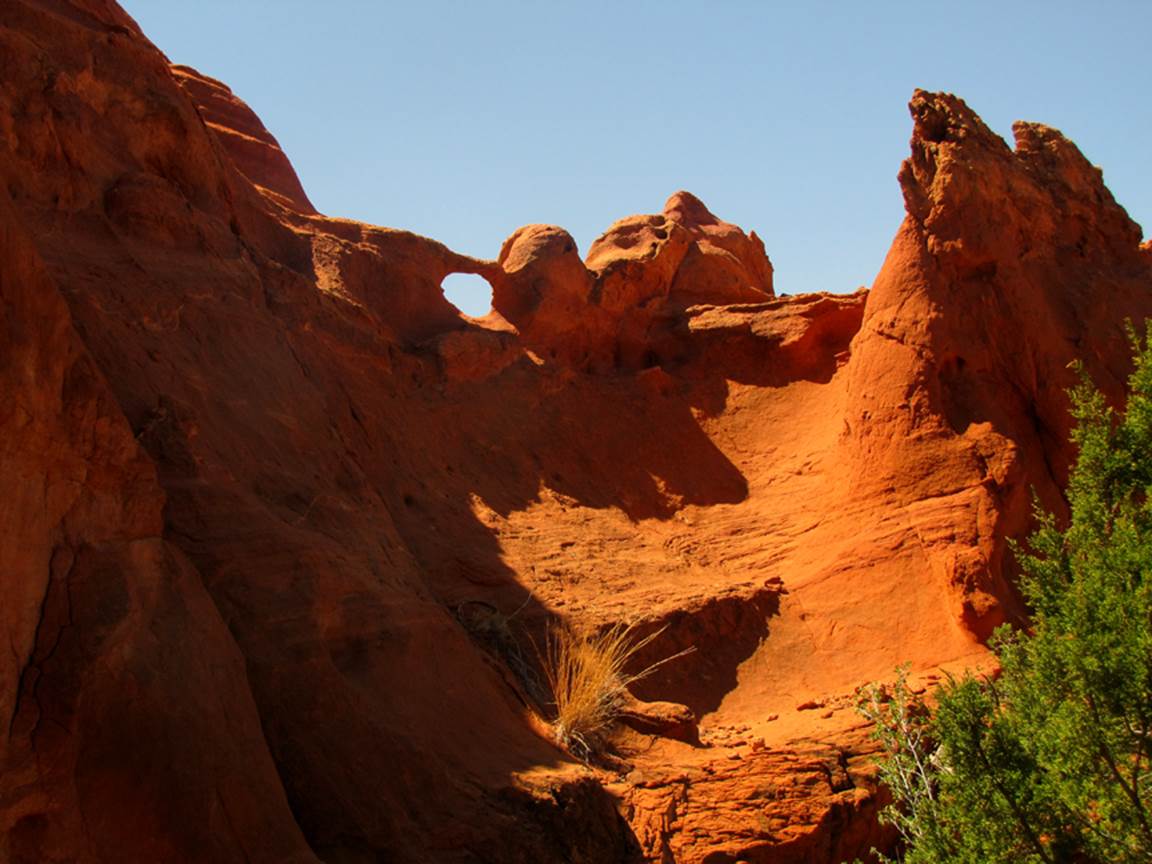 <![endif]>
Below is the nicest of the three natural arches that we saw there, it is in the wide part of the upper slot canyon.  The opening is maybe 3 feet.
<![if !vml]>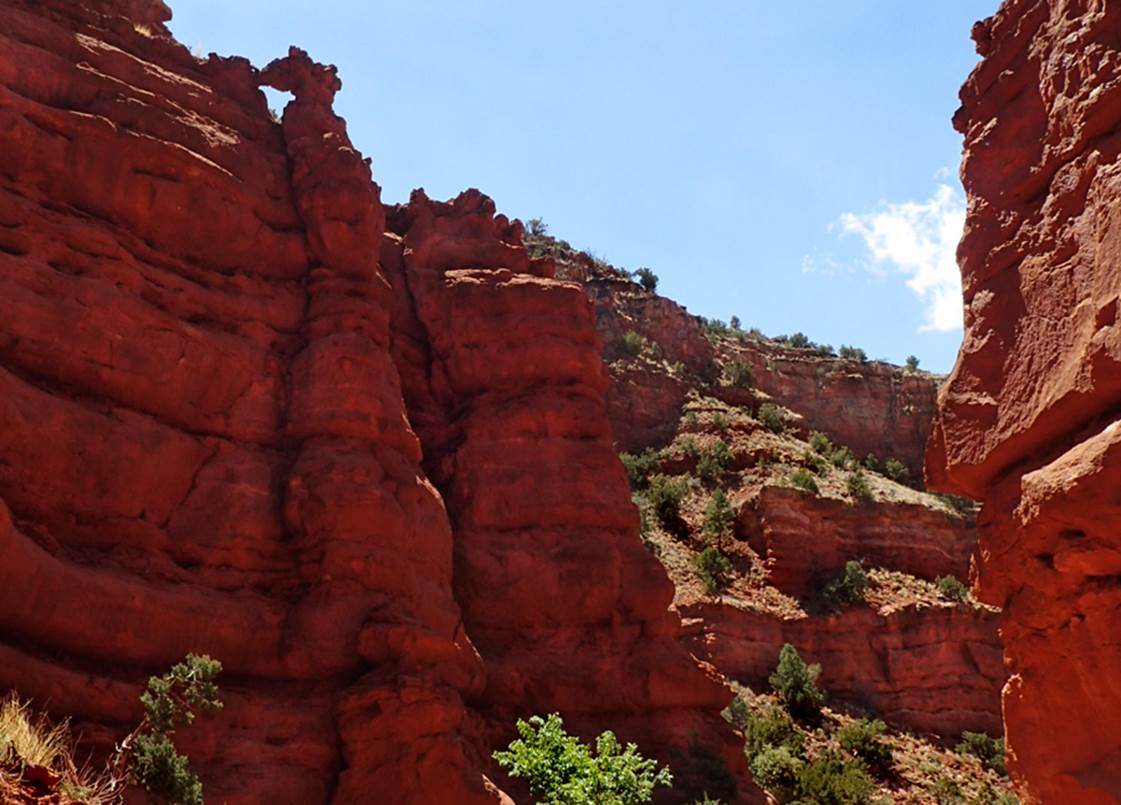 <![endif]>
Some locals tell me that this 40' high pilar at- ±35°38.688'N 106°43.327'W - is a natural occurring memorial to Pope' –who led the Pueblo Rebellion in 1680
<![if !vml]>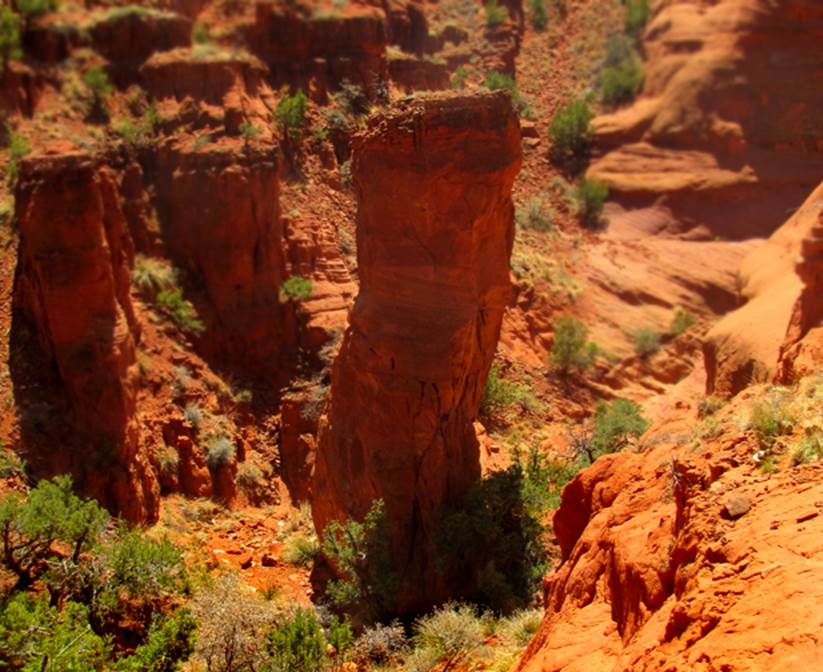 <![endif]>
Here-&-there is some of the most beautiful purple sandstone I have ever seen.......
<![if !vml]>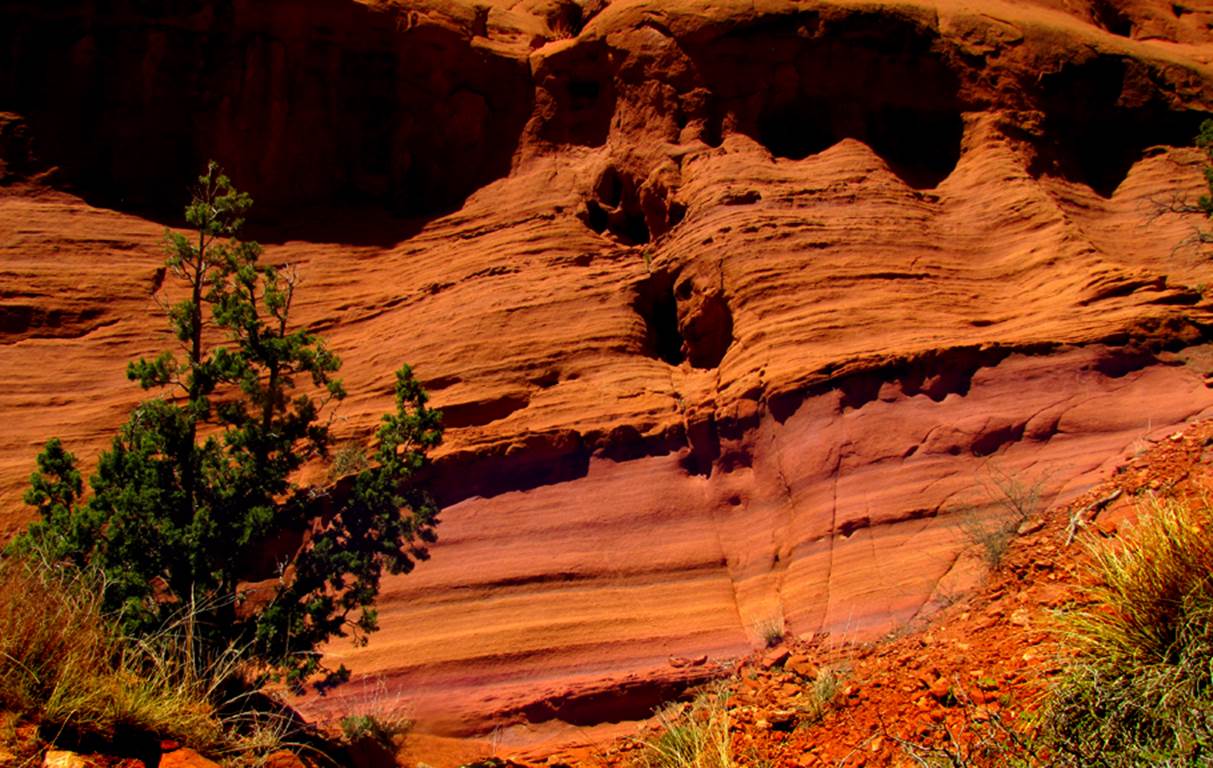 <![endif]>
Back to New Mexico Slot Canyons
Send questions and comments to dscott@themarblesculptor.com