Sapillo Box & Cow Creek Falls and Slot Canyon
ACA Canyon Rating – 2C III
NEVER ENTER THIS SLOT CANYON WHEN HEAVY RAIN OR SNOW RUN-OFF IS IN THE FORCAST…!!!
<![if !vml]>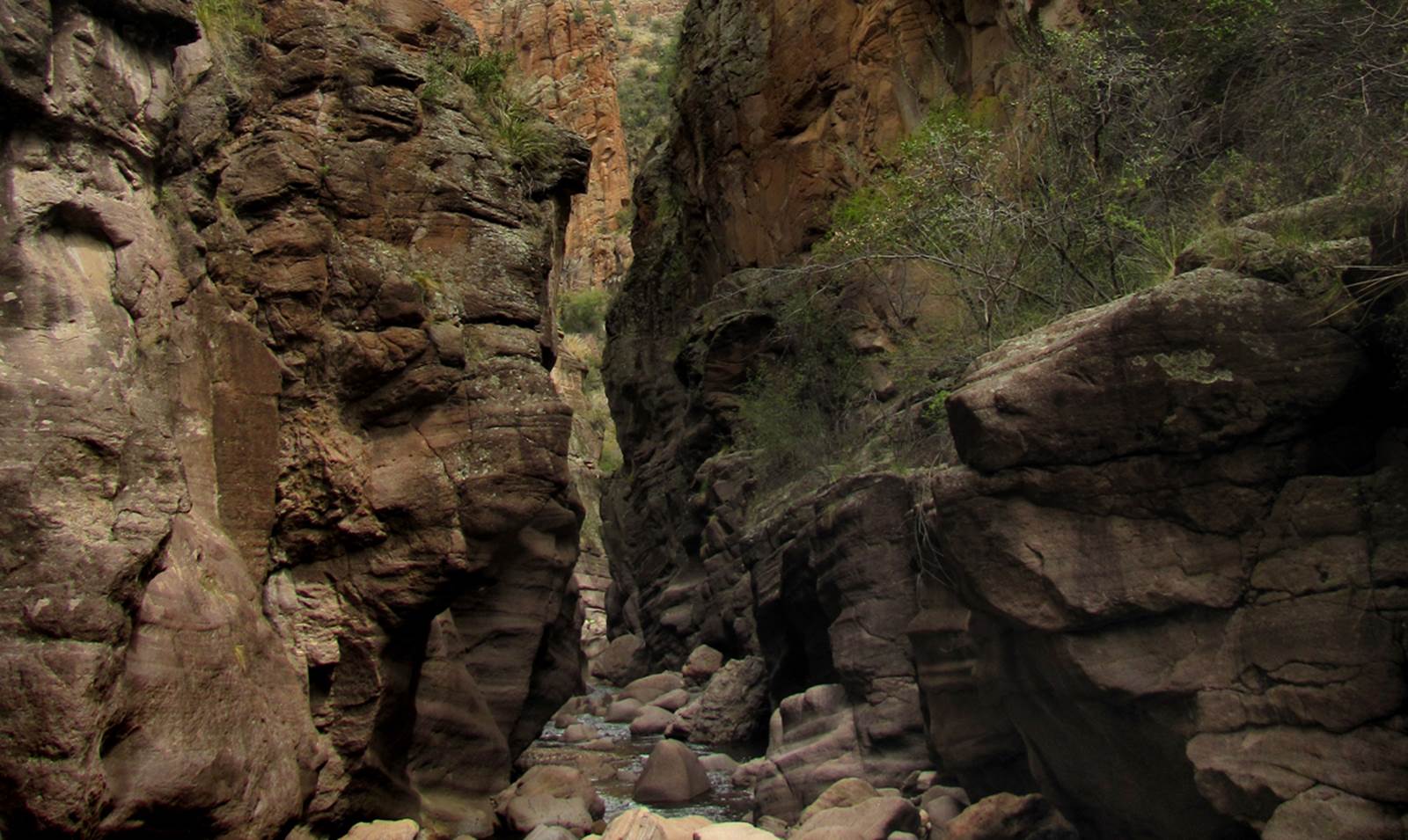 <![endif]> 
The AMAZING Sapillo Box
...and the Sam Rochelle photo below shows James Madson rappelling down the 40' high "Upper" tier, during the "first descent" of Cow Creek Falls
<![if !vml]>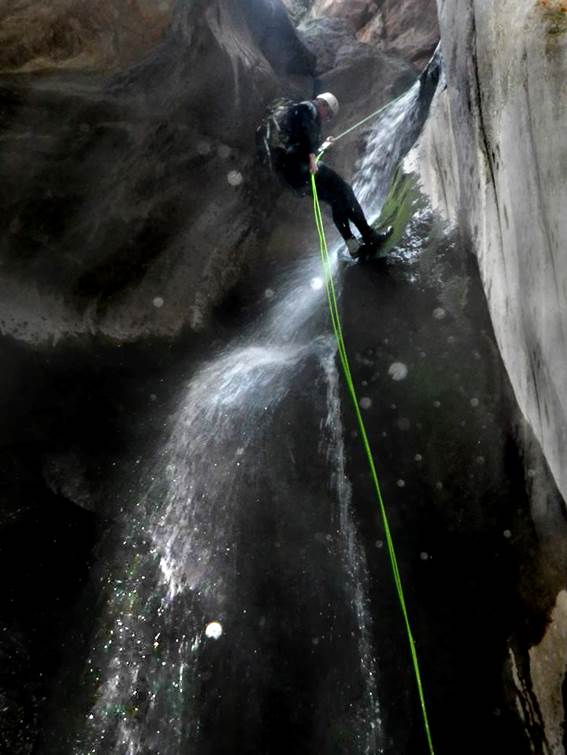 <![endif]> <![if !vml]>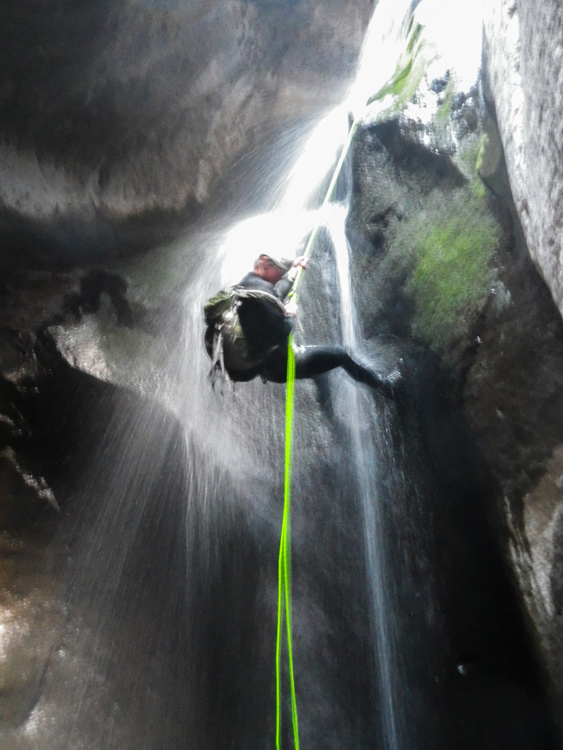 <![endif]>
This third Sam Rochelle photo shows the "Lower" 20' high tier of 60' high Cow Creek Falls
<![if !vml]>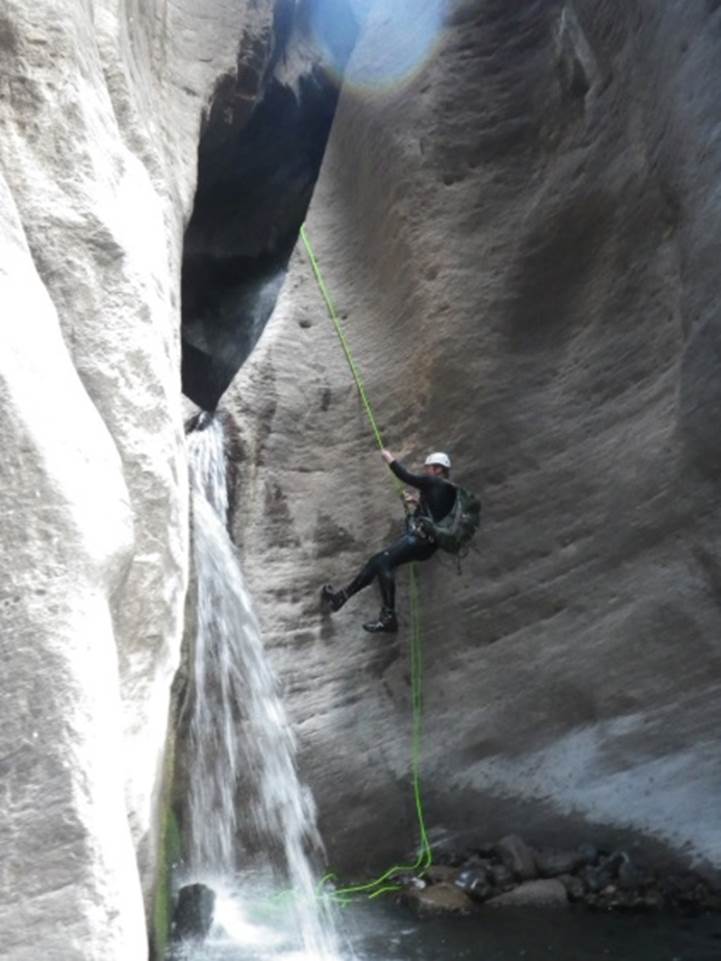 <![endif]>
beta facts:
name- Sapillo Box and Cow Creek Slot Canyon
depth of slot portion- up to 300 feet or more
length of slot canyon- a mile and a quarter...and the Cow Creek Slot Canyon is maybe a quarter-mile long with many waterfalls...
and the Sapio Box is about a mile and a half long
while the Lower Spring Canyon Slot is almost a mile long
elevation- 5500'
GPS coordinates- ±33°02.502'N 108°16.743'W
flow- perennial trout stream
season to visit- drier months of the year April, May, June, September and October… NEVER ENTER ANY SLOT CANYON WHEN HEAVY RAIN IS IN THE FORCAST…!!!
accommodations- NONE
ownership- Gila National Forest
access- is via Forest Road #282 Sheep Coral Road, Highway !5, Forest Road #579 Wild Horse Mesa, and Trail 247… see the map below
nearest town- Silver City is about 20 miles south of here
fun fact- plan on doing some mandatory swimming....! ! ! AND April is cold enough to require a wetsuit...!!!
essay bro
....pretty amazing place....
...excerpts from a trip report by Sam Rochelle.  It is believed that Sam and James had a successful "First Descent" of Cow Creek Falls...!!!
...on Saturday, April 18, 2015...!!!
The lower Cow Creek slot canyon is maybe a quarter-mile long.  The first 15' falls was in a ways after the slot had started, then a waterslide that involves a crucial twist of the hips – to keep from getting wedged...!!!   Then some down-scrambling with two 15' falls...  then at the confluence there was a 60' high- 2-tiered waterfall.  The upper tier is about 40' high and the lower tier about 20' high splashing directly into the sapillo.  A pothole is between the upper and lower tiers.  The swim/wading to get out the downstream end of the Sapillo Box "slot" involves an exciting swim thru a tunnel.  Extreme cold trout waters demands wearing a wetsuit...!!!
Snow Creek, Sheep Coral Creek, Cow Creek and Trout Creek are all small but perennial-flowing trout streams
ALSO... if you plan to descend Lower Spring Slot Canyon down into the Sapillo Box... you best plan on bringing ropes and technical climbing equipment...as rappels are mandatory there....!!!  see map below.
Enhanced USGS topo map
The Red Lines depict sections of slot canyons and/or box canyons
<![if !vml]>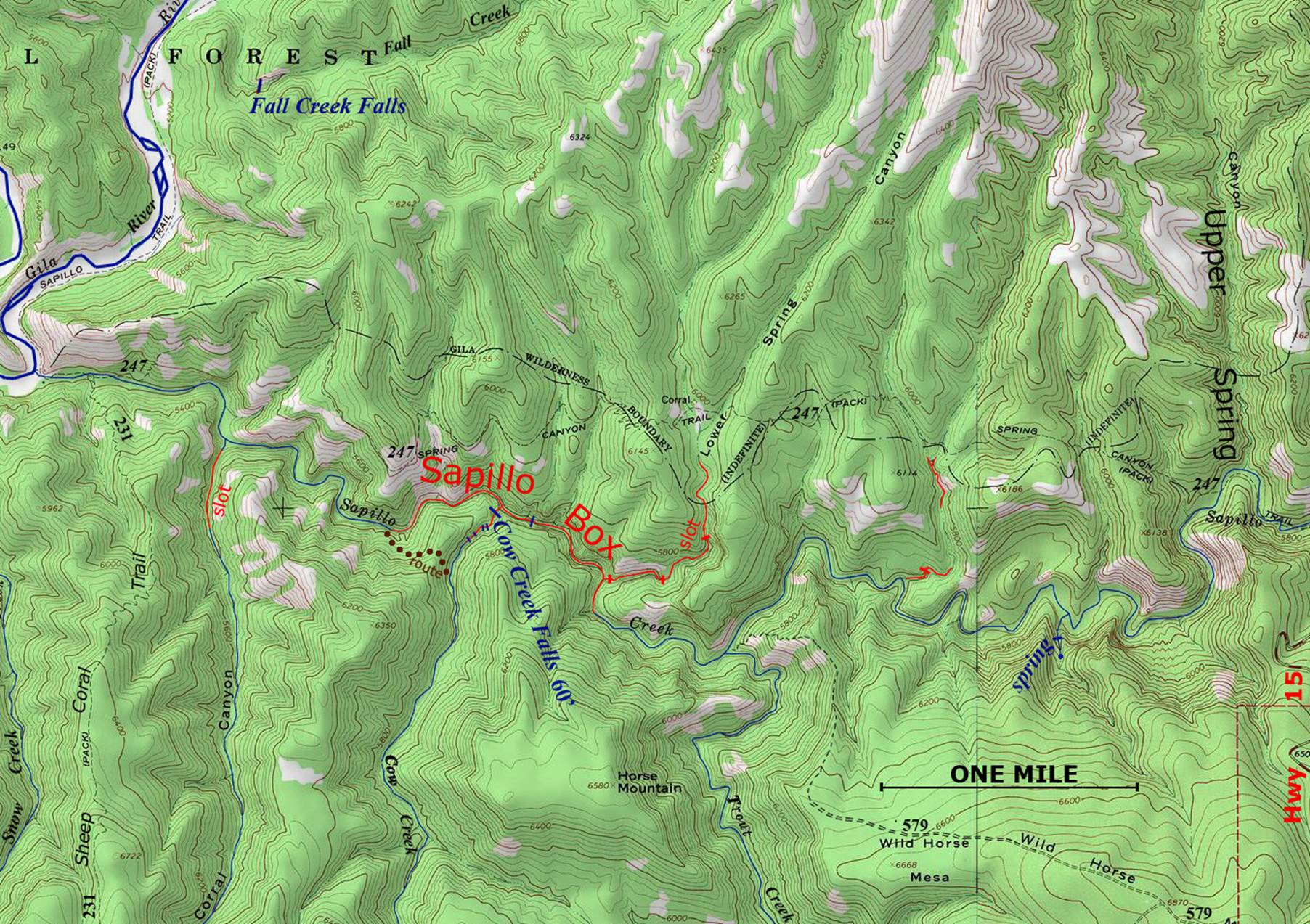 <![endif]>
Back to New Mexico Slot Canyons
Send questions and comments to dscott@themarblesculptor.com