Middle Fork Rain Creek Canyon
ACA Canyon Rating – 3A III
 Experienced Canyoneers Only
requires a full range of technical canyoneering equipment as well as multiple ropes…!!!
NEVER ENTER ANY SLOT CANYON WHEN HEAVY RAIN IS IN THE FORECAST…!!!
<![if !vml]>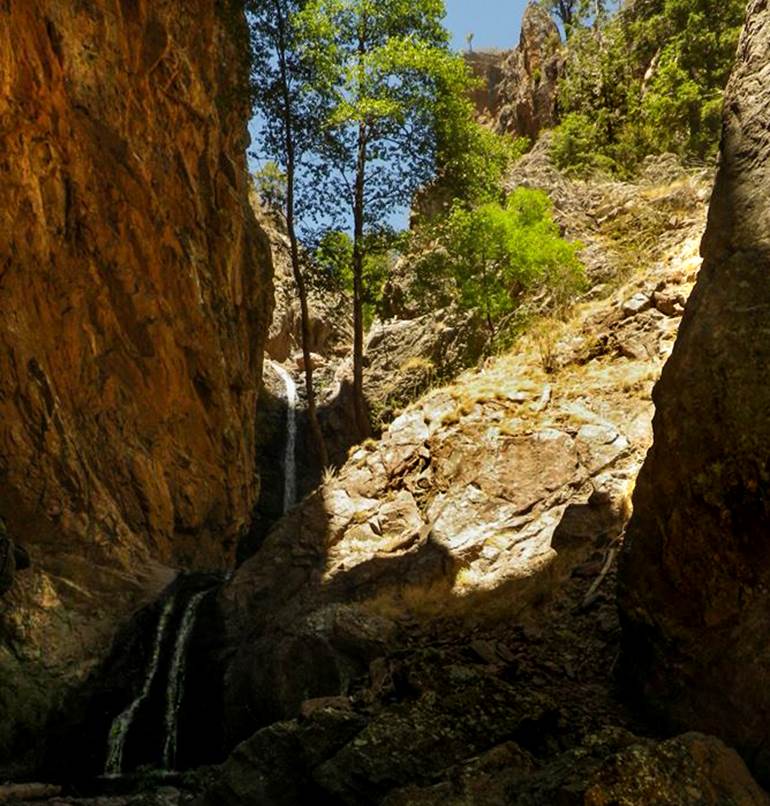 <![endif]> 
The first rappel in this gorge is shown above: a 40' upper tier and a 20' lower tier..... extremely beautiful.....! ! !
Below is a 150' maybe 175' rappel... note the man "on rappel" with his yellow rope... This is the high falls tht shows on Google Satellite Image.
<![if !vml]>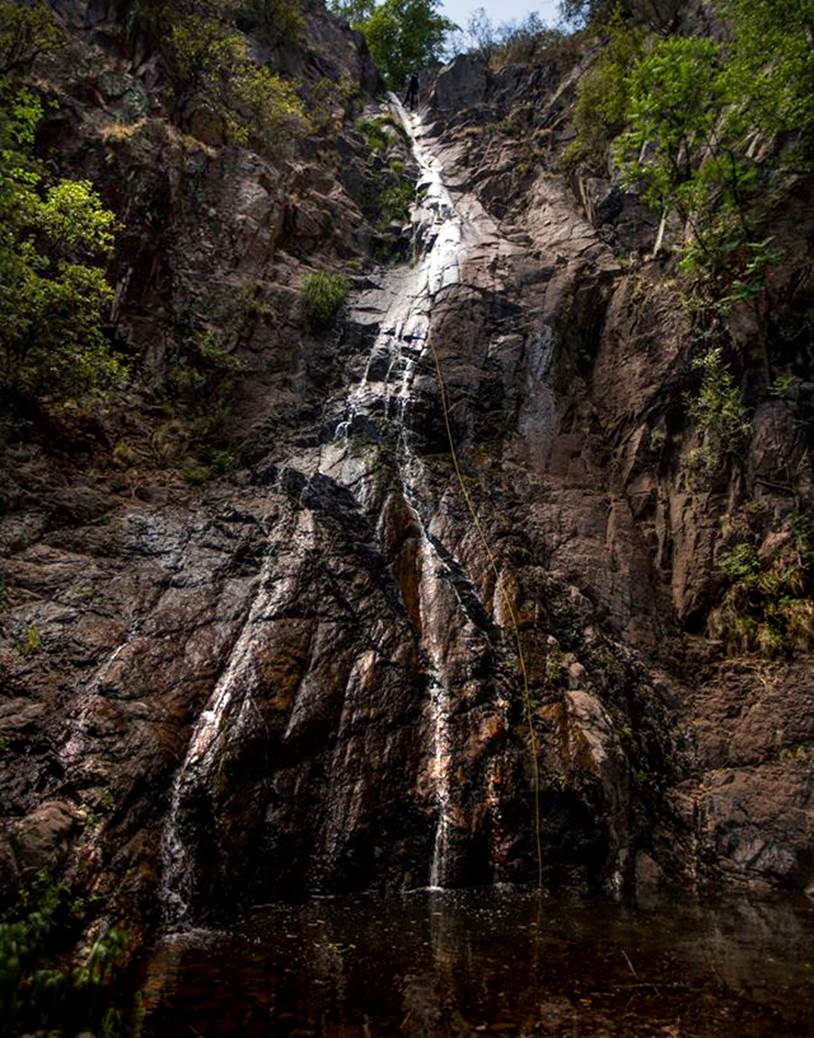 <![endif]>
beta facts:
name- Middle Fork Rain Creek Gorge
length of slot canyon- maybe a quarter mile
elevation- 0' at the top down to about 0'at the bottom
GPS coordinates- ±°.'N °.'W
flow- perennial 
season to visit- Spring and Fall... but July and August are likely to flashflood: NEVER ENTER ANY SLOT CANYON WHEN HEAVY RAIN IS IN THE FORECAST…!!!
accommodations- none- within the Gila Wilderness
ownership- Gila National Forest
access- The Rain Creek Trailhead… see the map below
nearest town- Glenwood is about 20 miles west of here
fun fact- deep... deep... WILDERNESS...! ! !
James Madson Trip Report
We started out about 6 am and made good time up to the confluence of the forks of Rain Creek in about 3 hrs. Trail was easy to follow till near the confluence. From there we bushwhacked up the ridge. It was hard going there was one rock formation we had to go down and round. It was talked that coming in from the west fork at the saddle could be easier. From the saddle we continued up the ridge till we found a spot we could drop into the canyon. It took another 3 hrs to do that part and we we're at about 7.5 miles to the top of the canyon. First we down climbed a small falls then reached the first drop of ~40feet... there was some water-flow here. The next rappel was ~20 feet.  From there we down climbed a small Cascade and the next rappel was about 20 feet.  Then a 30 footer, followed by a 15-20 foot drop. The next rappel was the largest at about 150 feet it is the big waterfall that you see on satellite image.
We didn't see any fish below this falls and wondered if there could be another falls. After a short hike we found the last 2 rappels... a 30 foot rappel into a log jam and a short 10 footer to exit. After this were no more falls. We caught the trail and hiked out. Total trip time was about 14 hours and 15.7 miles.
Right-click-save-as on our map below, to print your own "hand-held" copy for your hike
 Enhanced USGS topo map
Or click this link to see a new updated & enlarged map: http://www.dougscottart.com/hobbies/waterfalls/WestFkMogo.htm
Enhanced USGS topo map
The Red Lines depict sections of "slot canyons"
<![if !vml]>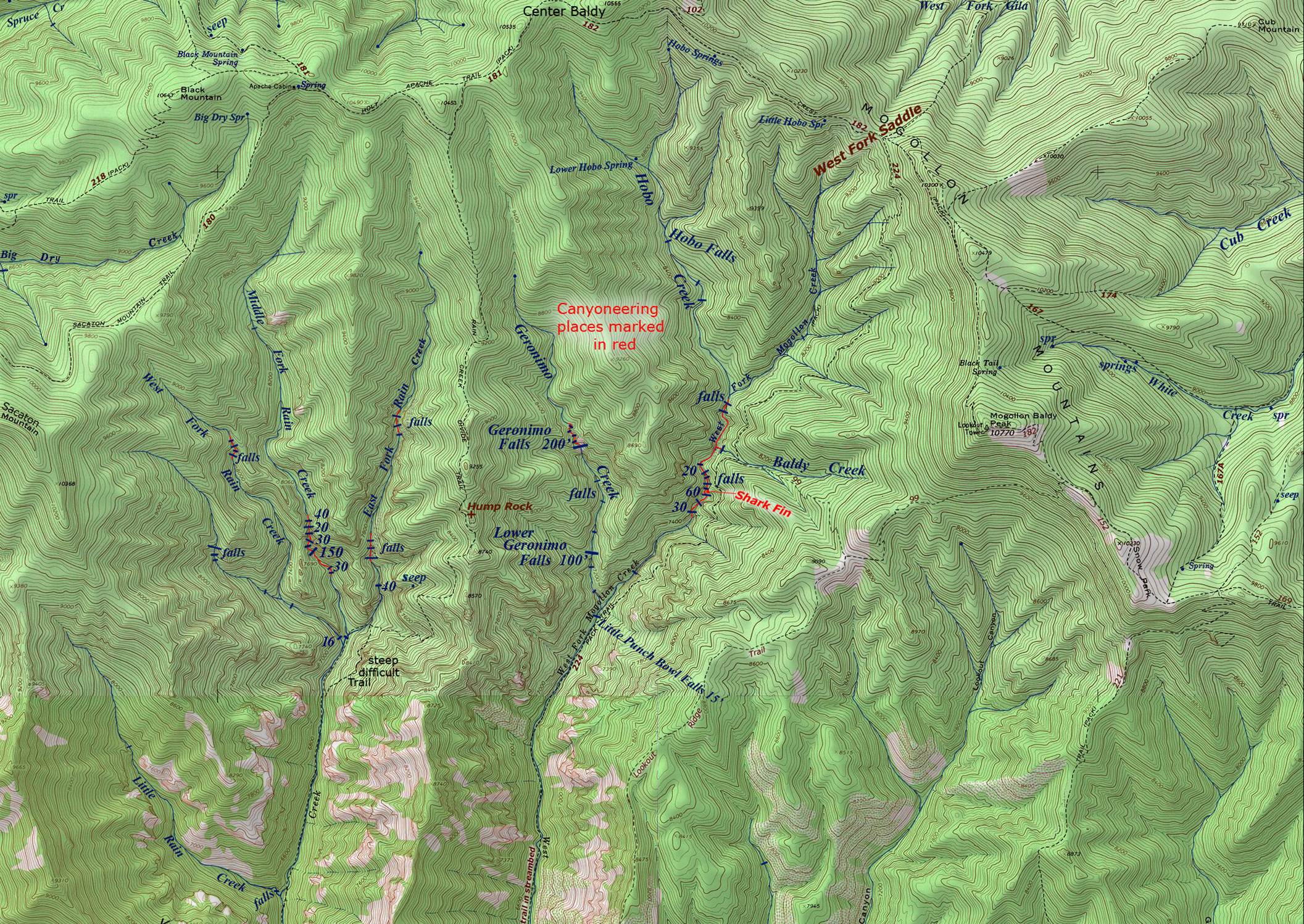 <![endif]>
To see trailhead access click: http://www.dougscottart.com/hobbies/waterfalls/WestFkMogo.htm
Back to New Mexico Slot Canyons
Send questions and comments to dscott@themarblesculptor.com