Big Canyon
See on youtube: https://www.youtube.com/watch?v=9mbusCgnY2U
ACA Canyon Rating – 3A III
NEVER ENTER ANY SLOT CANYON WHEN HEAVY RAIN IS IN THE FORECAST…!!!
<![if !vml]>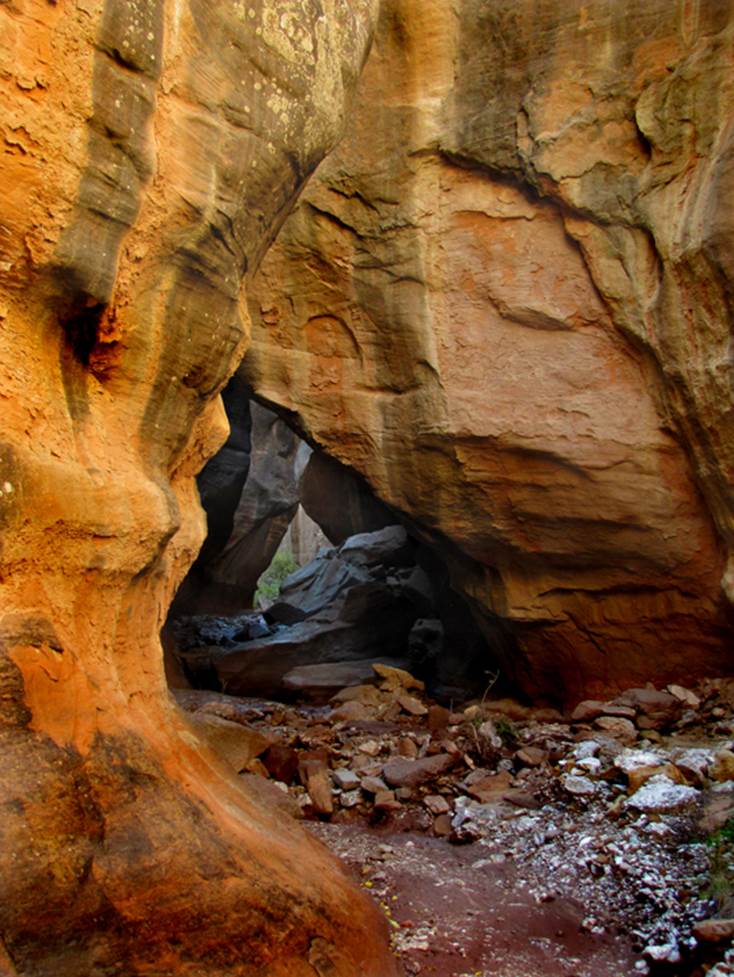 <![endif]> 
Big Canyon in the Chama Canyon Wilderness… is a wonderful slot canyon whose narrows become 300' deep
Scroll down for more photos
See also: https://getoutsideabq.blogspot.com/2018/08/feeling-little-in-big-canyon.html
beta facts:
name- Big Canyon
depth- Big Canyon is 1500 feet deep with slot portions of 300 feet in depth
elevation- 7800' down to 6650'
GPS coordinates- ±36°22.673'N 106°46.446'W down to ±36°23.406'N 106°44.700'W
flow- intermittent
season to visit- drier months of the year, like May, June, September, October and November… NEVER ENTER ANY SLOT CANYON WHEN HEAVY RAIN IS IN THE FORECAST…!!!
accommodations- NONE ...Chama Canyon Wilderness Area
ownership- Santa Fe National Forest
access- is from above on Forest Road 8
nearest town- Gallina is about 12 miles south of here
fun fact- at this time Big Canyon's 3+ miles of "continuous slot" is among the longest slot canyons we know of in New Mexico
the map below shows a non-technical route that drops you into the middle of the slot canyon section without ropes.  This route is down Bear Trail and under the Land Bridge... then on down South Fork Big Canyon into Big Canyon itself.  From here you can visit the entire 2 mile center portion of Big Canyon without ropes or climbing gear.  Both the upper and the lower portions of Big Canyon Slot, are a non-technical scramble inward from either/both ends.  However a traverse of the entire slot canyon is a technical descent for experts only.
essay bro
Big Canyon is a tributary to the Rio Gallina within the Chama Canyon Wilderness.  Big Canyon, with tributaries of its own, has over three miles of continuous narrows.  The narrow, slot canyon portions of Big Canyon reaches depths of up to three hundred feet in the lower half mile…!!!   Please right-click-save-as our map below to make yourself a hard copy of your own.
We drive in about 13 miles to Big Canyon on Forest Road 8 from Gallina, NM.  We turn off onto the tiny, unmarked Big Canyon access road shown on the map below with a single dotted line, and park a ways in.  We hike north to... and then- thru a narrow canyon of solid alabaster.  The alabaster layer in this area is one hundred feet thick…!!!  The 45' drop seen on the map below is sandstone and a very steep down-climb is do-able on the south side of the fall.  One half mile below this is the confluence of South Fork Big Canyon which hosts a "Land Bridge".  It is quite remarkable... ! ! ! see photos below.  In another quarter mile or so is a side canyon we call "Tunnels" which has two forks.  Both forks have extremely narrow slots, requiring even a skinny guy like me to turn sideways...!!!  see photos below.  Natural tunnels occur here.
Soon after this, there is a 12' drop, requiring a short rope, which we use tying knots for hand and foot holds.  Farther along we encounter an under-cut 30' drop requiring a free hanging rappel (see first photo below).   There are no rope-less climb-arounds at either of these drops.... and between these two drops is a difficult-to-find ... jug-handle type natural arch -see photos.
The half-mile of canyon below this 30 foot rappel, is the crux of Big Canyon…the "sweet" corridor… (see top photo above).  Midway in this section is a 12' high drop that can be climbed around without a rope.  Downstream a short ways is Cheerio Arch.  It is just below eye-level on your right.  Upon reaching the mouth of Big Canyon, beautiful and grand Gallina Canyon will greet you.  It is a 1500' deep canyon with a broad bottom.  Notice on our map below, that there is a route leading back to your vehicle, up on the top of the ridge just north of Big Canyon.  It is marked with a yellow dotted line.  This route is do-able and has been done, but it is a long grueling trek.  We much prefer leaving ropes and/or rope ladders at the 2 or 3 places they are needed and we re-trace our steps right back up the bottom of Big Canyon Slot...... all the way back to our wheels.
There is only about a mile and a half of public forest land to enjoy here on the canyon bottom.  60% of the canyon bottom is private land owned by Gallina Canyon Ranch…both upstream and downstream.
Gallina Canyon Ranch
…is Amazing…!!!
Click this link: http://gallinacanyonranch.com/
Forest Road 474, Abiquiu, NM 87510
(505) 490-3333
Gallina Canyon Ranch a great way to visit and enjoy these amazing "slot canyons" of the Chama Canyon Wilderness.  Several amazing slot canyons are easy to visit with normal hiking from here.  In fact, vacationing at Gallina Canyon Ranch will put you in the heart of slot canyon country...!!! ...AND- you will be in a great position to visit some of the best parts of some of the best slot canyons in New Mexico, without technical rock climbing and repelling equipment or even having much canyoneering experience.  Gallina Canyon Ranch is truly amazing and is the only easy hiking access to this western portion of the Chama Canyon Wilderness.   
Please scroll down to enjoy the photos below our map:
Click this link to access a detailed topo map that shows this entire area:  http://www.dougscottart.com/hobbies/SlotCanyons/Gallina.htm
Enhanced USGS topo map by Doug Scott
The Red Lines depict sections of "slot canyons"
The Yellow Lines show easier non-technical routes around the highly technical drops
<![if !vml]>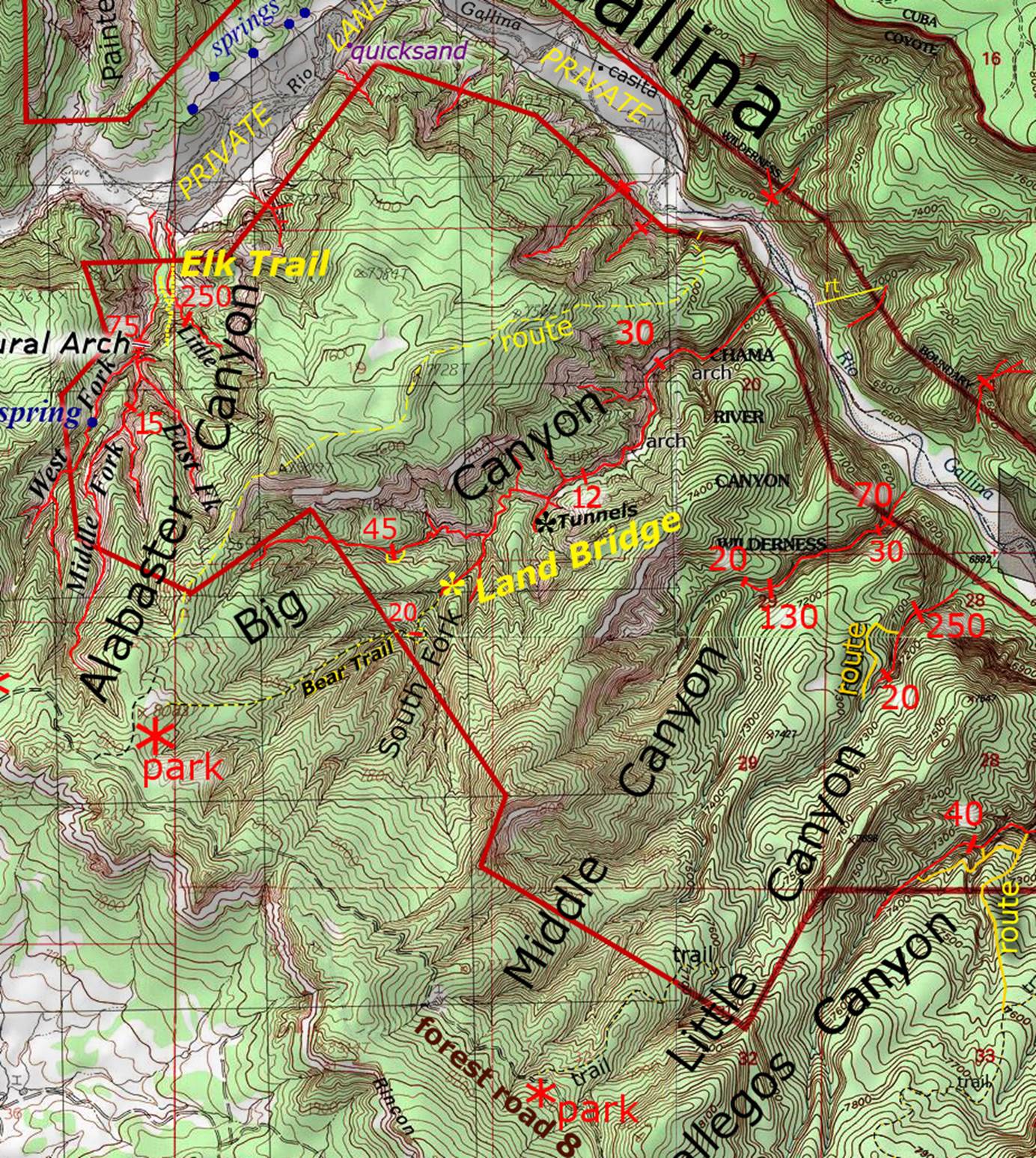 <![endif]>
________________one mile____________
Click this link to access a detailed topo map that shows this entire area:  http://www.dougscottart.com/hobbies/SlotCanyons/Gallina.htm
<![if !vml]>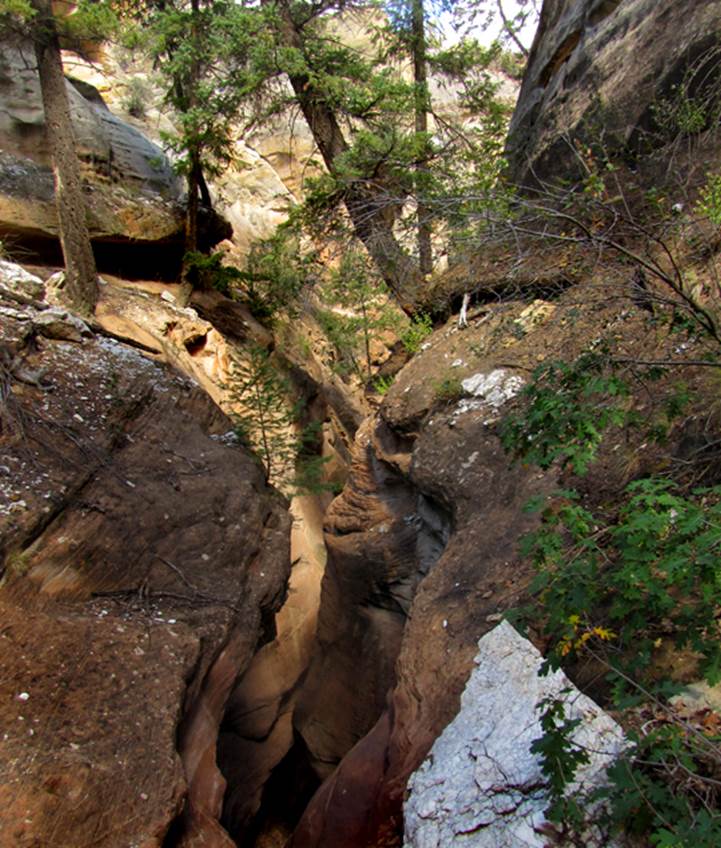 <![endif]>
This photo shows a 30' drop in the lower portion of Big Canyon.  It is here that Big Canyon turns into an amazingly sculpted, very deep and narrow slot canyon.  This 30' drop is greatly undercut requiring a "free-hanging" repel.  There is a strong healthy ponderosa nearby to use as an anchor.
<![if !vml]>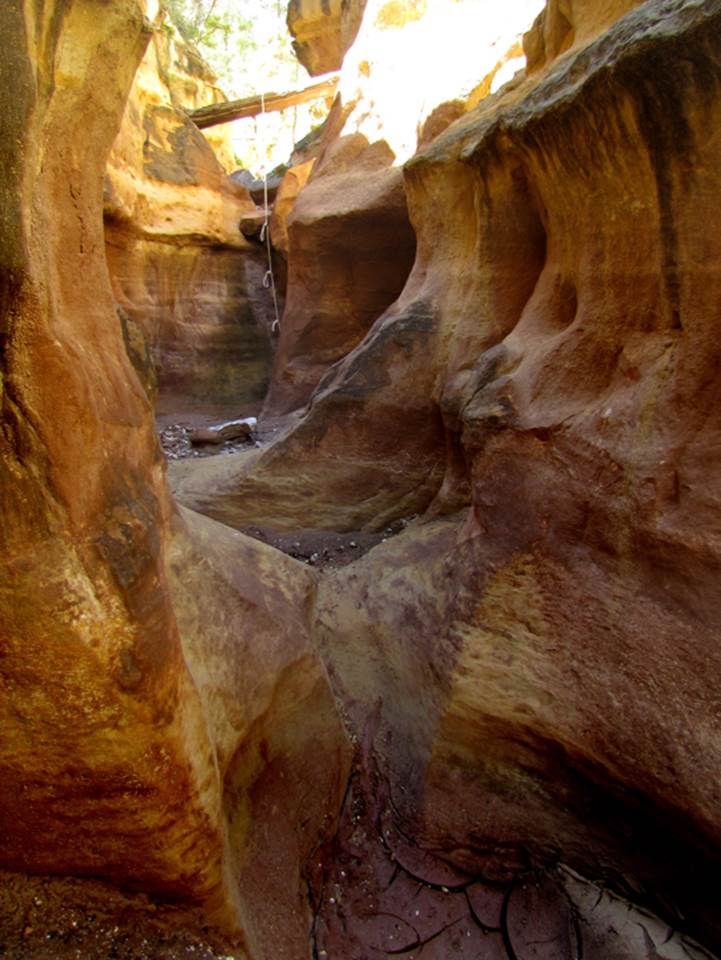 <![endif]>
This photo shows the knotted rope we used to descend a 12' drop by hand
<![if !vml]>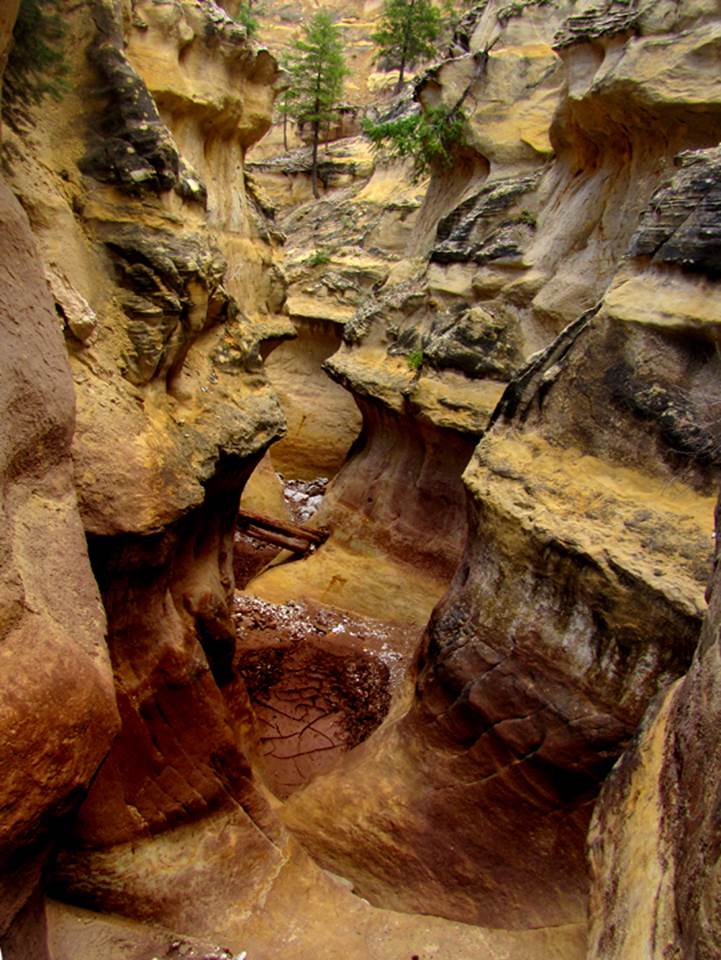 <![endif]>
…a colorful sculpted stretch of Big Canyon Slot immediately below the 12' drop
<![if !vml]>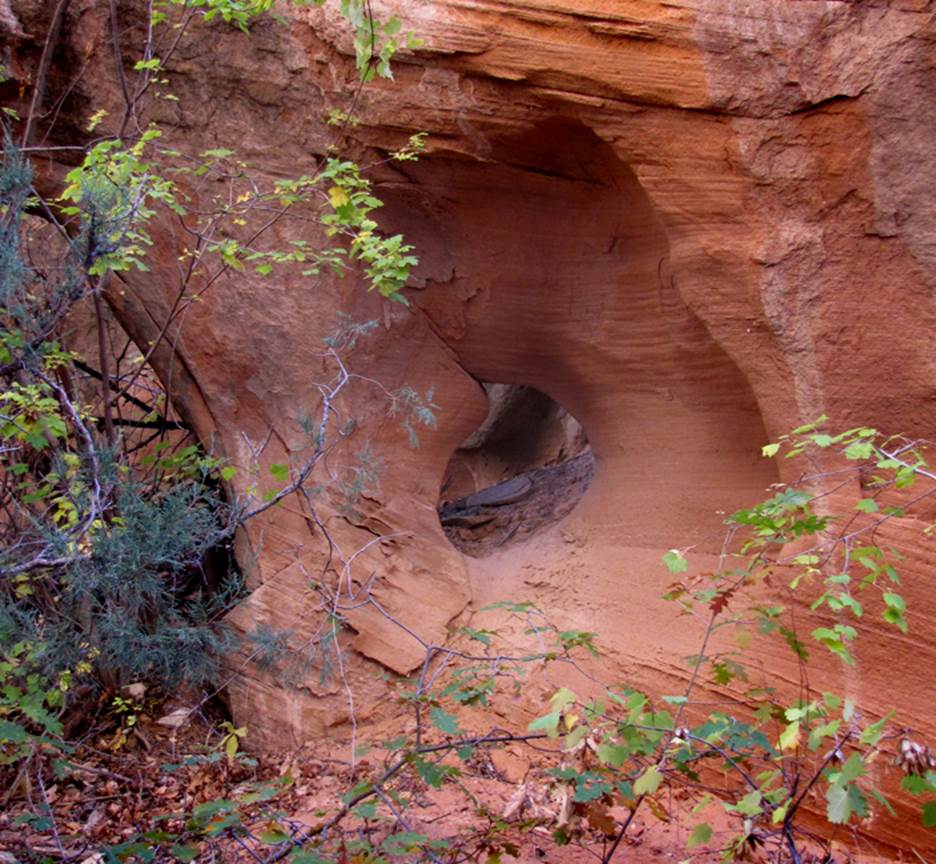 <![endif]>
Cheerio Arch is in the lower section of Big Canyon
<![if !vml]>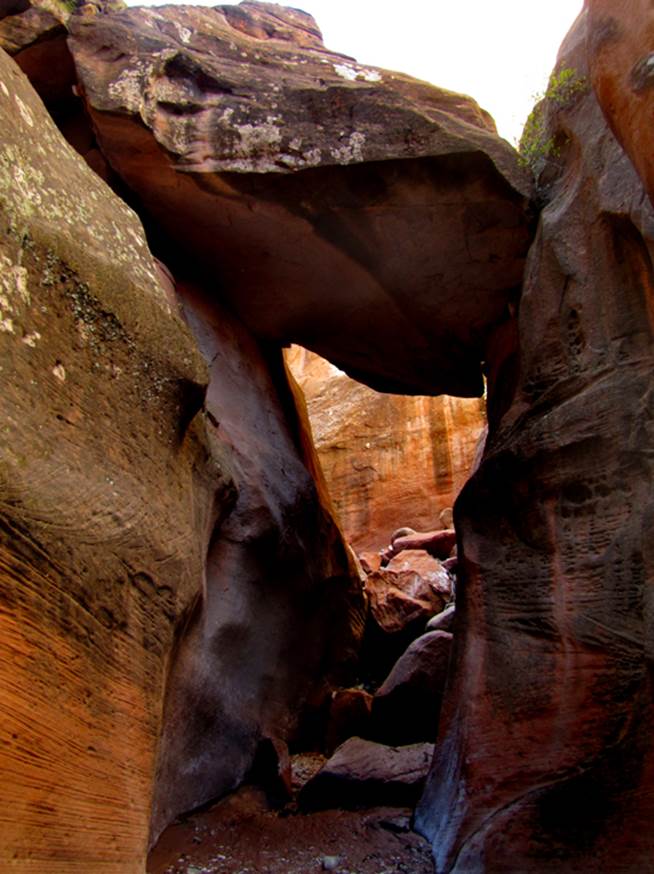 <![endif]>
The Chalkstone is wedged into place 25' overhead in the lower reaches of Big Canyon
<![if !vml]>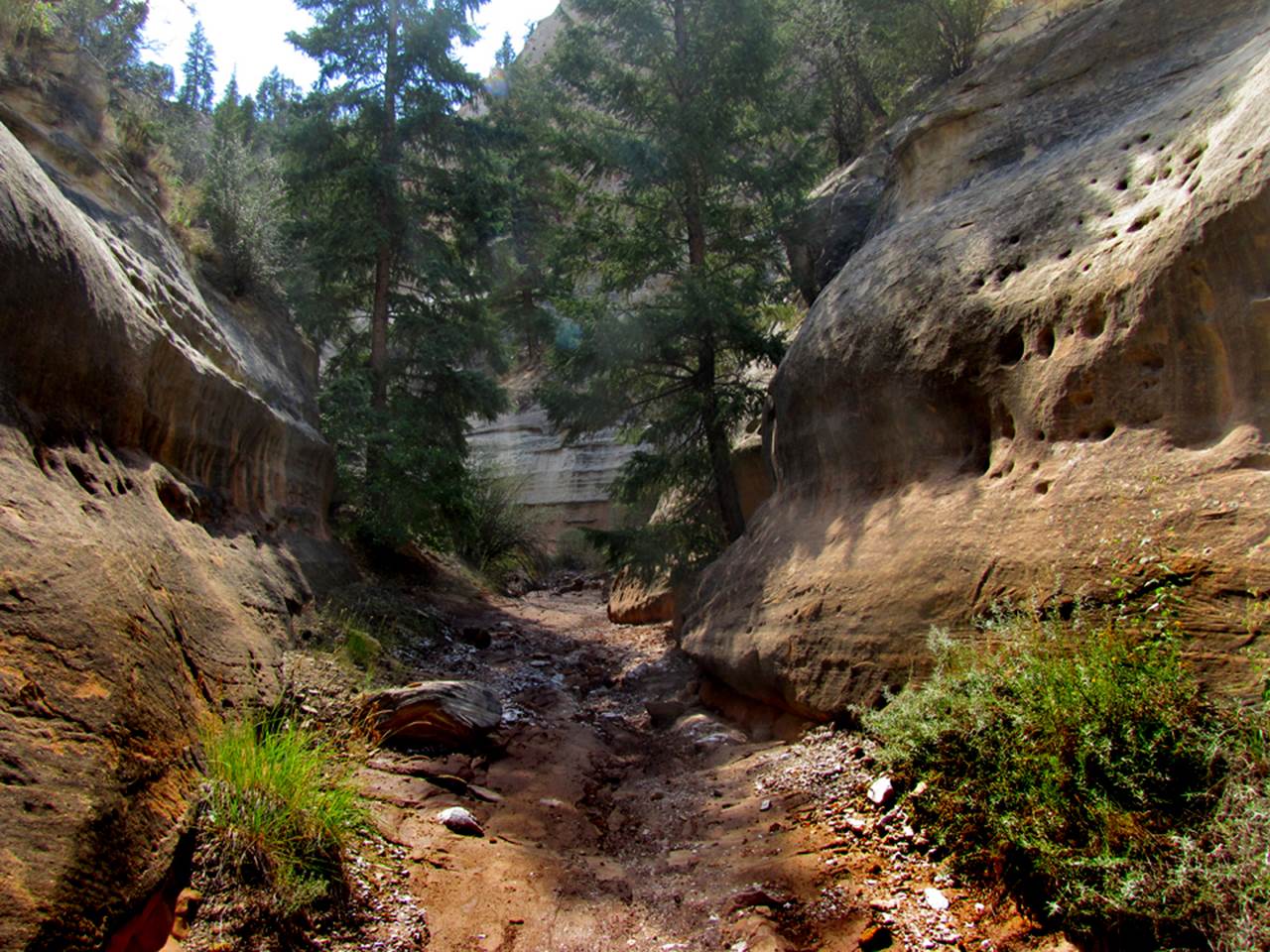 <![endif]>
…a more open area… wheeet-wheew… a half mile or more above the 30' drop.
<![if !vml]>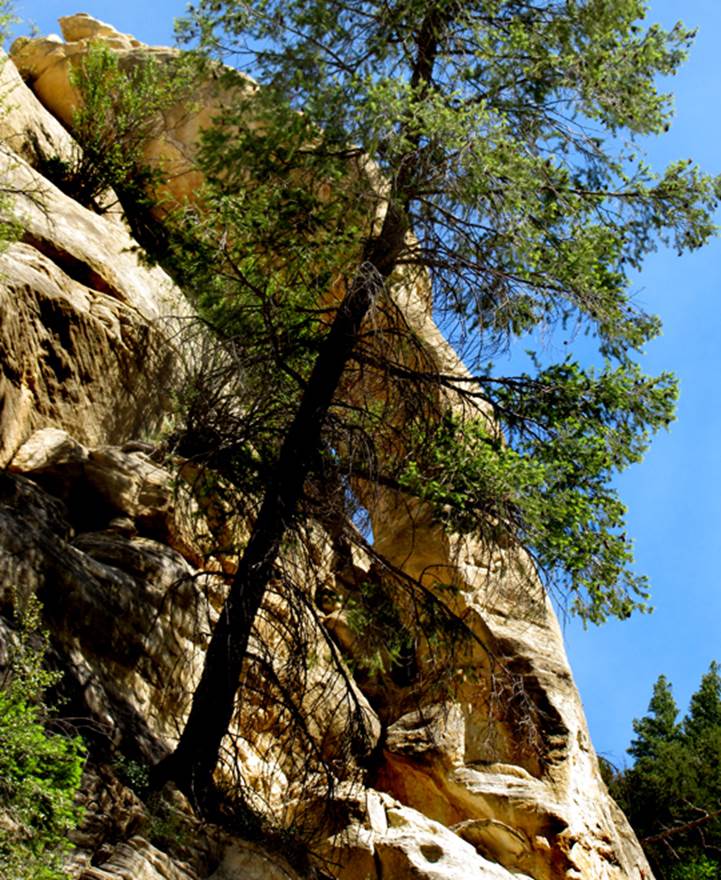 <![endif]>
This small jug-handle arch is between the 10' and the 30' drops... Randy found it so I call it Randy's Arch
<![if !vml]>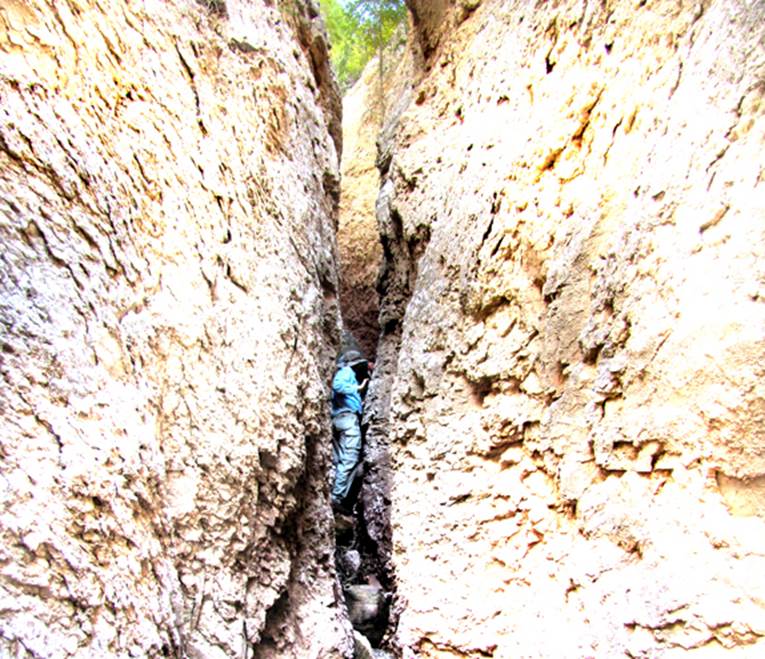 <![endif]>
A mandatory sideways squeeze allows passage thru a tributary called "Tunnels"...see map above
Both of these narrow slots in the Tunnels area are solid and amazing alabaster
<![if !vml]>
<![endif]>
This area is called "Tunnels" because of natural tunnels created by slumping, massive alabaster blocks.  It is a wonder that a passage with head-room remains open here
<![if !vml]>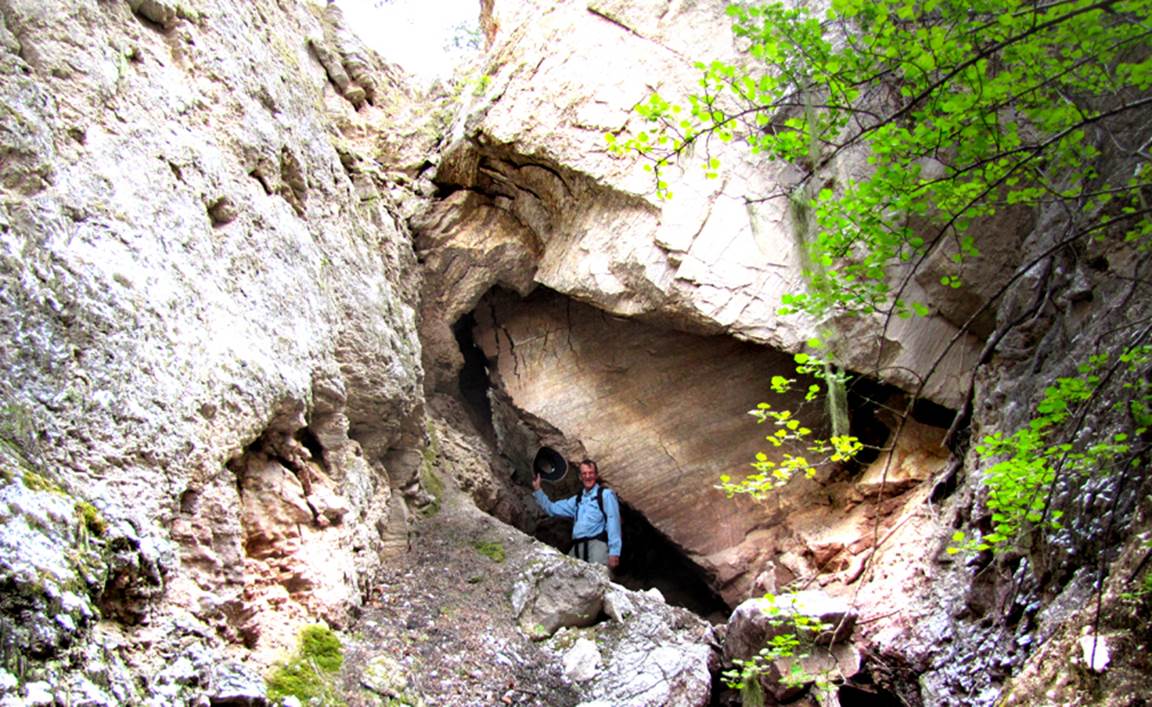 <![endif]>
Below is the Big Canyon "Land Bridge." -See the map above-  It is found up the South Fork of Big Canyon.  I walk thru this archway, up-right without bumping my head and the ceiling has no cracks in it.  There are several other tunnels in this canyon and others nearby.  They are ALL made by slumping side-walls.  This one is not caused by slumping rock.  It is solid enough to support a full grown Ponderosa Pine and otherplant life.  It is quite stable and it appears to us that it will be around for longer than any of us likely will...! ! !
<![if !vml]>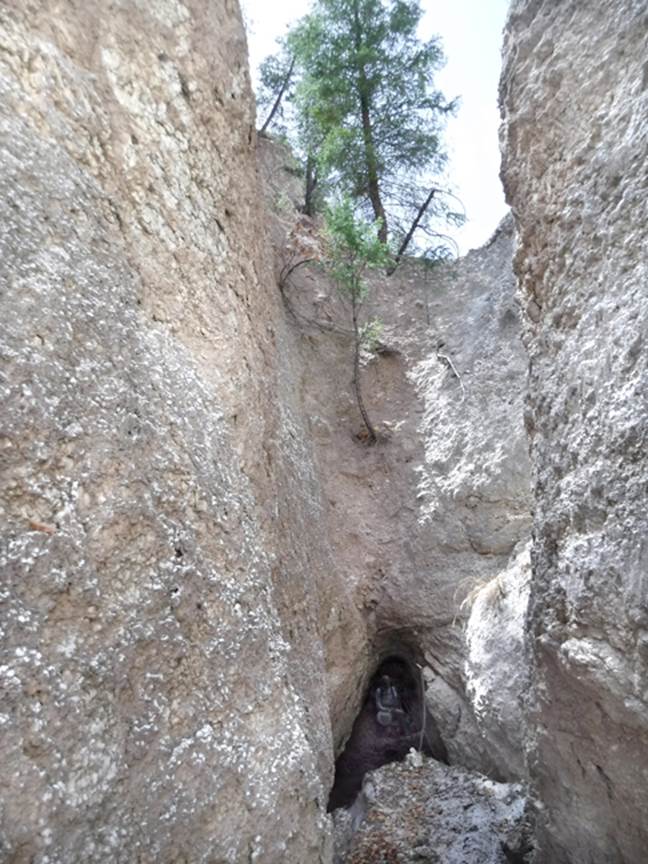 <![endif]>  <![if !vml]>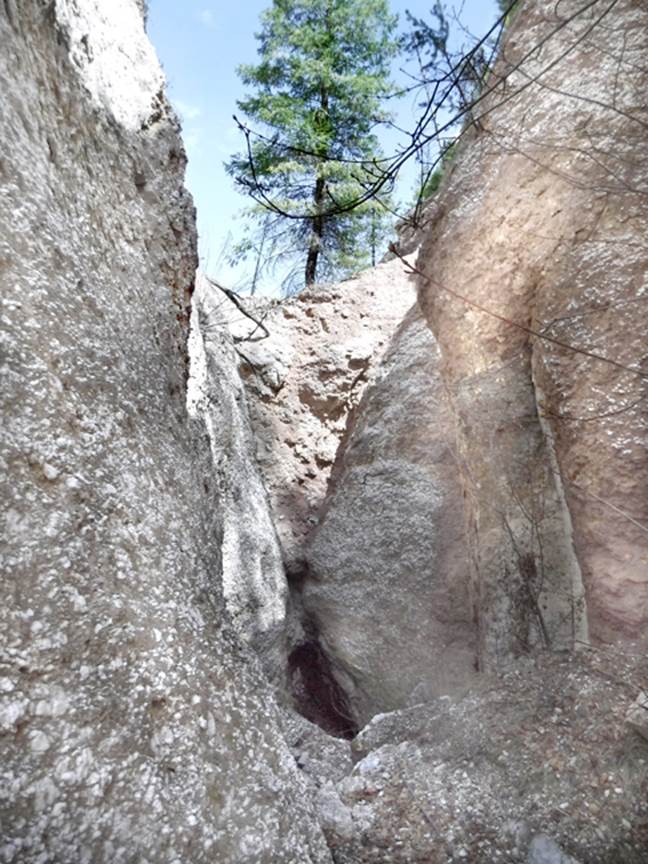 <![endif]>
My son can be seen sitting at the other end of the tunnel above
Back to New Mexico Slot Canyons
Send questions and comments to dscott@themarblesculptor.com