Alabaster Canyon
See on youtube: https://www.youtube.com/watch?v=SjzkNy7TKEE
ACA Canyon Rating – 2A III
The 90' rappel thru Alabaster Arch is extremely dangerous because of your rope above, pulling down loose rocks from 70' overhead.  We advise no one to attempt this deadly rappel thru Alabaster Arch…! ! !  Alabaster (Gypsum) is nasty, brittle, crumbling and deadly rock.
NEVER ENTER ANY SLOT CANYON WHEN HEAVY RAIN IS IN THE FORECAST…!!!
<![if !vml]>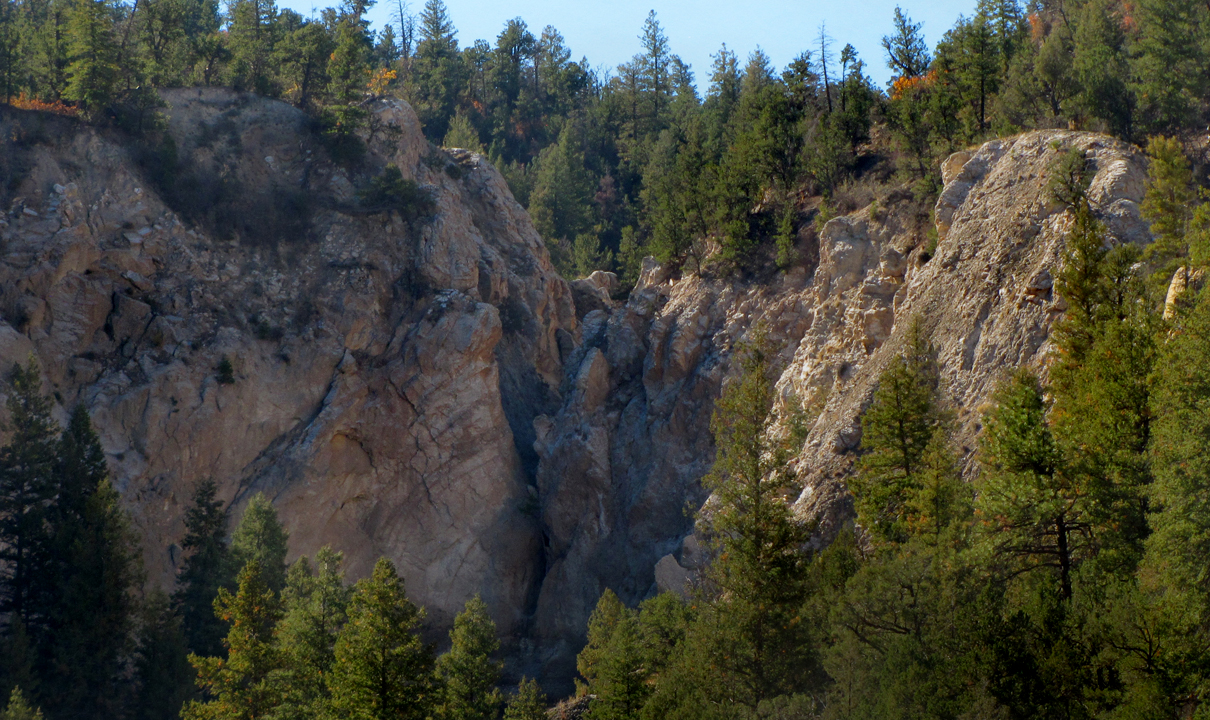 <![endif]> 
Alabaster Slot Canyon, seen in the center of the photo above, cuts into a deposit of alabaster more than a hundred feet thick…!!! 
REMEMBER…!!! Alabaster does not hold climbing anchors very well as it is brittle and crumbly…!!!
...but it is very beautiful...!!!
<![if !vml]>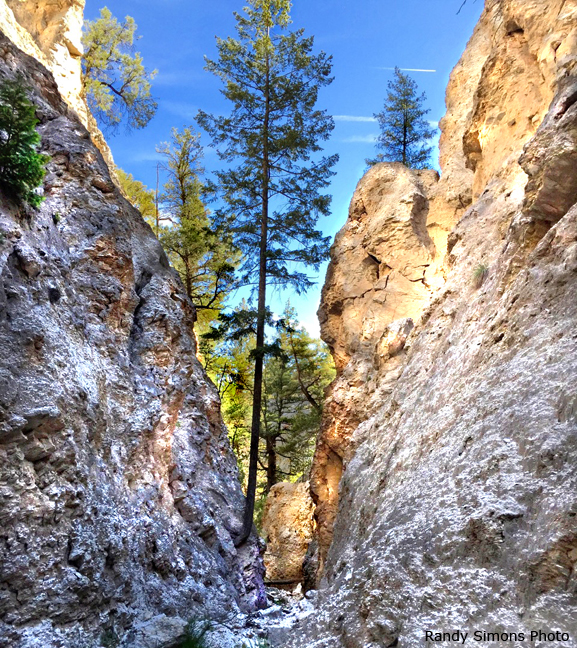 <![endif]>
In May 2015 Randy Simons made the first penetration we know of into the upper reaches of Alabaster Canyon.  His photo above is taken within the lower Middle Fork of Alabaster Canyon.  He explored the Middle Fork, East Fork and Little Alabaster Slot Canyon (which is marked with the word "Little" on the map below.)  We since, have explored the entirety of Alabaster Canyon Slot.
-See more photos at the bottom of this page-
beta facts:
name- Alabaster Canyon
depth of slot portion- 100' feet
length of slot canyon portion- about 3 miles including all the tributaries
elevation- 7700' at the top down to 6900' at the bottom
GPS coordinates- ±36°23.333'N 106°46.754'W
flow- intermittent
season to visit- drier times of year like May, June, Sept, Oct and Nov are best… NEVER ENTER ANY SLOT CANYON WHEN HEAVY RAIN IS IN THE FORCAST…!!!
accommodations- NONE –Chama Canyon Wilderness Area
ownership- Santa Fe National Forest
nearest town- Gallina is about 18 miles southeast of here
fun fact- we don't know of another canyon quite like this one
essay bro
Alabaster Canyon appears un-named on USGS Topos.  It has approximately three miles of impressive sheer walled – NARROW - canyons of solid alabaster.  The enormous cliff-face shown in the top photo above hosts a 90' rappel that passes thru a natural arch 25 feet high by 15 feet wide- "Alabaster Arch".  This upper portion of this rappel is alabaster...otherwise known as gypsum.  Gypsum/alabaster is unstable such that your rappel rope overhead will loosen rocks overhead, which will fall up to 70' directly upon you.  This rappel is deadly.  Do not attempt this deadly rappel... ! ! !  Alabaster Arch appears on our topo below with the number 90 by it.
Alabaster Canyon has many tributaries, as you see on our map below.  Most of the sheer walled canyons here are wonderful "box canyons" a little wider than a true slot.  The West Fork and the last portion above the natural arch both have good narrow "slot canyon" portions.  The most narrow "slot" here, is what we call Little Alabaster Canyon.
Little Alabaster Canyon flows parallel to and just east of Alabaster Canyon and it is marked on our topo map below with the word "Little" by it.  The 250 foot high dry-falls / drop-off at the exit of Little Alabaster Canyon happens in three separate tiers... smooth and rounded.  We did not down-climb it but it looks as tho a difficult down-climb is possible...maybe...  The canyon above this drop-off is a very fine and narrow –nontechnical- slot canyon...!!!
Elk Trail is extremely steep but very obvious and well used by hundreds of elk.  It appears on the topo between Alabaster Canyon and Little Alabaster Canyon.  Elk Trail is steep and difficult but it is a breach between the sheer canyon walls and allows non-technical ascending and descending the mountain... getting back to your wheels.  The GPS cords for Elk Trail are: ±36°23.425'N 106°46.674'W at the bottom... while at the top is: ±36°23.283'N 106°46.700'W.
Alabaster Slot Canyon can be accessed from Forest Road 8 above or from two miles west via the primitive parking at the end of Chupadero Road.  We prefer the Chupadero Road access, because the short 2 mile walk downstream in Gallina Canyon to Alabaster Canyon is easy and quite amazing...!!!  Then Elk Trail can take you up into the heart of Alabaster Slot Canyon.  All tributaries are accessible from there.
There is a two-track road shown on the topo map that connects Forest Road 8 above, to the Rio Gallina more than a thousand feet below.  This road is 4WD and likely to be impassable.  It develops serious mud during rains... but it does appear to supply a drive-around car shuttle route...however, we have not driven it.
Please feel free to right-click-save-as to print yourself a hard copy of our topo below.
Click this link to see a detailed map of this entire area: http://www.dougscottart.com/hobbies/SlotCanyons/Gallina.htm
Enhanced USGS topo map by Doug Scott
The thin Red Lines depict sections of "slot" or "box" canyons and the thicker Red Lines show the boundries of Chama River Canyon Wilderness Area
<![if !vml]>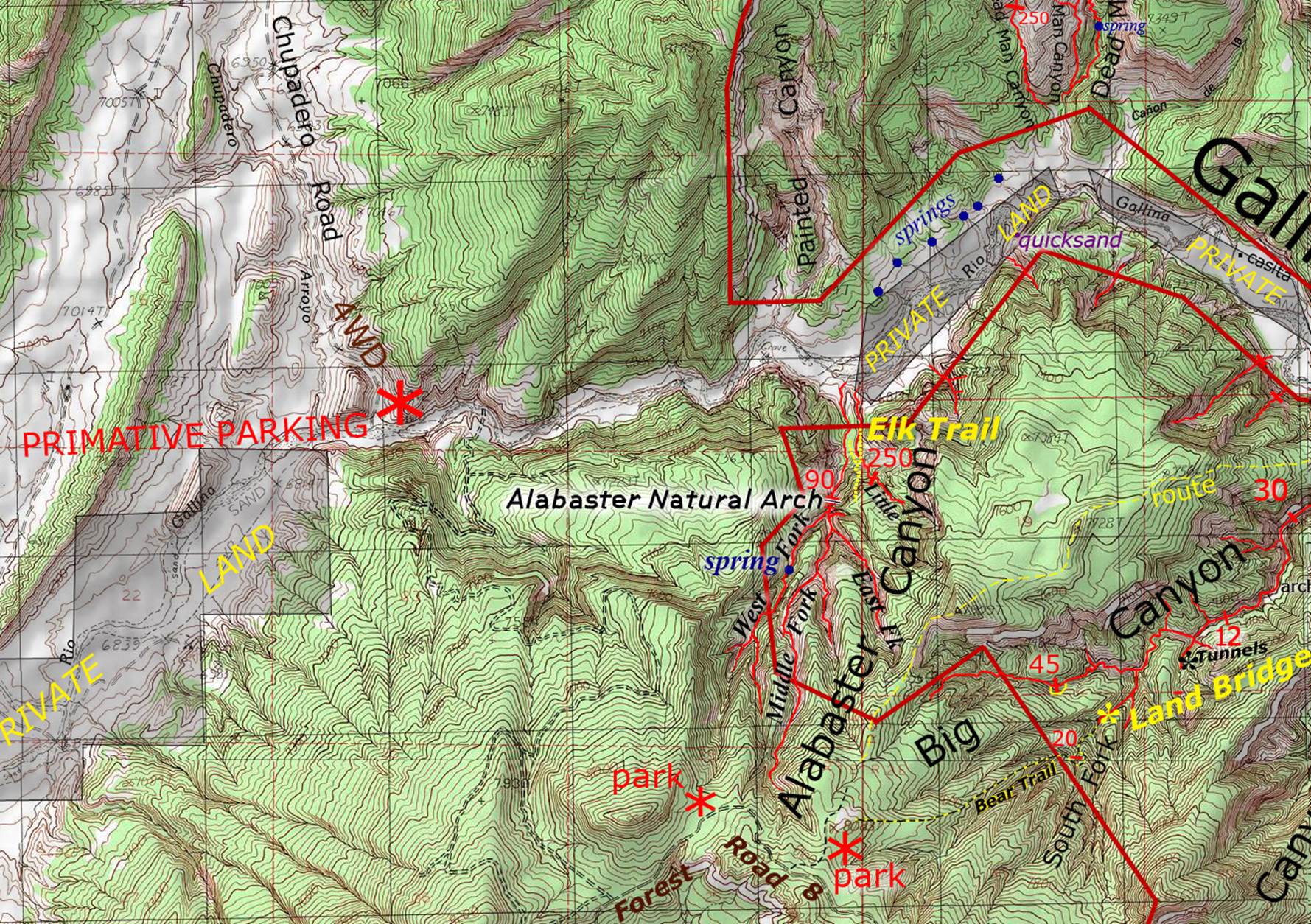 <![endif]>
<![if !vml]>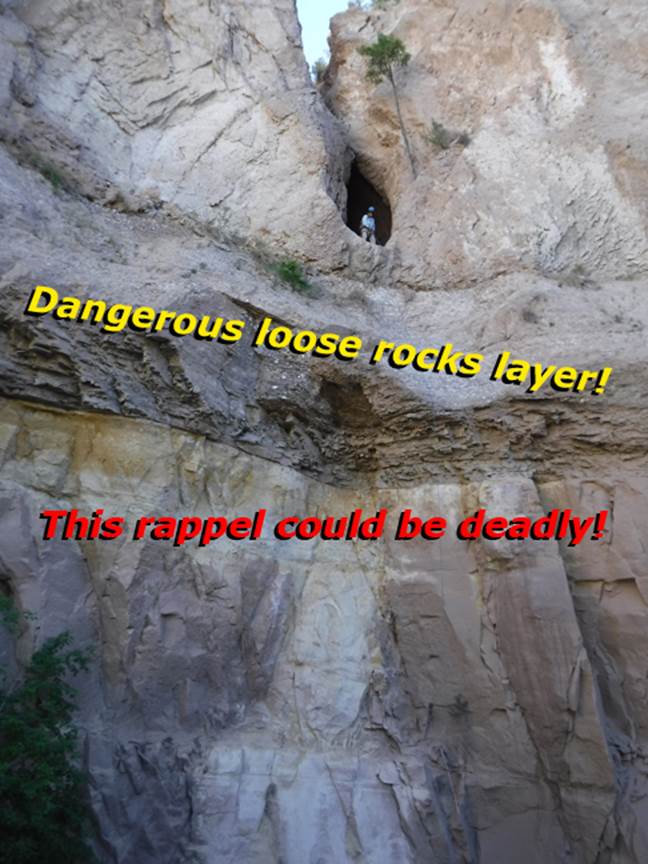 <![endif]>
Alabaster Arch, pictured above and below, is 25' high by 15' wide
 <![if !vml]>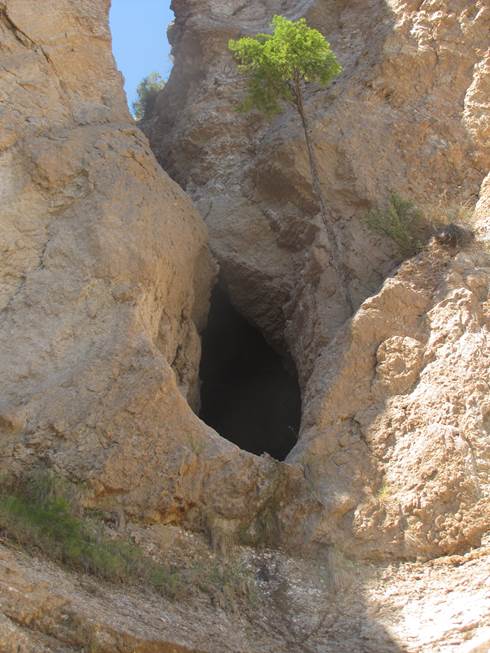 <![endif]>
Below is the bottom half and the top half of Alabaster Arch as seen from the inside
<![if !vml]>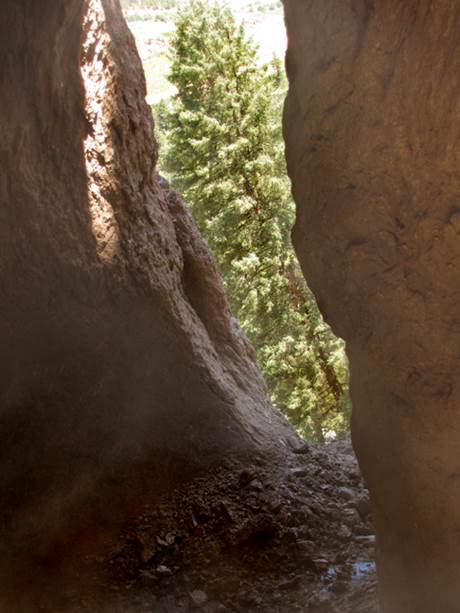 <![endif]>  <![if !vml]>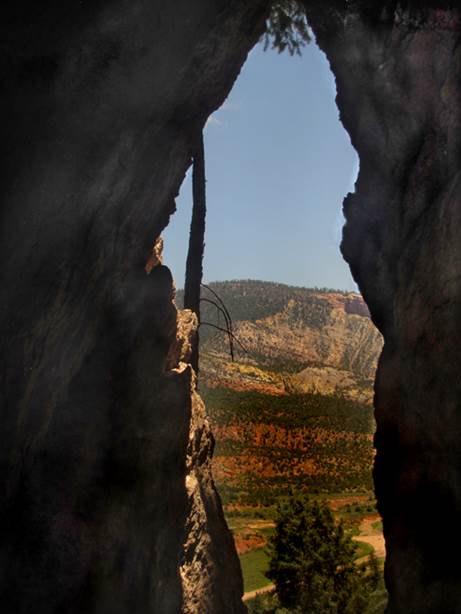 <![endif]>
...Randy within the West Fork of Alabaster Slot Canyon
<![if !vml]>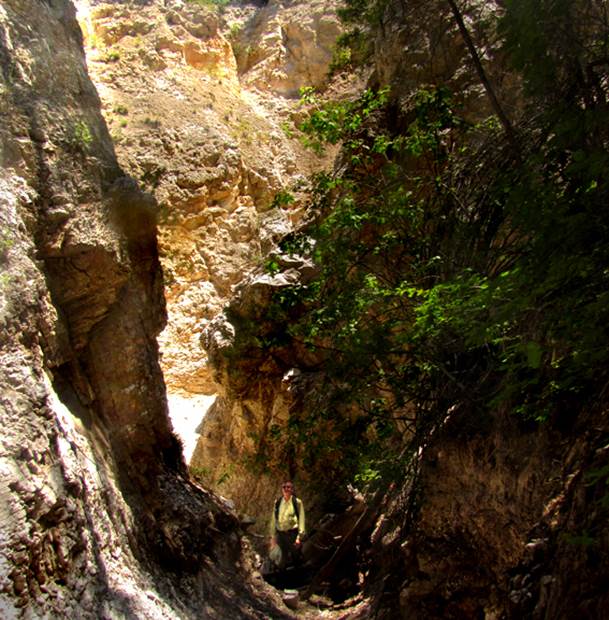 <![endif]>
...a nice view – half way down Elk Trail...
<![if !vml]>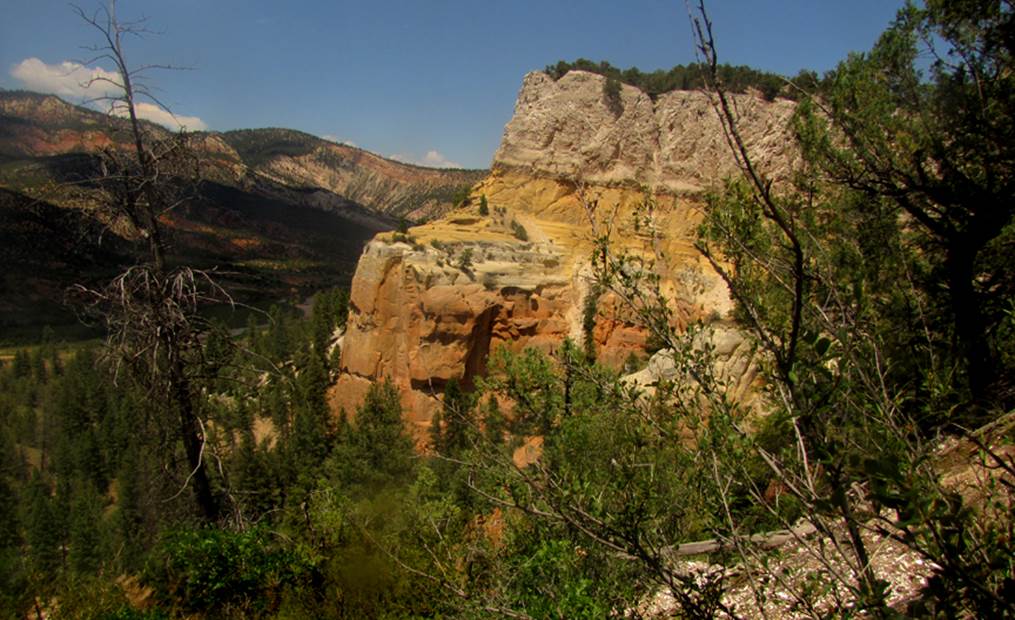 <![endif]>
The photo below is a meadow near the lower beginning of Elk Trail
<![if !vml]>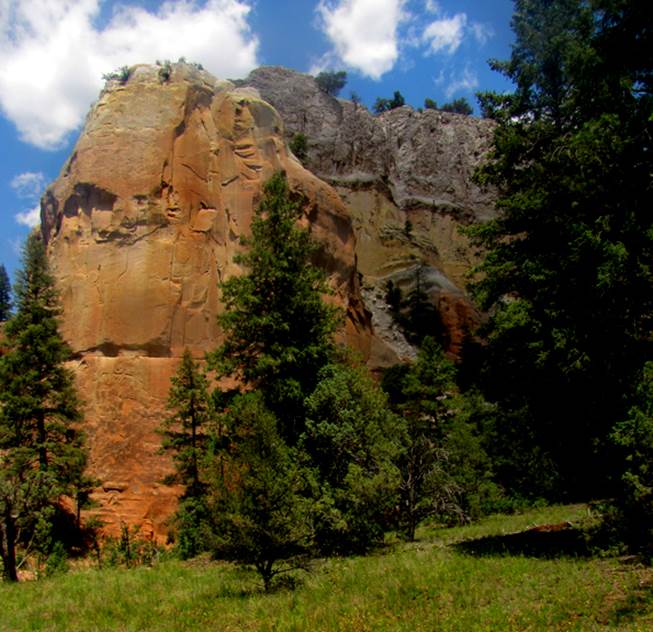 <![endif]>
Below is the webbing hand-line Randy used at a 15' drop up within the Middle Fork... you young people likely scramble it rope-less...! ! !
<![if !vml]>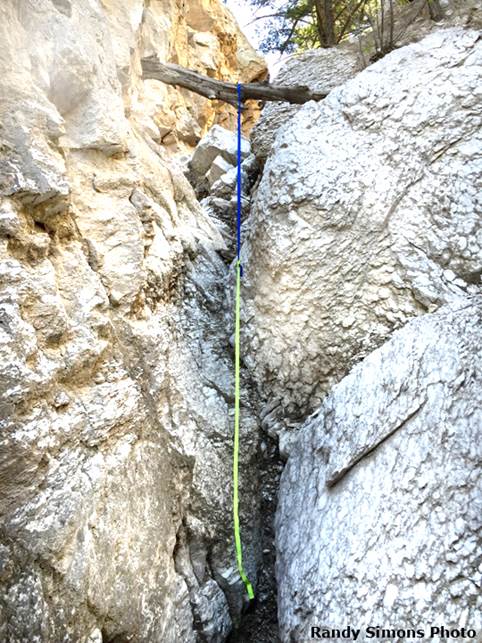 <![endif]>
...and the "Badlands" overlooking Little Alabaster Canyon from the east...
<![if !vml]>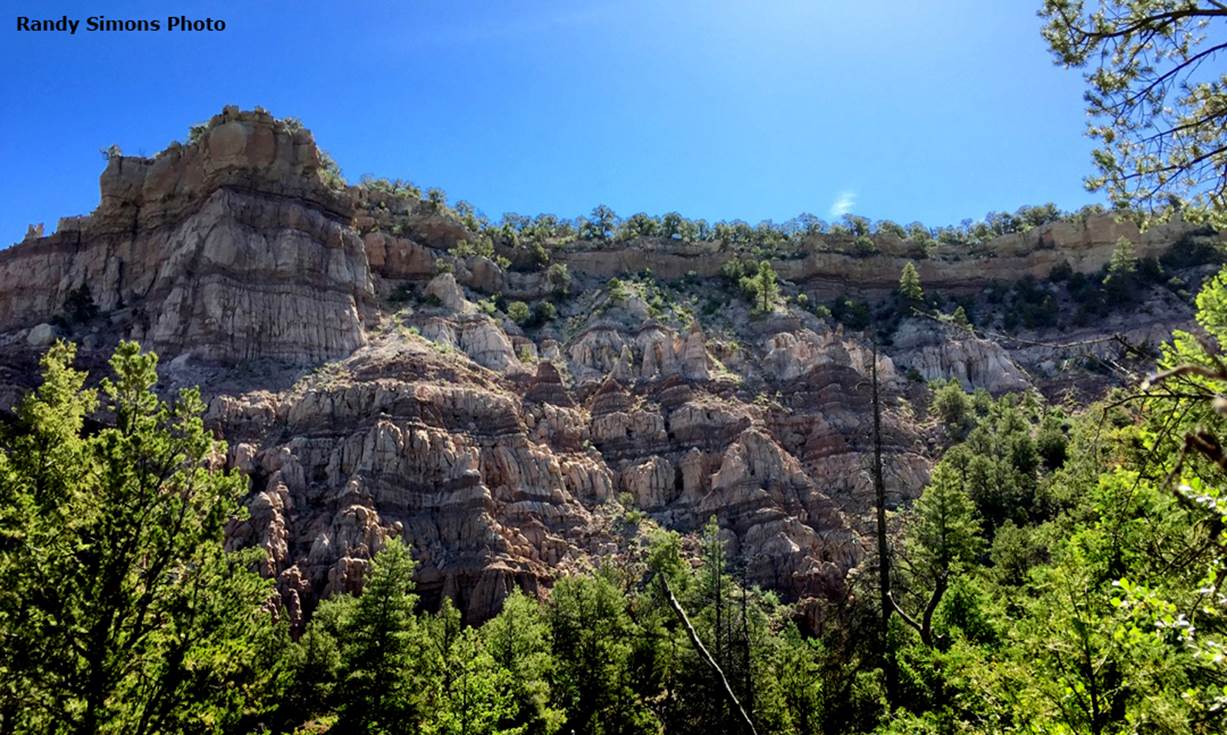 <![endif]>
...the narrow "Slot" of Little Alabaster Canyon...which is marked on the topo with only the one word- "Little"
<![if !vml]>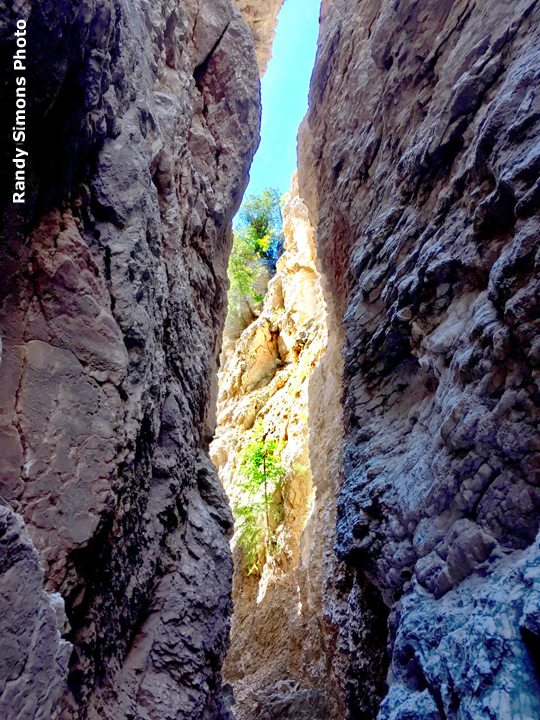 <![endif]>
This last photo is approaching Alabaster Arch from above
<![if !vml]>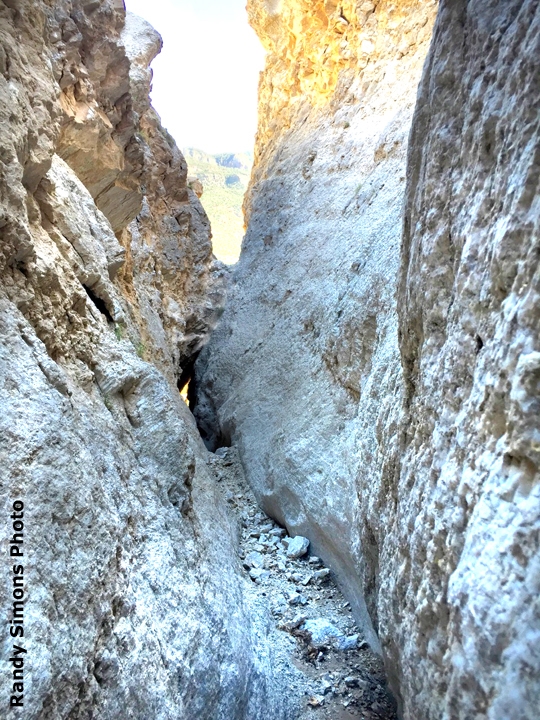 <![endif]>
Back to New Mexico Slot Canyons
Send questions and comments to dscott@themarblesculptor.com