Cañon Vertedero & Cañon Vertedero Norte
English = Garbage Dump Canyon
ACA Canyon Rating – 3A I
 Experienced Canyoneers Only
Rope work required…!!!
NEVER ENTER ANY SLOT CANYON WHEN HEAVY RAIN IS IN THE FORCAST…!!!
Garbage Dump Slot Canyon boasts with pride...!!! –a refrigerator, mattresses, a Silverado Pickup and more.....!!!
<![if !vml]>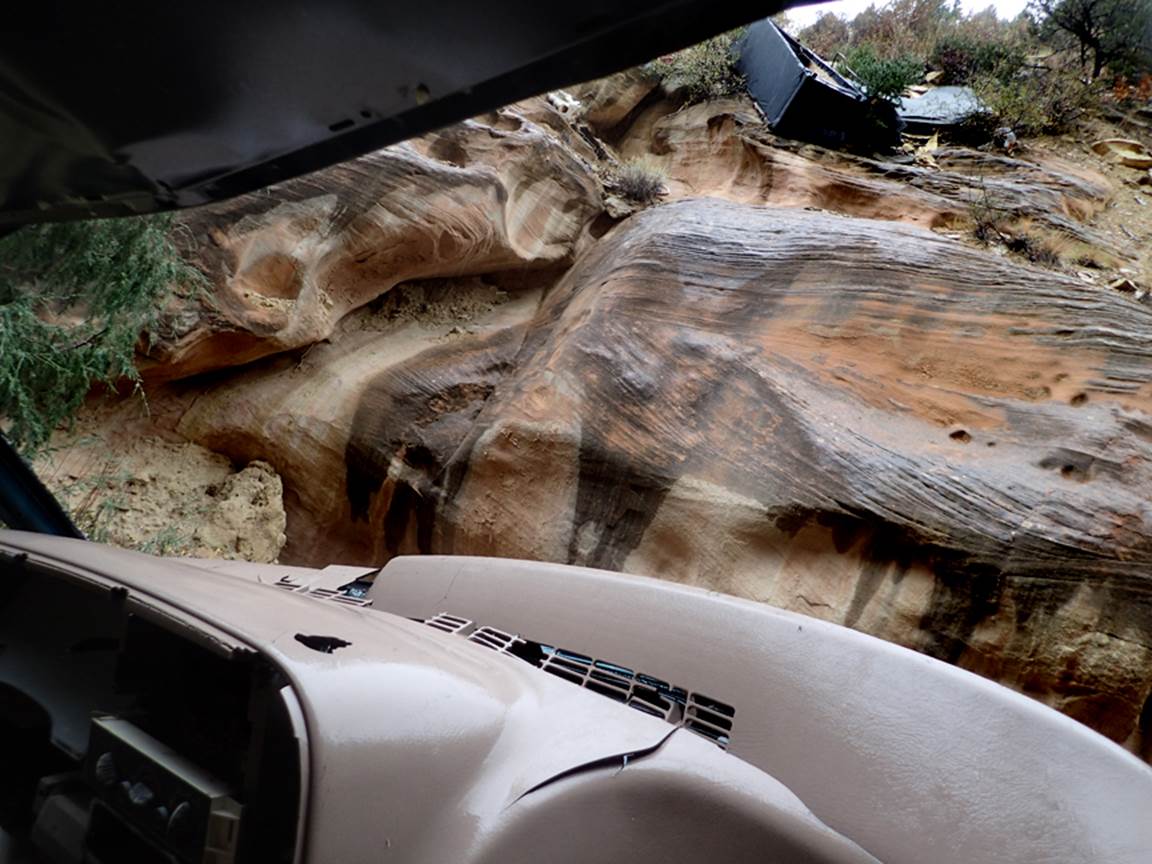 <![endif]> 
New Mexico is ashamed of the garbage dumped into this beautiful canyon
<![if !vml]>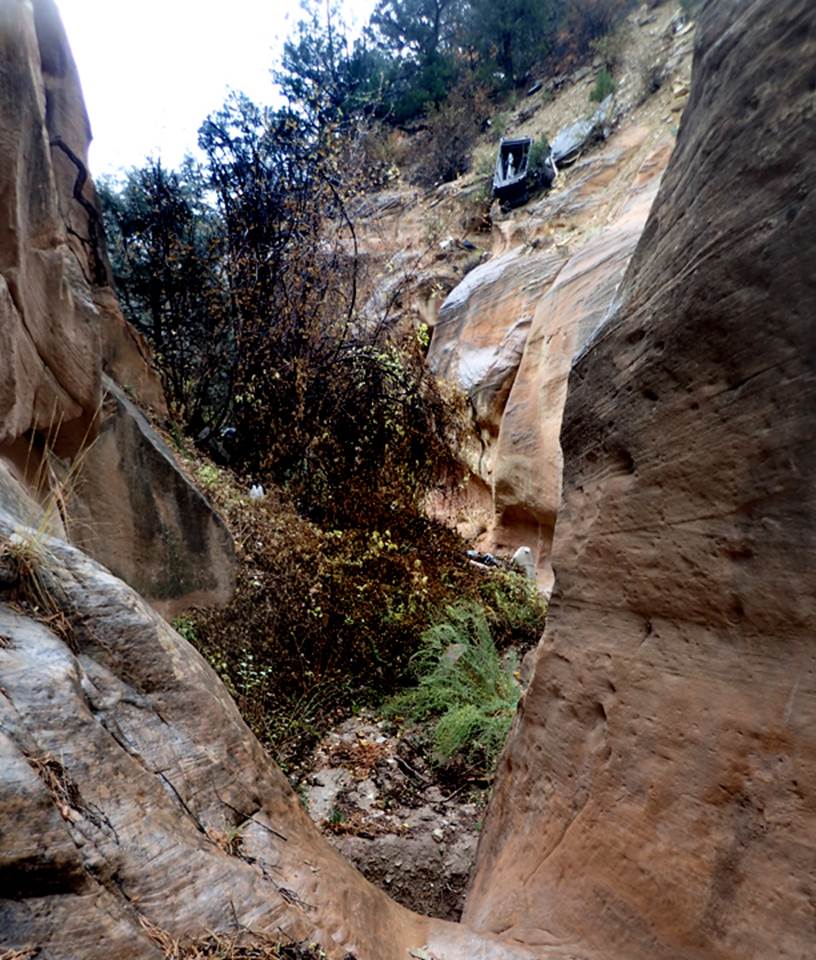 <![endif]>
below is one of Kelton's "ghost" anchors for a rappel... it worked safe & fine.  the next person descending Vertedero Slot will think they are "first"....!!!  "Ghosting" is leaving NO Trace... the knot below will release the rope to the climber below after the rappel and the stick will wash away during the next high water.
<![if !vml]>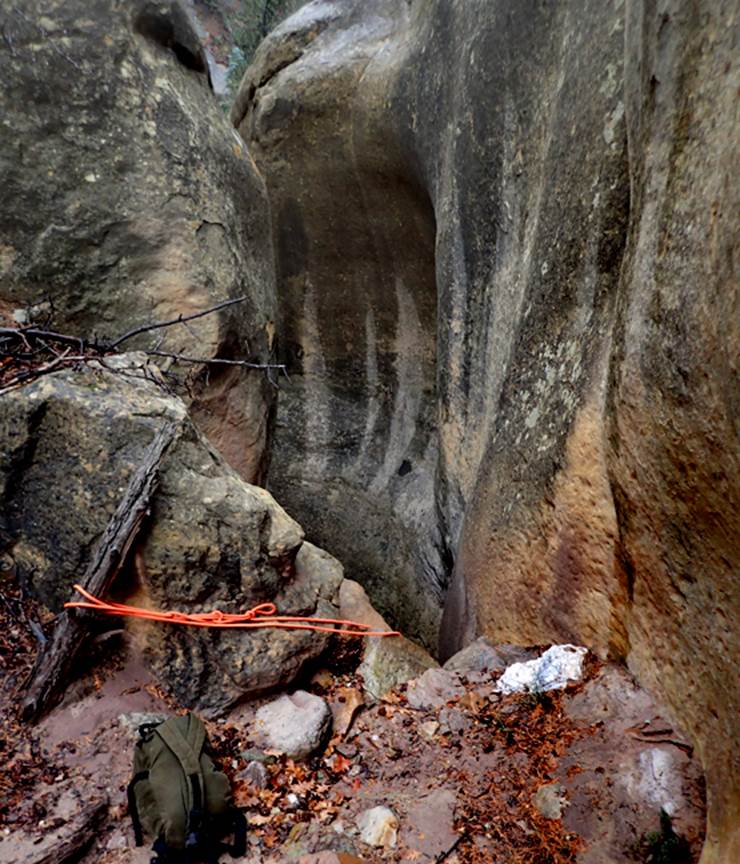 <![endif]>
the photo above shows some of the narrow "slot" portion of this canyon
-
and below is the beautiful (20' drop) entrance to Cañon Vertedero Slot
<![if !vml]>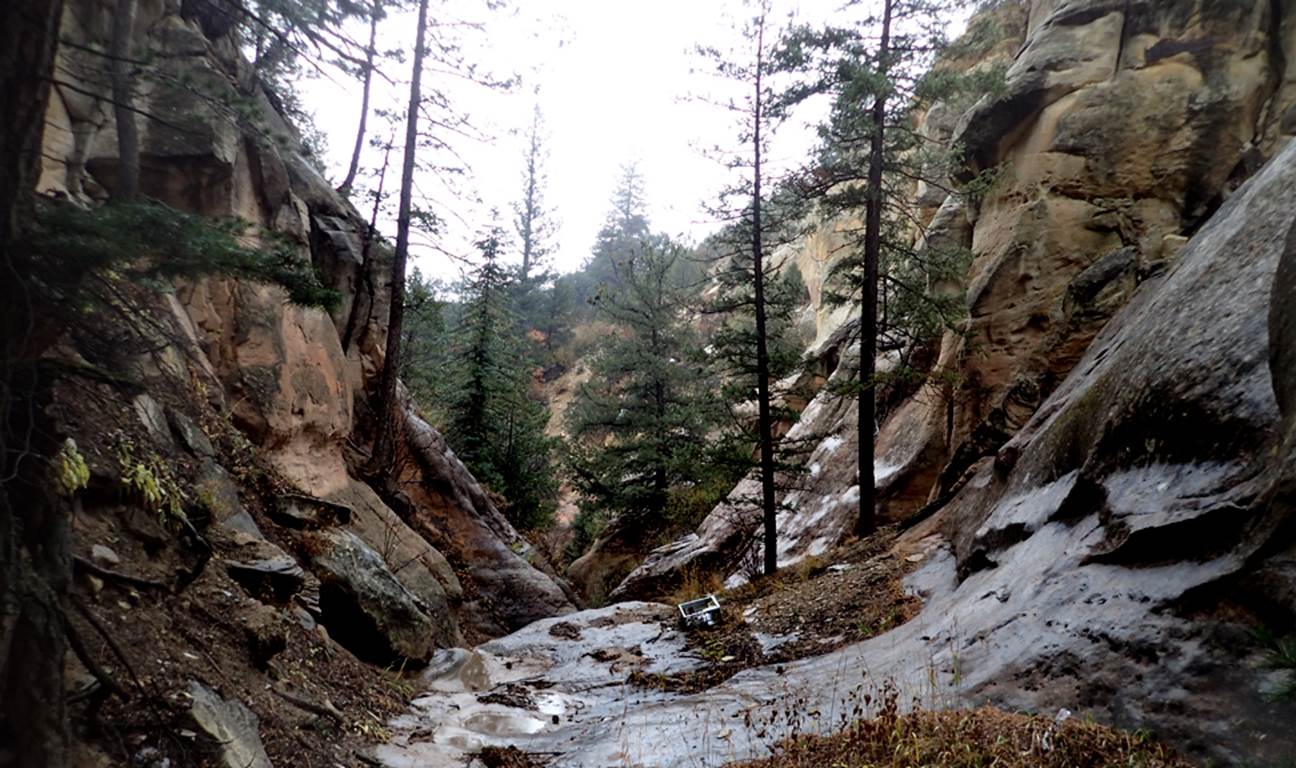 <![endif]>
All photos- Kelton Manzanares
beta facts:
name- Cañon Vertedero Slot – English = Garbage Dump Canyon
length of slot canyon- 2-tenths of a mile
elevation- 8100'
GPS coordinates- ±36°14.028'N 106°46.158'W
flow- intermittent
season to visit- drier months of the year, like May, June, September, October and November… NEVER ENTER ANY SLOT CANYON WHEN HEAVY RAIN IS IN THE FORCAST…!!!
accommodations- NONE – the nearby towns do not offer much...
ownership- Santa Fe National Forest
access- is from above a few feet on Forest Road #77… see the map below
nearest town- Gallina is about 2 and a half miles west of here
fun fact- Nature can abound and be beautiful within man's garbage
essay bro
On Friday Oct 30, 2015 – Kelton Manzanares did what I believe is the first descent of Cañon Vertedero Slot.  He mentioned three 20' high drops that he rappelled.  He used "ghosting" canyoneering methods for anchors which enabled him to LEAVE-NO-TRACE of ever having been there –see the photo above.  It was softy raining that day so he did leave his footprints behind.  The rain was quite soft and considering the extremely small upstream acreage... he was in no danger of any possible flash-flooding.
The un-named north fork of Cañon Vertedero hides another slot canyon of its own... and it is yet to be explored...!!!
It is labeled Cañon Vertedero Norte Slot on the map below.
Enhanced USGS topo map
The Red Lines depict sections of "slot canyons"
<![if !vml]>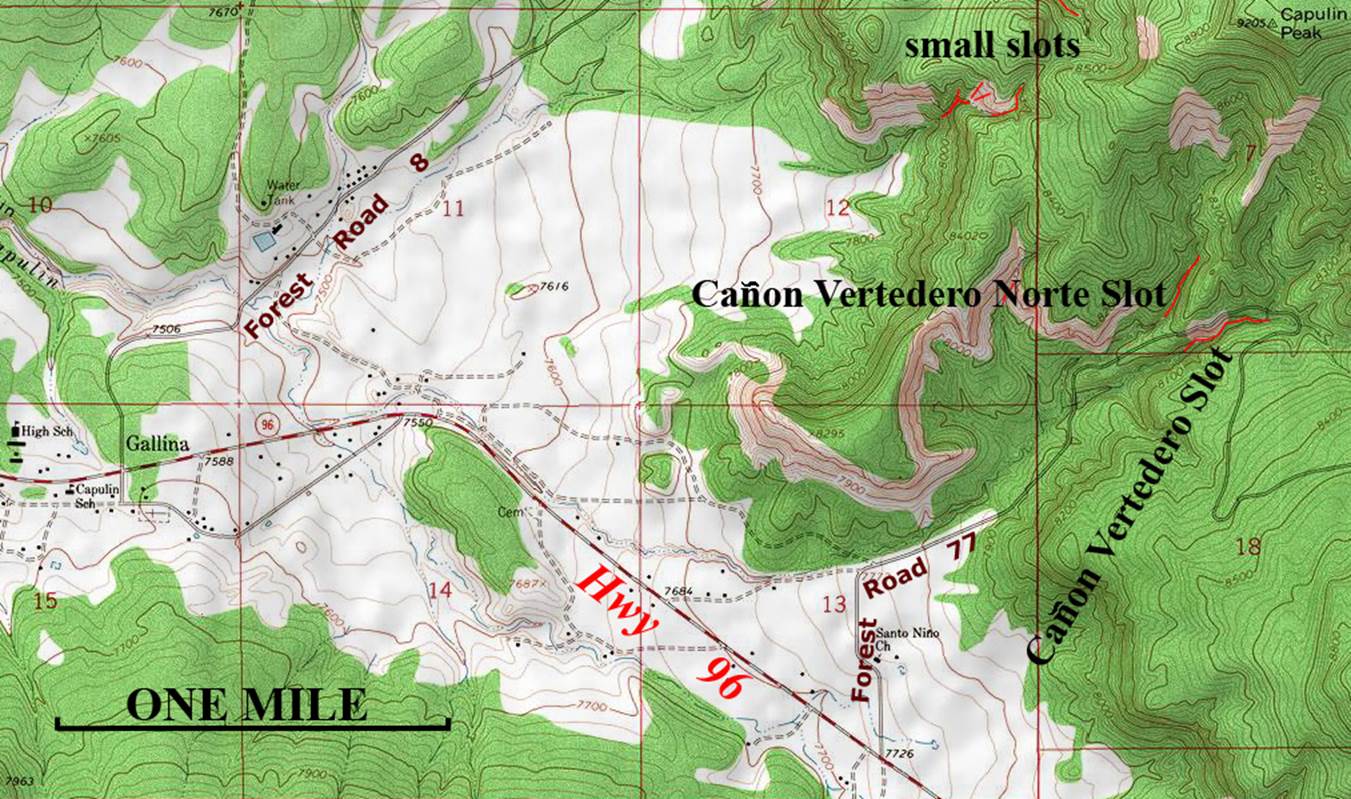 <![endif]>
Back to New Mexico Slot Canyons
Send questions and comments to dscott@themarblesculptor.com