Talus Canyon
This Canyon is not named on any map we know of.  We have referred to it as Talus Canyon since 2002.  Please share with us, any name you have been using.
ACA Canyon Rating – 3B II …but much of this slot canyon can be visited without ropes
 Mildly technical with one tuff 30' rappel into a huge mud-pot-hole -full of both, most of the time
NEVER ENTER ANY SLOT CANYON WHEN HEAVY RAIN IS IN THE FORECAST…!!!
<![if !vml]>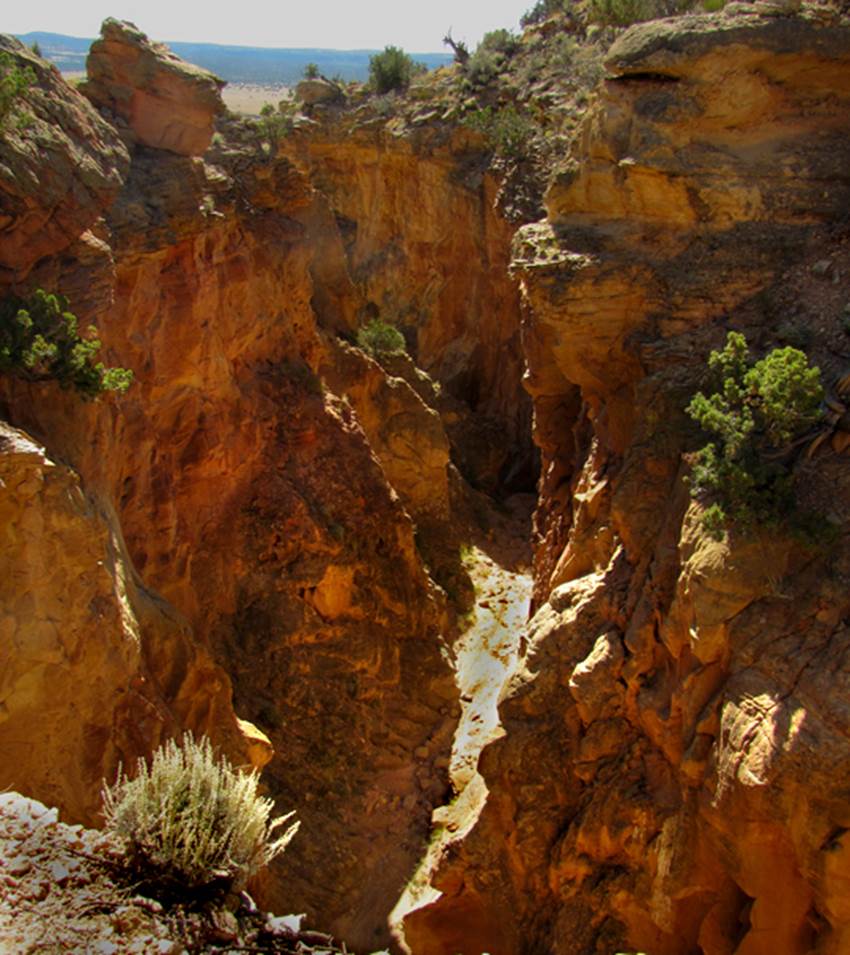 <![endif]> 
Above is the upper reaches and below is the downstream mouth of the slot
<![if !vml]>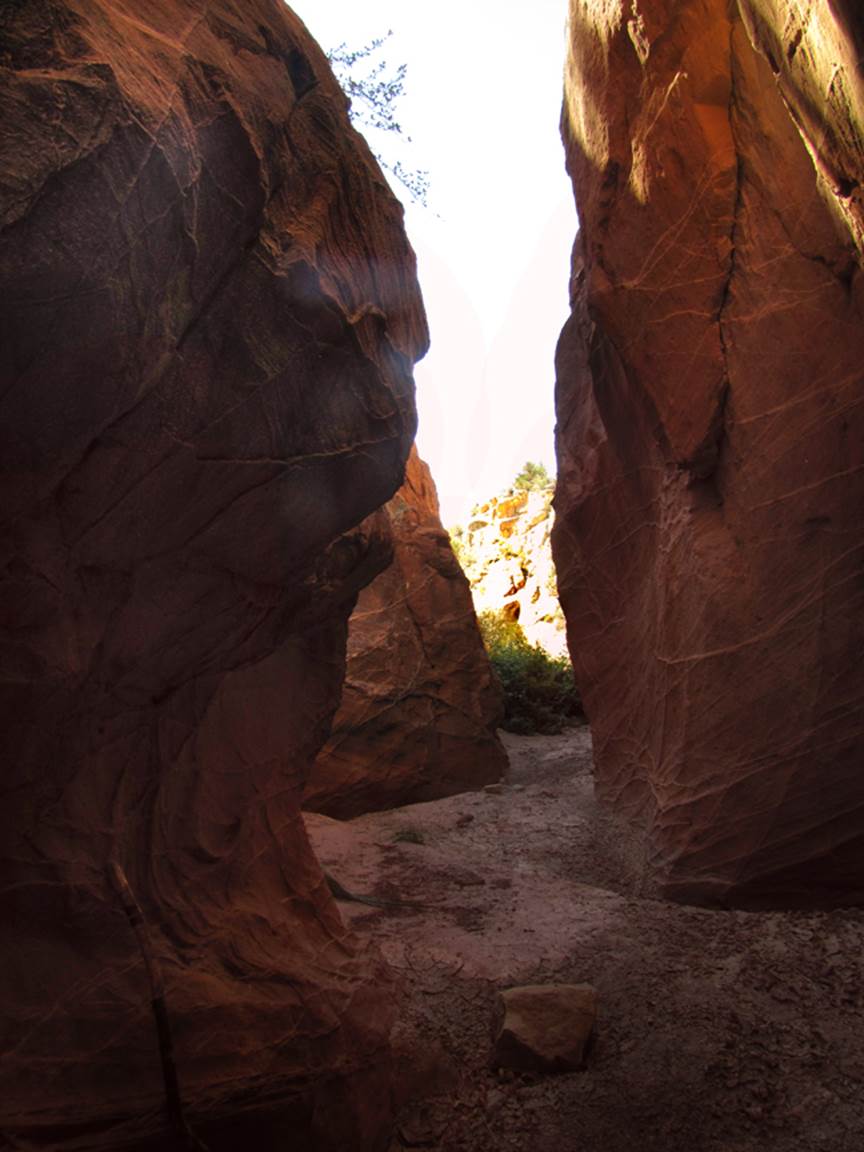 <![endif]>
This photo below shows the route we take to enter the upper portion of this slot canyon.  We anchor a rope on the juniper (under the word saddle in this photo) and we descend a steep, slopped gully below.  We actually have ascended this alluvial chute without ropes but a "hand-line" rope without climbing gear is enough help, going both up and down.  Sometimes we anchor our rope on here, in route above to our dropping into the upstream end of the slot canyon.  One 20' falls in the slot's middle is a scary half climb down to a leap that some do without a rope.  However, the anchor rope on the juniper and draped down the gully, allows us to exit the slot canyon above the final 30' high dry falls…which often keeps an impassable and enormous mud-pot-hole at it's base.   
<![if !vml]>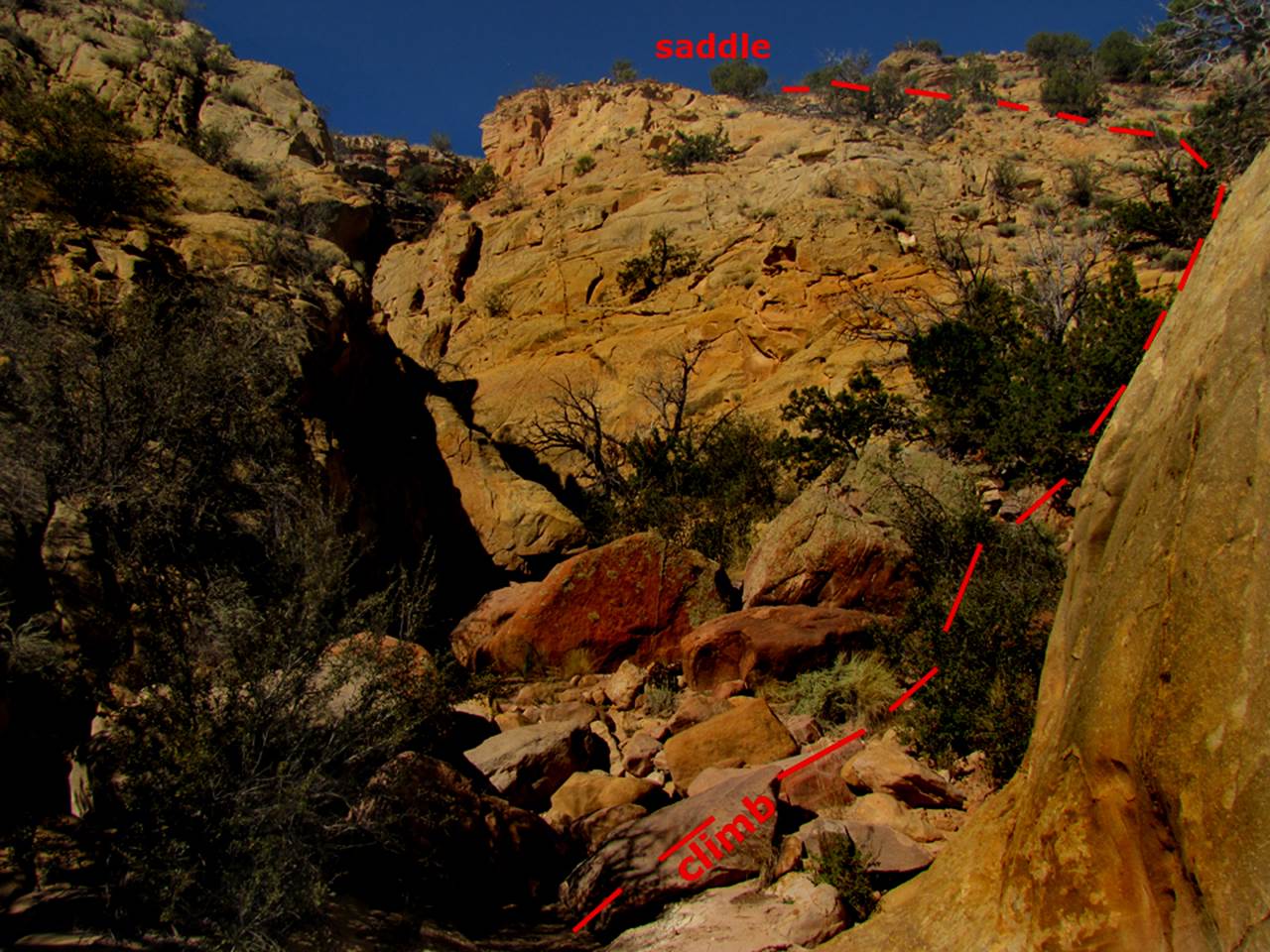 <![endif]>
beta facts:
name- We refer to it as Talus Canyon
depth of slot portion- up to about 100 feet
length of slot canyon portion- about a half-mile including the lower section
elevation- 6850' at the top down to 6670' at the bottom
GPS coordinates- ±36°19.209'N 106°26.342'W
flow- intermittent
season to visit- drier months of the year, like May, June, September, October and November… NEVER ENTER ANY SLOT CANYON WHEN HEAVY RAIN IS IN THE FORCAST…!!!
accommodations- NONE
ownership- Carson National Forest
access- is from Hwy 84 some 11 miles west of Abiquiu… see the map below… park at the roadside picnic tables
fun fact- this is a nice slot canyon
essay bro
this is a nice slot canyon… but it often has a lot of mud.  Parking at the roadside picnic tables we then cross Highway 84 and enter Carson National Forest at the fence gate.  A faint trail leads along the fence eastward a couple hundred yards to one of the more beautiful canyons you could ever hike.  Follow the arroyo bed and the faint trail past the amazing Talus Spire to the very head of this canyon – just over a mile.  Very soon after topping out near a private land fence and gate, you follow the new found arroyo bed past a small flowing spring into Talus Slot Canyon.
The slot's lower reaches are quite beautiful and quite narrow, but even the big 15' high dry falls has great hand and foot holds such that rope-less scrambles work out easily.  But after passing thru a more open portion of canyon you will recognize that you are at the place shown in the last photo above.  Follow the instructions above that photo and enjoy Talus slot Canyon.
Scroll down to the map below
Be sure to visit Talus Arch.  It is high up on the closest cliff to the highway.  In fact it overlooks your car where it is parked.  It is a steep but a very rewarding experience.  The photo below shows my 16 year old son Talus standing inside the 30' high, natural arch.  We found Talus Arch in 1974, but we have no doubt that it has been known for ages……
<![if !vml]>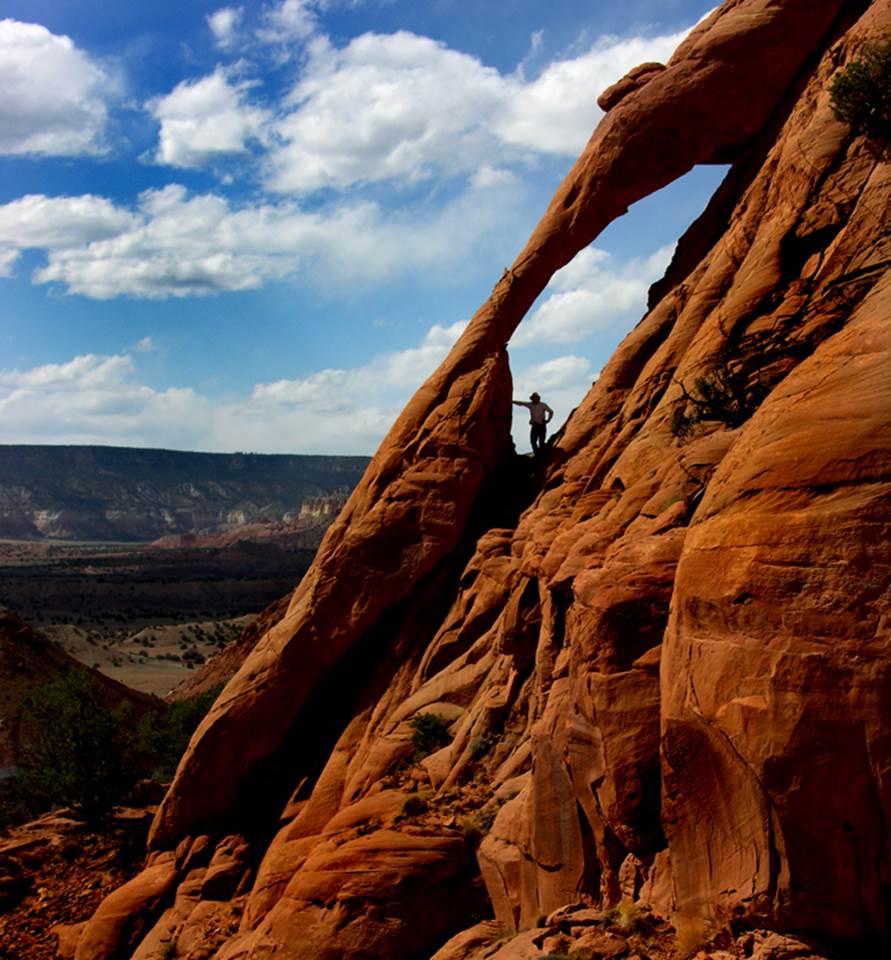 <![endif]>  
And beautiful Talus Spire… I have been told that some guy around here climbs this spire… step forward man, I want to meet you…!!!
<![if !vml]>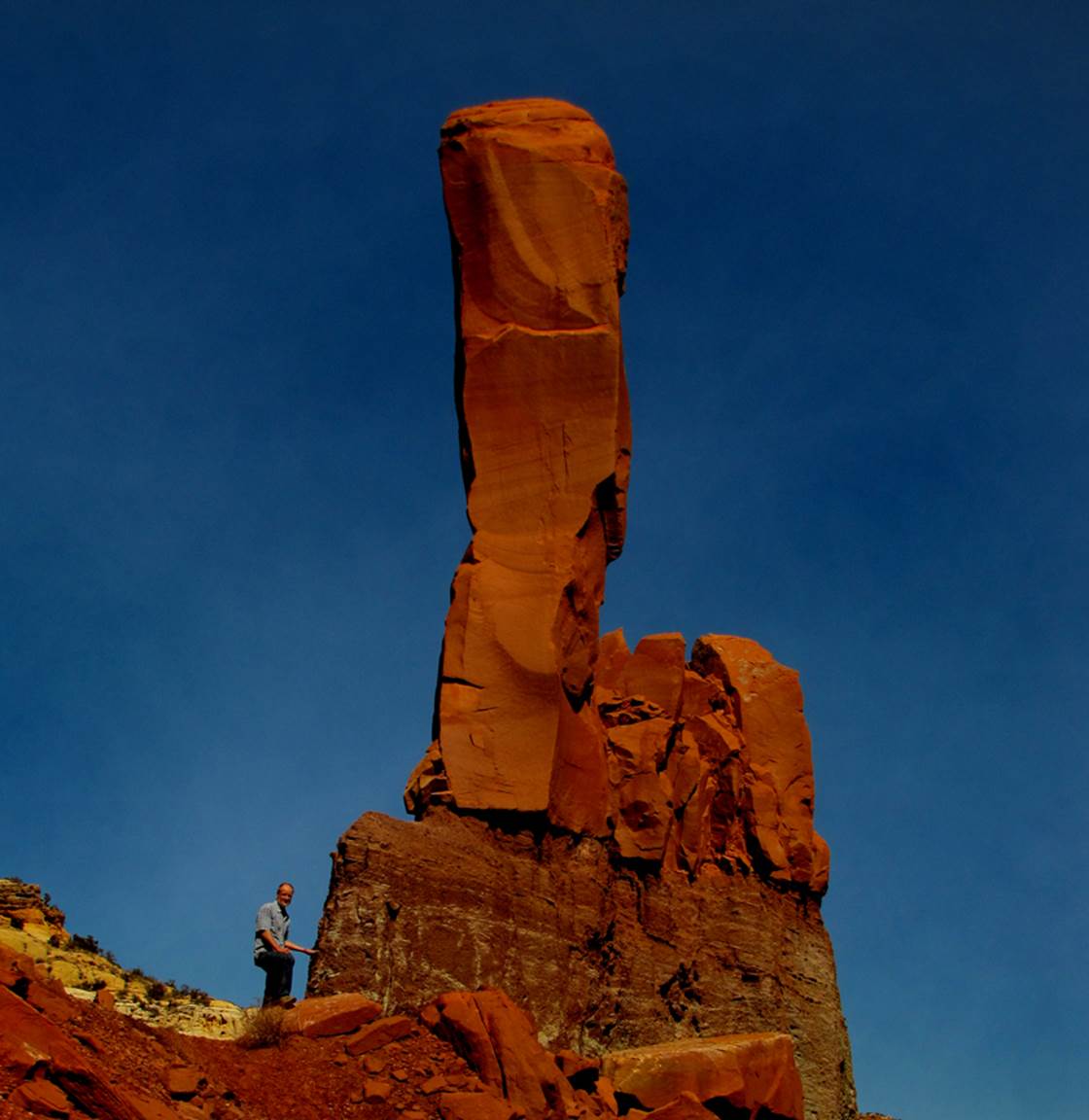 <![endif]>
...& we met this angry little friend in the draw just below Talus Spire, to the northwest...
<![if !vml]>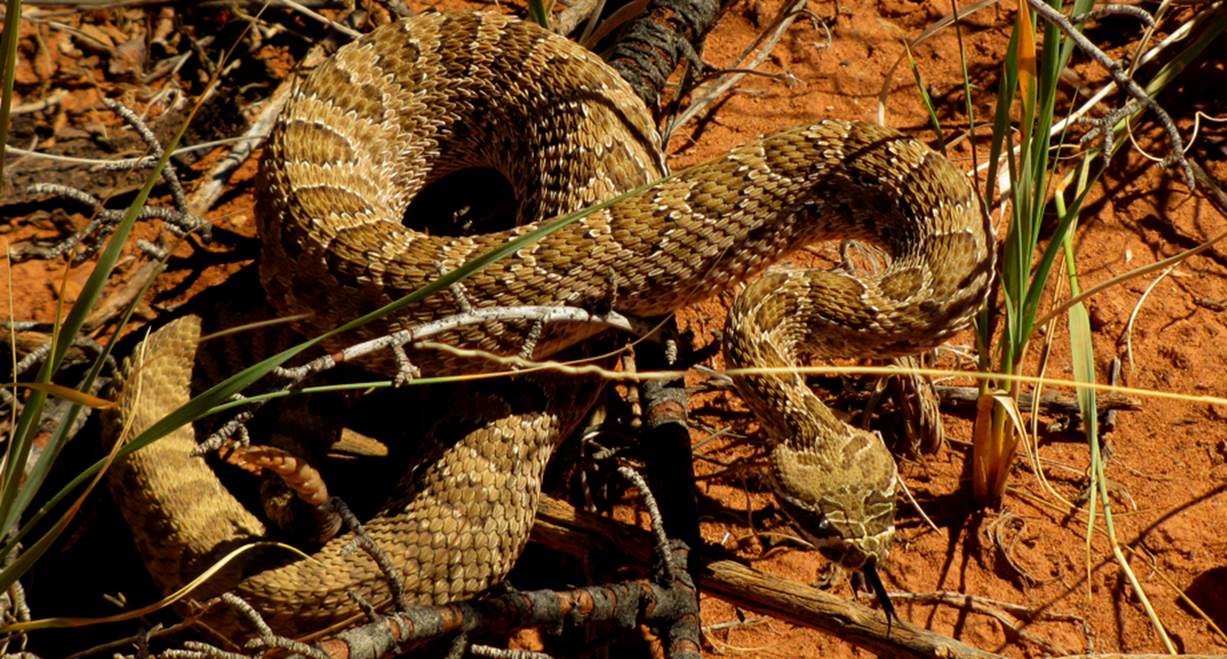 <![endif]>
Please right-click-save-as and make your own hard copy of our map below
Enhanced USGS topo map by Doug Scott
The thin Red Lines depict sections of "slot canyons"
<![if !vml]>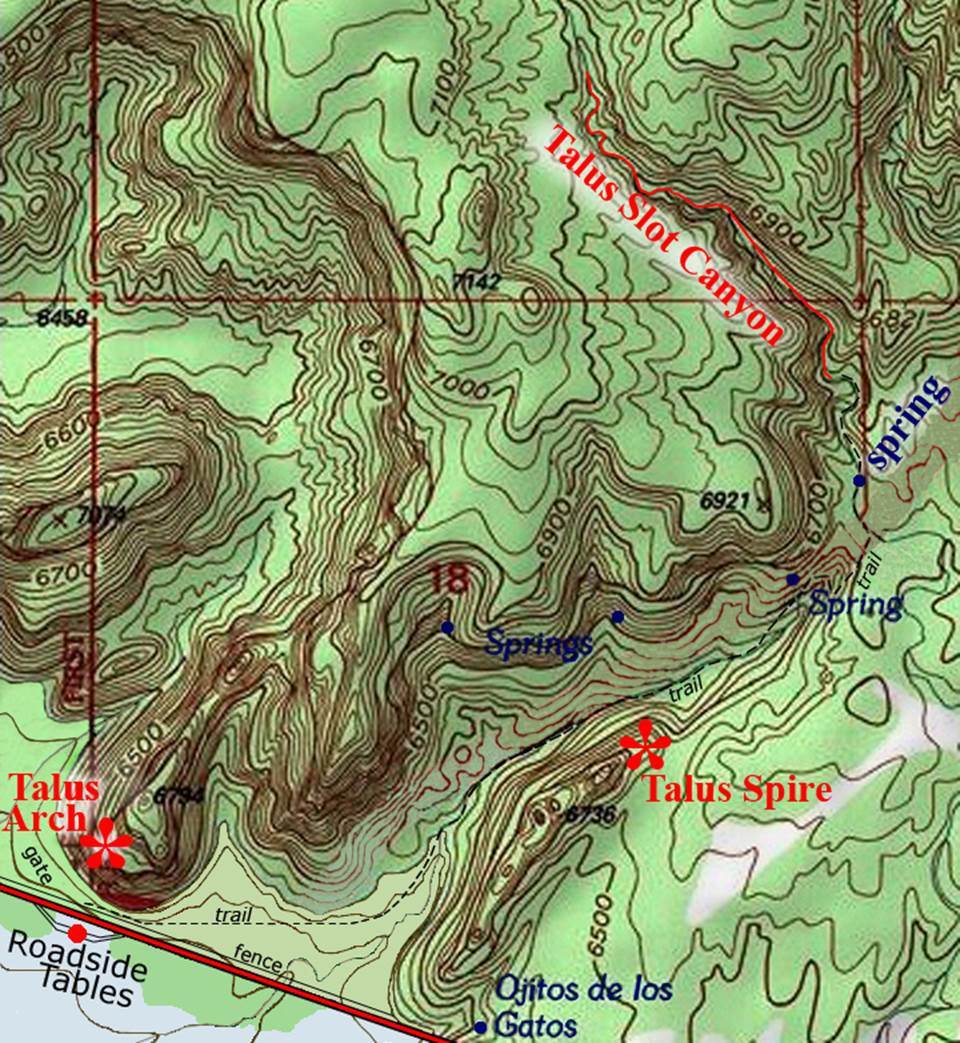 <![endif]>
______________________one mile_______________________
Back to New Mexico Slot Canyons
Send questions and comments to dscott@themarblesculptor.com