Painted Arch Canyon Slot
ACA Canyon Rating – 3A II
 Experienced Canyoneers Only
requires a full range of technical rock climbing equipment and rope…!!!
NEVER ENTER ANY SLOT CANYON WHEN HEAVY RAIN IS IN THE FORECAST…!!!
<![if !vml]>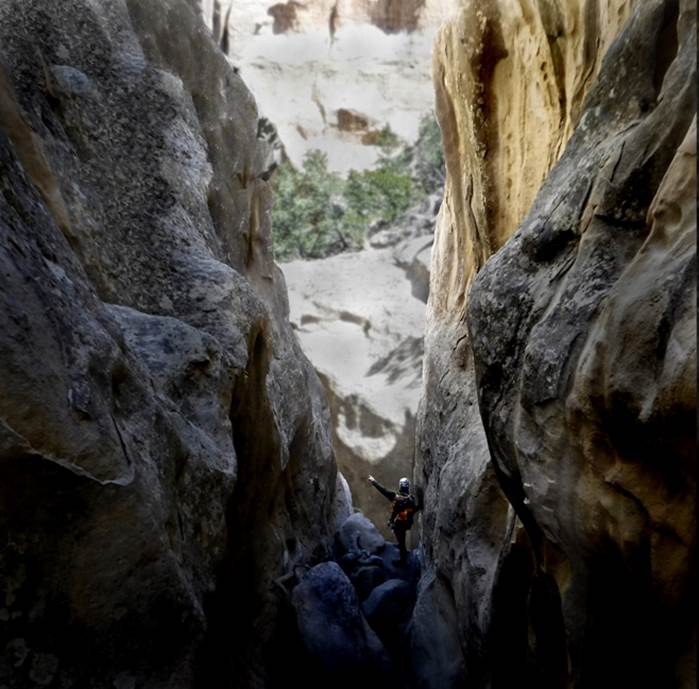 <![endif]> 
Painted Arch Slot Canyon is short, steep and AWESOME.....!  !  !  above Chris stands at the top of a sheer drop-off, within the scenic narrow hallway
Below is two shots of the first rappel (80') ....notice the small peek-a-boo arch by the mouth of the enormous cave entrance
<![if !vml]>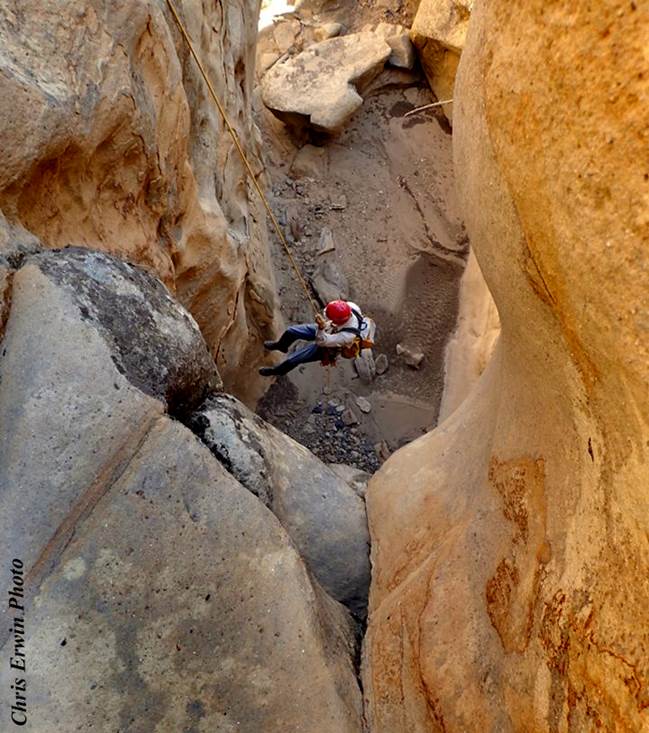 <![endif]>   <![if !vml]>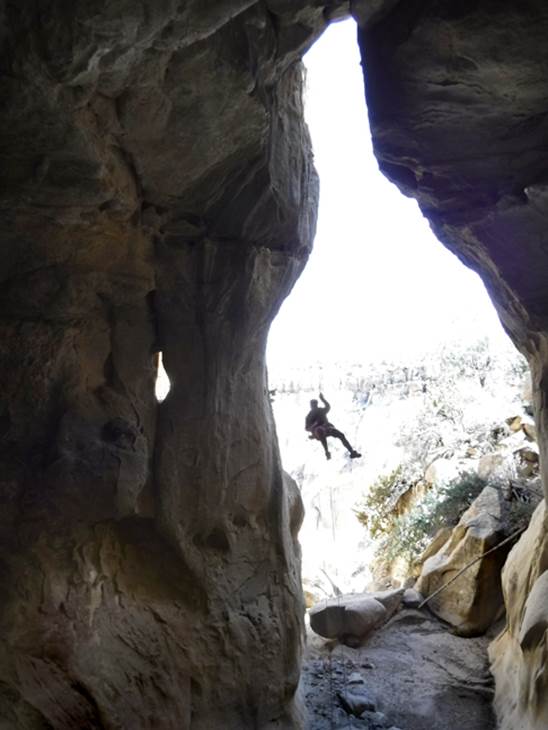 <![endif]>
A lone canyoneer stands at the back of the huge cave that we feel could host a crowd of about 300 people
<![if !vml]>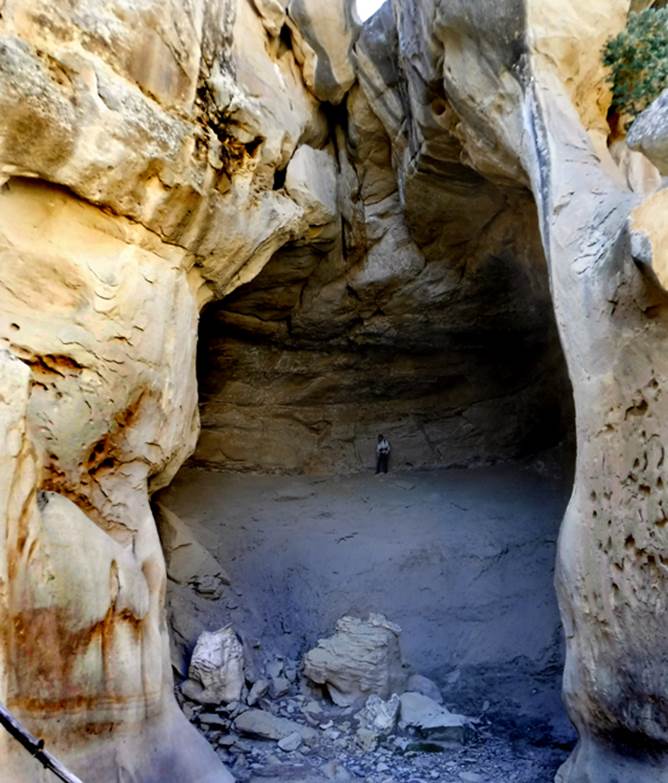 <![endif]>
A skinny old man maneuvers both the upper and the lower "rabbit-hole" down-climbs without the aid of ropes
<![if !vml]>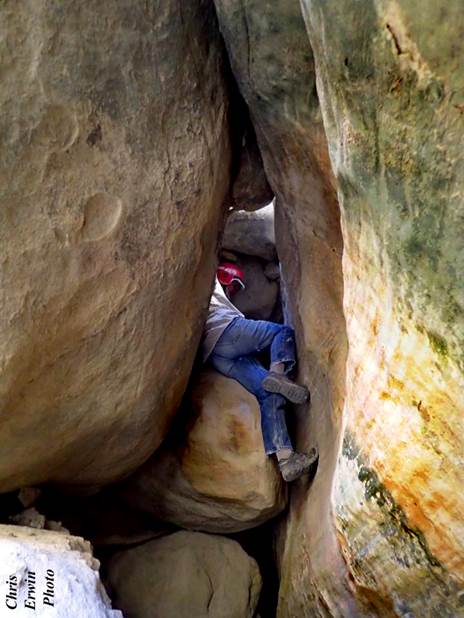 <![endif]>  <![if !vml]>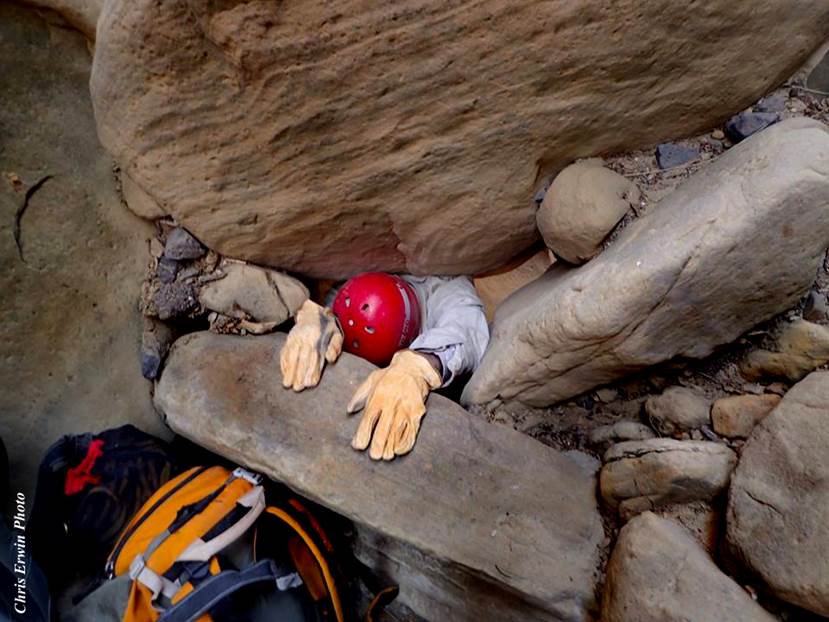 <![endif]>
......and continues down rappel #3.....
<![if !vml]>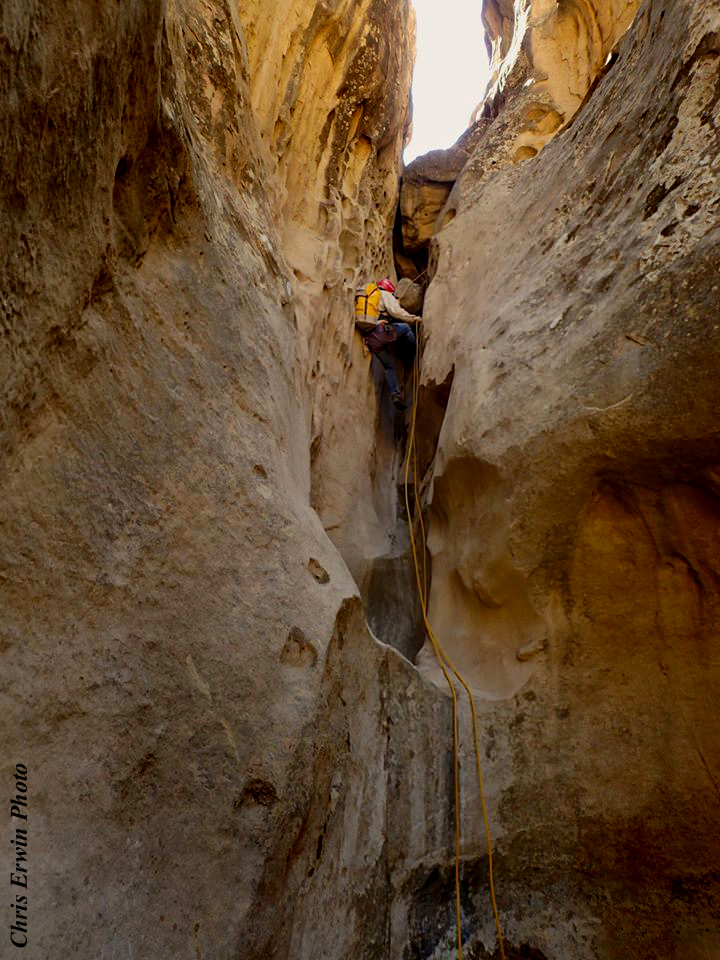 <![endif]>
A rope-less friction butt-slide down the sloping crack to my left, moved us easily past this 20' drop where the slot opens up
<![if !vml]>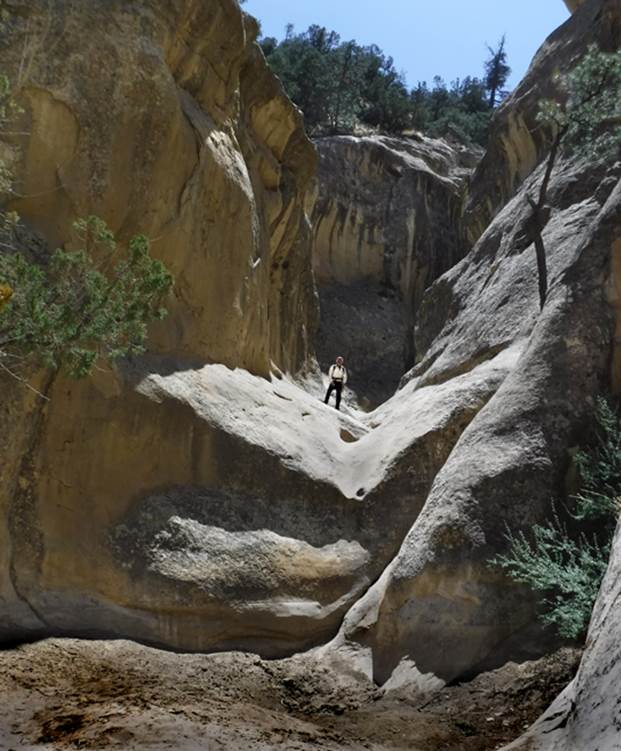 <![endif]> 
Chris dangles mid-air on a lower 40' rappel
<![if !vml]>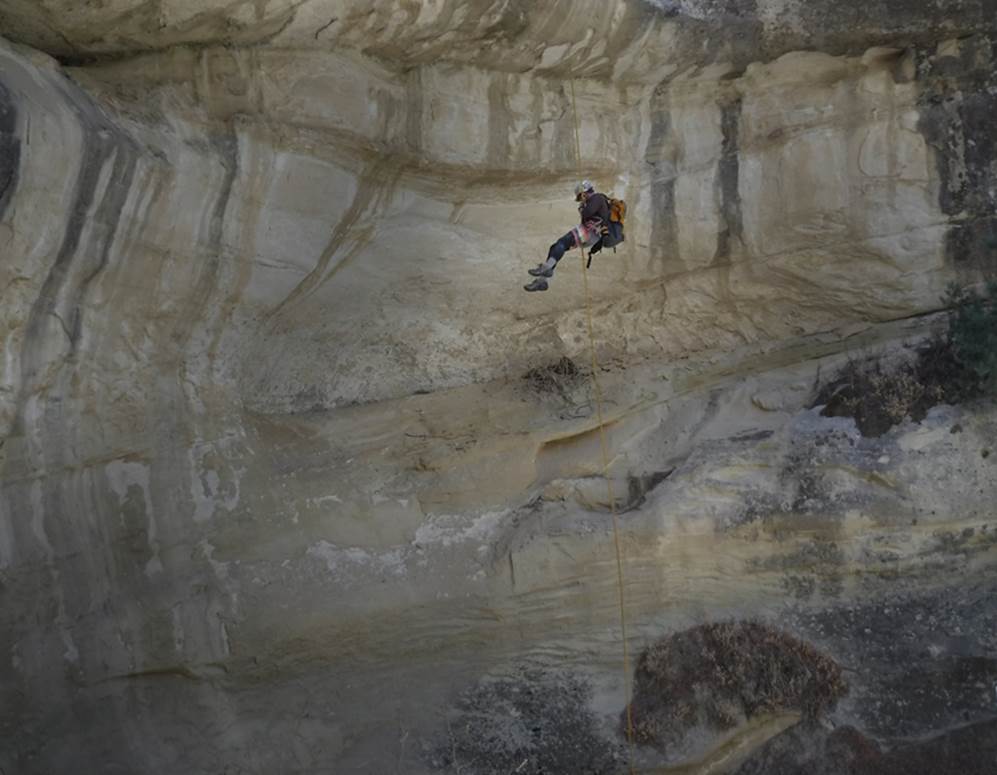 <![endif]>
See more photos below the map
beta facts:
name- Painted Canyon Slot
length of slot canyon- maybe a quarter mile
elevation- 7300'at the top down to about 7000'at the bottom
GPS coordinates- ±34°52.133'N 107°52.709'W
flow- intermittent
season to visit- most anytime except winter may have ice, but March/April & Sept/Oct are the most suitable
 NEVER ENTER ANY SLOT CANYON WHEN HEAVY RAIN IS IN THE FORECAST…!!!
accommodations- nearby campground & restrooms
ownership- El Malpais National Monument
access- is from Hwy 117… see the map below
nearest town- Grants is about 20 miles north of here
fun fact- This area is WAY AWESOME…! ! !
text by Chris Erwin after a "first descent" of Painted Arch Slot Canyon with Doug Scott on April 14, 2018
There were four mandatory rappels upwards to 80 feet and two rabbit-hole down-climbs, for those who are thin enough to fit.  Lots of natural anchors, so no bolts please.
Start at La Ventana Arch Parking Area within the El Malpais National Monument, and hike up to the mesa at the top of this drainage.  (see map below)  Stop at the rim above La Ventana Arch for an excellent  view of this second largest natural arch span in New Mexico – 135 feet.  Also stop along the rim to view Painted Arch.  Continue rim-walking until you reach the top of Painted Arch Canyon and proceed downstream.  This canyon soon reaches an 80 foot high, free-hanging rappel with a massive cave behind it.  We found foot prints here, so it appears that people have non-technical access at the base of this rappel, therefore escape is likely possible here.  Proceed down-canyon through a scenic narrow hallway section in which you will complete two short rappels and possibly more, if you are unable to fit through the rabbit-holes.  The canyon jogs left and opens up.  The final obstacle is a rappel over a broad cliff band.  Parallel the highway back to your car.  Total time is three to five hours.
note- We climbed up to the flat mesa above La Ventana Arch via the route labeled on the map below as difficult.  A photo of the 5-foot natural arch we found there, appears at the very bottom of this page.
Enhanced USGS topo map
Please right-click-save-as on our map below to have a hand held hard copy with you in the field
The Red Lines depict sections of "slot canyons"
<![if !vml]>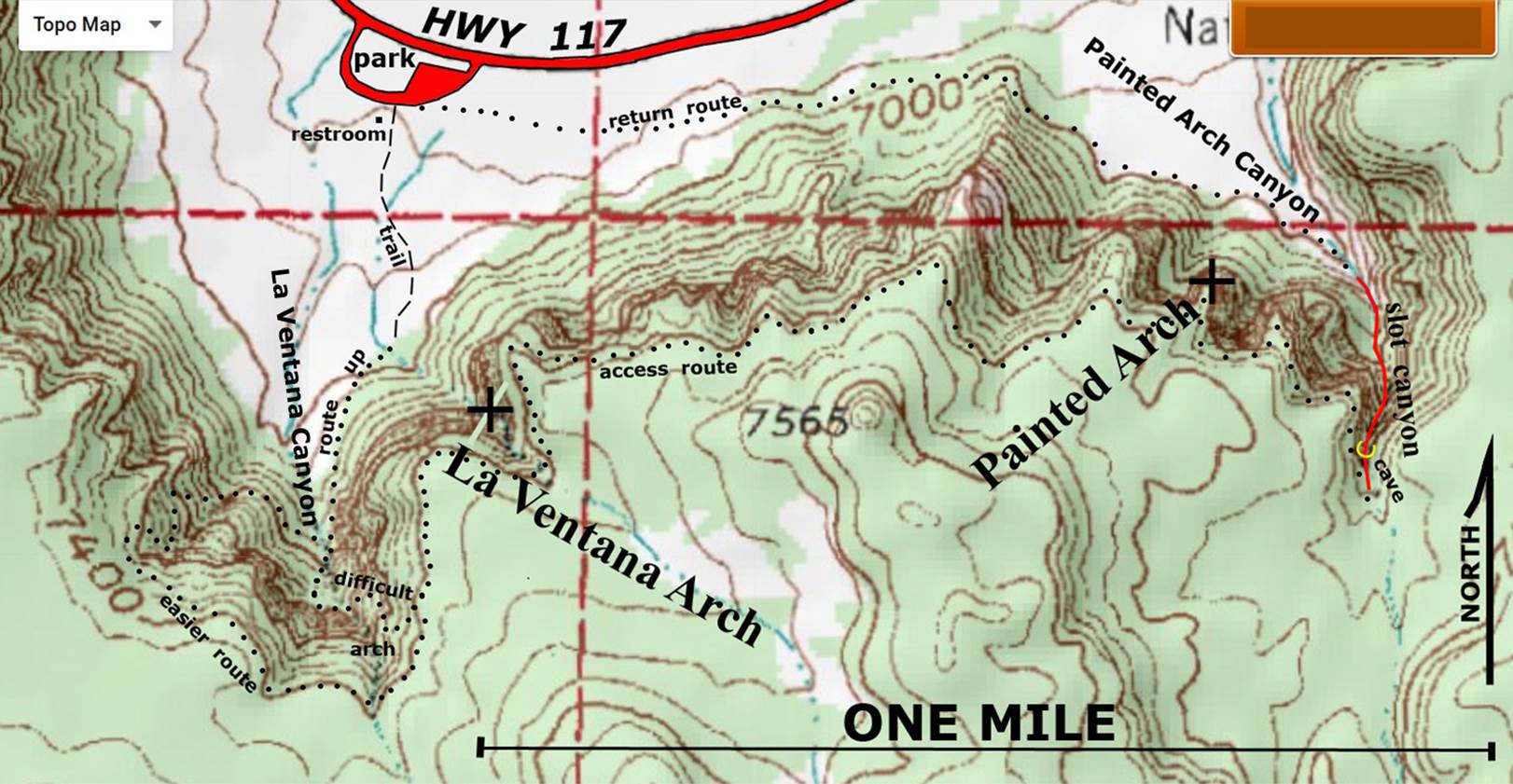 <![endif]>
La Ventana Arch is the second largest natural arch in New Mexico... but few people climb up and around to see it's amazing back side... ! ! !
<![if !vml]>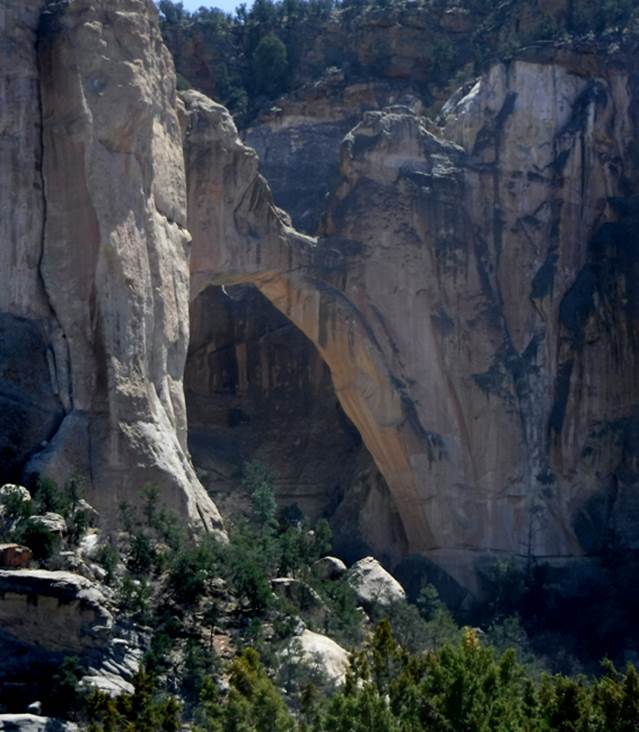 <![endif]>  <![if !vml]>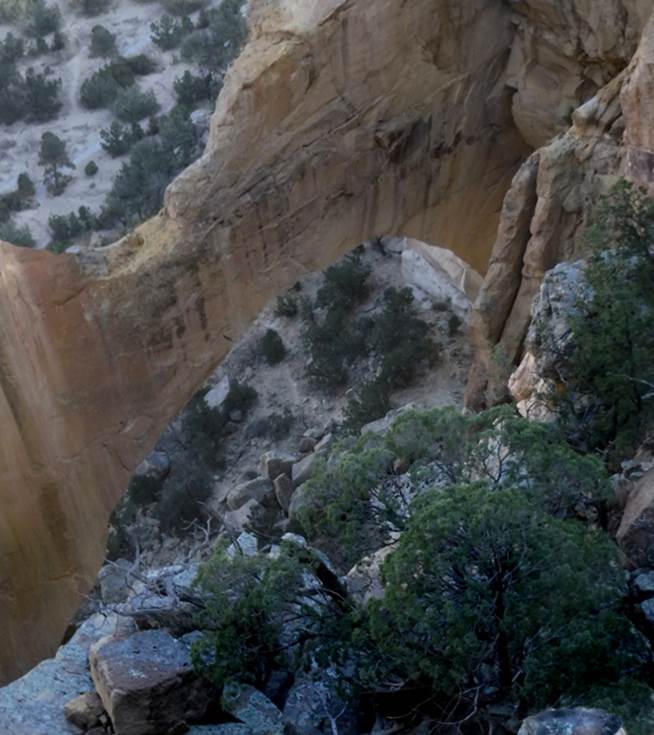 <![endif]>
...between La Ventana Arch and the slot canyon is: Painted Arch, having a span of about 25 feet.  It was documented in 1973
<![if !vml]>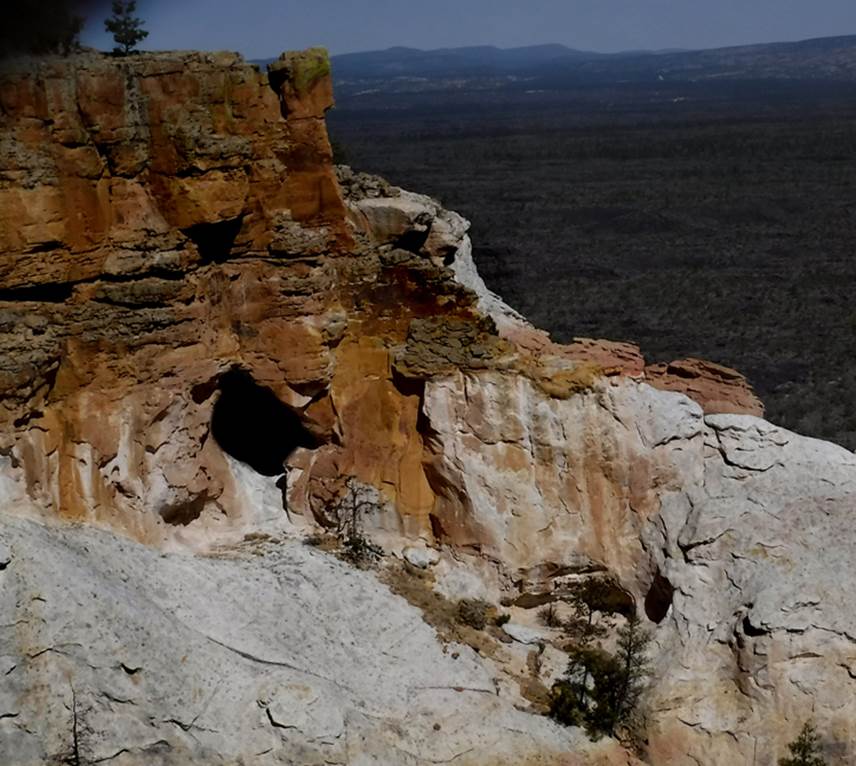 <![endif]>
A wide angle shot of Painted Arch.  Notice the vast El Malpais - lava flows in the background
<![if !vml]>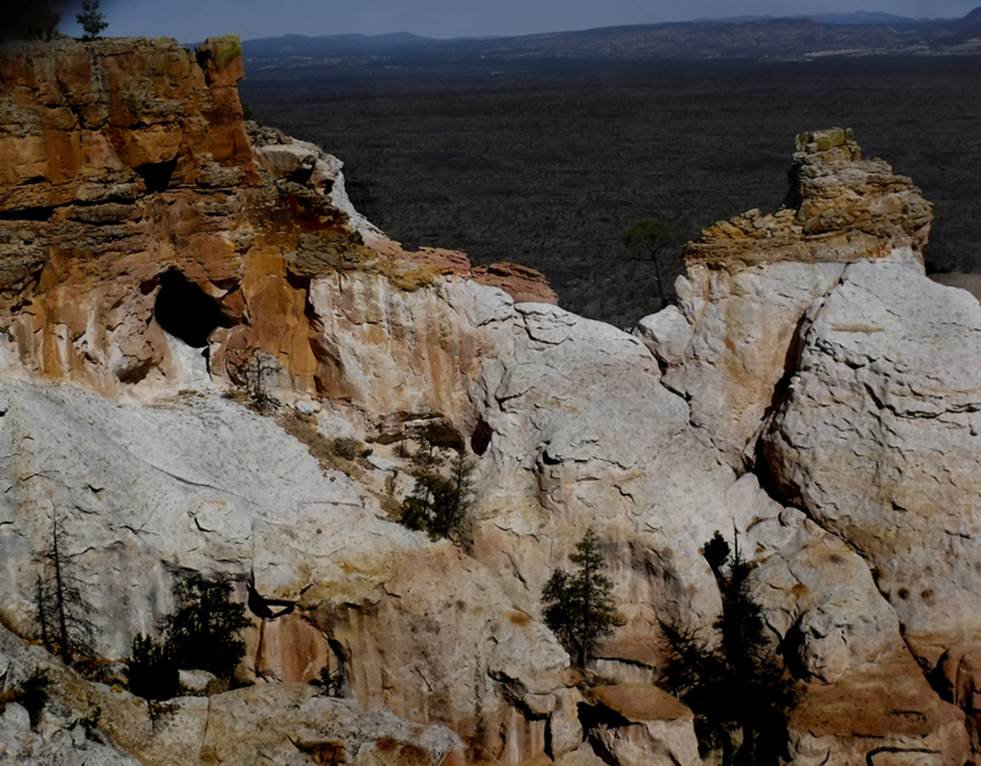 <![endif]>
We found this 5' arch, high along the difficult route, while climbing up to La Ventana Mesa
<![if !vml]>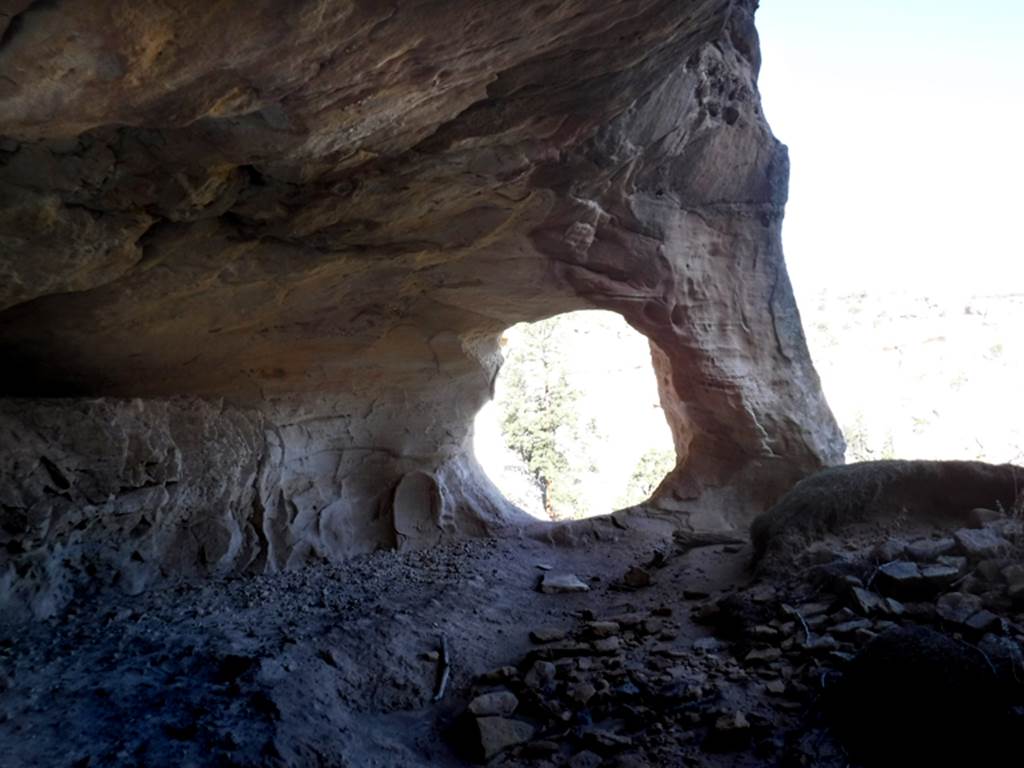 <![endif]>
Back to New Mexico Slot Canyons
Send questions and comments to dscott@themarblesculptor.com