Cuesta Blanca Canyon, Chino Canyon & Cañon Caja
Cuesta Blanca means: down hill, white - in English
Chino means: Chinaman
Cañon Caja means: Box Canyon
ACA Canyon Rating – 2A III –except Cañon Caja rating is - 3A III
NEVER ENTER ANY SLOT CANYON WHEN HEAVY RAIN IS IN THE FORECAST…!!!
<![if !vml]>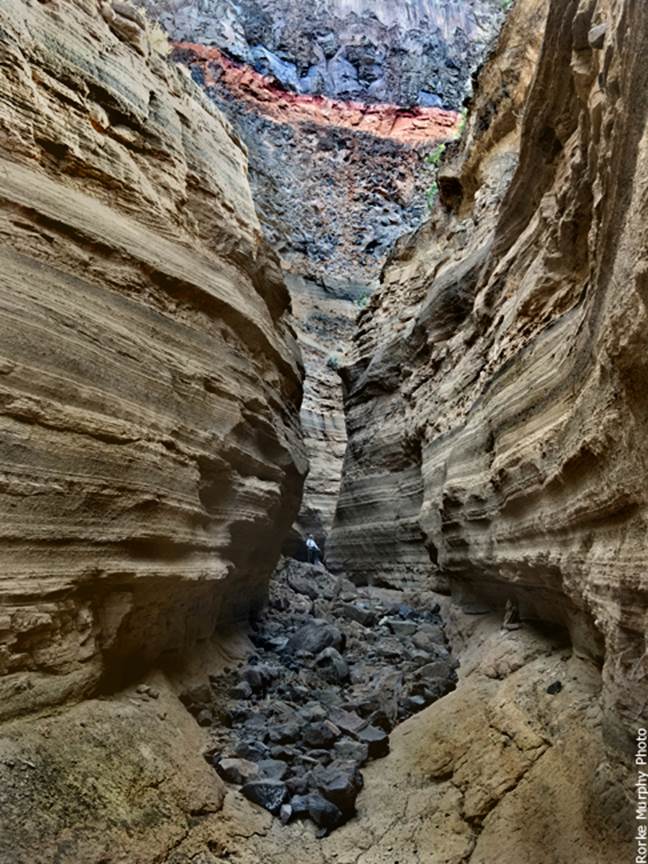 <![endif]> 
This is not a true slot canyon... but Chino Canyon becomes slot-ish and quite impressive.  Yours truly is standing in the middle of this photo above.
Below I am entering what we refer to as Cuesta Blanca Slot Canyon.  This is the only slot canyon we know of composed of Bandelier Tuff.  -scroll down to see map-
<![if !vml]>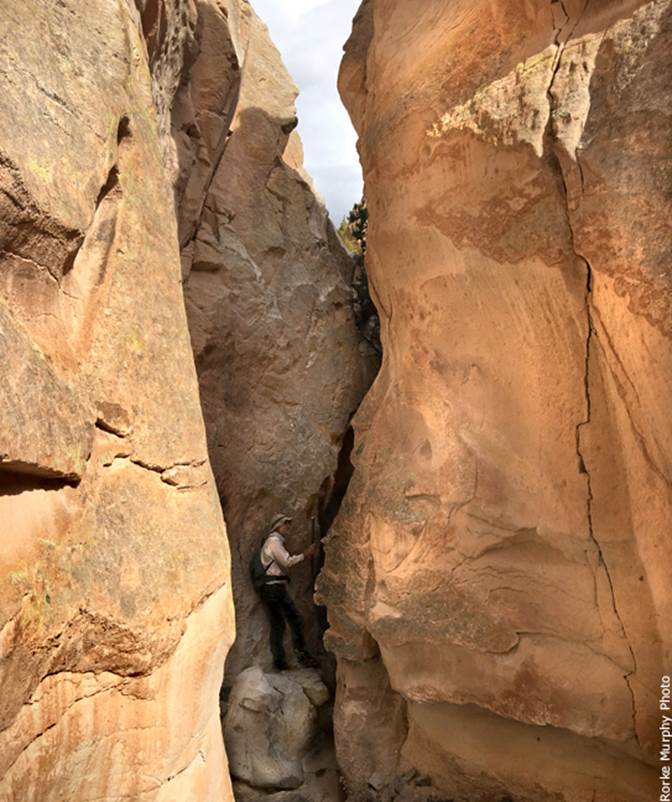 <![endif]>
Cuesta Blanca is not a deep slot... but it is a beauty... and can easily be scrambled without ropes & gear
<![if !vml]>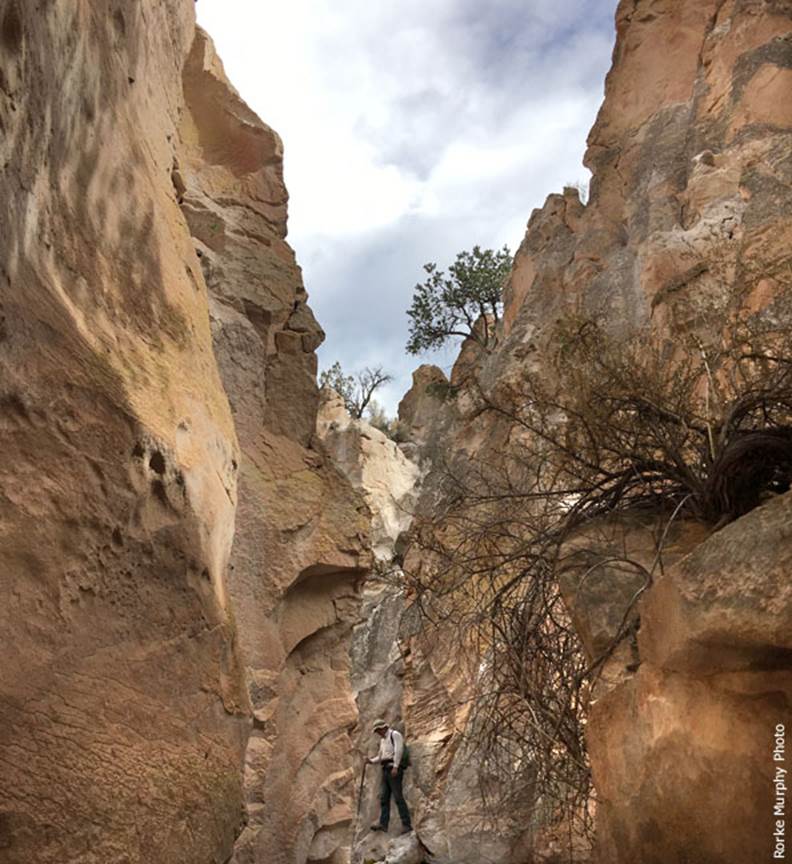 <![endif]>
beta facts for Cuesta Blanca Slot Canyon:
name- Cuesta Blanca Canyon
depth of slot portion- roughly 40 feet
length of slot canyon- + one quarter mile
elevation- 5900'
GPS coordinates- ±35°47.145'N 106°11.474'W
flow- intermittent
season to visit- Anytime but Spring & Fall are best because summers are blazing HOT -  NEVER ENTER ANY SLOT CANYON WHEN HEAVY RAIN IS IN THE FORECAST…!!!
accommodations- NONE – the Caja del Rio Plateau is extremely remote and un-visited…!!!
ownership- Santa Fe National Forest
access- is from above on Forest Road #24 west out of Santa Fe… consult a Santa Fe National Forest Map
nearest town- White Rock, NM is about 2 miles northwest of here
fun fact- I will return to this place often.  It is good stuff.
essay bro
White Rock Canyon, New Mexico is WAY under-rated.
We like to take Caja del Rio Road NW from Santa Fe Bypass #599, to County Road 62 west... which turns into Santa Fe National Forest Road #24.  Continue on FR 24 for 7 or 8 miles (sorry we never pay attention to this detail) ...where you must find and follow the (un-numbered) very rough 4WD road to Chino Mesa..... our map below kicks in here at Chino Mesa.
Right-click-save-as on our map below for your own digital file to save and print yourself a hand-held copy for navigation in the field.  Our map below is the only map on earth that shows anywhere near this amount of detail.  We park at the Cuesta Colorada Trail 302 Trailhead on Chino Mesa.  But instead of descending the trail, we prefer to walk east from our wheels over to Pinabete Tank and descend the wonderful series of dry falls in Chino canyon.  There is a bunch of them and they are ALL either down-climbable or you can scramble up around them on the hillside.  We leave our ropes & harnesses at home which affords us a light-weight, enjoyable day-hike with some all-fours climbing.  We consider these down-climbs to be very safe for climbers with intermediate experience.
Chino Canyon, below these dry falls, displays monumental proportions.  White Rock Canyon, NM with all of it's tributaries- is awesome...! !  !   see the top photo above.  The basalt cliffs in this photo, rise 750' overhead.  Back in the early 1970's BLM managed commercial river outfitters on the Rio Grande.  Chino Canyon was a suggested campsite or lunch-stop for river runners, because the side hiking here was outstanding and the river-side alluvial plain was large, flat and suitable for public use.  However, we were advised to stay out of the Chino Canyon streambed during the rainy season, as to avoid likely flash-flooding.  Doug Murphy was the first commercial whitewater river outfitter in New Mexico in 1972.
The name Chino is Spanish for Chinaman.  Long ago I was told, that in the late eighteen hundreds a Chinese man kept a small herd of sheep here and got his drinking water from the spring in Chino Canyon.  It is thought, that Cuesta Colorado Trail, was originally a trail he made to access Chino Canyon, the spring as well as the Rio Grande.  Today I drink from Chino Spring... and the water is delicious. 
A pleasant, trail-less-hike northward, accesses Cuesta Blanca Canyon.  Cuesta means "downhill" and Blanca means "white".  The shallow, but beautiful slot canyon up here is the only slot canyon we know of consisting entirely of Bandelier Tuff (geological formation).  Ascending and/or descending Cuesta Blanca Slot Canyon is a non-technical, rope-less-scramble that is very sweet.  When the narrow slot opens up above, tent rocks and hoodoos abound in a wide spectrum of shapes, sizes and wonderful colors.  This Cuesta Blanca Canyon "upper basin" is a wonderland come true kind of place.
A light buff color of the Bandelier Tuff Formation is the "white rock" of White Rock Canyon and is why that enormous gorge was named "White" Rock Canyon.  The size, diversity and colors of White Rock Canyon surpass that of the Rio Grande Gorge, found farther upstream within Taos county.  From the canyon rim, down to the river, the depth of the Rio Grande Gorge is 800' ...while White Rock Canyon has a depth of 1250' around the vicinity of the Ancho Canyon confluence. 
Our return to the trailhead is back down Cuesta Blanca Canyon followed by a scenic trek up Cuesta Colorada Trail #302.  This trail is marked by a substantial, head-high, wooden post at the bottom.  It is well kept, easy to follow and quite inspiring to hike.  xmaps.com is where we found the name Cuesta Colorado.  We do not know where this name originated and red is not a prominent color here... but we don't question it.  We just use the existing name for reference.
About a mile north of Chino Canyon and parallel to it, is a major tributary that we refer to as Cañon Caja (box canyon Eng.)  See the map below.  We prefer names that fit in with currently existing names.  We have heard of people making up totally new and "off-the-wall" names for these places- like: Breaker Box Canyon (which has no eletricity) and 20,000 Steps Canyon... who knows?  There are plenty of pre-existing names in America without cooking up brand new silly stuff.  Anyway, this is not a slot canyon but it is quite colorful and beautiful with canyon walls which are quite high, sheer and colorful.  This canyon does have a 90' high rappel that is mandatory and it appears to us that a few different parties have previously descended thru here, leaving a choice of existing anchors with webbing.... some of which are weathered and flood damaged.
This seems to us like a long ways to carry a heavy rope-bag & gear, for just one mandatory rappel.......
Shortly below the 90' rappel... Cañon Caja soon losses its charm.  As it descends, it quickly becomes extremely open and barren.  Therefore, a hike to the top of that rappel and back... is plenty enjoyable enough for us......
Enhanced USGS topo map
The Red Lines depict sections of "slot canyons"
<![if !vml]>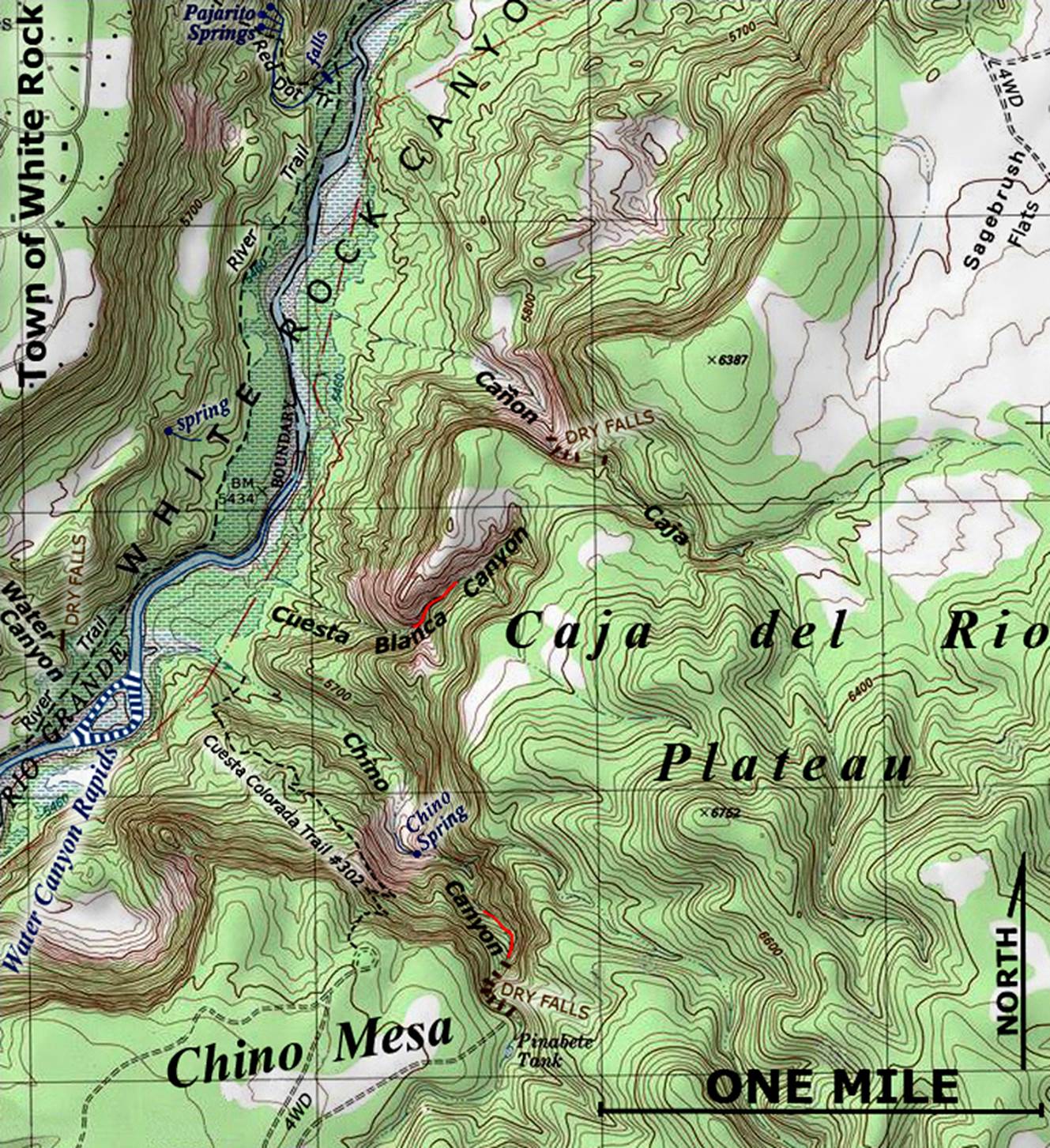 <![endif]>
Back to New Mexico Slot Canyons
Send questions and comments to art@DougScottArt.com