West Fork Mogollon Slot Canyon
Also known as Marathon Canyon
ACA Canyon Rating – 3B IV  -the B rating can go up to a C4 rating as thundering flood conditions sometimes occur during the spring snow-melt
 Experienced Canyoneers Only
requires a full range of technical canyoneering equipment as well as multiple ropes…!!!
NEVER ENTER ANY SLOT CANYON WHEN HEAVY RAIN IS IN THE FORECAST…!!!
<![if !vml]>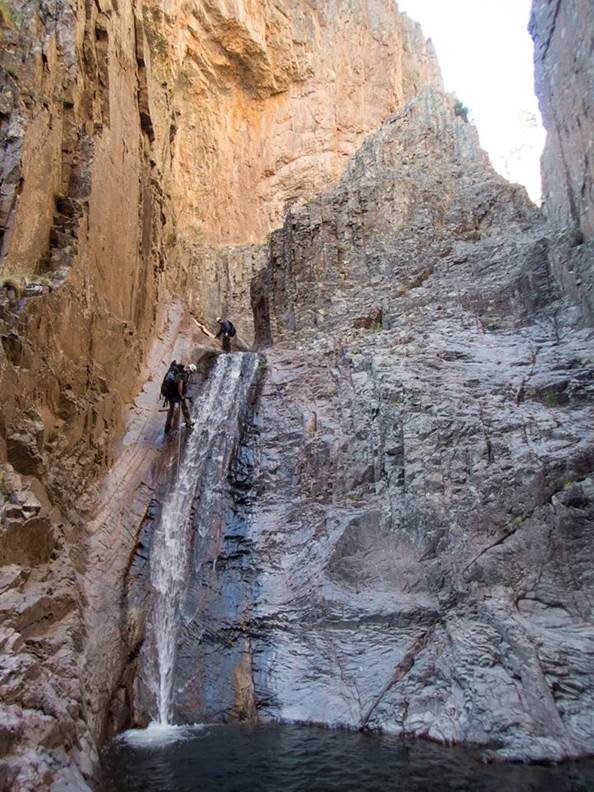 <![endif]>  <![if !vml]>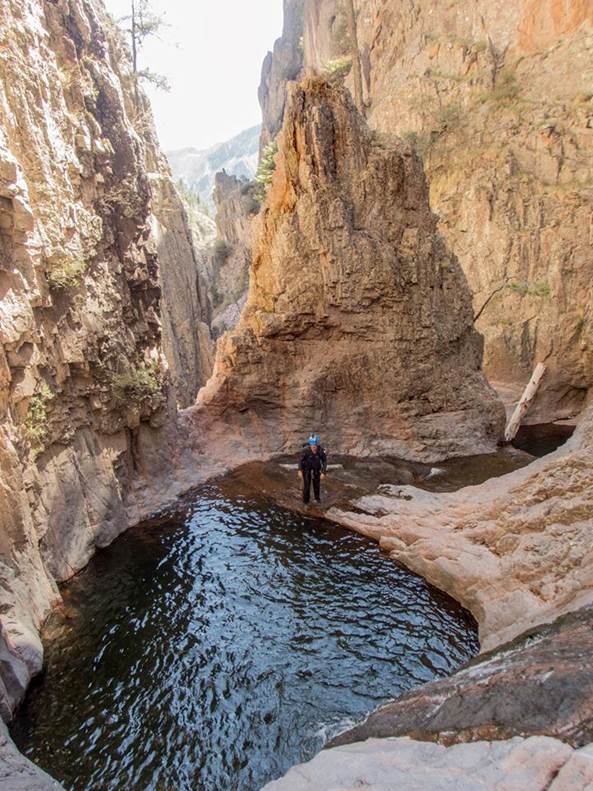 <![endif]>
The "Shark Fin" feature in this canyon is way awesome... see above right photo
<![if !vml]>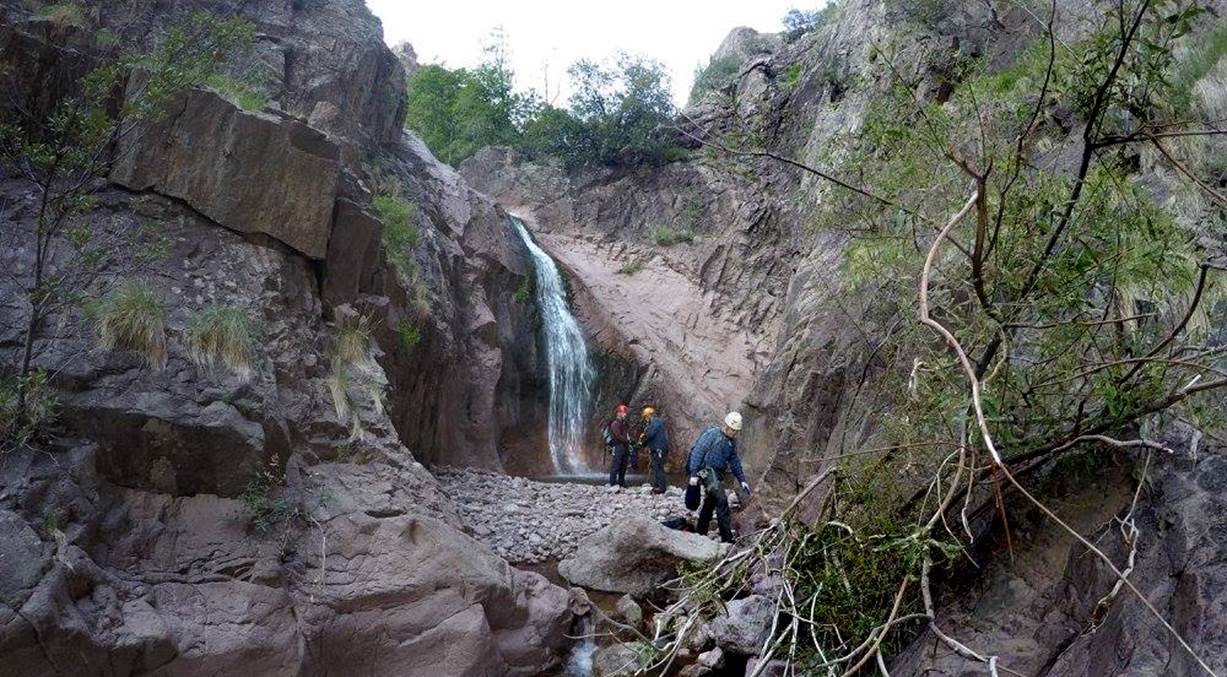 <![endif]>
Several rappels... the highest up to about 60'
<![if !vml]>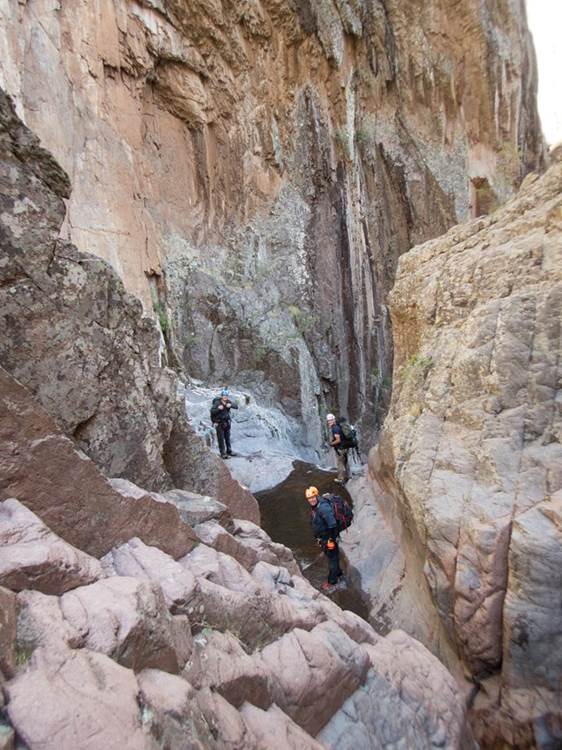 <![endif]>  <![if !vml]>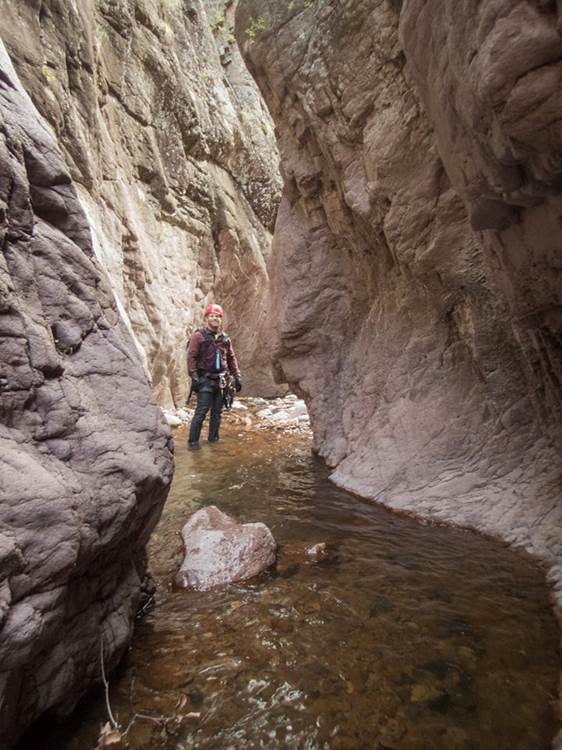 <![endif]>
Some sweet narrows
<![if !vml]>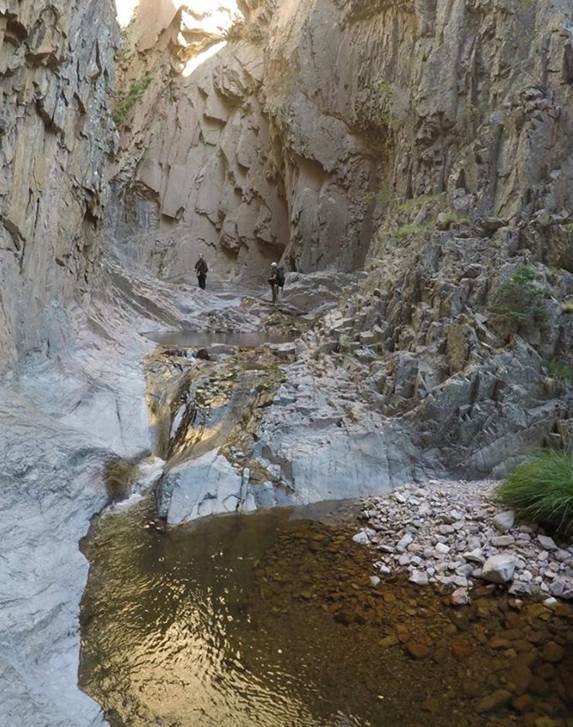 <![endif]>  <![if !vml]>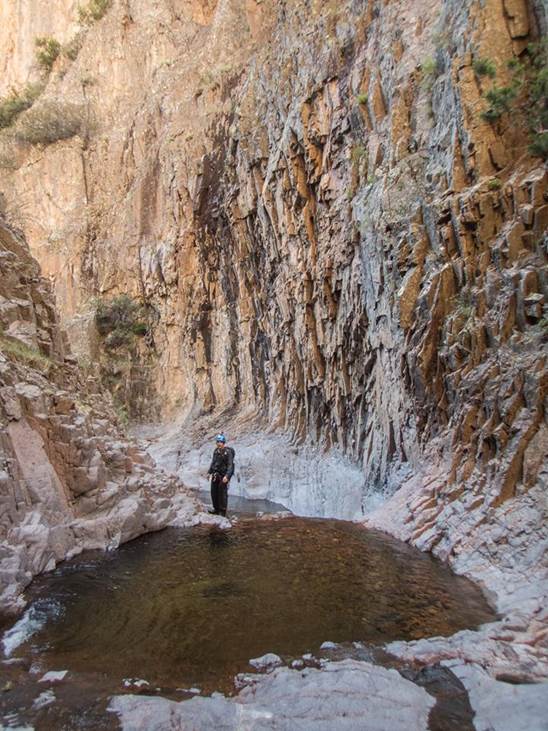 <![endif]>
And some great butt-slides
<![if !vml]>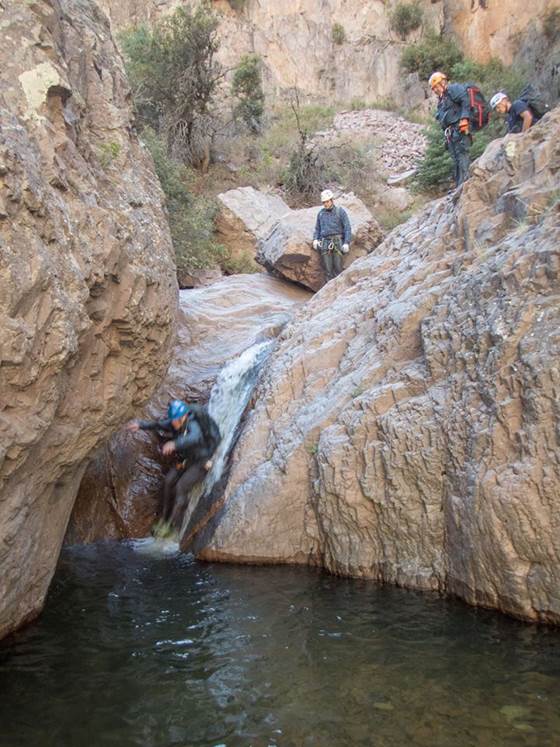 <![endif]>  <![if !vml]>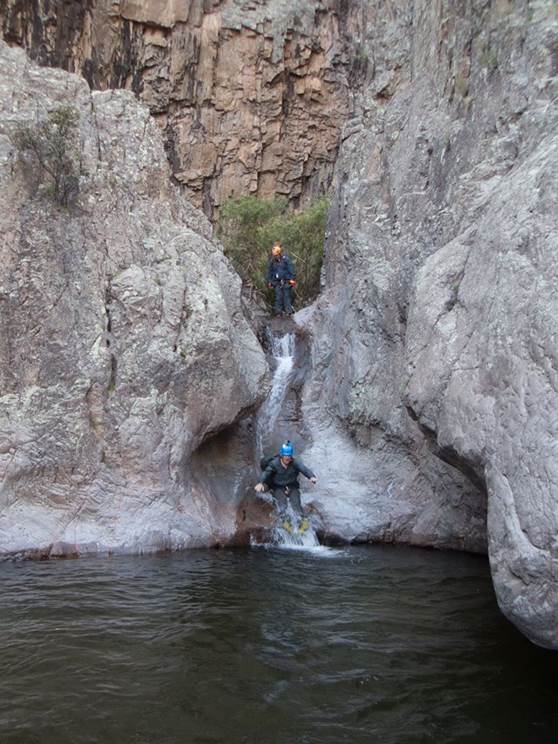 <![endif]>
<![if !vml]>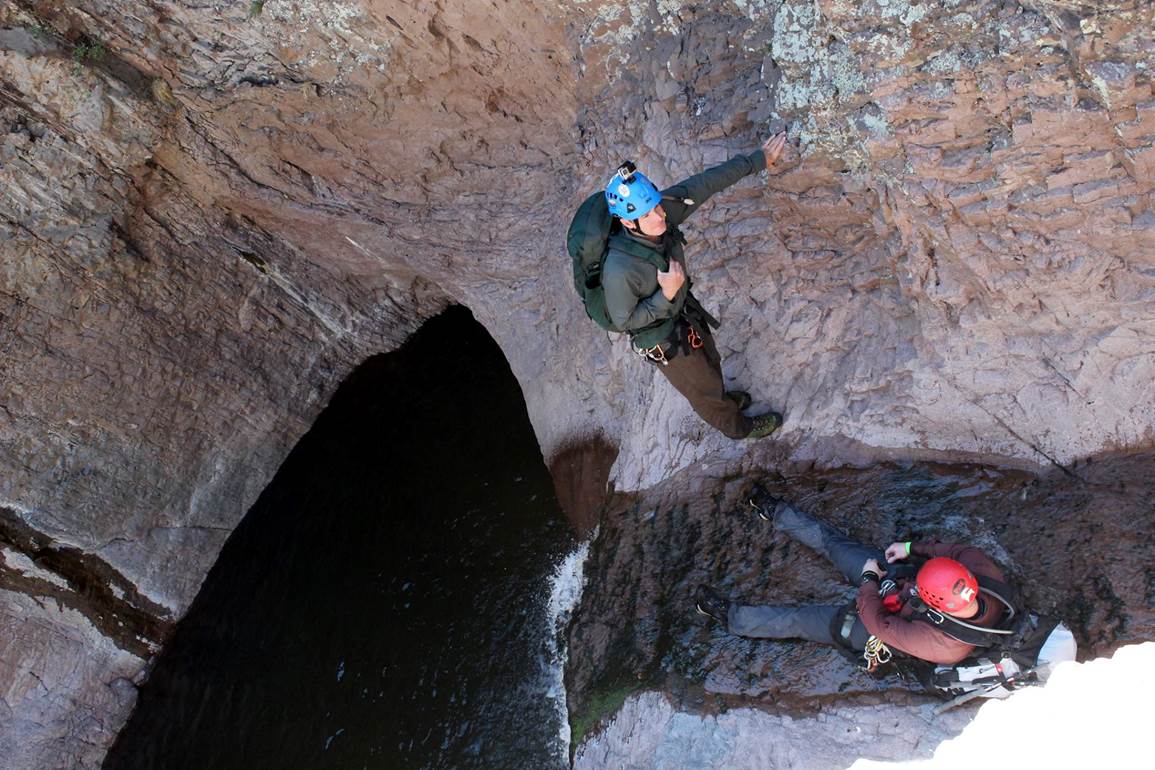 <![endif]>
It requires marathon exertion to both arrive at and descend this "marathon" Canyon... 
<![if !vml]>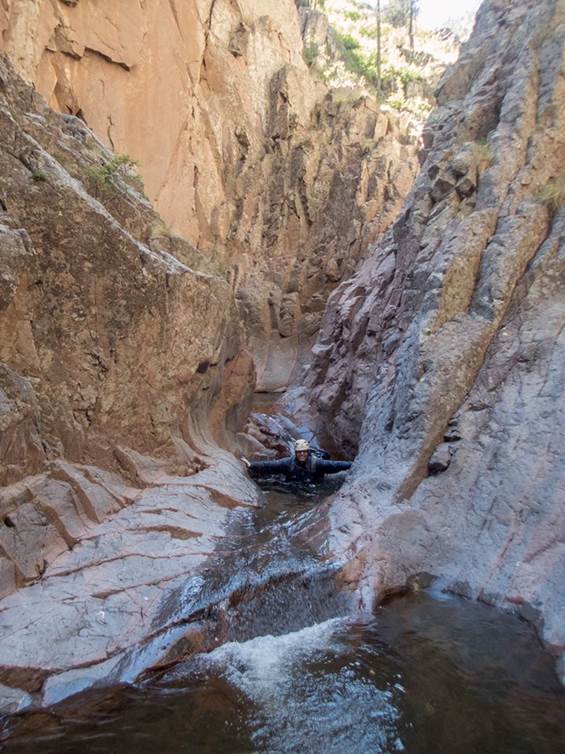 <![endif]>  <![if !vml]>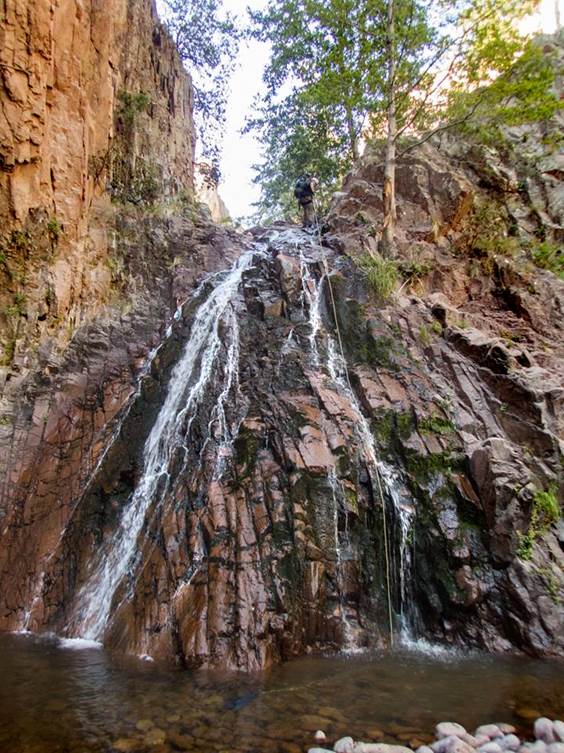 <![endif]>
beta facts:
name- West Fork Mogollon Slot Canyon
length of slot canyon- about one mile including an upper potion that has not yet been traversed or documented
elevation- 7800'at the top down to about 7350'at the bottom
GPS coordinates- ±33°16.126'N 108°37.274'W
flow- Perennial
season to visit- April thru June &... September/October NEVER ENTER ANY SLOT CANYON WHEN HEAVY RAIN IS IN THE FORECAST…!!! Thunderstorms in July & August
accommodations- none – Gila Wilderness Area
ownership- Gila National Forest
access- is road 293 about 3 miles north from Cliff, NM – then Sacaton Road 15 miles north to Rain creek Trailhead & see map below for trail information
nearest town- Cliff and Gila are about 20 miles south of here
fun fact- This place is about as remote as it gets
essay bro
The map below shows the slot canyon portions of West Fork Mogollon Creek… marked in red.  This is the section of technical canyon that was explored by the Arizona Canyoneering Team shown in the photos above.  Their excursion was a "first descent."  They found no evidence (anchors, ropes, bolts) anything of any kind, anywhere within this gorge... which shows that no one else had gone in before them.   They explored everything downstream from Baldy Creek Falls.  We appreciate them for their sharing their photos and info with us.  We are impressed by the beauty of this amazing West Fork Mogollon's steep, narrow gorge...! ! !
We scouted this gorge previously and have been planning a first descent for a couple years now, but on July 2, 2017 this team led by Dallin 

Durfee

... beat us to it...! ! !

  

I am a bit jealous, but glad for them and proud of them…

! !

 !

  

Among themselves they referred to this short, amazing, technical gorge as: Marathon Canyon.

  

Crew members were: Dallin 

Durfee

, Ryan Hooper, Bret 

Kilgrow

, Jeff Jeffries, and 

Laurin

 Ashby.
Here's their leader's description  -Dallin Durfee:
We woke up early and started on the Rain Creek Trail.  We took the trail that crossed over the ridge and down into West Fork.  We hiked up the creek and finally made it to
Little Punch Bowl Falls.  We couldn't find where the trail left the drainage so we climbed up a small drainage above Little Punch Bowl Falls and found the "trail".  The trail was
pretty rough but we made it up past the technical section and dropped back into the canyon before we got to Baldy Creek so we dropped in just below those falls.  We started
down and it was awesome.  There were a few small drops and then it was a bunch of short rappels. There was a really nice short section of narrows with a really cool "Shark Fin"
feature.  There really wasn't any big drops… the tallest was about 60'.
Their "day trip" ended using headlamps at 11pm with an un-scheduled bivouac.
I tell you – "Brute Beasts" – they are…! ! !
This trip deserves a two night backpack…! ! !
However, there are still some un-explored and yet-to-be-documented wonderful narrows with waterfalls hiding upstream from where they began their descent.  Altho they did get what we think is the "best" of it.  Baldy Creek Falls, Hobo Falls and several other un-named waterfalls within the "upper" technical narrows, are yet to be explored and documented.  Maybe someone will beat us into that portion as well... we better hurry...! ! !
The Mogollon Range holds the Gila Mountain's highest elevations and they give birth to the largest upper Gila River tributaries.  West Fork Mogollon Creek is a fine trout stream draining the south slopes of the Mogollon Range.  The upper West Fork Mogollon divides into three main forks: Geronimo Creek, Hobo Creek and upper West Fork Mogollon Creek.  This south-flowing system is easily accessible via Sacaton Road - Forest Road 147 - at the Rain Creek Trailhead (see map below).
Some of the trails, shown by dotted lines on our map below, no longer exist.  Forest fires along with the massive floods that followed, coupled with discontinued maintenance, have allowed some of these wonderful trails to desist.  Faint remnants of trail appear for short stretches... then vanish without warning. 
This trip deserves a two night backpack…!!!!  To visit the entire mile of technical canyon, follow the remains of Trail 224 above Little Punch Bowl Falls all the way to the Hobo Creek confluence before entering the gorge to begin your descent.  ...and you may as well run upstream to get a quick photo of Hobo Falls... Oh yes, and tell us how high it is...! ! !
There were several mandatory rappels.  The highest was upwards towards 60 feet - all with adequate natural anchors, so no bolts please.
Right-click-save-as on our map below, to print your own "hand-held" copy for your hike
 Enhanced USGS topo map
Or click this link to see a new updated & enlarged map: http://www.dougscottart.com/hobbies/waterfalls/WestFkMogo.htm
Enhanced USGS topo map
The Red Lines depict sections of "slot canyons"
<![if !vml]>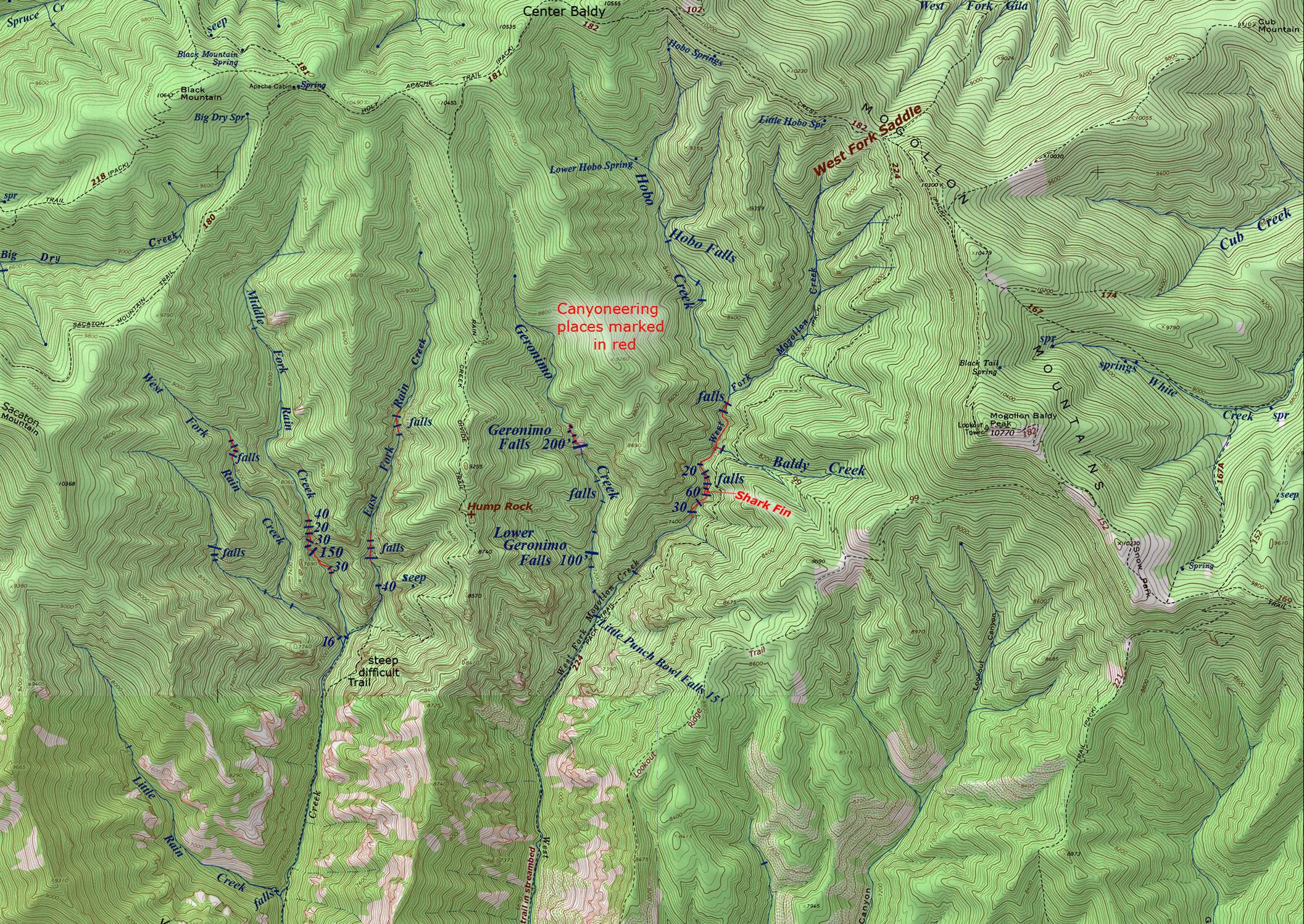 <![endif]>
To see the Trailhead click on this enlarged map: http://www.dougscottart.com/hobbies/waterfalls/WestFkMogo.htm
Back to New Mexico Slot Canyons
Send questions and comments to dscott@themarblesculptor.com