Angostura Slot Canyon
ACA Canyon Rating – 2C II
THUNDERSTORMS DO NOT AFFECT THE WATER FLOW MUCH HERE
HOWEVER May & June SNOW-MELT IS OFTEN DANGEROUS…!!!
We did not make a Slot Canyon Page… we are just using Angostura Waterfall Page from our New Mexico Waterfalls website.
Google it and enjoy New Mexico's Waterfalls…!!!
Angostura Falls
Angostura in english = narrow passage, referring to the narrow, sheer-walled passage that the waterfalls are in.
<![if !vml]>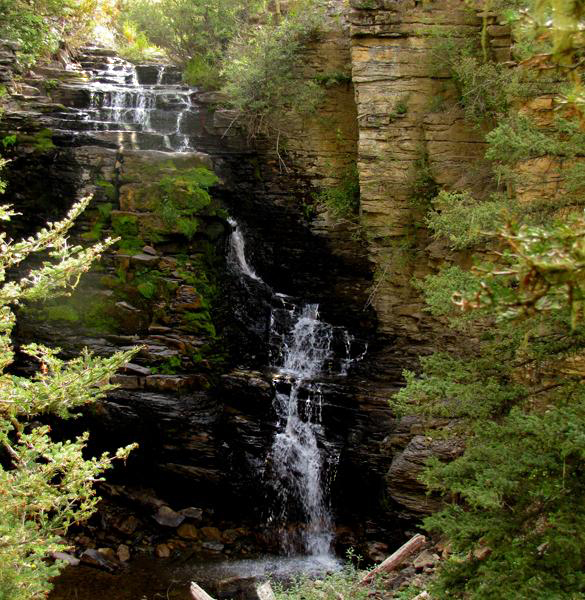 <![endif]> <![if !vml]>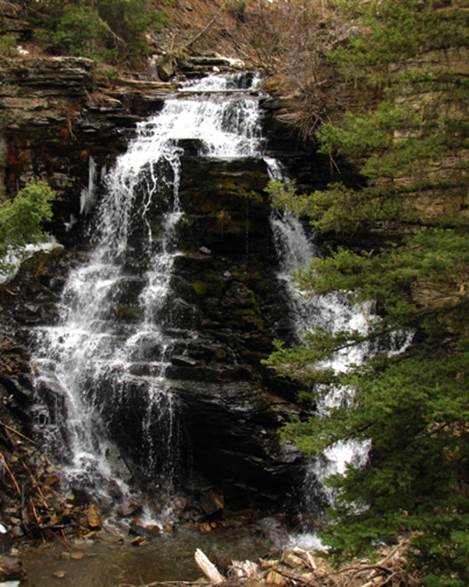 <![endif]>
This is a favorite falls of mine even tho this portion of it is only 30' high... she dances purdy...!!!  Angostura Creek flows as a normal tumbling mountain stream before suddenly spilling over this cliff into an amazing slot canyon...Angostura mean "narrow passage."  I group this waterfall along with a half-dozen other ones below...as all one waterfall...Angostura Falls.  It would be excessive to name each individual drop.  These waterfalls, all lie within the same, unbroken mass of black limestone bedrock.  Therefore each individual falls is in truth, a portion of...or as we say - one "tier" of Angostura Falls.  Angostura Falls has several tiers.  The upper tier, pictured above, is the highest tier.
These two 15 to 20' high tiers seen below, are tucked into the crux of 100'-deep Angostura Slot Canyon.  Everyone of the half-dozen tiers can be seen, from and with, the other tiers near to it...a classic "multi-tiered" waterfall approximately 100' high.
<![if !vml]>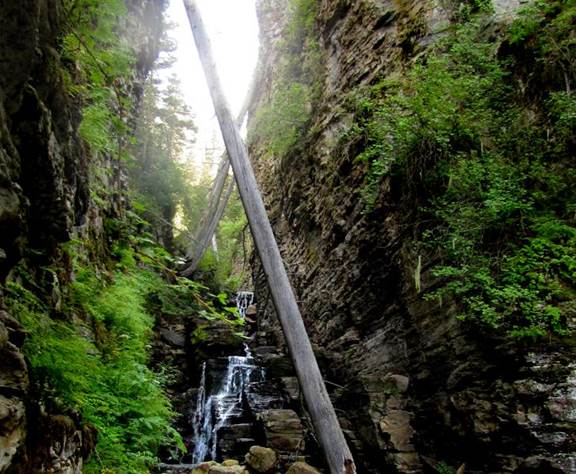 <![endif]>
beta facts:
name- Angostura Falls
height- approx. 100' total height of all of the many tiers combined.  The highest single tier is the upper most tier - 30' high.
elevation- 9600'
GPS coordinates- ±36°05.105'N 105°29.973'W
flow- perennial flowing cutthroat trout stream
season- the waterfalls flow the best in May- June BUT to traverse the slot canyon it is best to wait until late June – when it is an easy hike
Flooding from snow melt is a much bigger danger in the high elevations like Angostura Creek
accommodations- none
ownership- Carson National Forest
access-  a short 2-mile hike…and the last hundred yards is off-trail descending downstream to the waterfall.
nearest town- Tres Ritos is about 4 miles northwest of here
fun fact- an awesome slot canyon - a WONDERFUL waterfall – a short hike – and several other falls nearby.
essay bro
You will easily see the Forest Service parking lot at Angostura, immediately across the creek from Highway 518.  It is best to park here and walk a mile up the road to the trailhead because there is no room to park above and many people live along this road, which serves as their driveway.  Unfortunately, hikers have to share parts of this trail with ATVs...but it is a beautiful hike.  This is where you park when visiting Angostura Falls and/or West Fork Angostura Falls.
When hiking to Angostura Falls you need to follow Trail #493 which allows no motor-vehicles. This trail rises high above the stream until you can no longer hear or see it.  About 2 miles from your car the trail will drop back down to the creek.  Here is where you leave the trail, and follow the Rito Angostura downstream a short ways to this amazing waterfall and Slot Canyon.
Enhanced USGS 7.5' topo map
<![if !vml]>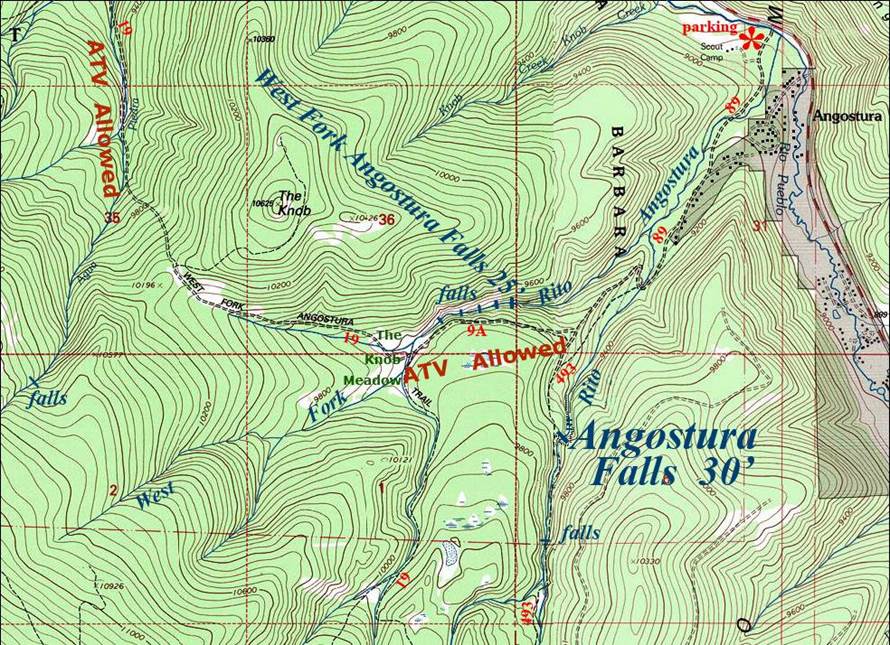 <![endif]>
Send questions and comments to dscott@TheMarbleSculptor.com