Brazos Box Canyon
ACA Canyon Rating – 2C V
 At this high elevation snow melt causes the flooding way more than summer rains ever do
THE ONLY MONTHS IT IS SAFE TO ENTER THE BRAZOS BOX
IS JULY, AUGUST, SEPTEMBER AND OCTOBER
<![if !vml]>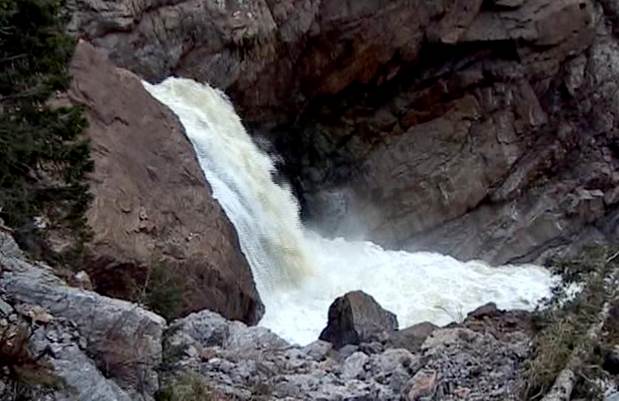 <![endif]>
30' high Brazos Box Falls thunders during May and June snowmelt runoff
This page is not a Slot Canyon Page but rather a waterfall page
The Brazos Box is about 20 miles long and is ALL private land – NO TRESPASSING
beta facts:
name- Brazos Box Falls
height- 30'
elevation- 8520'
GPS coordinates- ±36°44.751'N 106°23.521'W
flow- the Brazos River is likely the largest river contained entirely within the state of New Mexico
season- extreme kayakers see it in late May, early June but hikers have to wait until summer or fall… with the owner's permission
accommodations- none
ownership- Private Land
access- a 3 mile canyoneering rock scamble from Corkin's Lodge
nearest town- Brazos is about 9 miles west of here
fun fact- permission to trespass is absolute,,,!!!
essay bro
The Brazos River flows for almost 20 miles thru a spectacular, sheer-walled, granite gorge equal in proportions and appearance to Black Canyon of the Gunnison National Park.  Numerous waterfalls of 10 to 30 feet high splash thru this crevasse called  "The Brazos Box".  If this were on public lands, it would likely be a national park… but it is not public.  It is private.  I recommend a multi-day vacation at Corkin's Lodge, as resorting here you will enjoy the beauty, accompanied with a peace–of–mind that trespassing can never afford.  This only allows hiking to lower mile or two of Brazos Box Canyon.
Sorry no map available at this time
Send questions and comments to dscott@TheMarbleSculptor.com