Cougar Canyon
ACA Canyon Rating – 3A III
-This canyon was first called Cañoncito de Coloures which is too easily confused with Cañon de Coloures-
See on youtube: https://www.youtube.com/watch?v=_6xGB4GMdug
Cougar Canyon & it's tributaries cannot be traversed without technical rope work
NEVER ENTER ANY SLOT CANYON WHEN HEAVY RAIN IS IN THE FORCAST…!!!
<![if !vml]>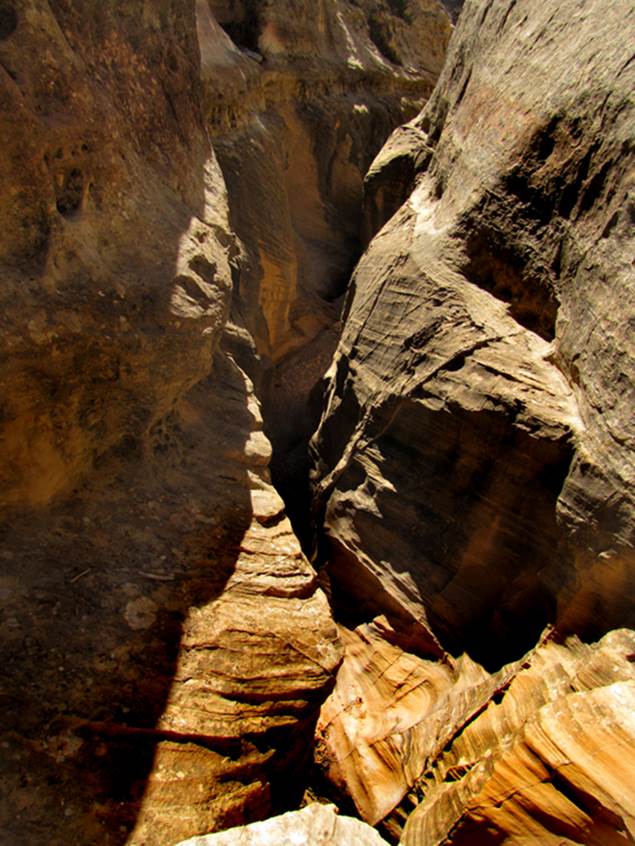 <![endif]> 
...our mountain lion sighting here, and a slot canyon floor full of big-cat tracks of all sizes... has caused us to now call this slot: Cougar Canyon
<![if !vml]>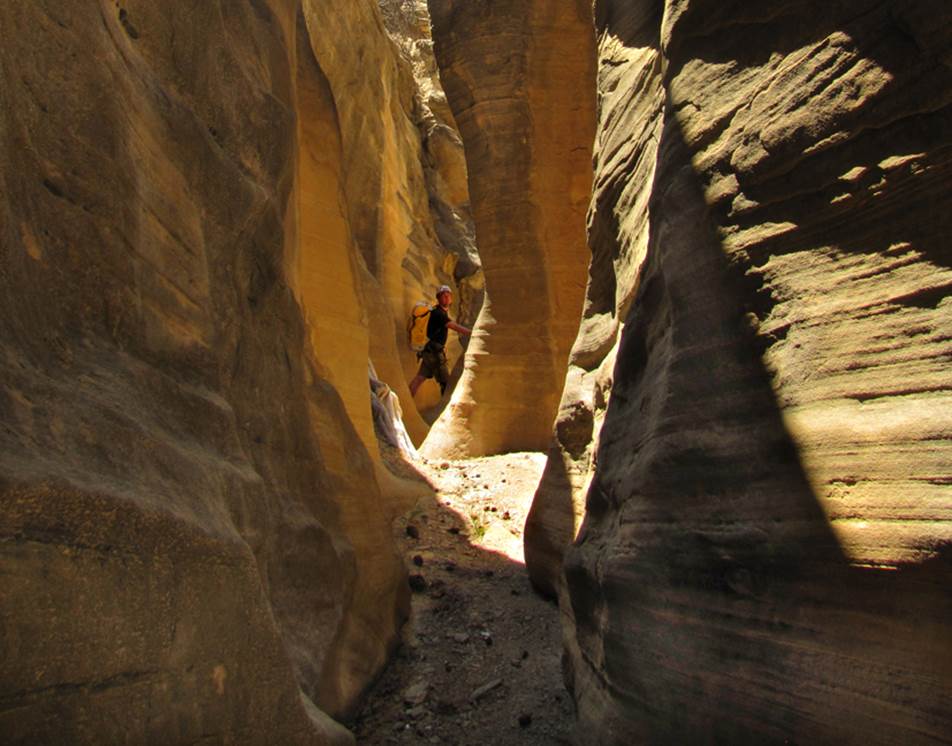 <![endif]> 
Above and below Chris Erwin enjoys the crux of Cougar Slot Canyon
<![if !vml]>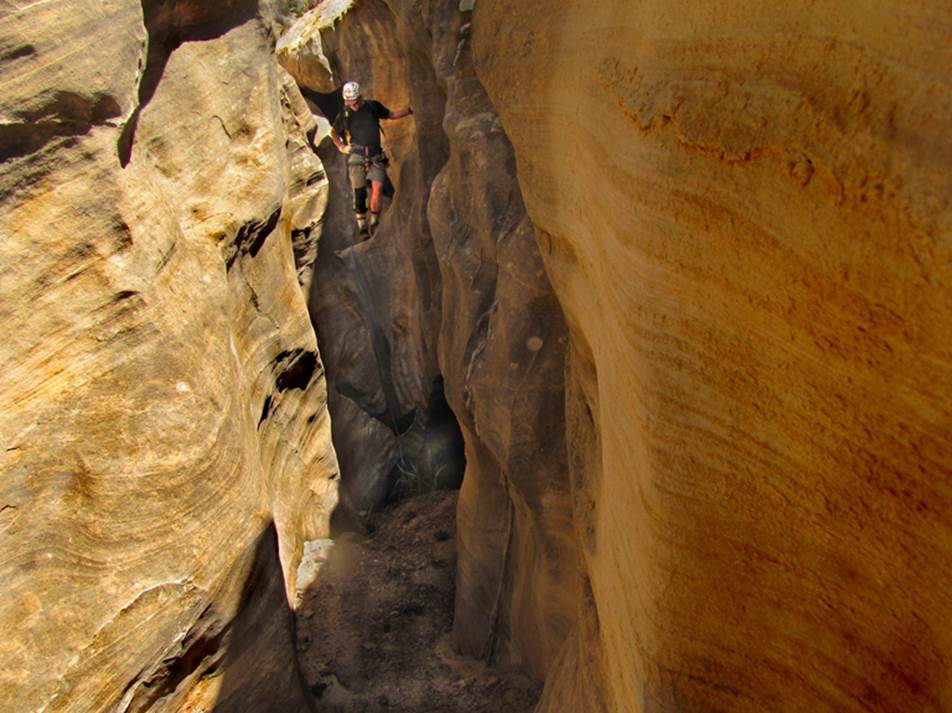 <![endif]>
Below is the "Upper Tributary" near it's confluence with the main Cougar Canyon.  Entrada Sandstone and evergreens dominate these upper reaches...
<![if !vml]>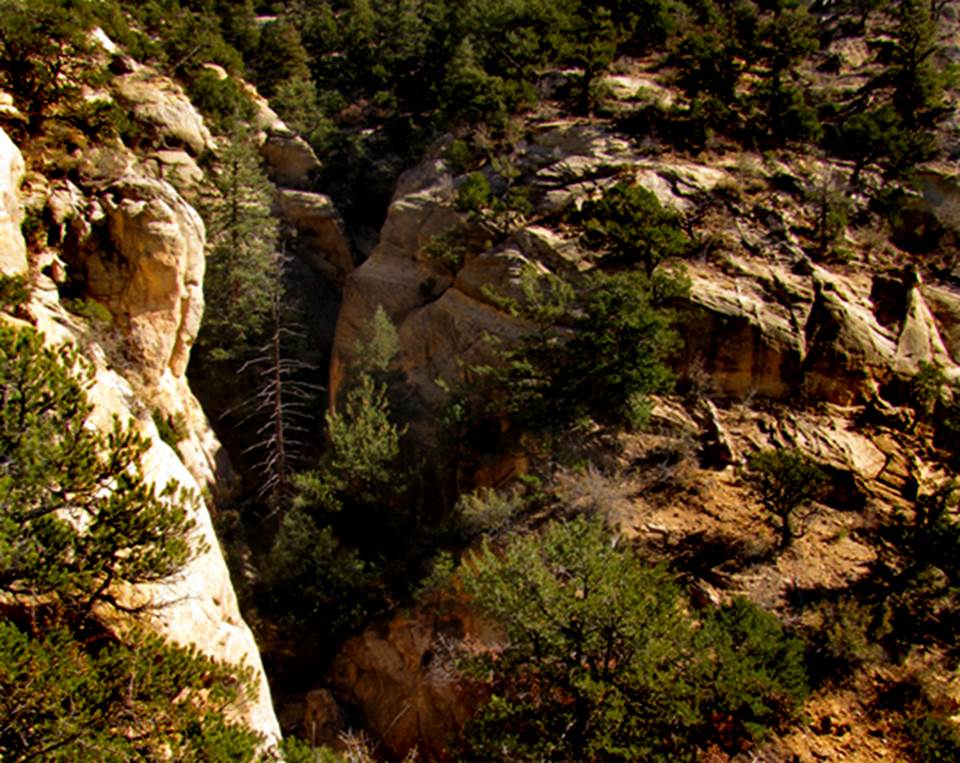 <![endif]>
The "Cougar" has an abundance of exciting down-climbs ...as this 20' drop shown below...
<![if !vml]>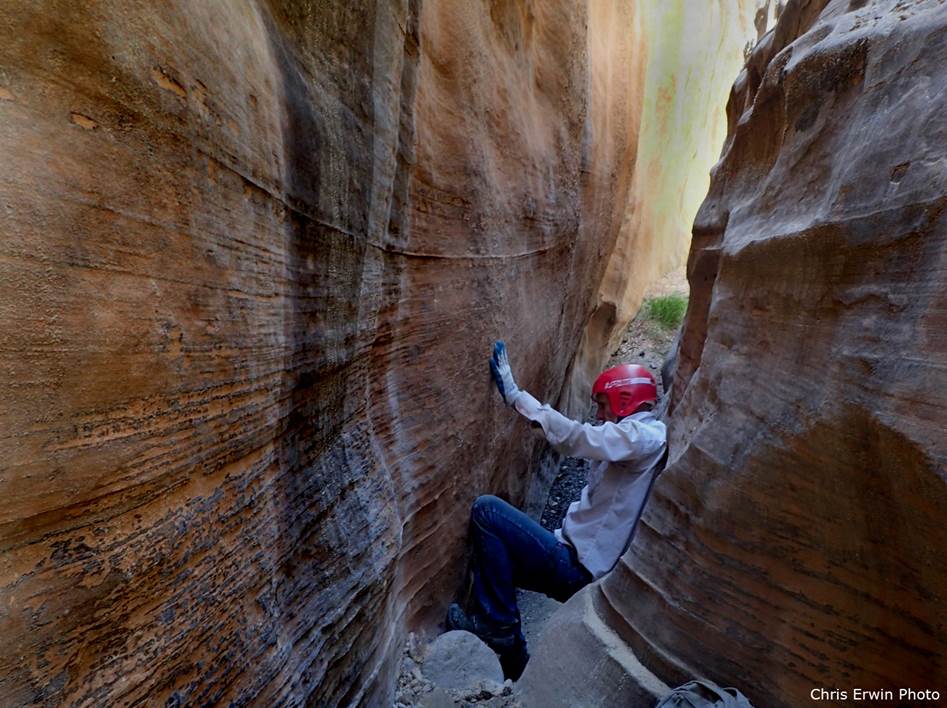 <![endif]>
AND... even where the canyon opens up briefly... it is beautiful...
<![if !vml]>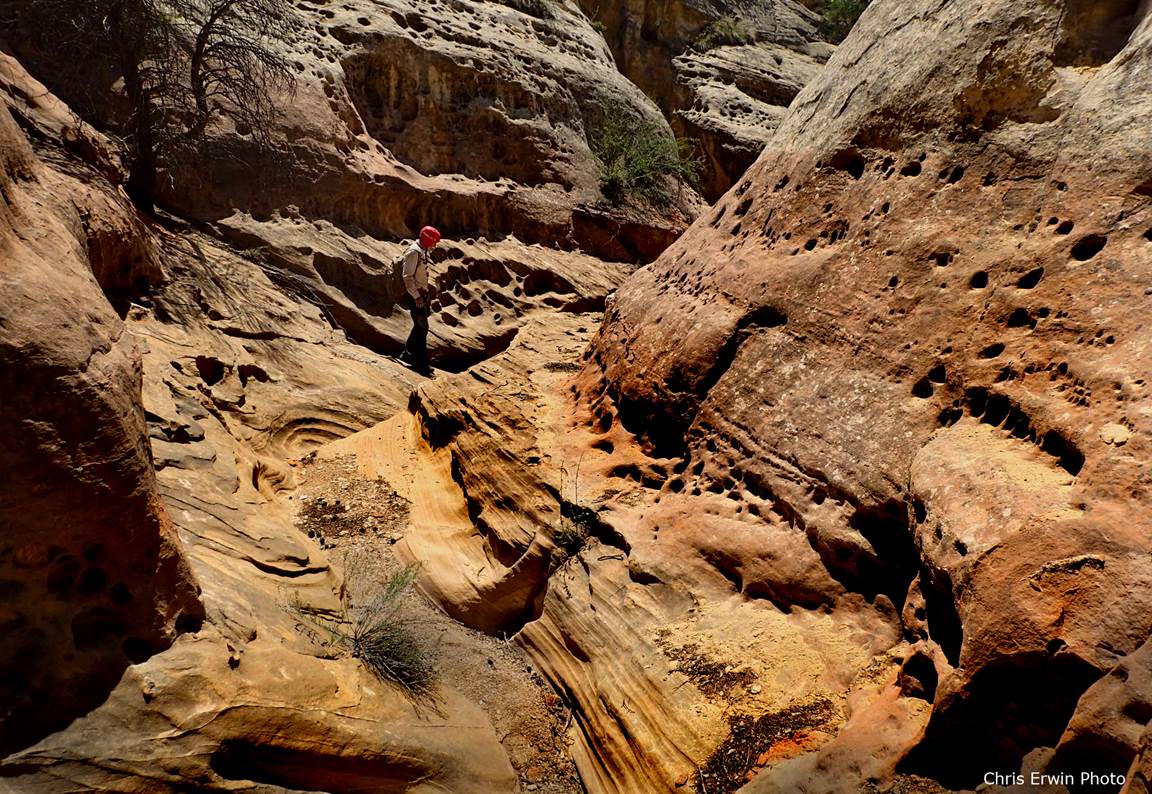 <![endif]>
beta facts:
name- Cougar Canon
first known descent- May 5, 2017 by Chris Erwin and Doug Scott
depth of slot portion-  sheer canyon walls of up to 70' feet high
length of slot portion- almost 2 miles of continuous sandstone narrows, including a couple tributaries
elevation- 7600'at the top down to 7100'at the bottom
GPS coordinates- ±36°20.430'N 106°48.550'W at the top and ±36°19.733'N 106°49.346'W at the lower end
flow- intermittent
season- late April into June plus September thru early November… NEVER ENTER ANY SLOT CANYON WHEN HEAVY RAIN IS IN THE FORCAST…!!!
accommodations- NONE
ownership- Santa Fe National Forest
access- is from Dry Lake 4WD Road off of Forest Road #8… see the map below
nearest town- Gallina is about 8 miles south of here
fun fact-  this canyon is extremely scenic…!!! ...and full of un-countable and exciting rope-less down-climbs...! ! ! -with maybe 5 mandatory rappels.
essay bro
Most of the slot canyons in this area have substantial sections of canyon walls that are 100% alabaster (gypsom).....and many of this area's slot canyons are entirely alabaster, with no sandstone.  Cougar Canyon Slot is all totally, beautiful - Entrada Sandstone...! ! !
Park your wheels, south of Dry Lake: ±36°21.010'N 106°48.253'W ...and climb straight west up to the pass between the two peaks: ±36°20.890'N 106°48.537'W   From the peak south of the pass you can either drop directly into Cougar Canyon- ±36°20.428'N 106°48.682'W ...or continue on south down the high ridge, into the upper end of Cougar Canyon's Upper Tributary- ±36°20.430'N 106°48.550'W ...or even continue (south and southwest) along the high ridge, to the upper end of Cougar Canyon's Lower Tributary- ±36°19.915'N 106°48.941'W
Descending the Upper Tributary instead of the upper reaches of Cougar Canyon is more beautiful, more active and some longer.  We prefer the Upper Tributary to begin our descent.  All of your technical rope work will be upstream from the Lower Tributary confluence.  However Cougar Canyon Slot continues well below this confluence.  See the map below. 
Upon completing your descent of Cougar Canyon Slot there are many way to return to your parked wheels.  The most exciting way is to ascend up the Lower Tributary... which will take a full bag of tricks to do.  It is a shallow slot completely full of continuous rope-less up-climbs, extremely steep, quite sculpted and very beautiful.  However, there will be 3 or 4 extremely challenging ascents.  Like for instance, the first up-climb which is about 100 yards above the confluence is a 9' high, un-climbable undercut.  It must be done by slinging a 6 foot long etrier (connected to a hand-line) over the chock stone that is suspended 9 feet high overhead.  A meat anchor from below, enables the first climber to ascend... who then can be a meat anchor from above as the others ascend.  The handline/etrier can be un-wrapped from around the chock stone after everyone has ascended.
Farther up the lower Lower Tributary there are more head-scratcher up-climbs... that are likely to be unsurmountable by many - who will just have to return back down to Cougar Canyon and walk one of the longer and less beautiful ways of returning to your wheels.  Perhaps the most difficult up-climb is about mid-way.  It starts in a pothole, waste deep in cold clear water.  Our down-climb here was an unstoppable down-slide with a fun splash at the bottom.  This unstoppable down-slide must be up-climbed.  We do not know how to do this because we have only down-climbed here... never up-climbed here... but we believe it can be done and it will be extremely exciting... and we can't wait to get back in there to attempt it.  There are some dead standing snags that could be carried up to this clear water pothole... to assist this up-climb... or perhaps some throw-bags will hold a hand-line to assist an ascent here.  We are not sure but we believe that someone will make a way... and if you accomplish this ascent before we do...then I hope we will be right behind you.
If you cannot ascend this Lower tributary... then returning to your wheels can be done via the high ridge (mentioned in the second paragraph) between Cougar Canyon and Cañada de la Cueva Norte or to do a loop-hike, down around, south of Cougar Canyon ...and return to your vehicle via Cañada de la Cueva Norte.  Whatever way you choose will be a long hard pull of about 3.5 miles via the high ridge and perhaps 4.5 miles or more via Cañada de la Cueva Norte.  We've done it both ways but this second option is the route we have often taken.  Cougar Canyon Slot has a long return hike...... and..... this is actually a good thing......as only the hearty visit Cougar Canyon Slot.  It is a favorite of ours.
Cougar Slot Canyon has action... count-less challenging down-climbs and maybe a half-dozen rappels, up to 30' high… a sweet favorite ! ! !
Cougar Slot Canyon appears near the bottom of the map below
Click this link to open a large detailed topo map of the entire slot canyon area near and within the western Chama Canyon Wilderness: http://www.dougscottart.com/hobbies/SlotCanyons/Gallina.htm
Enhanced USGS topo map by Doug Scott
The Red Lines depict sections of "slot canyons" AND the Yellow Dotted lines depict "routes"
<![if !vml]>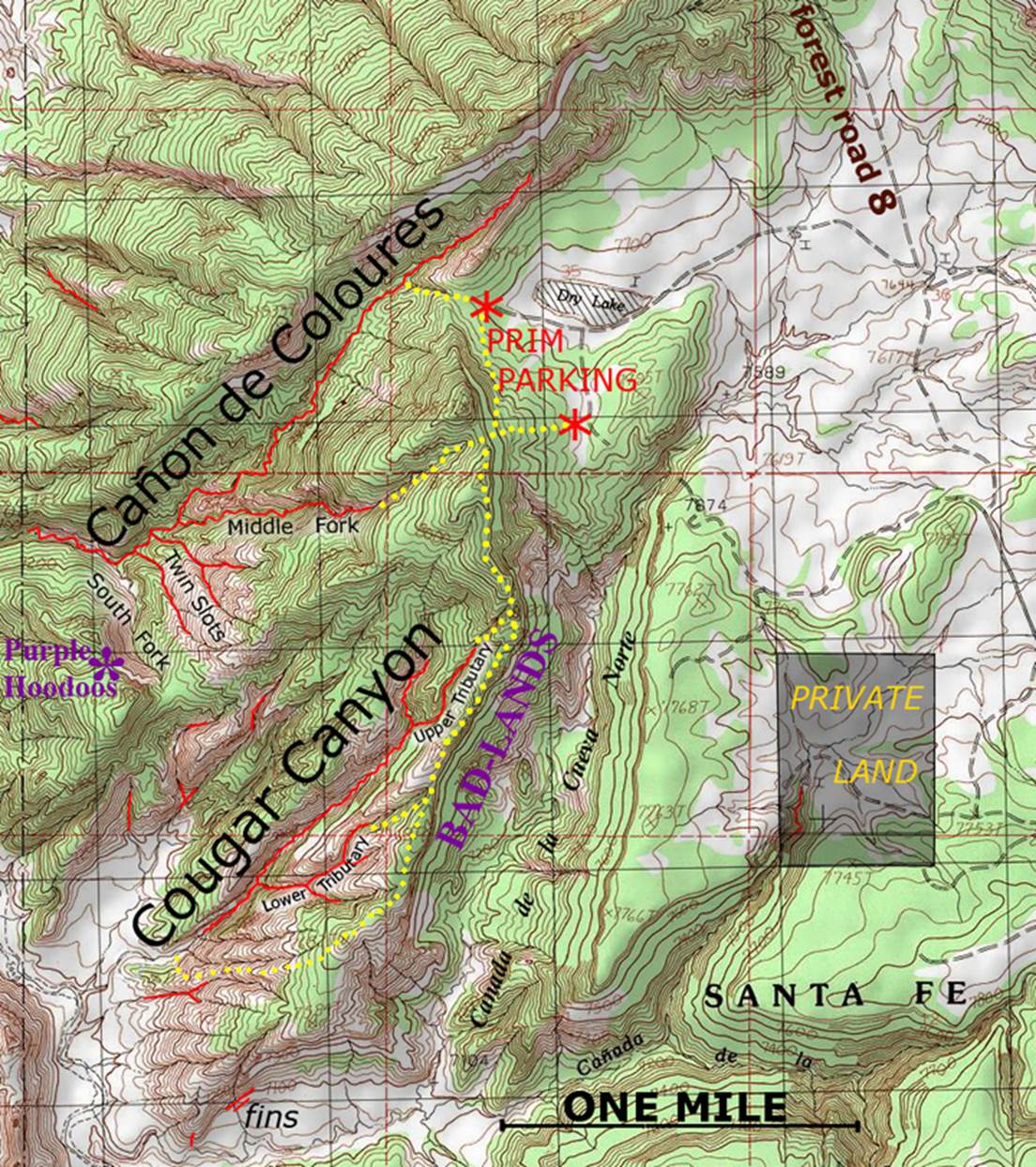 <![endif]>
Click this link to open a large detailed topo map of the entire slot canyon area near and within the western Chama Canyon Wilderness: http://www.dougscottart.com/hobbies/SlotCanyons/CCWslotsMap.htm 
Back to New Mexico Slot Canyons
Send questions and comments to dscott@themarblesculptor.com