Trampas Falls
<![if !vml]>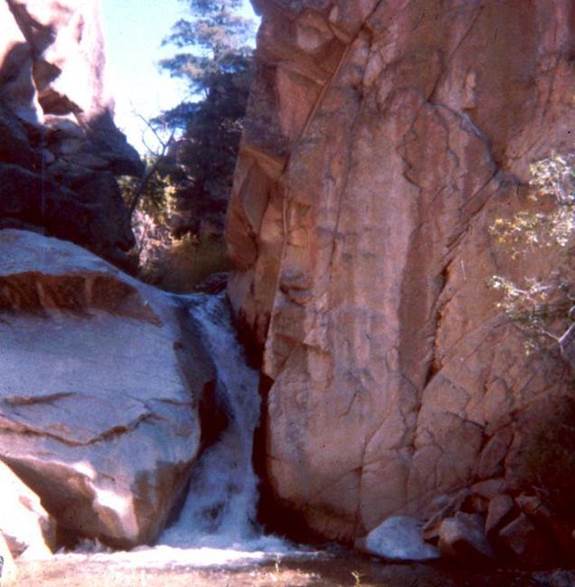 <![endif]>
Where Trampas Creek Conflues with Rio Embudo the Canyons "mismatch" so Trampas falls about 12' into the Embudo.
beta facts:
name- Trampas Falls
height- several 5' to 12' waterfalls within this box canyon in the last mile of Trampas Creek
elevation- 6700'
GPS coordinates- ±36°10.530'N 105°48.210'W
flow- nice year-round stream
season- anytime except spring run-off.  The high water blocks navigation of this sheer-walled canyon.
accommodations- none
ownership- public - BLM
access- 2 miles of difficult hiking with no trail….!!!!!
nearest town- Dixon is 4½ miles west of here
fun fact- this is great backcountry…!!! Do an Embudo Box hike with it… a… or… are you a fisherman…????
Stay a couple Days
essay bro:
It is a must for you to have very good topo map reading abilities to find your way into this great waterfalls place.  I highlighted the route I used in "light red" on the map below.  This is wild country…. You can almost feel a mountain lion nearby.  Plan on visiting this whole area in one shot… Cañada del Agua, Trampas, Embudo, Ojo Sarco…. Everything here… it's ALL difficult but it is good stuff.  Avoid the high-water time of spring run-off.
...recently another new locked gate is blocking this north-side access... sorry-
(see also Ojo Sarco Falls, Cañada del Agua Falls
Enhanced USGS 7.5' topo map
<![if !vml]><![endif]>
Send questions and comments to doug.vivian@yahoo.com