Cañada del Agua Falls (spanish – Big Canyon of Water)
A recent visitor here tells me that the top portion off this waterfall has crumbled and caved in some... and, it has lost a lot of it's beauty.
 <![if !vml]>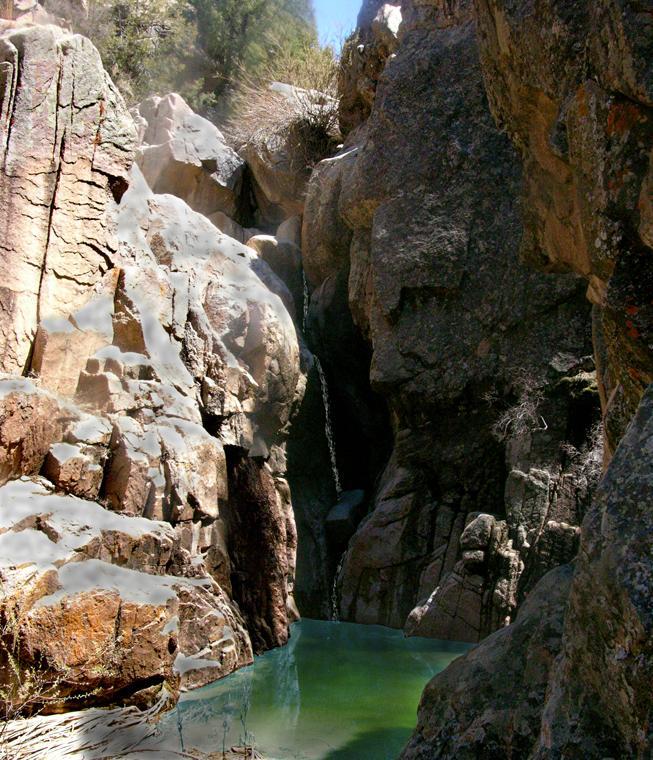 <![endif]>
The highest of many waterfalls in Cañada del Agua…. "Canyon of the water"
beta facts:
name- Cañada del Agua Falls… in English this means "The Canyon of Water"
height- the highest of the many waterfalls in this canyon is about 30' high
elevation- 6850'
GPS coordinates- ±36°10.396'N 105°47.947'W
flow- perennial spring
season- spring, summer and fall
accommodations- none… except a nice little parking lot that BLM made just for you at Ojo Sarco Falls.
ownership- public - BLM
access- 2 miles of difficult hiking with no trail
nearest town- Dixon is 4½ miles west of here
fun fact- this is VERY RUFF backcountry…!!!
essay bro:
It is a must for you to have very good topo map reading abilities to find your way into this place.  I highlighted the route I used in "light red" on the map below.  This is wild country…. You can almost feel a mountain lion nearby. 
(See also Ojo Sarco Falls & Trampas Falls )
Enhanced USGS 7.5' topo map
<![if !vml]><![endif]>
Send questions and comments to doug.vivian@yahoo.com