East Fork Jemez Box Falls
See on youtube: https://www.youtube.com/watch?v=_82URHLAHiw&list=UUCJsfIZ3DXVpmoXu2d487VQ
<![if !vml]>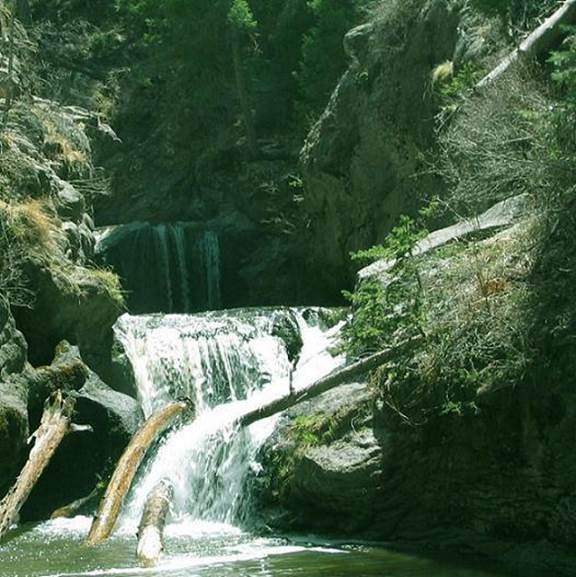 <![endif]>
In two drops East Fork Jemez Box Falls descends about 20 feet
beta facts:
name- East Fork Jemez Box Falls
height- 20' in two drops
elevation- 8000'
GPS coordinates- ±35°49.555'N 106°34.189'W
flow- strong trout stream
season- spring, summer and fall
accommodations- near by forest campgrounds
ownership- Santa Fe National Forest
access- almost 2 miles of hiking
nearest town- - Jemez Springs is 16 miles southwest of here
fun fact- There are more falls upstream… deep into the sheer-wall East Fork Jemez Box Canyon…dangerous swim-hike?
essay bro:
These waterfalls can be accessed from three directions.  Please feel free to make a copy of my map below and use it.
I prefer to hike the Los Conchos Trail …from the top, hiking downstream…notice he red parking at the far right side of the map below.  When the Los Conchos Trail climbs up out of the canyon…just continue on downstream without any trail, but you will get your feet wet.  This is wonderful canyoneering…!!!!
Plan a full day for this amazing hike.
Also, you might want to check your Santa Fe National Forest map as well.
Parking on the downstream end of this hike has changed since this map below was made…you must park a quarter-mile farther east than the map says.  Park up the hill at the Jemez Falls Sign. There were so many auto accidents down at the old river parking area, that it has been closed.
(see also Jemez Falls and Battleship Falls)
Enhanced USGS 7.5' topo map
<![if !vml]><![endif]>
Send questions and comments to dscott@TheMarbleSculptor.com