Battleship Falls
<![if !vml]>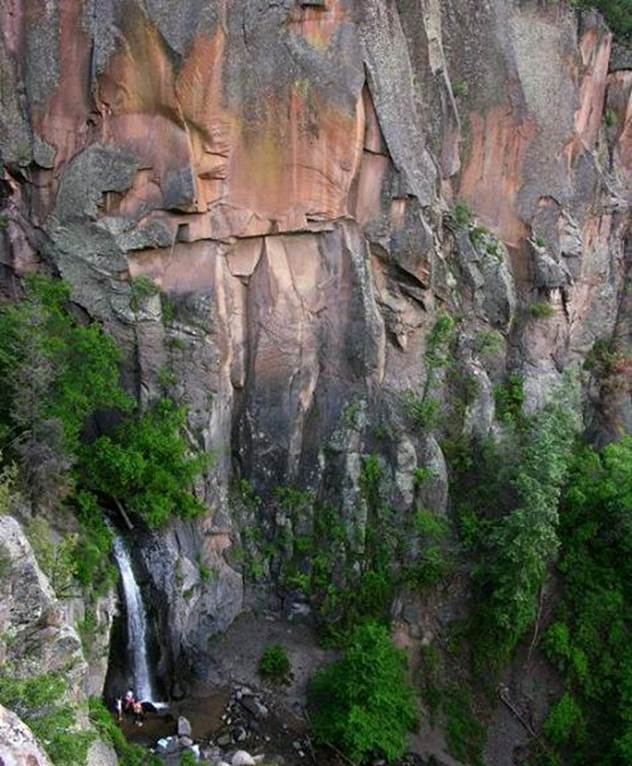 <![endif]>
Battleship Falls is as

Picturesque

as anyone could desire.

 

See another photo of it on the Jemez Falls page.
beta facts:
name- Battleship Rock Falls
height- 40'
elevation- 6900'
GPS coordinates- ±35°49.875'N 106°38.425'W
flow- perennial
season- anytime
accommodations- forest service campground
ownership- public – Santa Fe National Forest
access- a couple hundred yard walk on a nice but unmarked trail from Battleship Rock Campground
nearest town- Jemez Springs is 5 miles southwest of here
fun fact- monumental sized sheer wall setting…!!!!
essay bro:
This place is WAY under-rated.   Battleship Falls is awesome…!!!  The slot canyon above the falls is amazing…!!!  The un-marked trail to the slot canyon is wonderful.  30 foot high Dripping Falls is a special place… as is the spring above that.  It seeps out of a high, sheer wall.  The over-look trail out on top of Battleship Rock is exhilarating…!!!
 (see also Jemez Falls and East Fork Jemez Box Falls)
Enhanced USGS 7.5' topo map
<![if !vml]><![endif]>
the thin red section lines above represent one mile
Send questions and comments to doug.vivian@yahoo.com