Puerco Falls
<![if !vml]>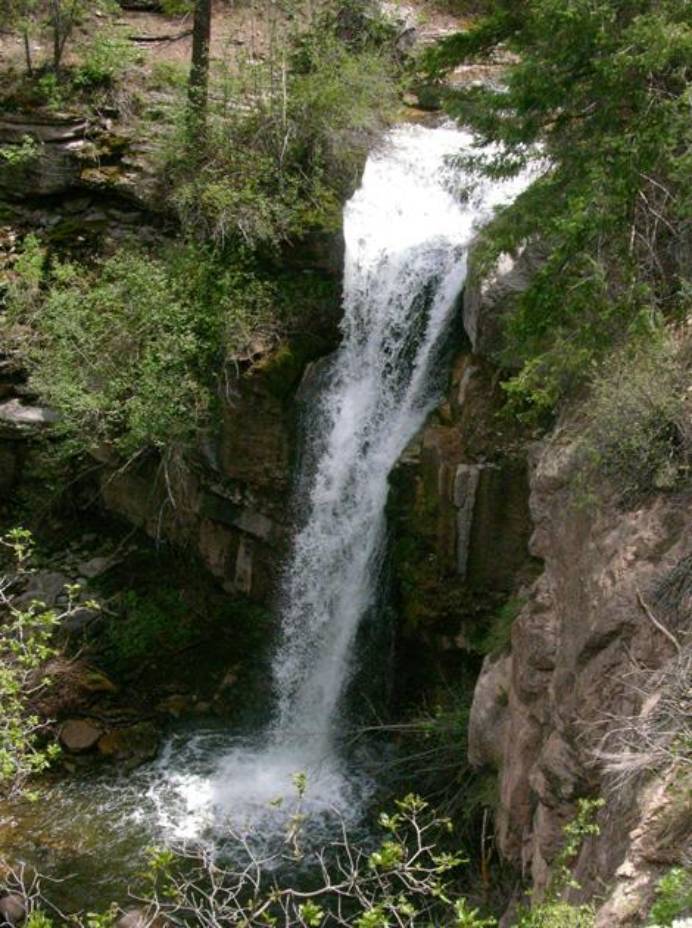 <![endif]>
Puerco Falls plunges 50 feet over a limestone precipice
<![if !supportEmptyParas]> <![endif]>
beta facts:
name- Puerco Falls
height- 50'
elevation- 7500'
GPS coordinates- ±36°06.100'N 106°41.220'W
flow- strong flowing trout stream – 30 to 250 cfs
season- summer and fall
accommodations- forest service campgrounds are nearby
ownership- public – Santa Fe National Forest
access- 2½ mile hike without a trail after 9½ miles of gravel road
nearest town- Coyote is 12 miles NE of here
fun fact- puerco means pig or muddy…. But this water is crystal clear.
<![if !supportEmptyParas]> <![endif]>
<![if !supportEmptyParas]> <![endif]>
essay bro:
<![if !supportEmptyParas]> <![endif]>
The upper Rio Puerco drainage on the east slopes of San Pedro Peaks has more than it's fair share of waterfalls. Ten of them are 20 feet high or more. Three of those are on the Rio Puerco itself and five are on it's tributaries. Their descriptions and photos are on this same site. See #18 Echo Falls and #19 Lichen Falls.
<![if !supportEmptyParas]> <![endif]>
Puerco Falls, just like most of Rio Puerco's other waterfalls, has no trail and is very hard to bushwhack in to. We use Rio Puerco Campgrounds as a parking place. Puerco Falls is two and a half miles downstream. It is best to cross the creek in the first 200 yards, as the hiking is easier on the north side. The first mile is an effortless stroll thru storybook land… long open, streamside meadows sprinkled with wildflowers. The last mile and a half is ruthless tangles of sticker vine. It helps to stay way above the creek or just wade down the river.
<![if !supportEmptyParas]> <![endif]>
(see also Echo, Lichen, Vivian and Resumiderso Falls)
<![if !supportEmptyParas]> <![endif]>
Enhanced National Geographic 7.5' topo map
<![if !vml]>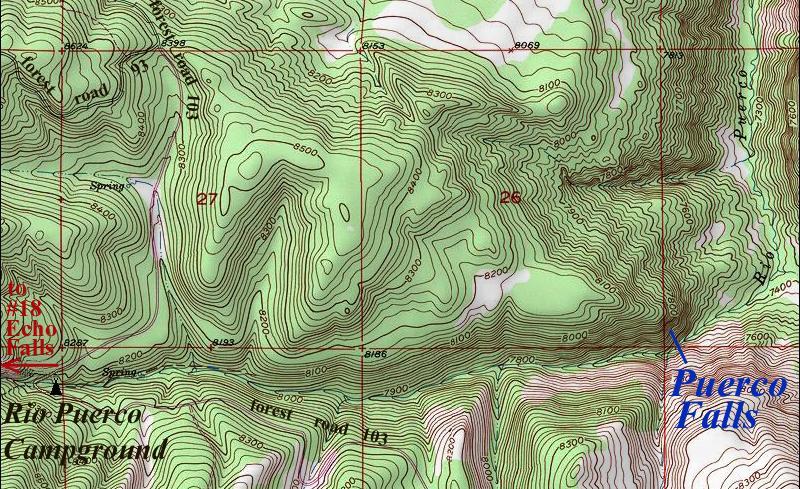 <![endif]>
the thin red section lines above represent one mile
<![if !supportEmptyParas]> <![endif]>
<![if !supportEmptyParas]> <![endif]>
<![if !supportEmptyParas]> <![endif]>
Send questions and comments to doug.vivian@yahoo.com