Wheeler Creek Cascades
There are many waterfalls on Wheeler Creek below Horseshoe Lake in the Wheeler Peak Wilderness Area. 
I separate them and describe them as three waterfalls:
Wheeler Creek Cascades ...is the upper portion 400' high – shown on this page
Wheeler Creek Falls ...is the middle portion 100' high
and
Wheeler Creek Lower Cascades ...is the lower portion 250' high
These are all wonderful waterfalls and each section of falls here are quite worthy of their own special recognition.
Wheeler Creek Cascades are 400' high.  These photos below show it from top to bottom... it starts gradually...
<![if !vml]>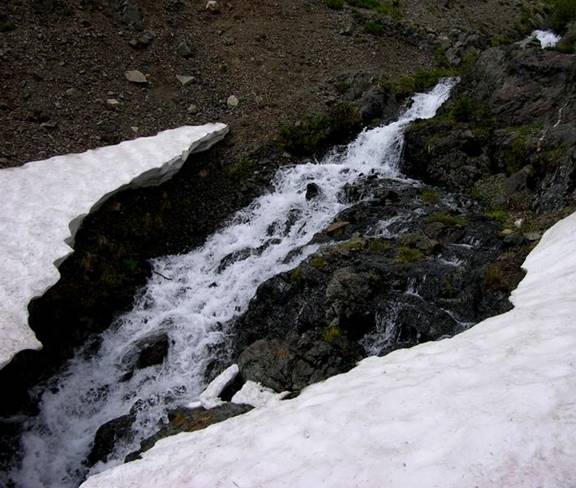 <![endif]>         
next is a "twin" tier… side-by-side… and July 4th… of 2009 an average snowfall year… snow 10 feet thick covers the falls.
<![if !vml]>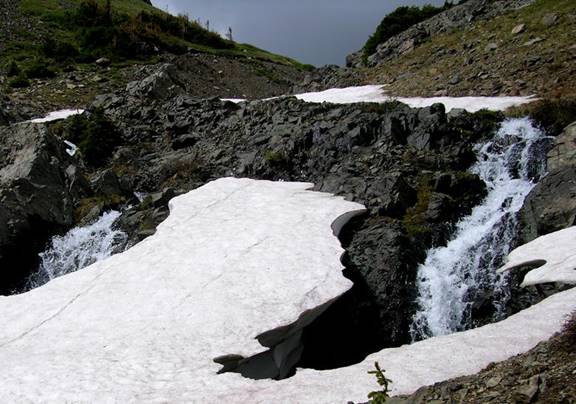 <![endif]>
soon the tiers get higher and steeper… while still flowing thru the same solid bedrock layer.
<![if !vml]>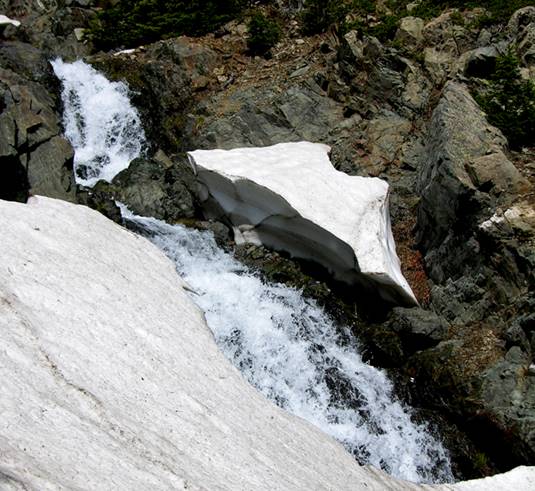 <![endif]>
higher and steeper… this tier is a waterfall about 40 feet high.
<![if !vml]>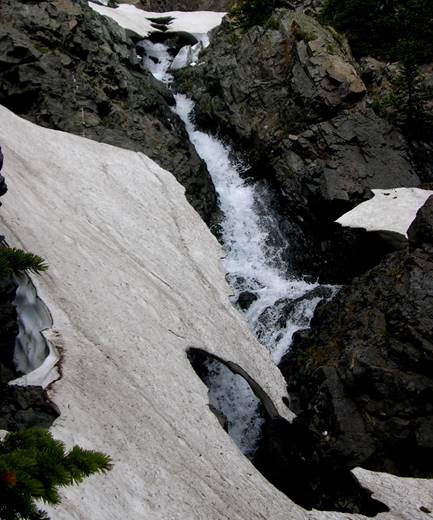 <![endif]>
Wheeler Creek Upper Falls
this section falls almost 100 feet…
<![if !vml]>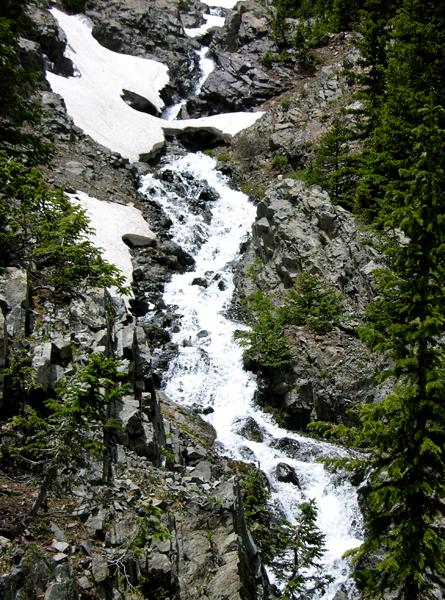 <![endif]>
so is this one…
<![if !vml]>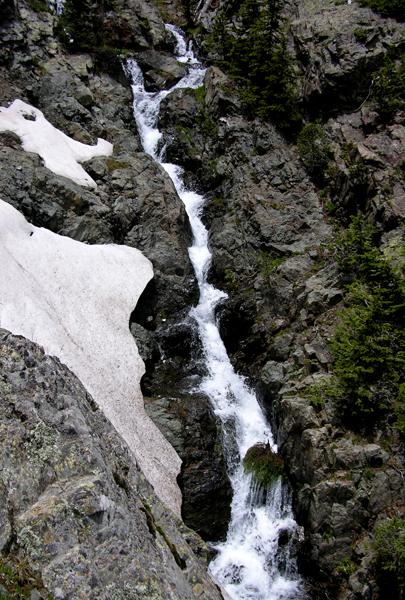 <![endif]>
…nuthern 'bouta 100'
<![if !vml]>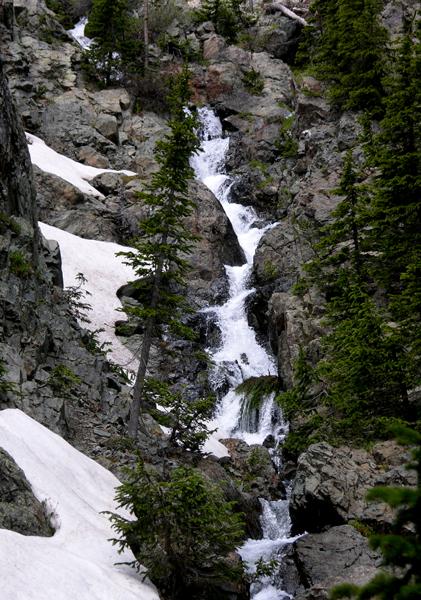 <![endif]>
the final 30' is some-what less steep
<![if !vml]>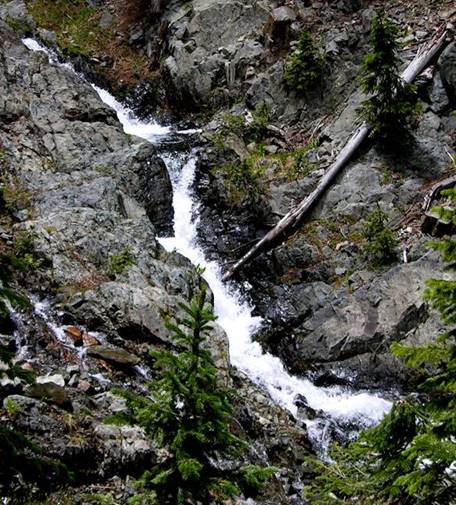 <![endif]>
beta facts:
name- Wheeler Creek Cascade
height- 400' high multi-tiered cascade-waterfall
elevation- 11,700'
GPS coordinates- ±36°33.943'N 105°24.168'W
flow- always strong
season- July to Oct…  the early bird will fight snow drifts but will see the best water-show 
accommodations- Wheeler Peak Wilderness
ownership- Carson National Forest
access- 4½ miles on trail #56 to Wheeler Creek, then upstream several hundred yards more
nearest town- Red River is about 10 miles North of here
fun fact- those who never leave the trail, never see these falls
essay bro
This is a very high and beautiful waterfall.
How high… is hard to say.
It drops 400' of elevation all in one single mass of bedrock... But because it is not sheer I call it a cascade.
Make yourself a copy of my map.  Wheeler Creek Falls and Wheeler Creek Lower Cascades are listed on a separate page of their own.  Please enjoy all of the many waterfalls of the upper Red River.  It's some of New Mexico's best…!!!
Right-click-save-as to make yourself a copy of our map below
To see a larger, updated and more detailed map of this entire Wheeler Peak Area, click here: http://www.dougscottart.com/hobbies/waterfalls/TaosMtnsSEquad.htm
and here: http://www.dougscottart.com/hobbies/waterfalls/TaosMtnsMap.htm
Enhanced USGS 7.5' topo map
<![if !vml]>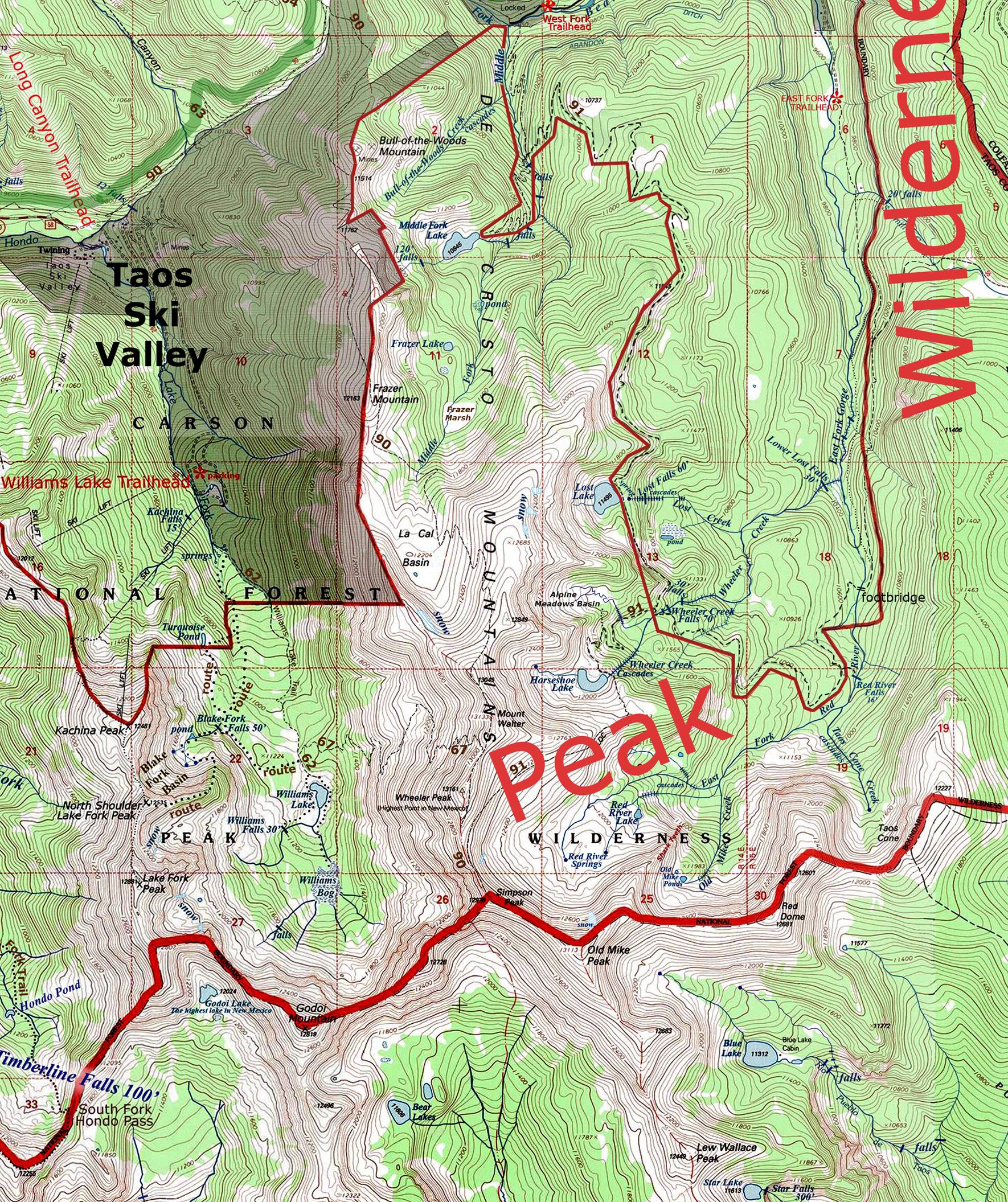 <![endif]>
_______________ONE-MILE______________
Send questions and comments to dscott@TheMarbleSculptor.com