­­West Fork Rain Creek Falls
Mostly unexplored and undocumented
Rain Creek is one of New Mexico's best waterfall streams
Upper Rain Creek likely has 30 or more waterfalls of 20' high or more... and several
close to 100' high ...as well as 2 possibly near 200' high...!!!   
We have only visited and documented 1 of West Fork Rain Creek waterfalls... the 16' high beauty found at the mouth of West Fork.  It appears in this photo below. (see map)
<![if !vml]>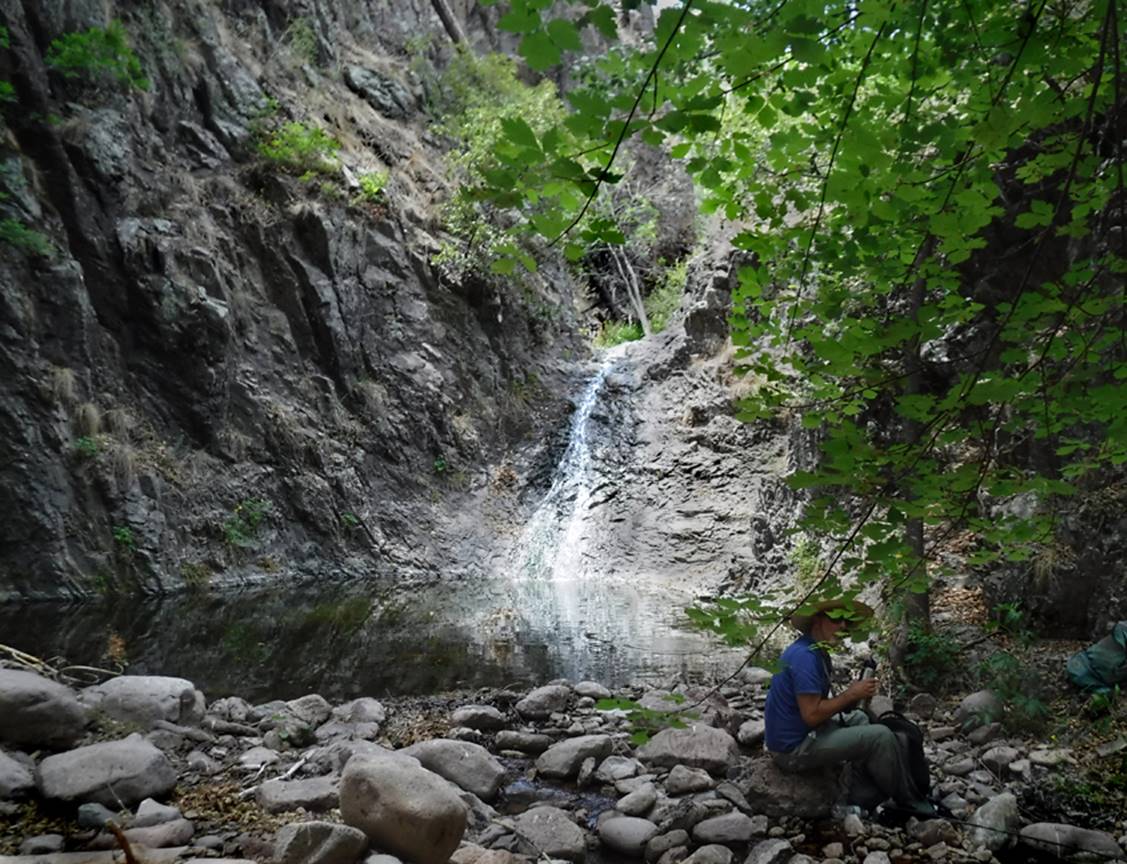 <![endif]>
This photo was taken during extreme drought with very minimal flow... early June of 2018.  Parts of Rain Creek were bone dry...! ! !
It will be difficult climbing up and around this Lower West fork Rain Creek Falls... and it will be even more difficult bushwhacking all the way up West Fork to visit the high beautiful waterfalls there.  Rain Creek's West Fork is extremely steep and brushy...! ! !  However, if you beat us get up in here and if you measure, GPS, document and photograph these wonderful waterfalls... Please be informed and know that you are required by international WAR CRIMES LAW to share all of your findings, notes and photos with us... within 5 working days... or else you will not be allowed to use our website for a LONG TIME…!!!!
The Mogollon Range holds the Gila Mountain's highest elevations and gives birth to the largest upper Gila River tributaries.  Rain Creek is a fine trout stream draining the south slopes of the Mogollon Range.  Upper Rain Creek divides into three forks.  We refer to these three forks as East Fork Rain Creek, Middle Fork Rain Creek and West Fork Rain Creek.  Rain Creek is a fine perennial trout stream.  This south-flowing system is easily accessible via Forest Road 147 at the Rain Creek Trailhead (see map below).  Government maps and our map show that Rain Creek used to have a trail up it.  This trail was dropped from forest service maintenance years ago.  Today it is totally void of any maintained trails except for one trail-crossing.  Trail 189 descends from the Rain Creek Trailhead only to cross Rain Creek while continuing on east and immediately climbing up and out of Rain Creek Canyon.
Some of the old trails no longer exist.  Forest fires and the massive floods that followed the burns... coupled with discontinued maintenance, have allowed these old obsolete trails to desist.  Faint remnants of these appear for short stretches... then vanish with no warning. 
HOWEVER... the "Phantom" Gila Wilderness Trail Repairman has saved the trail leading up from the Rain Creek Trailhead to the Forks of Rain Creek.  This trail was originally called: Rain Creek Divide Trail. He has been faithful. He is a blessing to humanity…!!!
Click on this link to learn more and to see his amazing maps: http://www.dougscottart.com/hobbies/waterfalls/WestFkMogo.htm
All of these photos are Google Earth Images
We have yet to explore this area...!!!
Three tiers of this West Fork Rain Creek Waterfall are labeled A, B and C in the photo below.
GPS coordinates- ±33°15.717'N 108°40.071'W
<![if !vml]>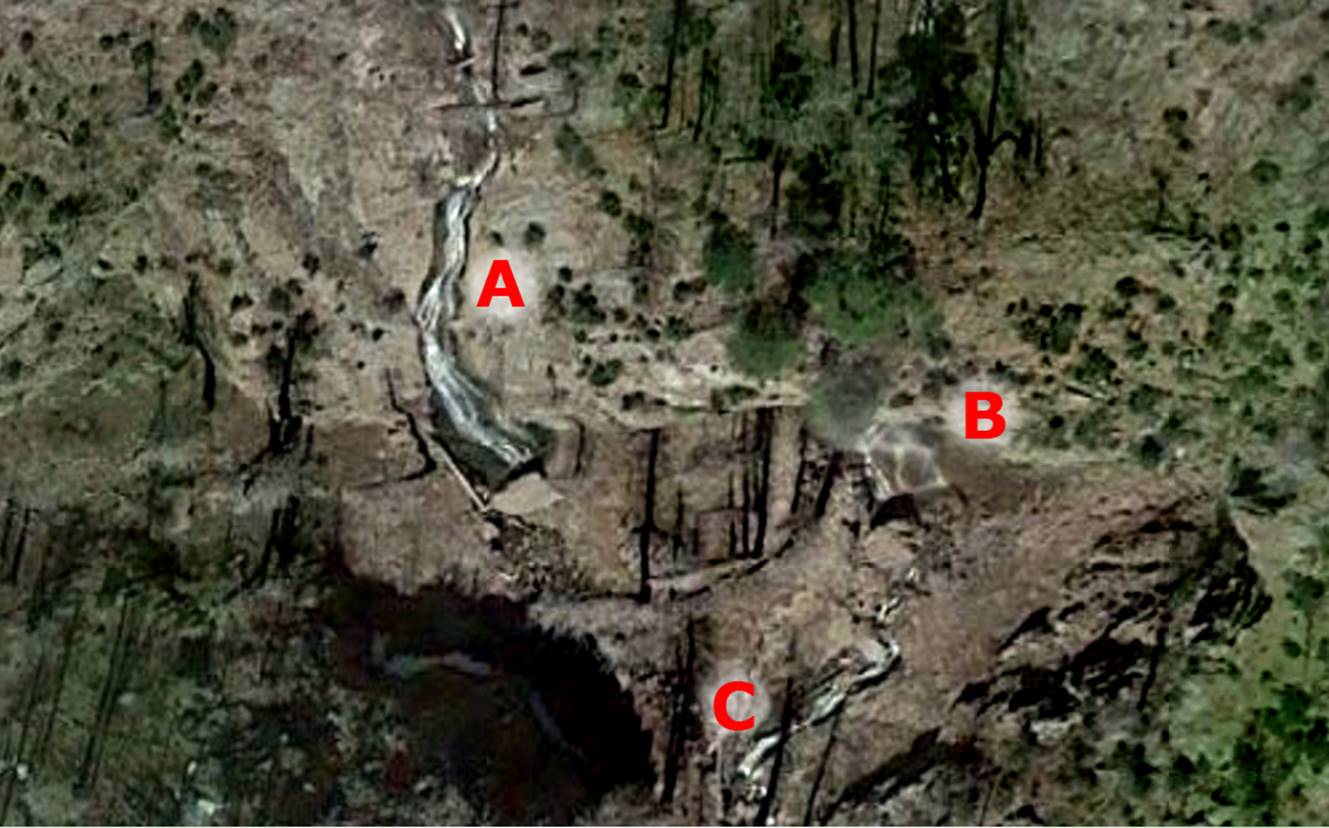 <![endif]> 
Comparing Google Earth Images with USGS Topo maps we feel that the waterfalls you see in the photo above will be like this:
A. will likely be about 200 feet high
B. barely shows in this photo but that doesn't mean much, because of the fuzzy mist in the air we will not be surprised to find this to be a 100 foot high tier…!!!
C. is more of a cascade... maybe 60' high...
...and we thought you may like to see this image without the lettering... WOW.....!!!!
<![if !vml]>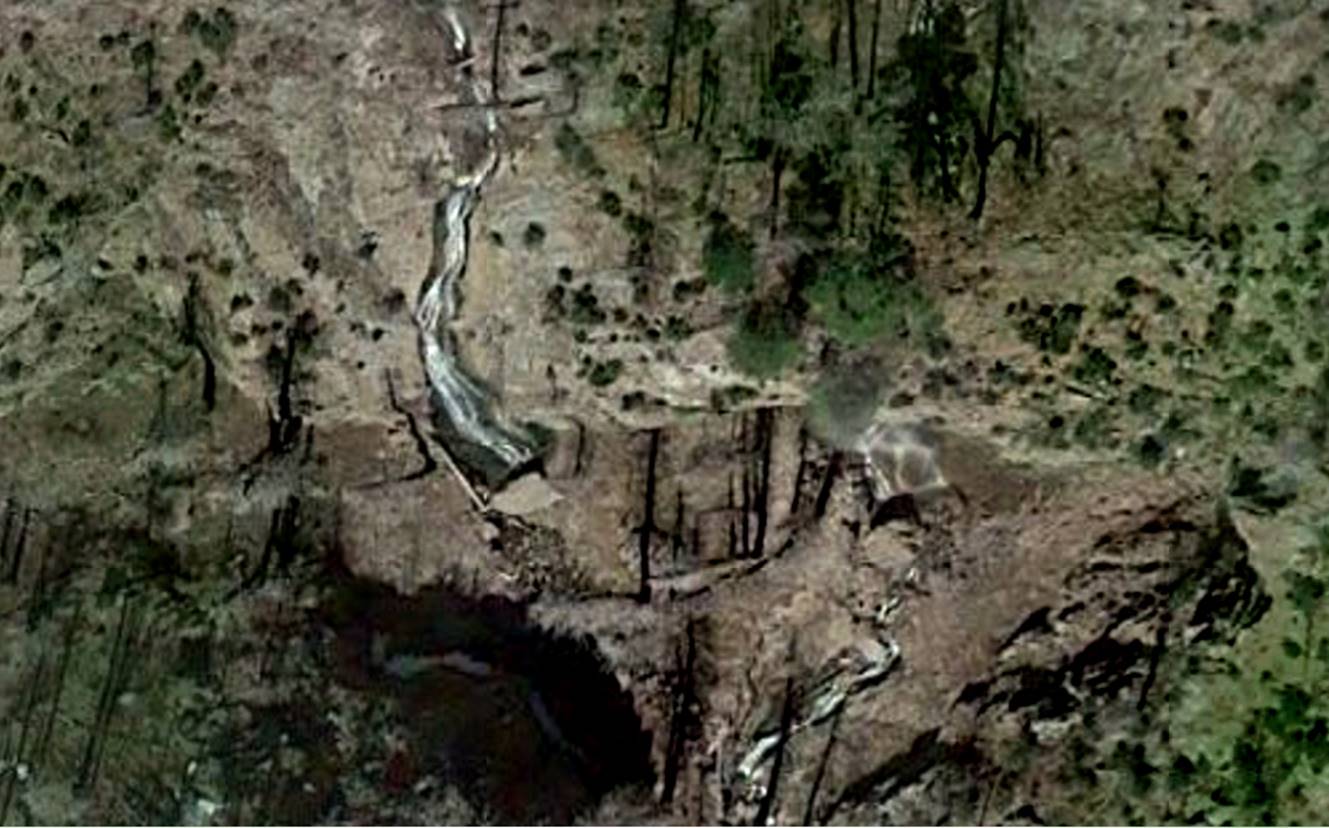 <![endif]>
This waterfall is amazing beautiful…!!!!
...you know... it is possible that even Rex Johnson has NOT seen this one...
West Fork Rain Creek has 2 tributaries.  Below is quite a waterfall filled gorge.  This image appears smaller because it is reduced in scale.  The high falls here may be 100' high.
GPS coordinates- ±33°16.160'N 108°39.950'W at the downstream end – bottom of this photo
 <![if !vml]>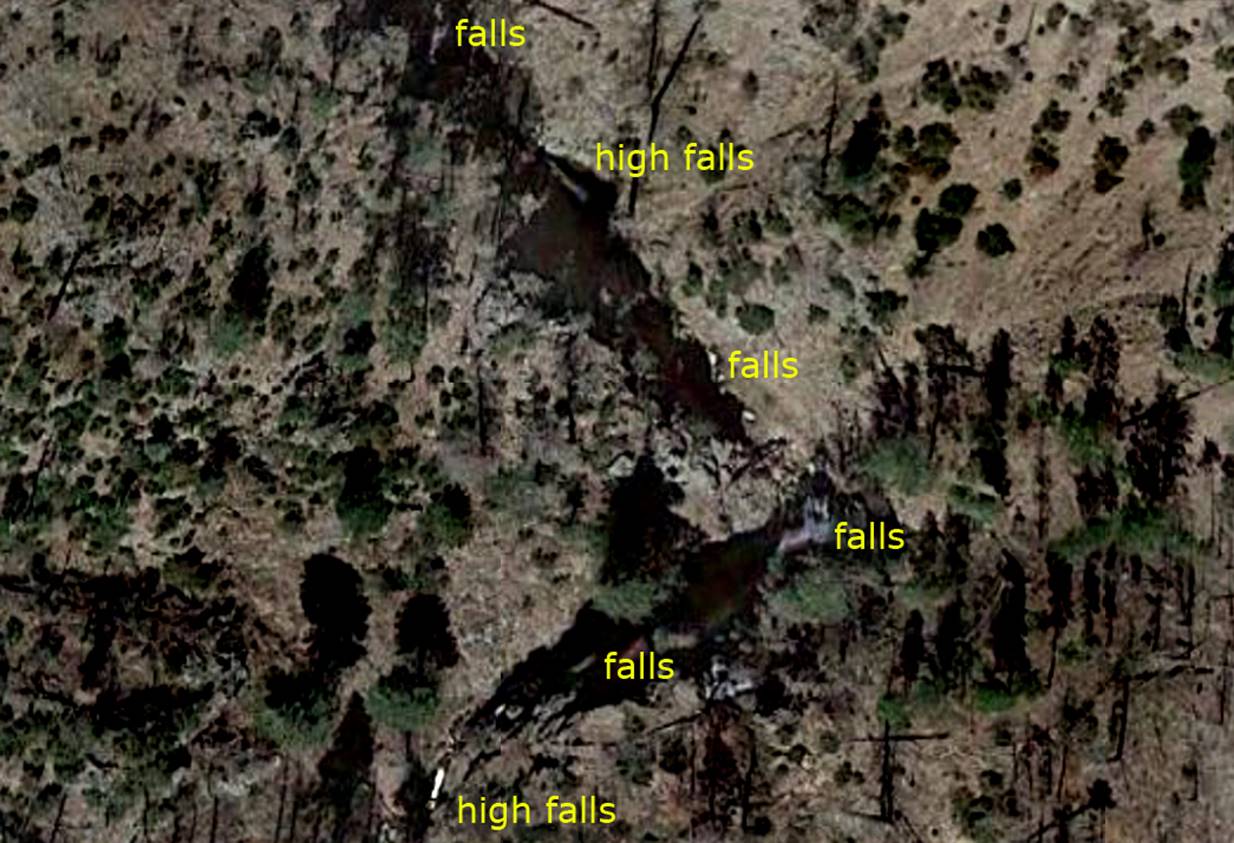 <![endif]>
HAPPY EXPLORING...!!!
Most of the printed numbers (waterfall heights) on the map below, are estimates... that have not been verified in the field
Right-click-save-as on our map below to print yourself a hard copy for your hike...
Or click this link to see a new updated & enlarged map: http://www.dougscottart.com/hobbies/waterfalls/WestFkMogo.htm
<![if !vml]>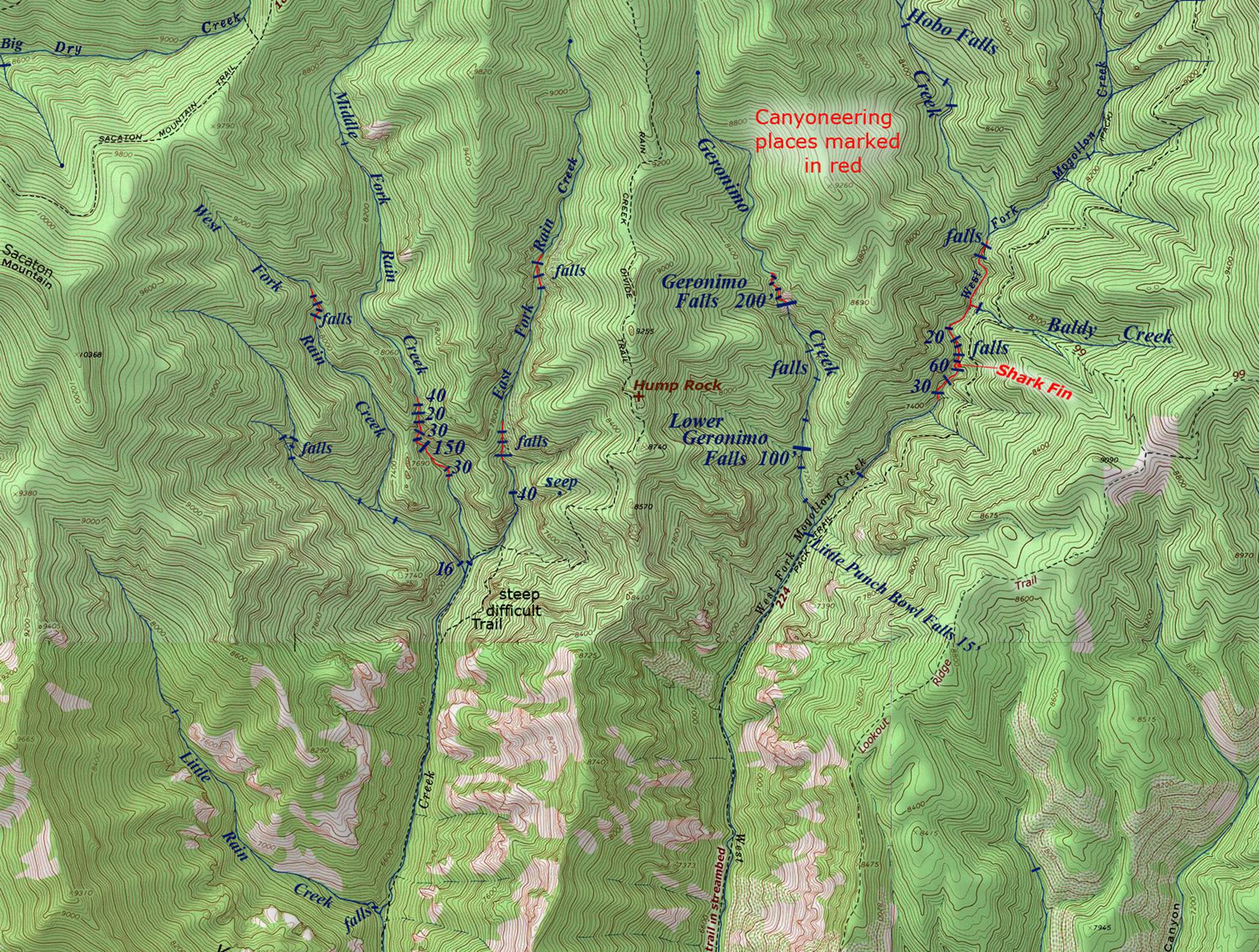 <![endif]>
To see the Trailhead click on this enlarged map: http://www.dougscottart.com/hobbies/waterfalls/WestFkMogo.htm
Send questions and comments to dscott@themarblesculptor.com