South Casa Falls or South Fork Casa Falls
See on Youtube: https://www.youtube.com/watch?v=6z16K00duGc&list=UUCJsfIZ3DXVpmoXu2d487VQ
<![if !vml]>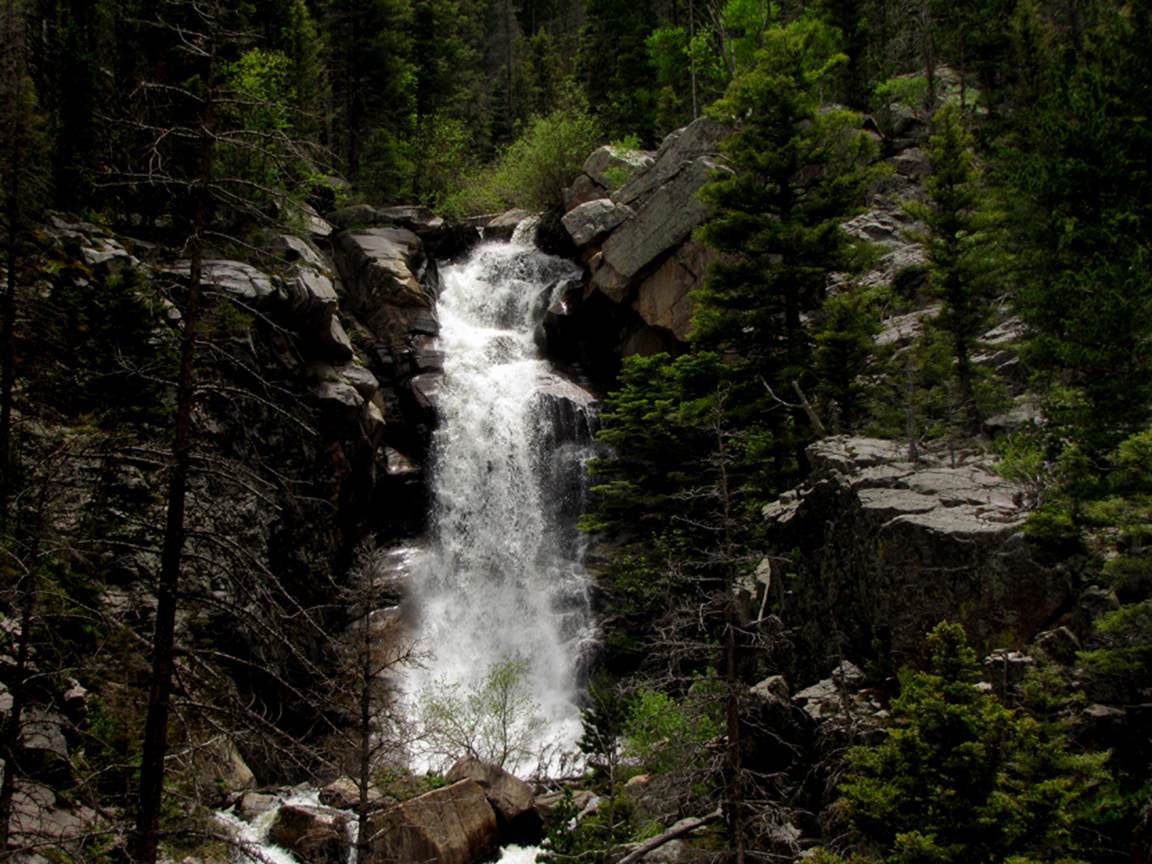 <![endif]>
Wonderful… beautiful… 95' high South Casa Falls
<![if !vml]>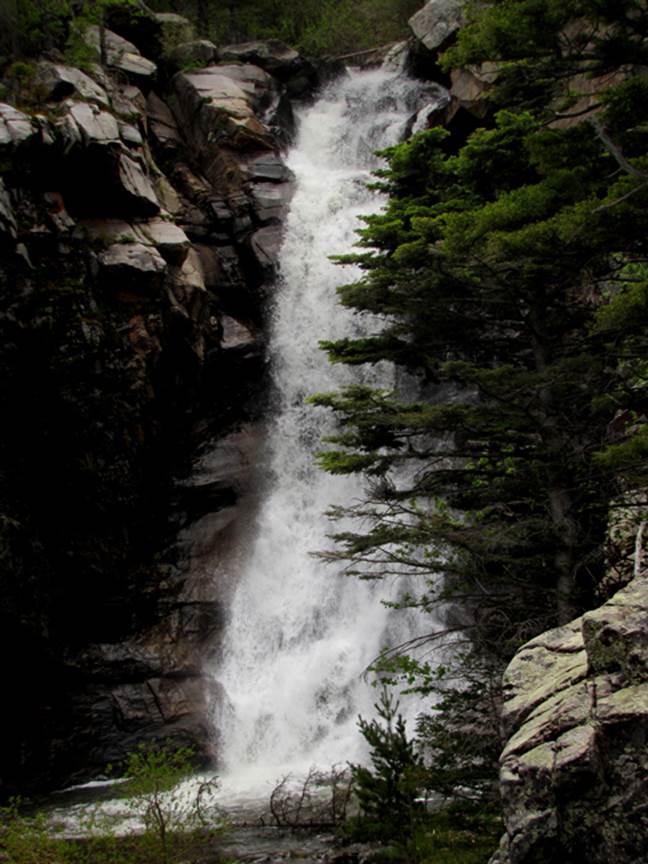 <![endif]>
…and this is how gorgeous she is from the side view…
<![if !vml]>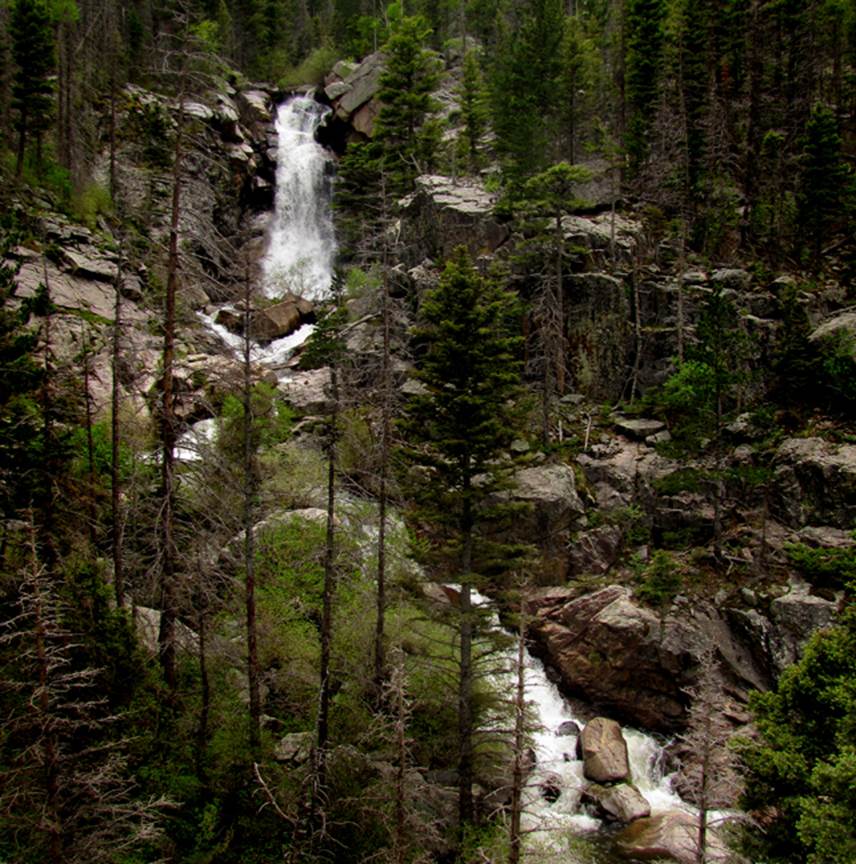 <![endif]>
There is easily another hundred-plus feet elevation drop in the cascades below her
<![if !vml]>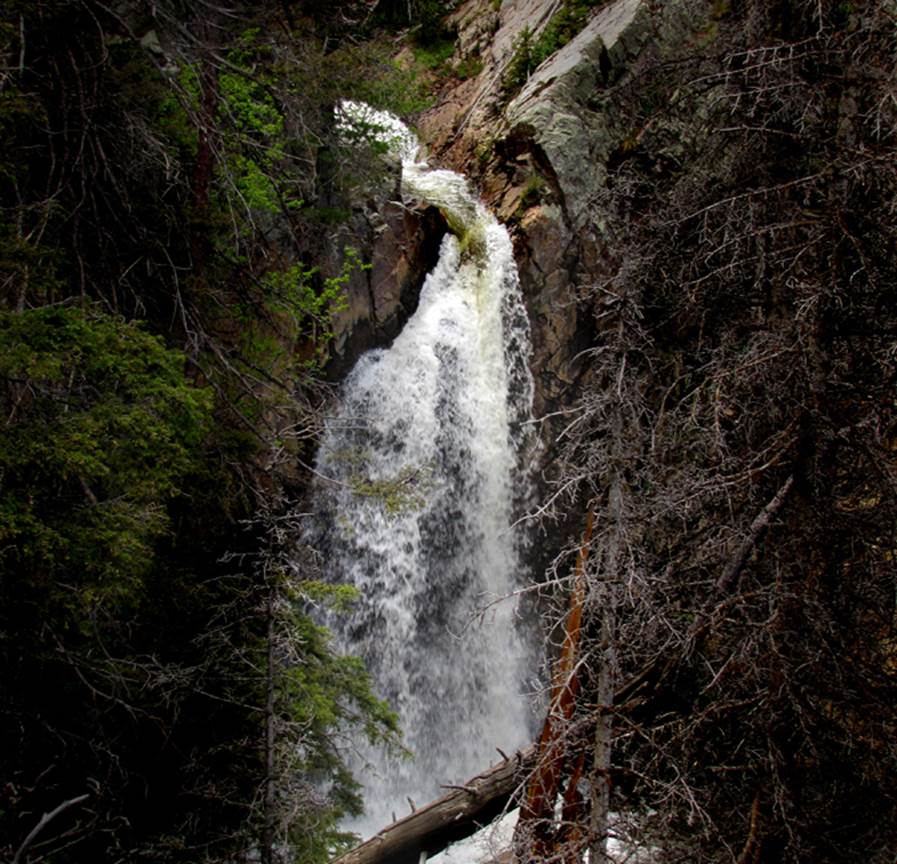 <![endif]>
…and another half-mile above her, is her lovely sister… 60' high Upper South Casa Falls
<![if !vml]>
<![endif]>
And… half way between these two waterfalls, is Hideaway Falls
Hideaway Creek Canyon is 45 feet higher South Fork Casa Canyon, so here where these two canyons meet we have a sweet 45' high waterfall.  I feel that this is the most beautiful confluence of any two streams in New Mexico.  South Fork Rio de la Casa (English for House Creek) flows from right to left across the bottom of this photo… and Hideaway Creek does a splash-landing into it, as it passes by…
Hideaway Falls has its own webpage.  See: http://www.dougscottart.com/hobbies/waterfalls/Hideaway.htm 
<![if !vml]>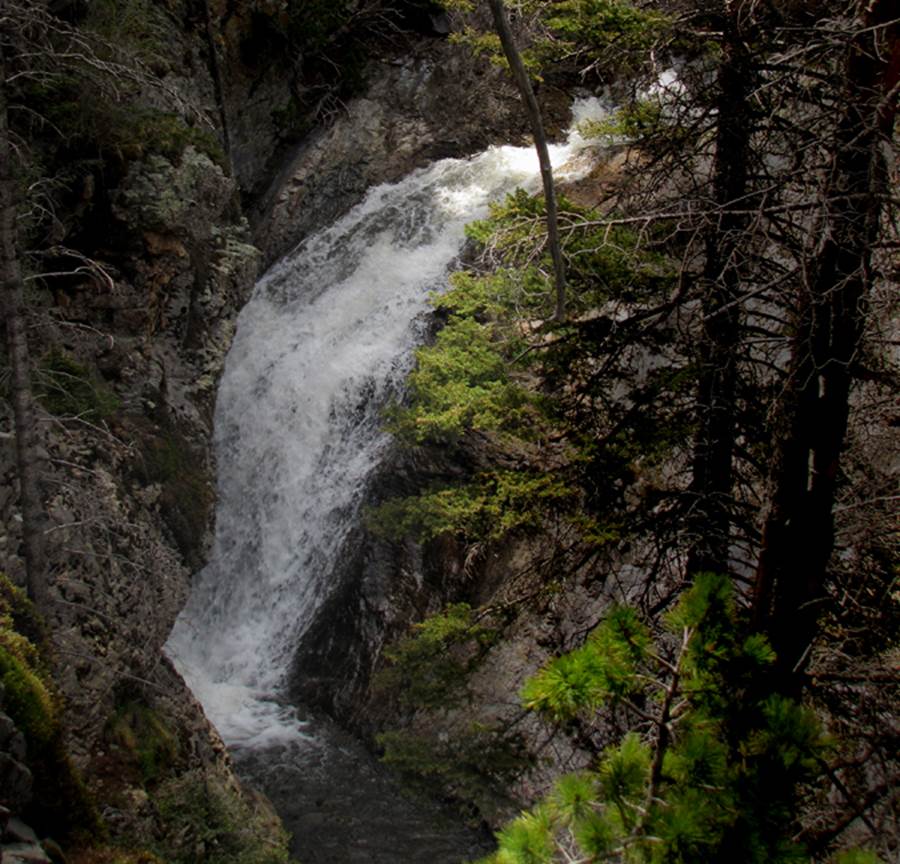 <![endif]> 
…immediately below Upper South Casa Falls is this 30 to 40 foot waterfall… it is a bit strenuous navigating up this steep rugged canyon that has no trail…!!!
We lose count trying to keep track of all the 20 to 30 foot high waterfalls
<![if !vml]>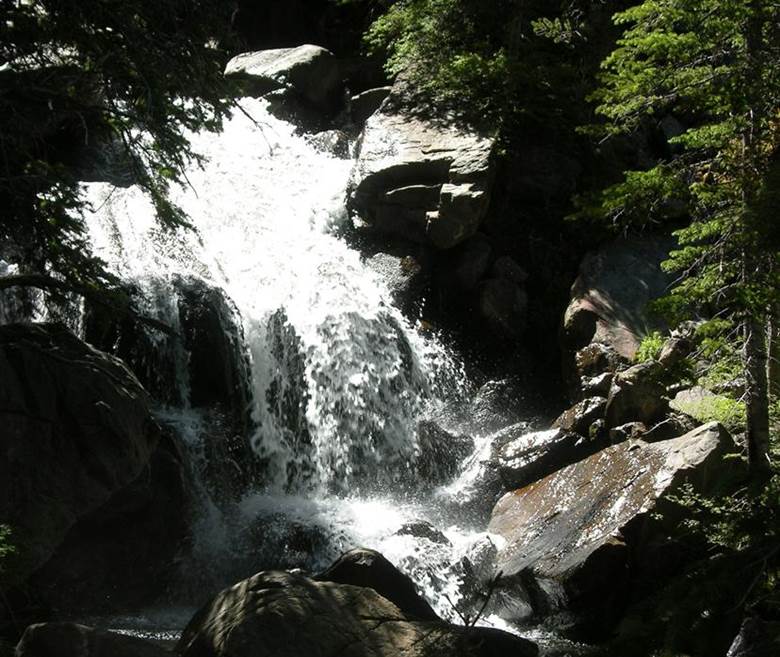 <![endif]>
See a couple more South Casa Waterfalls with an awesome rock formation… at the bottom of this page
beta facts:
name- South Casa Falls -  AKA - South Fork Casa Falls
height- 95 feet high
elevation- 9500 feet
GPS coordinates- ±35°58.896'N 105°29.034'W
flow- a fine perennial trout stream
season- May thru Oct… earlier is the best flow, but you may have snow
accommodations- none – Pecos Wilderness
ownership- public – Santa Fe National Forest
access- I'm still working this out, but as of now it is a four mile arduous bushwhack in from near Walker Flats
nearest town- Mora is about 14 miles east of here
fun fact- Ah… er… not very many road signs in this area… I'm told the locals use Forest Service signs for firewood
There is a very special Cutthroat Trout living in these waters
essay bro:
Four miles north of Mora on NM hwy 518 you will find the little town of Cleveland, NM.  Turn west here on county road B-028 for 5 miles and follow forest road # 113 to Walker Flats.  This is where the going will get sketchy as I'm told that the locals in this area use forest road signs for firewood… so, you will likely have to go by feel from here.  But the good thing is that you are close.  Walker Flats is on this topo map below and some difficult dirt/mud road lead southwest from there… ah… you must have superb topo reading skills…  Try mixing a little luck with a little Español, also a National Forest Map as well as a copy of my map below…AND… Google Maps…, to find a place to park and begin your hike.  NO TRAIL HAS EVER ENTERED THIS CANYON.  It is the most wild canyon I have visited.
Or… you can hike the WAY-LONG-WAY-AROUND… your hike into South Fork Casa Falls on

Trail

#269 will start at about 10400' elevation if you have a high clearance vehicle that can navigate the roughness of the primitive road above Walker Flats.

 

After you pass North

fork

Lake and Middle Fork Lake and climb the ridge beyond there... you'll turn east without a trail and head down the canyon.

 

Follow South Fork Casa Creek to the falls.

 
Right click-and-save to print yourself a copy of my map below.

 

It is not complete yet, as I am still investigating this Walker Flats access area.

 

I will update more info soon…
Enhanced USGS topo map           NORTH IS UP
      <![if !vml]>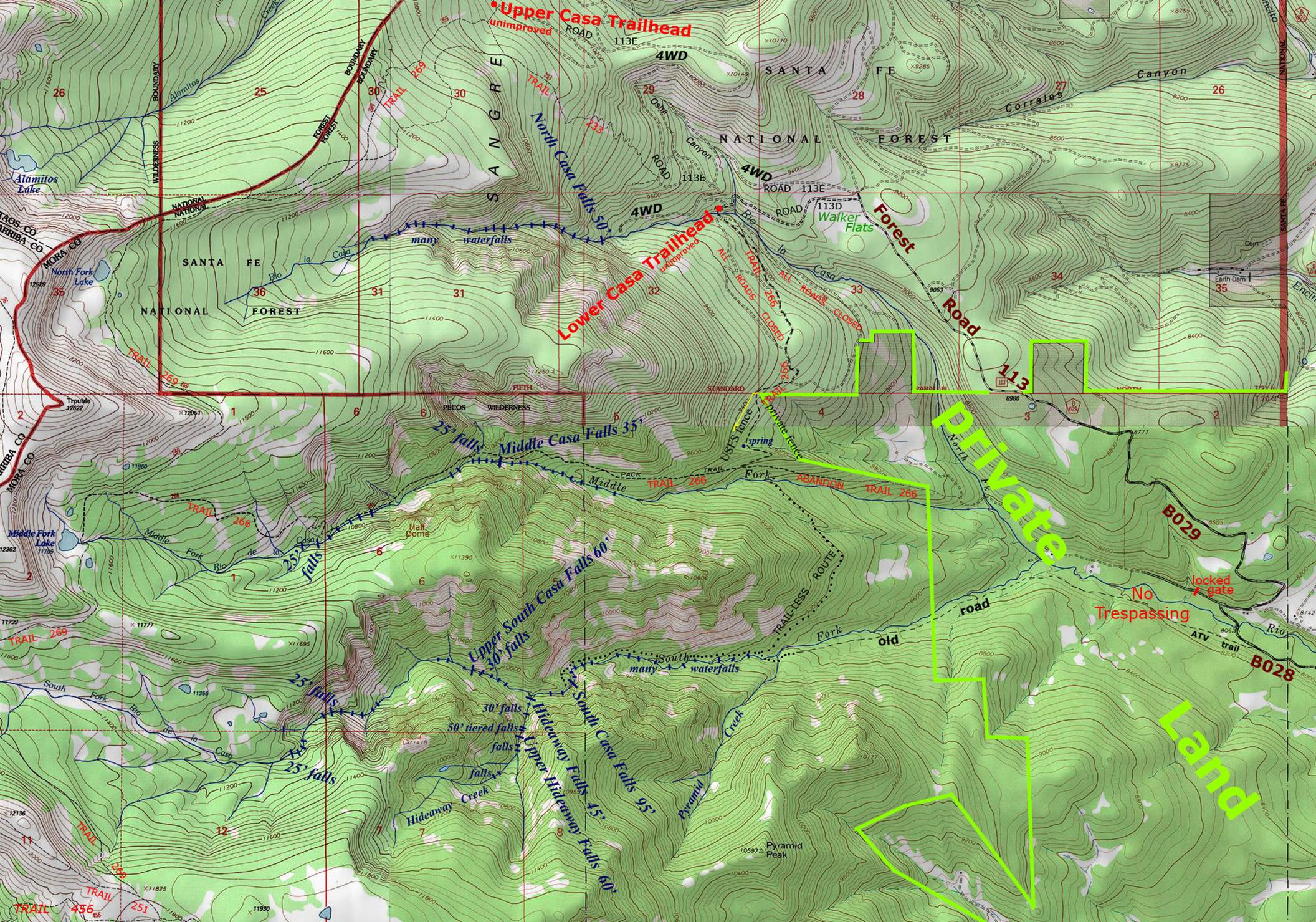 <![endif]>
these waterfalls appear in the far upper portion of South Fork Casa Creek...
<![if !vml]>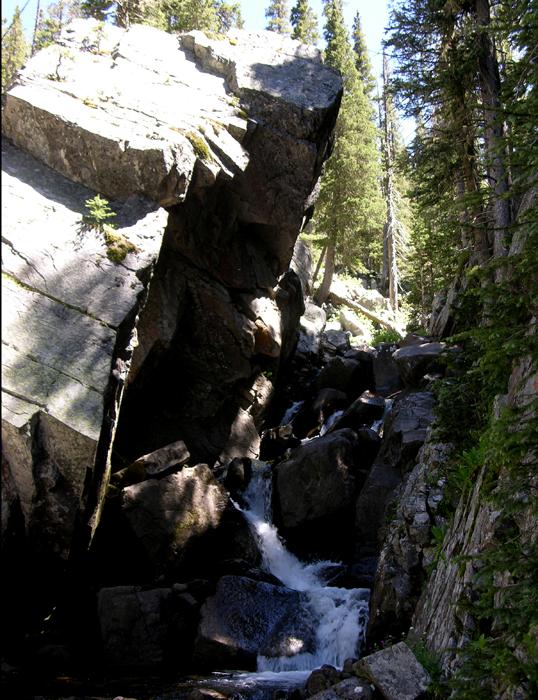 <![endif]>
A 15' falls runs under this huge angular boulder near the upper end of the steep canyon.
<![if !vml]>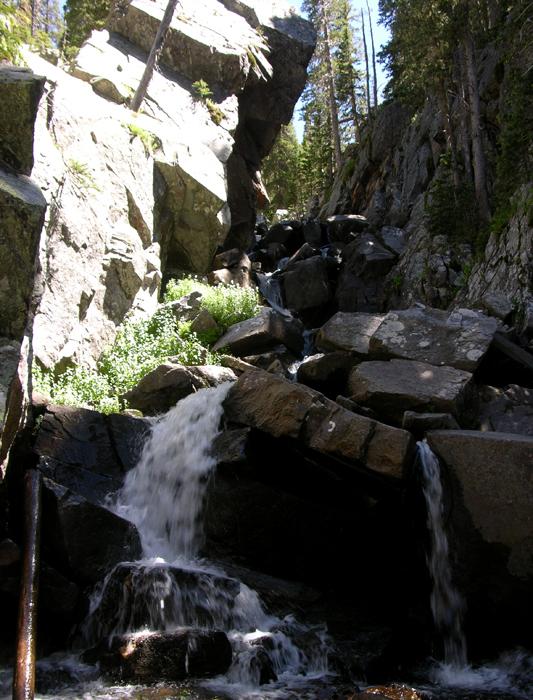 <![endif]>
This 15-footer is just below the previous one.  The angular boulder above is awesome!
Send questions and comments to dscott@themarblesculptor.com