Middle Fork Rain Creek Falls
<![if !vml]>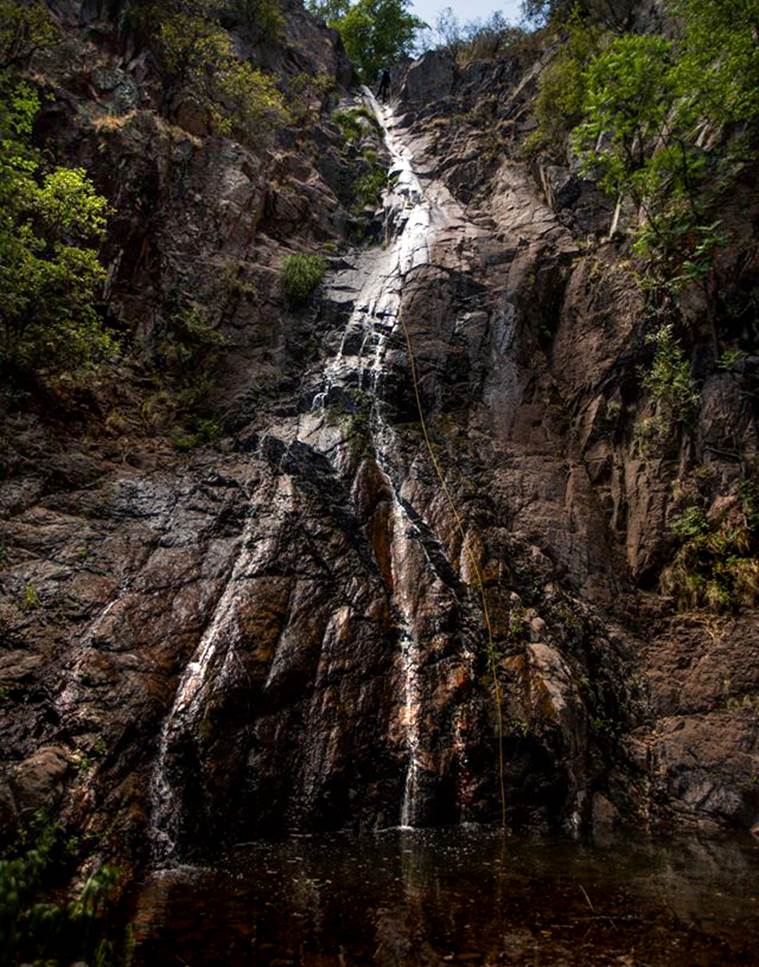 <![endif]>
Above is a lone man-on-rappel at the top of 150' high Middle Rain Creek Falls... notice his yellow rope...
The beautiful falls below has a 40' upper tier followed by a 20 footer… and how about those aspens, or perhaps they are alders.  This place is sweet.
<![if !vml]>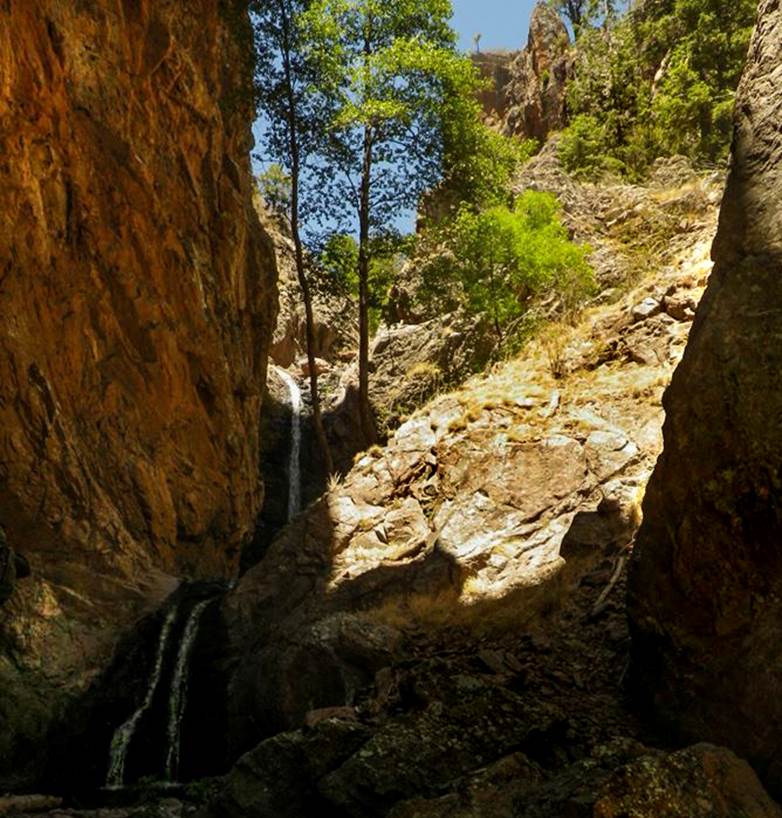 <![endif]>
Many wonderful waterfalls...! ! !
<![if !vml]>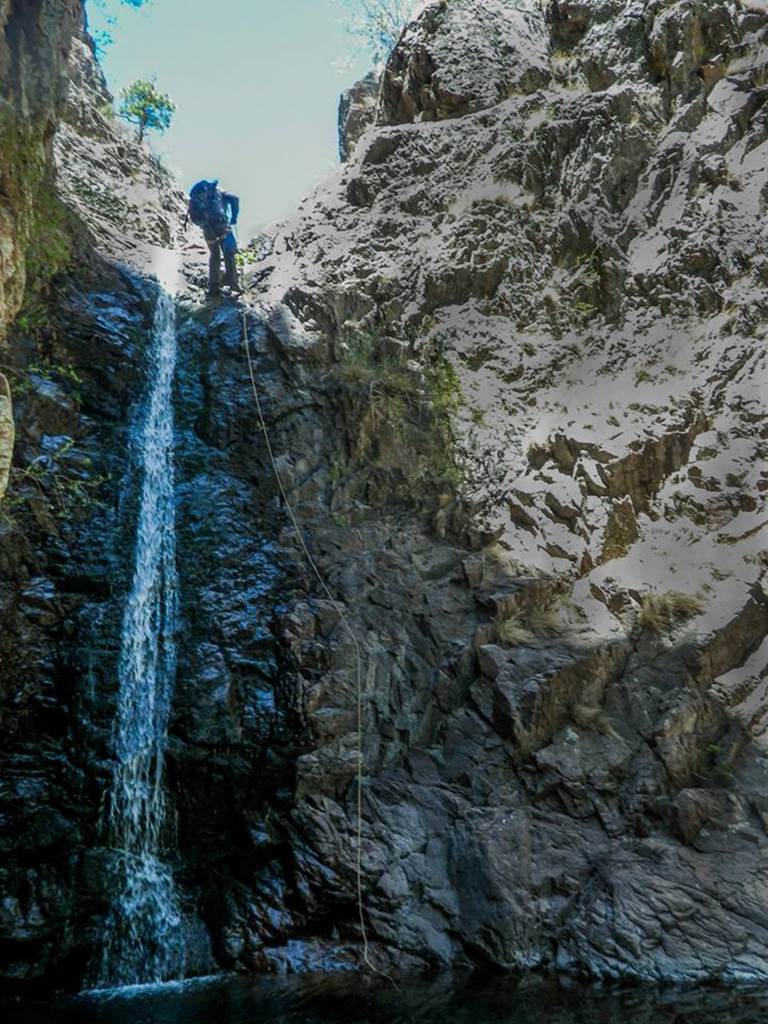 <![endif]>
<![if !vml]>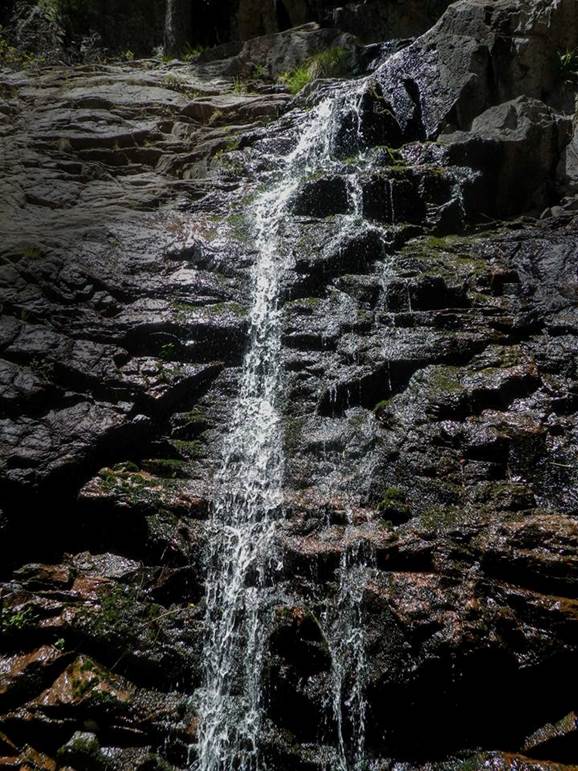 <![endif]>  <![if !vml]>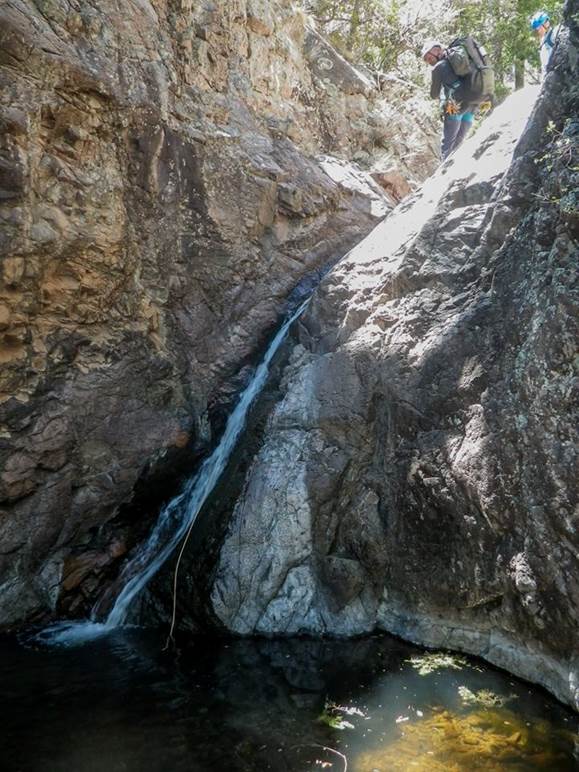 <![endif]>
Rain Creek with all of it's tributaries, is one of New Mexico's best waterfall streams
Upper Rain Creek likely has 30 or more waterfalls of 20' high or more... and several
close to 100' high ...as well as 2 possibly near 200' high...!!!   
The map below shows the Middle Fork Rain Creek Waterfalls that were explored by an Arizona Canyoneering Team.  Crew members were: Dallin Durfee, Ryan Hopper, Bret Kilgrow, Jeff Jeffries and Laurin Ashby.  New Mexico's James Madson also joined them.  Their excursion was a "first descent" of an un-explored, technical canyon.  They found absolutely no evidence (anchors, webbing, ropes or bolts) …anything to show that others had been there.  We appreciate them for sharing their photos and information with us.  We are impressed by the beauty of New Mexico's amazing Middle Fork Rain Creek. 
The Mogollon Range holds the Gila Mountain's highest elevations and gives birth to the largest upper Gila River tributaries.  Rain Creek is a fine trout stream draining the south slopes of the Mogollon Range.  Upper Rain Creek divides into three forks.  We refer to these three forks as East Fork Rain Creek, Middle Fork Rain Creek and West Fork Rain Creek.  Rain Creek is a fine perennial trout stream.  This south-flowing system is easily accessible via Forest Road 147 at the Rain Creek Trailhead (see map below).  Maps show that Rain Creek used to have a trail up it.  This trail was dropped from forest service maintenance years ago.  Today it is totally void of any maintained trails except for one trail-crossing.  Trail 189 descends from the Rain Creek Trailhead only to cross Rain Creek while continuing on east and immediately climbing up and out of Rain Creek Canyon.
HOWEVER... the "Phantom" Gila Wilderness Trail Repairman has saved this trail.  He has been faithful.  He is a blessing to humanity…!!!
Click on this link to learn more and to see his amazing maps: http://www.dougscottart.com/hobbies/waterfalls/WestFkMogo.htm
Right-click-save-as on our map below to print yourself a hard copy for your hike...
Or click this link to see a new updated & enlarged map: http://www.dougscottart.com/hobbies/waterfalls/WestFkMogo.htm
<![if !vml]>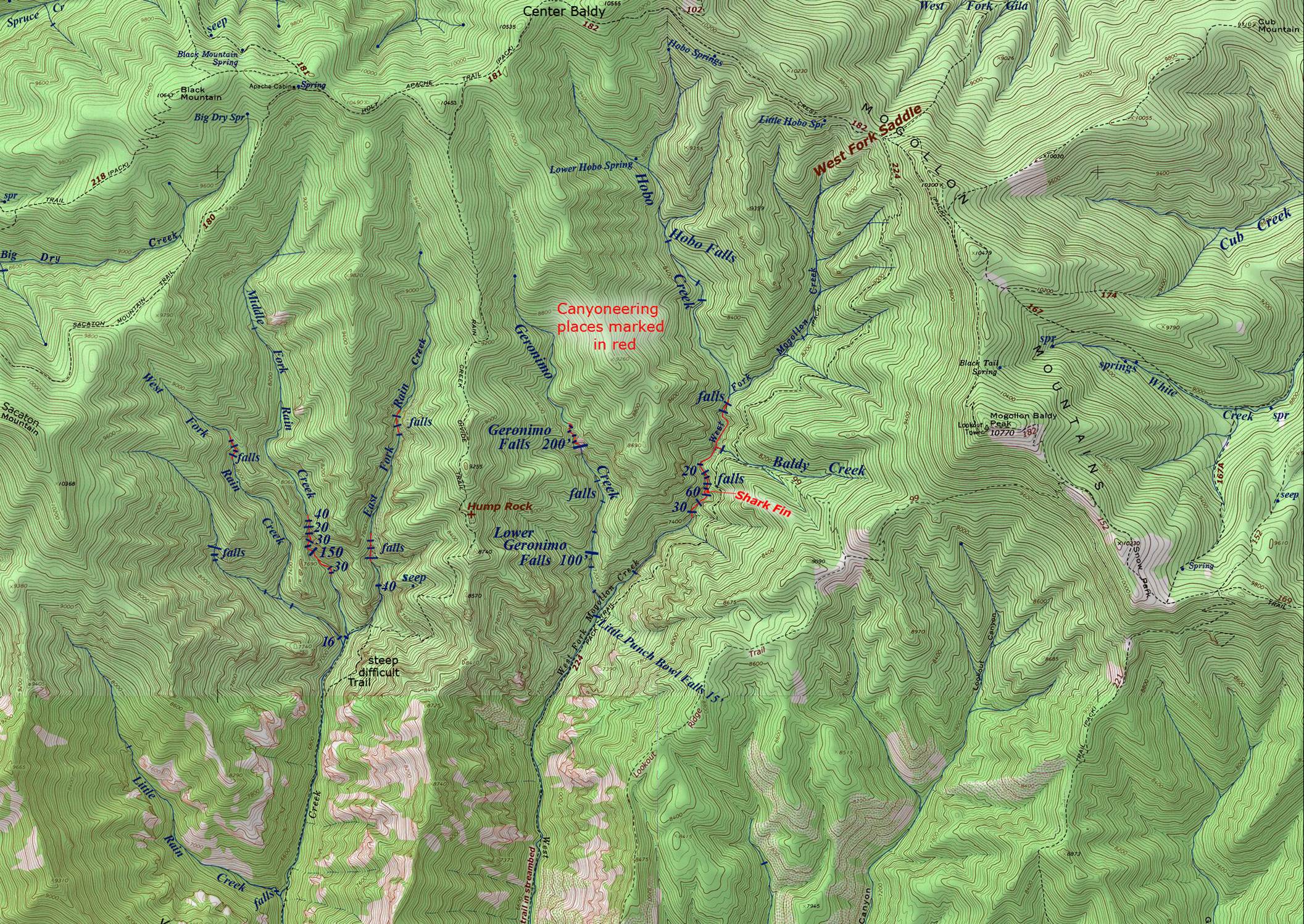 <![endif]>
To see the Trailhead click on this enlarged map: http://www.dougscottart.com/hobbies/waterfalls/WestFkMogo.htm
Send questions and comments to dscott@themarblesculptor.com