Geronimo Falls
See on Youtube: https://www.youtube.com/watch?v=uhnHc4kzHps&sns=fb
The Famous American historical figure "Geronimo" was born in this Mogollon Creek area.
<![if !vml]>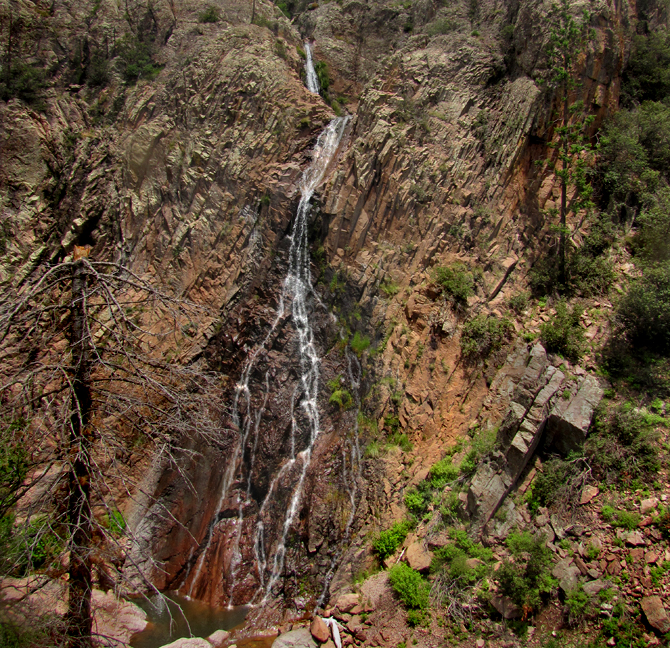 <![endif]>   <![if !vml]>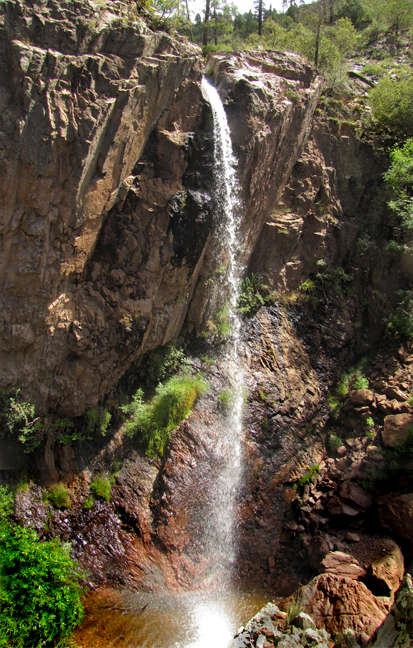 <![endif]>
200' high Geronimo Falls is at 7900' elevation in upper Geronimo Creek                  and....         ...100' high Lower Geronimo Falls is a half-mile downstream
Geronimo Creek is a tributary of the West Fork Mogollon.
beta facts:
name- Geronimo Falls & Lower Geronimo Falls
height- 200' & 100' approx..
elevation- 7900'
GPS coordinates- ±33°15.665'N 108°39.169'W and ±33°15.670'N 108°37.917'W
flow- perennial
season- April/May and July/August ...but anytime the trails are open is okay... just don't go to all of this effort during a drought
accommodations- none - Gila Wilderness Area
ownership- Gila National Forest
access- Rain Creek Trailhead – Trail 189 – Trail 224 – bushwhack and scramble after that...
nearest town- Silver City is about 40 miles northwest of here
fun fact- This seemed like paradise to us......
essay bro
We just made it in to document these wonderful waterfalls on July 28th 2017.....  The Mogollon Range holds the Gila Mountain's highest elevations and gives birth to the larger upper Gila River tributaries.  West Fork Mogollon Creek is a fine trout stream draining the south slopes of the Mogollon Range.  The upper West Fork divides into three forks: Geronimo Creek, Hobo Creek and West Fork Mogollon Creek.  West Fork Mogollon Creek is a fine perennial trout stream.  This south-flowing system is easily accessible via Forest Road 147 at the Rain Creek Trailhead (see map below).  While the Mogollon Trailhead at the end of Forest Road 916, has a sometimes impassable ford (a bridge-less river crossing.)
We packed 5.5 miles in... and camped near the junction of Trail 189 & 224... on the west bank of West Fork Mogollon Creek.  The next day we did the 5 miles trek upstream to both the 200' Geronimo Falls and 100' Lower Geronimo Falls.  Trail 224 only lasts for about a mile heading north from here.  Above this point Trail 224 has been mostly, washed away by floods.  Therefore hiking near or within the stream is mandatory from that point on to Little Punch Bowl Falls: ±33°15.420'N 108°37.866'W   (see map below).   
Little Punch Bowl Falls is where the upper West Fork Mogollon Water-show begins.  Geronimo Creek confluence is 100 feet upstream from Little Punchbowl Falls.  Lower Geronimo Falls is a short half-mile on up Geronimo Creek above... but traversing Geronimo either direction is very tough going.  Hiking Geronimo is not only trail-less, but it is often an "all-fours" hands & Feet scramble/climb.  We did not use or need ropes, but it is difficult to achieve a speed of one-mile-per-hour.  Difficult route finding is quite time consuming as well.  Therefore the seemingly short 5 miles up and 5 miles back..... took us all day and wore us down... even tho we carried only a small day pack.
200' high Geronimo Falls, at almost 8000' elevation, is another half-mile upstream above the lower falls.  Perhaps the young and strong would be able to visit all of the waterfalls up both the West Fork Mogollon and Geronimo Creek in one day...... but we could not.  At nearly 70 years now, I ain't what I used to be.  The scrambling/climbing up Geronimo Canyon is equally demanding all the way – one-mile - up to the upper 200' waterfall.
We originally found these splendid waterfalls on Google Satellite along with USGS Topo Maps
Look at these google satellite images below
Isn't it amazing how recognizable the google images are to the real photos above…???
<![if !vml]>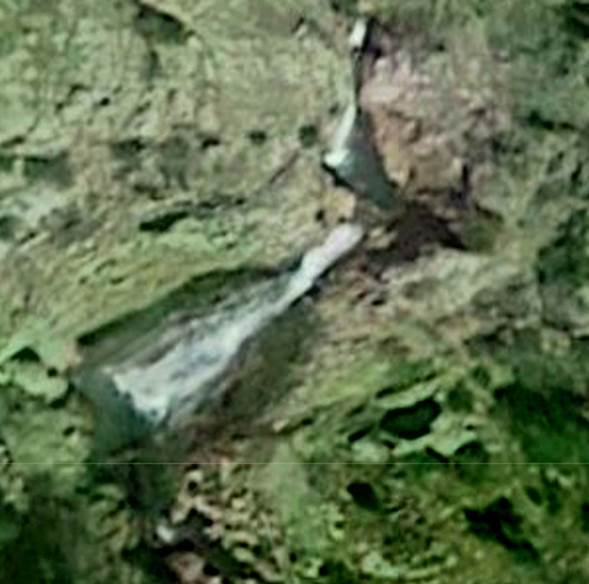 <![endif]>   <![if !vml]>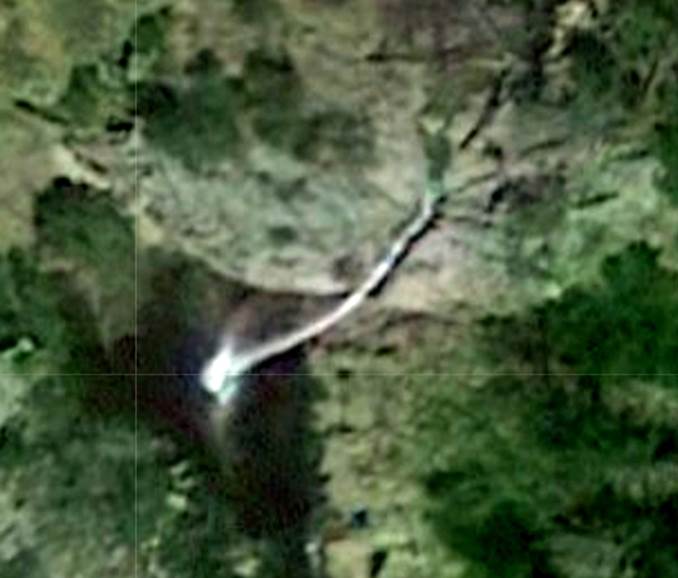 <![endif]>
Little Punch Bowl Falls ±33°15.420'N 108°37.866'W  -shown in the photo below, is where Trail 224 climbs up and away from the stream ... as shown on the map below.
<![if !vml]>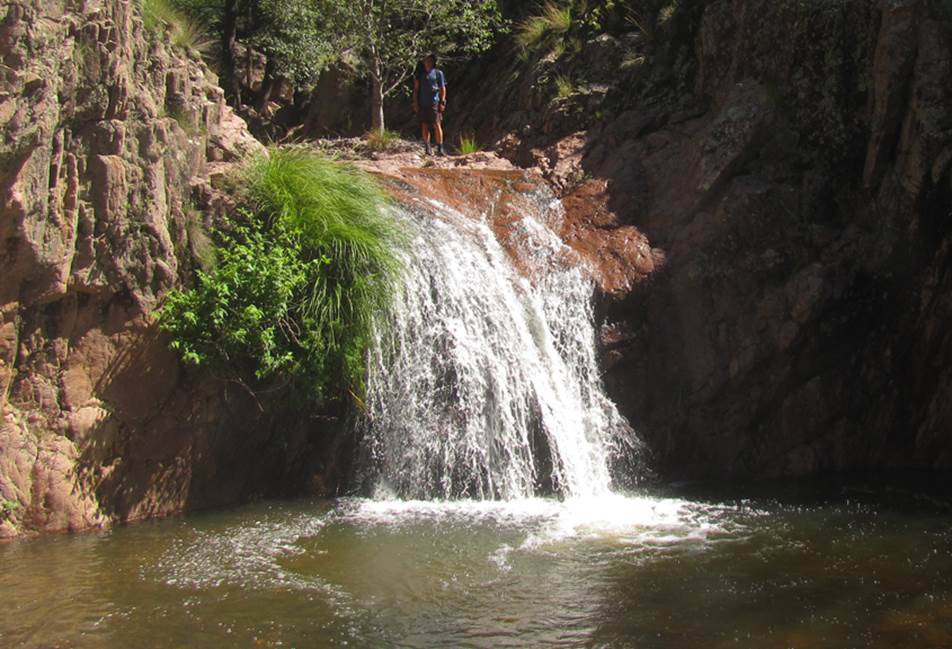 <![endif]>
Right-click-save-as on our map below to print yourself a hard copy for your hike...
Or click this link to see a new updated & enlarged map: http://www.dougscottart.com/hobbies/waterfalls/WestFkMogo.htm
<![if !vml]>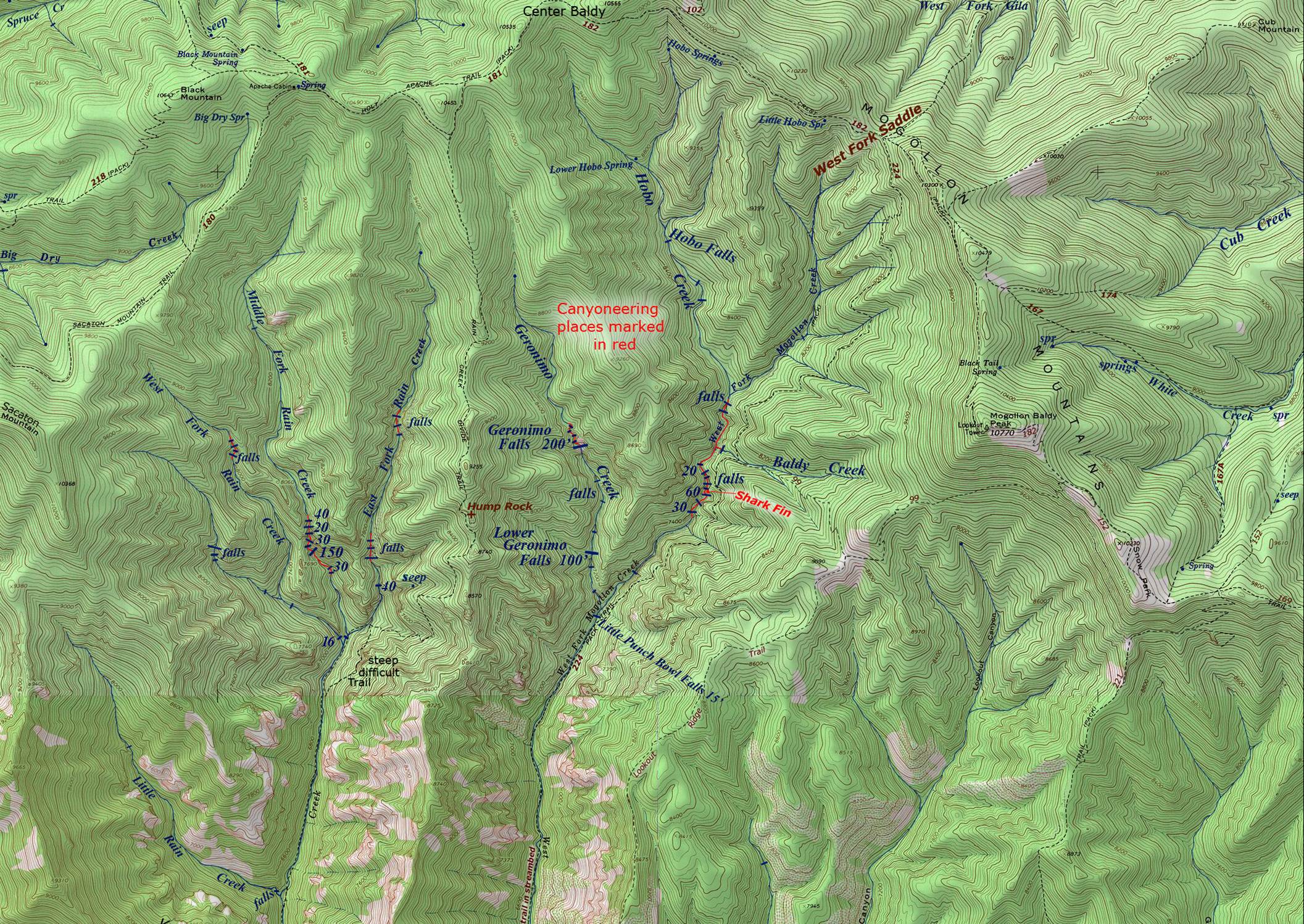 <![endif]>
To see the Trailhead click on this enlarged map: http://www.dougscottart.com/hobbies/waterfalls/WestFkMogo.htm
Send questions and comments to dscott@themarblesculptor.com