Spider Falls
<![if !vml]>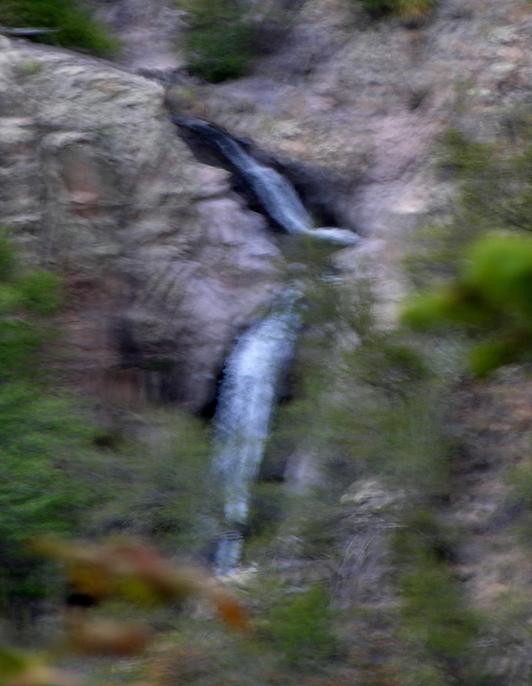 <![endif]>
It's a fuzzy photo and I plan to enter this one into the National Fuzzy Photo Contest...!!!
BUT I have a legitimate excuse this time... I fell on steep slippery rock and broke the lens off of my camera and was still able to hold it back on with my hand... I think it is WOW... that I even got any Image at all from this one-mile-away telephoto shoot...!!!
This photo above is Lower Spider Falls.  It shows an upper tier that I estimate to be about 12' high.  It also shows a lower tier that disappears from view.  Using a hunch combined with what I saw from a distance and throw in the influence of USGS topo lines... Hmmm... I'll say that Lower Spider falls is a 40-foot high two-tiered waterfall.
<![if !vml]>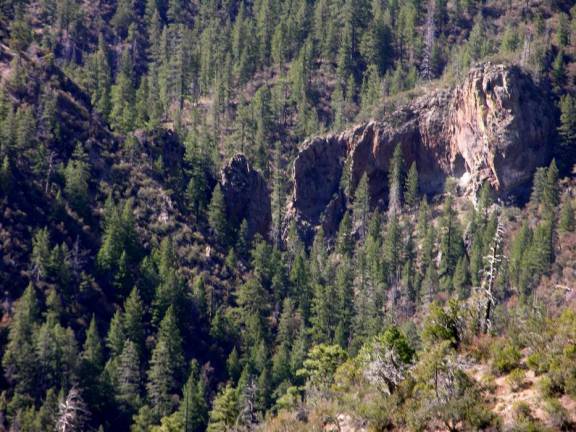 <![endif]>
This shot taken just before I broke the lens off my camera... shows what I like to call "The spider's Gate".  Lower Spider Falls is just out of sight here... just barely below where the hill in the foreground blocks our view.
beta facts:
name- Lower Spider Falls
height- 40' with two tiers
elevation- 6700'
GPS coordinates- ±33°17.361'N 108°43.583'W
flow- perennial trout stream
best season- wet times like Memorial Day of a wet year or July and August rainy season
accommodations- Gila Wilderness
ownership- Gila National Forest
access-  8 miles on trail with some bushwhacking and game trails
nearest town- Glenwood is about 10 miles west of here
fun fact- Gila high country's BEST…!!!!! …but hard to get to…!!!!!
essay bro
I only had three days when I was here in mid-May 2010 and that didn't leave much time for Spider Creek.  I spent all my time up Big Dry Creek and Spruce Creek.  I only had one hour to literally run over to the ridge where I slipped, broke my camera and just barely got my "fuzzy" photo of Lower Spider Falls... but from up on Hanging Rock Trail I could see the outcropping that host the upper Spider Falls five miles away.  I estimate this to be about 3-miles upstream from Lower Spider Falls.
Straining my eyes, wishing I had binoculars... I could see no sign of the white foamy waters of the upper Spider Falls that I show on my map below.  However the outcropping was high and strong... and I could see a dark crevice in the cliff that I know holds a nice waterfall of possibly 100 feet in height.  Please someone go into the upper Spider Creek basin and come back and tell me about it.
I could also see that the lower portions of the East Fork of Spider Creek had great sheer outcroppings.  But not being able to curve my eye sight around a blind corner... I could only imagine the 100' high waterfall that I swear lurks in that box canyon.  I call this dream waterfall Spider Box Falls on my map below.  Please go photograph these waterfalls... and please send me your image copies...!!!   I'm an old man and it's real hard for me to get back into this precious country.
Hanging Rock Trail and Silver Drip Trail are the two most direct routes into this upper Big Dry Creek drainage.  Both have been abandon by the National Forest Service.  We will soon loose these "two most spectacular trails of the Gila Wilderness".  They are both marked on the map below as "unmaintained trail".  If we outdoor-people use these trails and care for them each time we hike them... they will be preserved... otherwise they will be lost.
Lower Spider Falls is found in the middle left-hand side of the map below.
Spider Falls and Spider Box Falls are found near the top of the map.
Click this link to view a new updated & enlarged map: http://www.dougscottart.com/hobbies/waterfalls/BigDryMapN.htm
Enhanced USGS 7.5' topo map
<![if !vml]>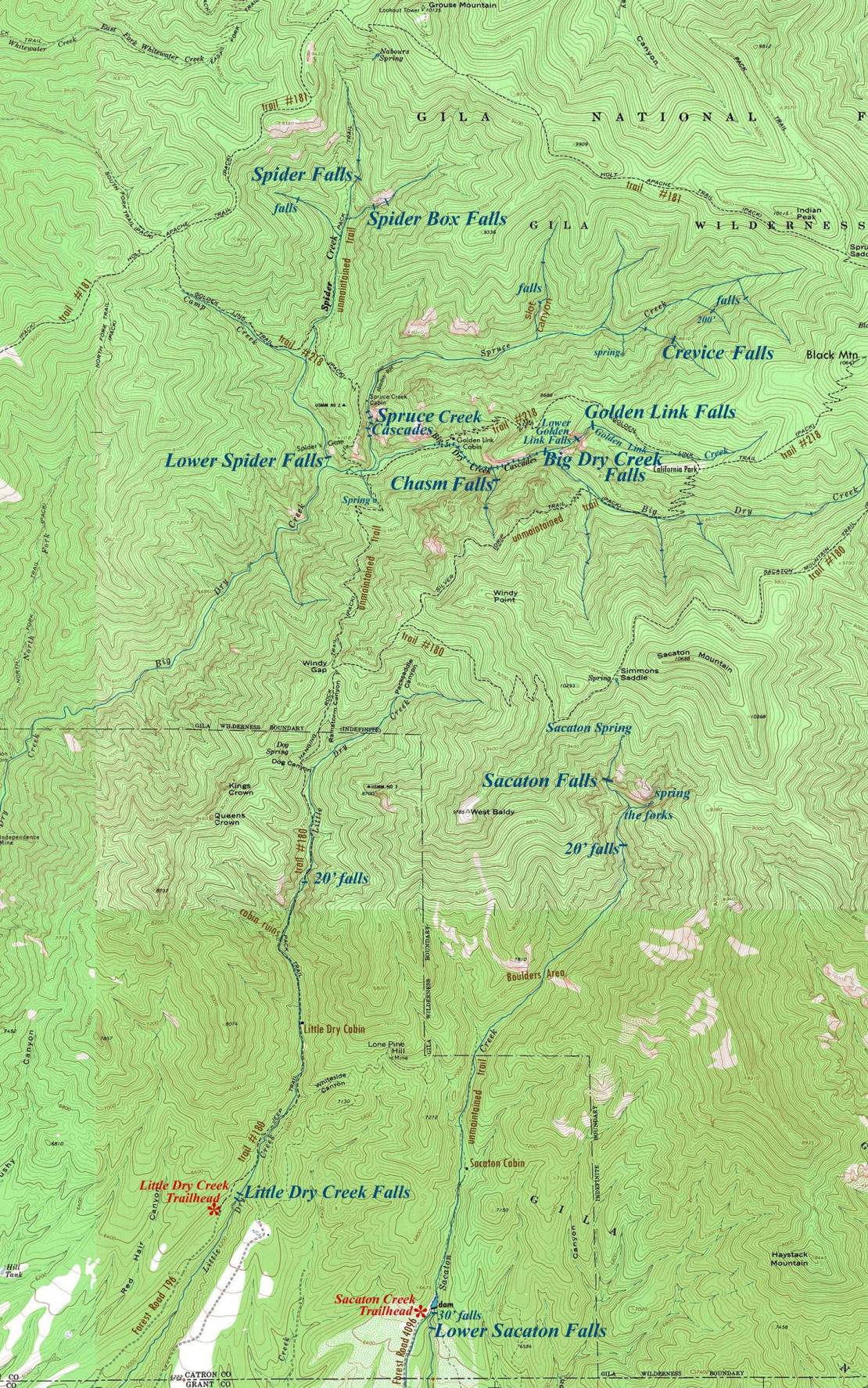 <![endif]>
_______ONE MILE______
This upper Big Dry Creek drainage is a waterfall lovers' paradise...!!!
Send questions and comments to dscott@TheMarbleSculptor.com