Milkranch Falls
<![if !vml]>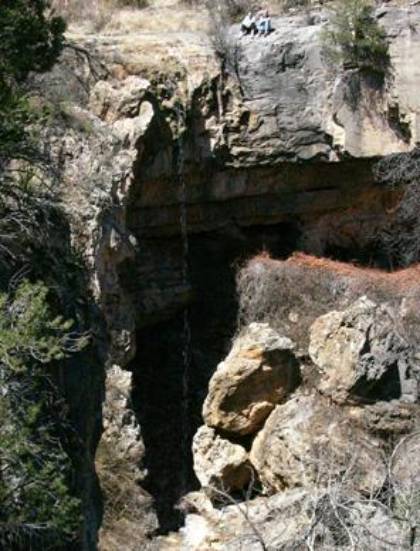 <![endif]>
50' high Milkranch Falls near Silver City
<![if !supportEmptyParas]> <![endif]>
beta facts:
name- Milkranch Falls upper and lower
height- the upper and lower falls are both 50' high
elevation- 6750'
GPS coordinates- ±32°51.580'N 108°02.560'W
flow- milkranch spring flow goes dry during dry times
season- March and July/August… only during wet times
accommodations- none
ownership- public – Gila National Forest
access- a mile hike on old jeep road then on a nice flat creek bed after a 4½-mile gravel road that turns into a jeep road
nearest town- Hanover is 7 miles SW of here
fun fact- yeah, this falls does go dry… but it is WAY COOL….!!!! And it is a DOUBLE FALLS
<![if !supportEmptyParas]> <![endif]>
<![if !supportEmptyParas]> <![endif]>
essay bro:
Milkranch…. What a name. Somebody is going to have to ask the local Silver City Museum about where this name came from. Right near Milkranch Spring, which is shown on the map below, there is some ruins of an old homestead. Maybe they had a ranch with milk cows.
<![if !supportEmptyParas]> <![endif]>
Anyway this is a way cool place and these are really amazing waterfalls. It is just too bad that they don't flow all the time. We had a hard time following this topo map but it did get us to the right place. The road gets worse and worse till we stopped about a half of a mile from the road's end. We walked down a half-mile of jeep road then down the "hardpan" solid rock creek bed passed Milkranch Spring to the falls. There are two falls real close together so it seems like it's over a hundred feet high.
<![if !supportEmptyParas]> <![endif]>
Check your Gila National Forest map. Because there are 4 ways to drive in close to Milkranch.
<![if !supportEmptyParas]> <![endif]>
Enhanced National Geographic 7.5' topo map
<![if !vml]><![endif]>
one mile = approximately2½ inches
<![if !supportEmptyParas]> <![endif]>
<![if !supportEmptyParas]> <![endif]>
<![if !supportEmptyParas]> <![endif]>
Send questions and comments to doug.vivian@yahoo.com