Middle Fork Lake Falls
  <![if !vml]>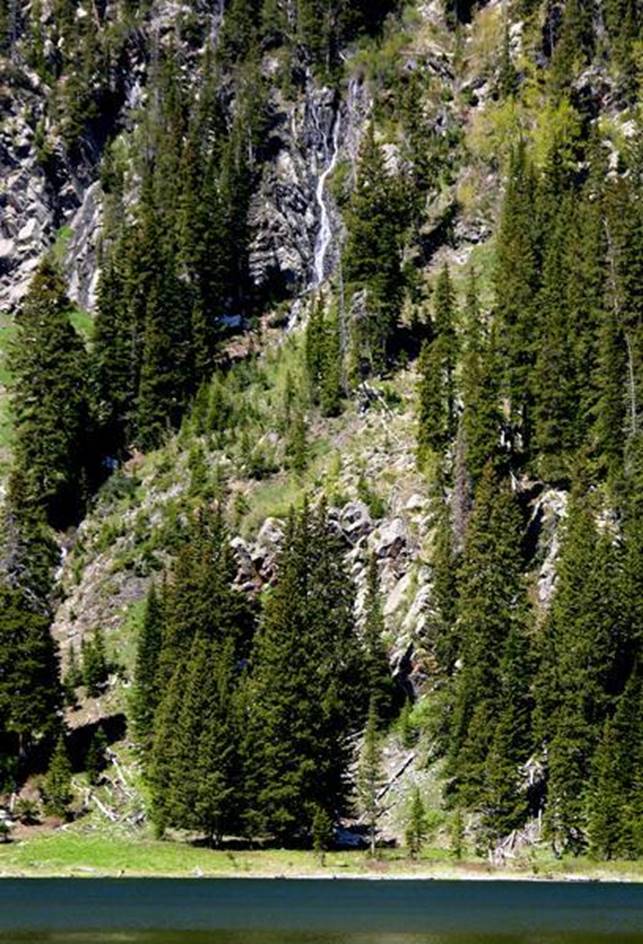 <![endif]>
120' high Middle Fork Falls provides a beautiful echoing "falling-waters" sound to the upper end of Middle Fork Lake.
beta facts:
name- Middle Fork Lake Falls
height- 120'
elevation- 11,000'
GPS coordinates- ±36°35.650'N 105°25.190'W
flow- perennial spring fed
season- summer …the earlier the better... first week of June is beautiful if you don't mind some snowdrifts.
accommodations- there are out houses at the lake.
ownership- Carson National Forest
access- 2¼-mile hike on a doublewide trail
nearest town- Red River, NM is ten miles north of here.
fun fact- walk around the lake …the echoing "falling-waters" sound is quite pleasant.
essay bro:
Middlefork Lake is one of my favorite New Mexico hikes…!!!  I follow the trail on my way up.  Then I walk around the lake to hear the waterfall better… and on my hike back to the car… I walk down the creek that flows out of the lake… this way is more difficult but I get to enjoy several nice waterfalls that are between the lake and my vehicle.  These photos below show five of the falls that are there.  The first 4 photos show the higher drops on the Middle Fork of the Red River.  The fifth shows a piece of a tumbling white cascade of a tributary.
1.<![if !vml]>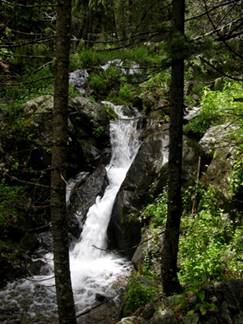 <![endif]>2.<![if !vml]>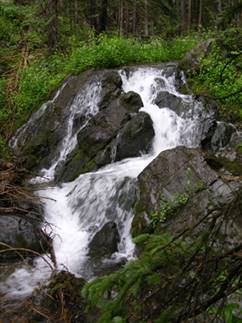 <![endif]>3.<![if !vml]>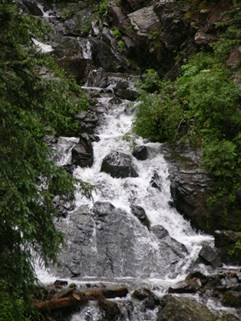 <![endif]>4.<![if !vml]>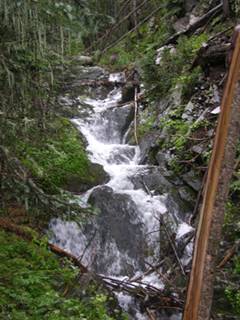 <![endif]>5.<![if !vml]>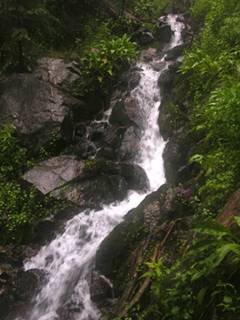 <![endif]>
1- 12' high and most upstream.                         2- 15' high is second                                3- 25' high is next                                4- 20' high is the most downstream                        5- Cascade
Right-click-save-as to make yourself a copy of our map below
To see a larger, updated and more detailed map of this entire Wheeler Peak Area, click here: http://www.dougscottart.com/hobbies/waterfalls/TaosMtnsSEquad.htm
and here: http://www.dougscottart.com/hobbies/waterfalls/TaosMtnsMap.htm
Enhanced USGS 7.5' topo map
<![if !vml]><![endif]>
Send questions and comments to doug.vivian@yahoo.com