Middle Fork Lake Falls
  <![if !vml]>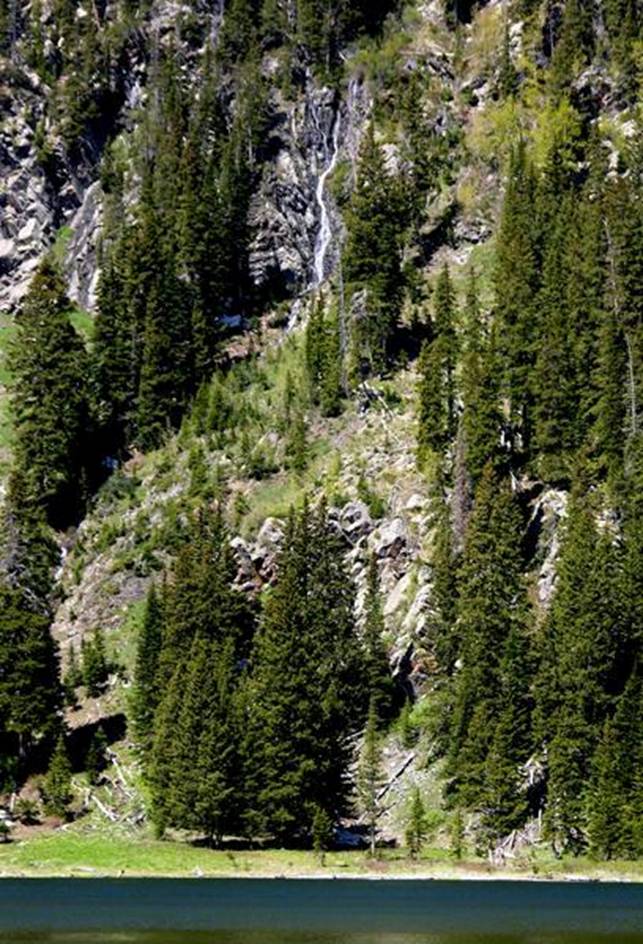 <![endif]>
120' high Middle Fork Falls provides a beautiful echoing "falling-waters" sound to the upper end of Middle Fork Lake.
<![if !vml]>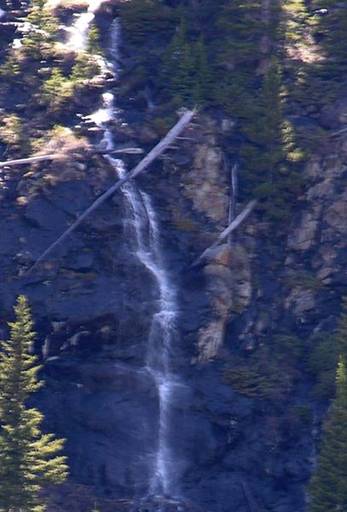 <![endif]>
Another waterfall 100' high... we call Middle Fork Lake Falls #2 is a couple hundred yards north or right of the falls pictured above.  These falls flow perennial but loose their foaming "whitewater" look when snowmelt is over.  If you encounter snowdrifts on the trail while hiking up here... these falls will be good...!!!!
beta facts:
name- Middle Fork Lake Falls
height- 120'
elevation- 11,000'
GPS coordinates- ±36°35.650'N 105°25.190'W
flow- perennial spring fed
season- summer …the earlier the better... first week of June is beautiful if you don't mind some snowdrifts.
accommodations- there are out houses at the lake.
ownership- Carson National Forest
access- 2¼-mile hike on a doublewide trail
nearest town- Red River, NM is ten miles north of here.
fun fact- walk around the lake …the echoing "falling-waters" sound is quite pleasant.
essay bro:
Middlefork Lake is one of my favorite New Mexico hikes…!!!  I follow the trail on my way up.  Then I walk around the lake to hear the waterfall better… and on my hike back to the car… I walk down the creek that flows out of the lake… this way is more difficult but I get to enjoy several nice waterfalls that are between the lake and my vehicle.  These photos below show five of the falls that are there.  The first 4 photos show the higher drops on the Middle Fork of the Red River.  The fifth shows a piece of a tumbling white cascade of a tributary.
1.<![if !vml]>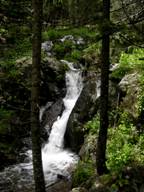 <![endif]>2.<![if !vml]>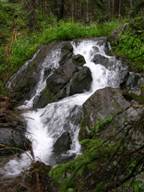 <![endif]>3.<![if !vml]>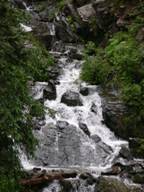 <![endif]>4.<![if !vml]>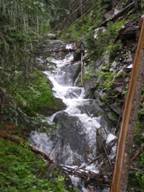 <![endif]>5.<![if !vml]>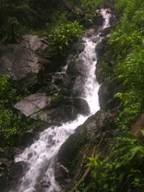 <![endif]>
1- 12' high and most upstream.       2- 15' high is second          3- 25' high is next          4- 20' high is the most downstream            5- Cascade
Enhanced National Geographic 7.5' topo map
<![if !vml]><![endif]>
Send questions and comments to doug.vivian@yahoo.com