Maverick Falls
Cimarron Canyon State Park
<![if !vml]>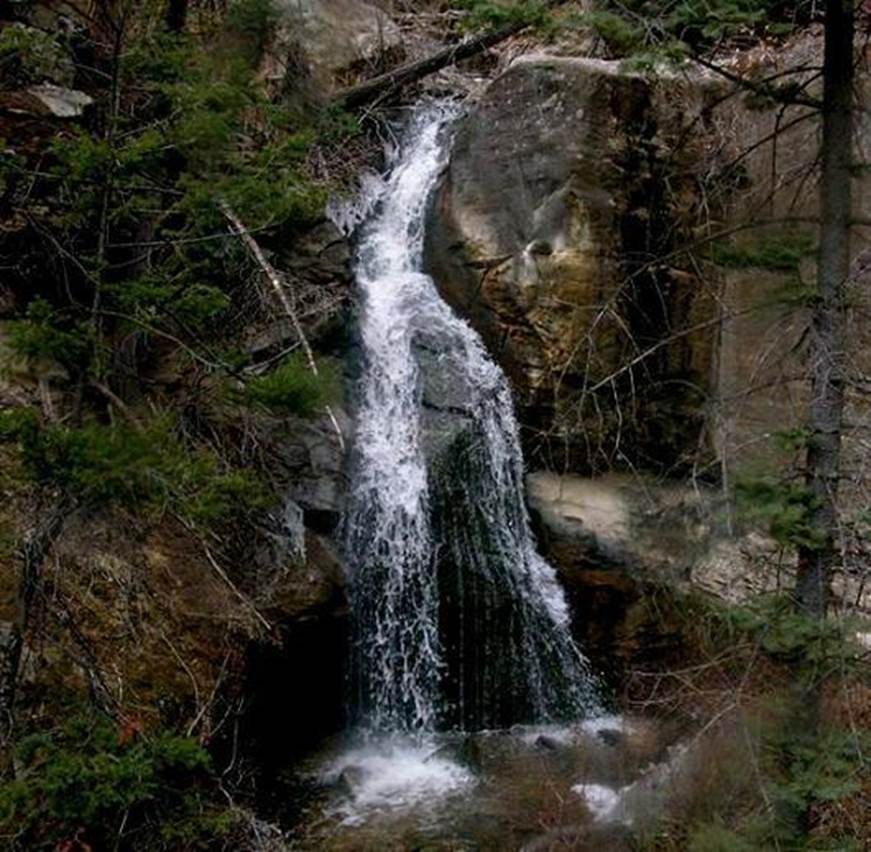 <![endif]>
30' high Maverick Falls on April Fools Day 2008
beta facts:
name- Maverick Falls
height- 30'
elevation- 7800'
GPS coordinates- ±#36°33.100'N 105°08.350'W
flow- is perennial but it has gone dry during some extra dry summers.
season- best during April and May
accommodations- State park campgrounds are nearby.
ownership- public – Cimarron Canyon State Park
access- A ¾ mile hike from US Hwy 64.
nearest town- Eagle Nest is 10 miles west of here and Ute Park is 2 miles east of here.
fun fact- See both Clear Creek and Maverick Falls the same day.
essay bro:
Maverick Falls is one of my favorites… no one told me about her… and following a whim… on one of my favorite days of the year… there she was… a beautiful waterfall.
A closed jeep road at mile 295.6 is the trail to her and she is only a six tenths of a mile hike.  You will see the state has placed a locked gate to block all motorized travel up the first gravel side road that heads north from US hwy 64 as you travel east of Maverick Campgrounds.  This is within Cimarron Canyon State Park so you will need a parking permit.  Please print yourself a copy of my map below and on your hike try to recognize when you complete the S-turn that this old jeep road makes about a half mile above your starting place.
This is where you will want to veer left, leave the road and enter a steep canyon.  There is no trail here but you can hear the whitewater below and sheer rock cliffs will direct you to the falls.  Some cute smaller falls dance both above and below the main drop.  This is a nice place.
Maverick Falls is at it's best in April and May…and it is only three and a half highway miles east of Clear Creek Falls.
AND HEY….. Support a worthy cause BUY an annual State Parks Pass…. It cost 40 bucks… just do it … it will feel good….. and it makes parking your car along Hwy 64 in Cimarron Canyon actually legal.  Help support our State Parks system.  At least buy a Day Pass.  A day pass Costs 5 bucks.
…AND …there is one more legality that you really should know.  When you walk up any trail in Cimarron Canyon State Park you are trespassing.  Because Cimarron Canyon State Park is actually a very thin narrow corridor of land ±100 yards wide and about 8 miles long.  Once you are more than 50 yards up the mountain from either the Cimarron River or Highway 64, without warning land ownership changes to Colin Neblett Wildlife Management Area. 
To be legal the State of New Mexico says you must have one of three things.  A hunting license during hunting season or a fishing license during fishing season or an access permit called a GAIN permit.  An annual GAIN permit costs $19 for an adult resident of New Mexico and they are available for purchase anywhere hunting and fishing licenses are sold.
How many hoops can you jump thru on your way to a waterfall…???   Do it with an American smile.
Enhanced USGS 7.5' topo map
<![if !vml]>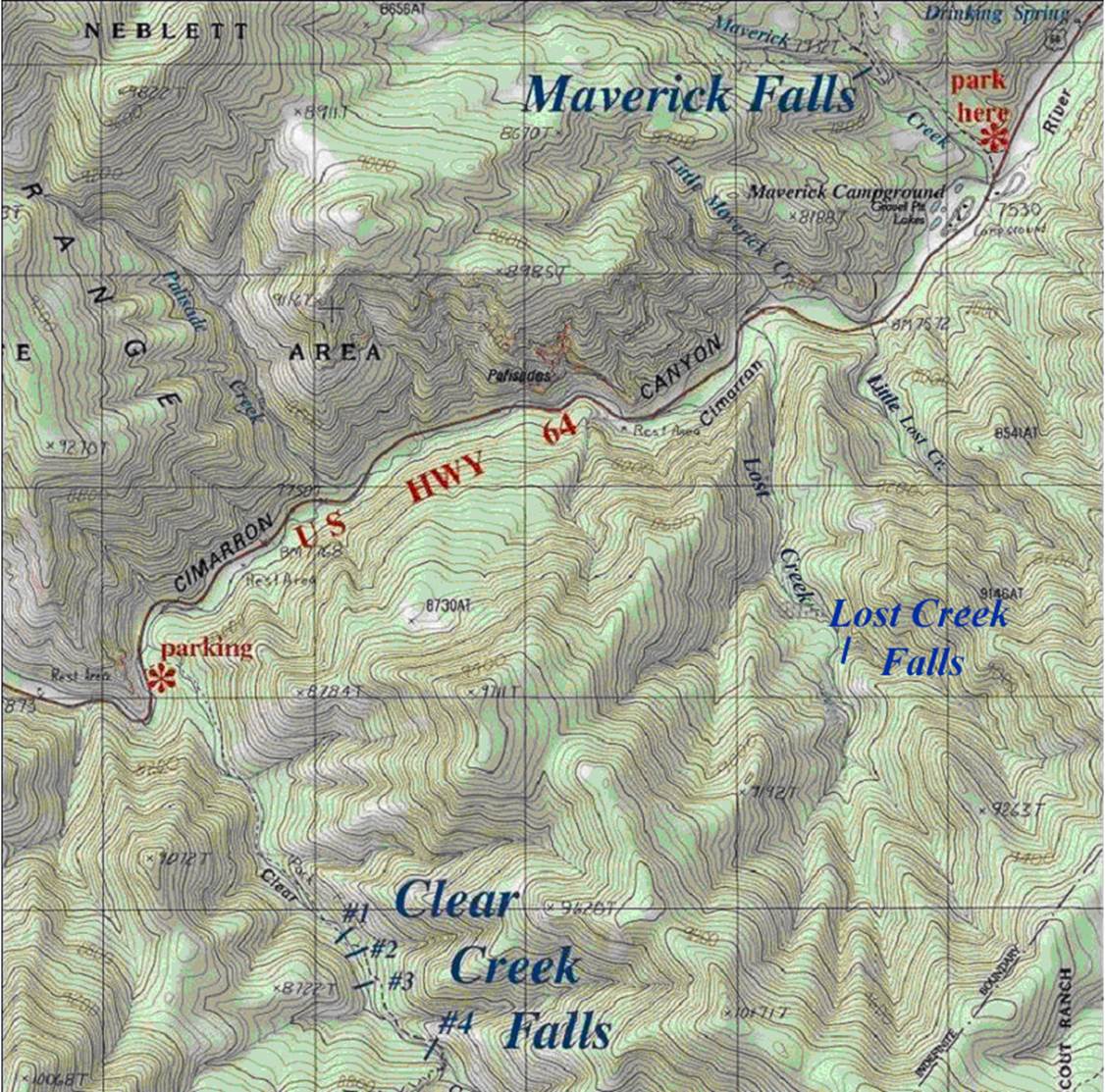 <![endif]>
Send questions and comments to doug.vivian@yahoo.com