Little Whitewater Falls
<![if !vml]>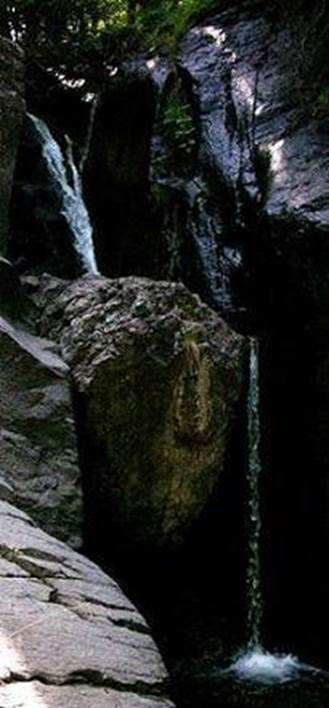 <![endif]>  <![if !vml]>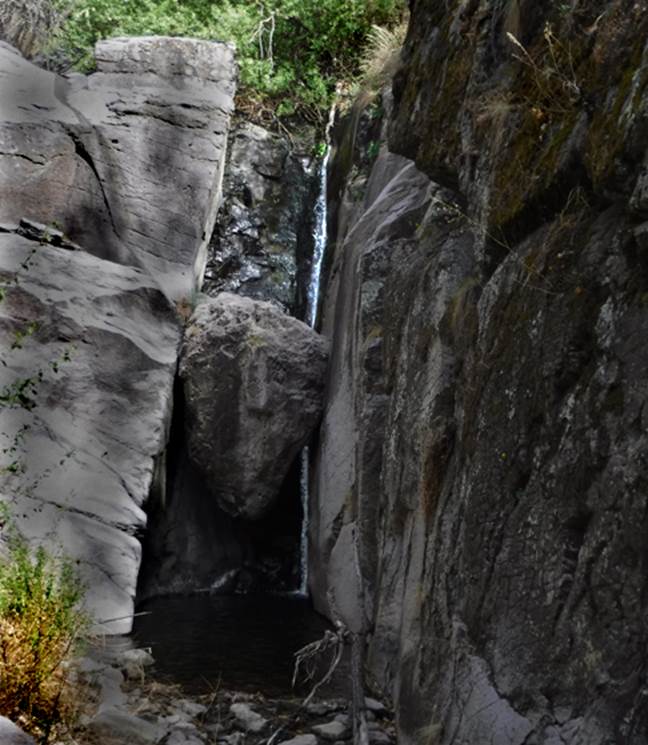 <![endif]>
These two photos are of Lower Little Whitewater Falls.  The photo on the left was taken in late May 2002, while the photo on the right was taken April 2018.  Both years were extremely dry years with very minimal flow.  The 2002 photo shows this 20' high waterfall having two tiers of about ten feet each.  More recently, the falls have washed alluvial fill away from behind the large wedged boulder, such that it is now a waterfall with one single drop of about 20 feet.  I wished that I could pull that boulder out of there... ha... but I weren't tuff-nuff...
beta facts:
name- Little Whitewater Falls
height- 30' unofficial height – the lower falls is documented at 20'
elevation- 7200' & the lower falls: 6250'
GPS coordinates- ±33°19.021'N 108°48.300'W & the lower falls: ±33°18.969'N 108°48.986'W
flow- perennial
season- anytime, but winter may have ice
accommodations- none in this remote area
ownership- Gila National Forest
access- is above the end of Gila Forest Road #140, about 4 miles of steep & tough hiking
nearest town- Glenwood is about 6 miles west of here
fun fact- has anyone ever been to this thought-to-be amazing waterfall...???  Does anyone have a photo of it...???
essay bro
I hope to come back during a wet year and see Little Whitewater Creek flowing with more grandeur...! ! !  I also plan to have a full day to allow time to visit the main Little Whitewater Falls up at 7200' elevation.  Both times I have ventured up Little Whitewater Canyon...... I have run out of time...! ! !  It is difficult hiking terrain.
Little Whitewater Creek is a few miles to the south of Whitewater Creek and It's famous "Catwalk".  Like Whitewater Creek, it also flows west into the small town of Glenwood, NM.  I am told by the only person I know that has ever visited Little Whitewater Falls, that it is within a very dramatic small box canyon having very high and sheer walls... and... he only saw it from above.  He also admits that it has been so long ago, since he has been there that he is unsure just how high and/or how beautiful Little Whitewater Falls may be...???
Please right-click-save-as on our map below and print yourself a hard copy to have in hand hiking... and use this map in conjunction with the USFS Gila Forest Map.  Forest Road 140 out of Glenwood, NM accesses Trail 214 and Old Trail 214.  The Trailhead Parking at the end of FR 140 is just off the west end of our map below.
Enhanced USGS 7.5' topo map
<![if !vml]>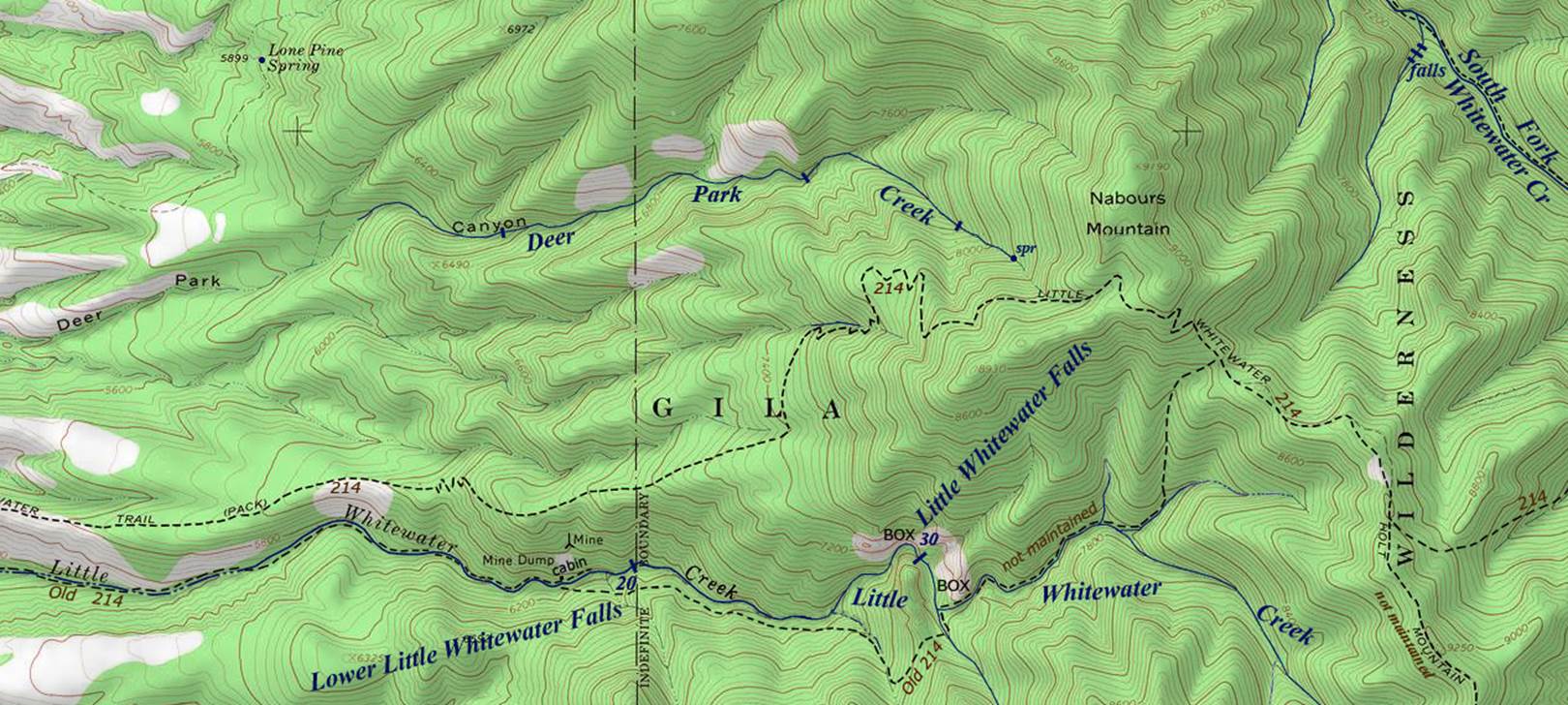 <![endif]>___________one mile___________
Send questions and comments to doug.vivian@yahoo.com