Little Dry Creek Falls
<![if !vml]>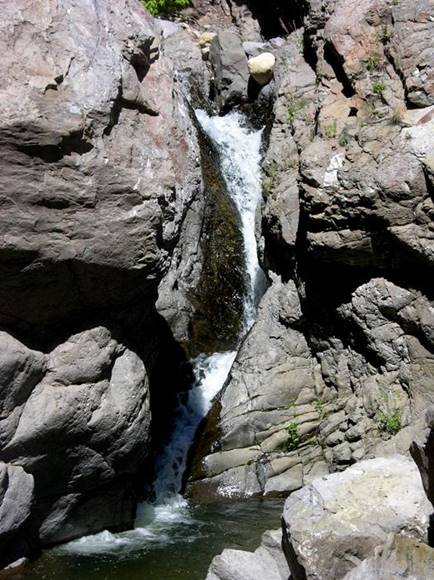 <![endif]>  <![if !vml]>
<![endif]>
Lower Little Dry Creek Falls has two 25' drops about 50 yards apart.  These are 100 yards below the trailhead parking area.  NOTICE that
this photo on the right show the water falling into a very narrow and deep "slot" canyon... THIS IS A WAY COOL PLACE...!!!!!
<![if !vml]>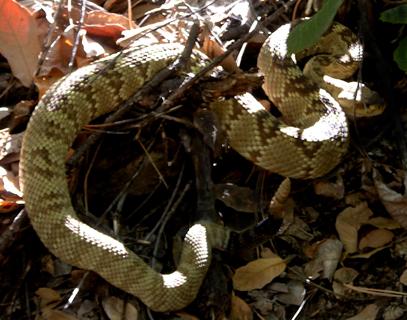 <![endif]>
This 4 foot long rattlesnake met us near the base of the lower falls.
<![if !vml]>
<![endif]>
This beautiful 20' footer is about 2½ miles above the trailhead. 
beta facts:
name- Little Dry Creek Falls  ...3 waterfalls
height- three waterfalls about 20' to 25' high each
elevation- 6200'   6230'  and  7020'
GPS coordinates- ±33°15.103'N 108°48.756'W ...is the upper 20' falls and...
±33°13.484'N 108°44.154'W  ...is about where the lower two falls are near the parking area.
flow- perennial
best season- wet times like Memorial Day of a wet year or July and August thunderstorm season
accommodations- nothing but the great outdoors
ownership- Gila National Forest
access-  bout 100 yards to the lower 2 falls and about 2½ miles on trail #180 to the higher 20' falls.
nearest town- Glenwood is about 10 miles northwest of here
fun fact- these are wonderful and easy to get to…!!!
essay bro
The two lower waterfalls are just down below the parking area maybe 100 yards or so... however the upper waterfall is about 2½ miles up trail #180.  it cannot be seen from the trail so watch for the trail to climb up above the stream on the left-hand side of the creek looking up stream.  When you see this happening leave the trail and continue up Little Dry Creek about 100 yards to visit and enjoy this pleasant waterfall…!!!
The upper tier of the lower Little Dry Creek Falls which is real close to where you park your wheels... is very special... see in the photo on the right at the top of this page... the falls drops into an extremely narrow "slot" canyon that is slanted... THIS IS A WAY COOL PLACE, HEY….!!!!!!
This link for the updated, enlarged map below shows the highest and best of all the Little Dry Creek Falls.  However, this highest and best Little Dry Creek Falls has not yet been visited or documented.  We haven't got there yet.  We hope to soon.  But maybe you will beat us getting in there... if you do please share your photos, GPS point and field notes with us... or... we may really get angry...!!!
For a new updated and much enlarged map of this area click here
Enhanced USGS 7.5' topo map
<![if !vml]>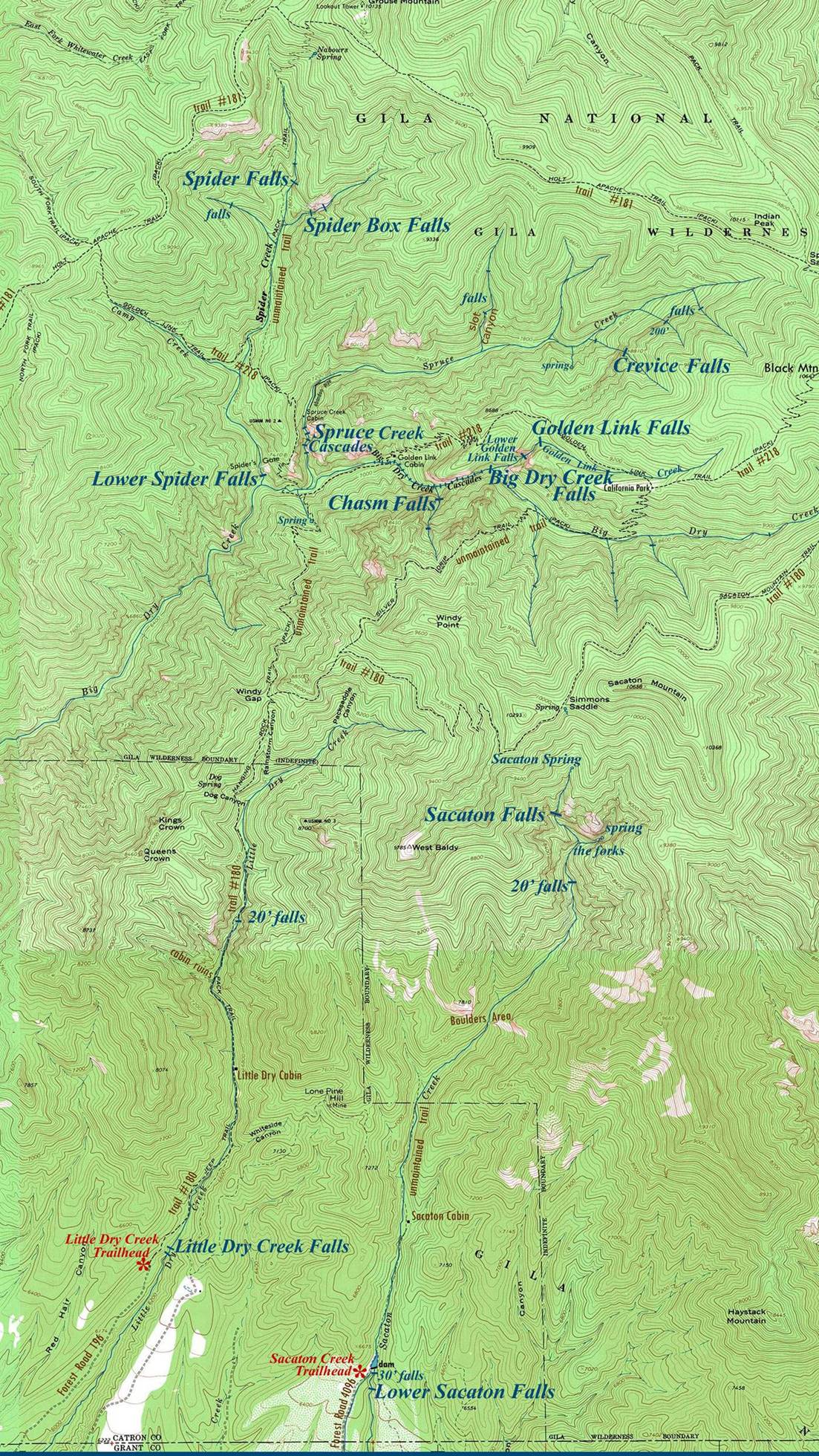 <![endif]>
_______ONE MILE_______
Send questions and comments to dscott@TheMarbleSculptor.com