Gavilan Falls
<![if !vml]>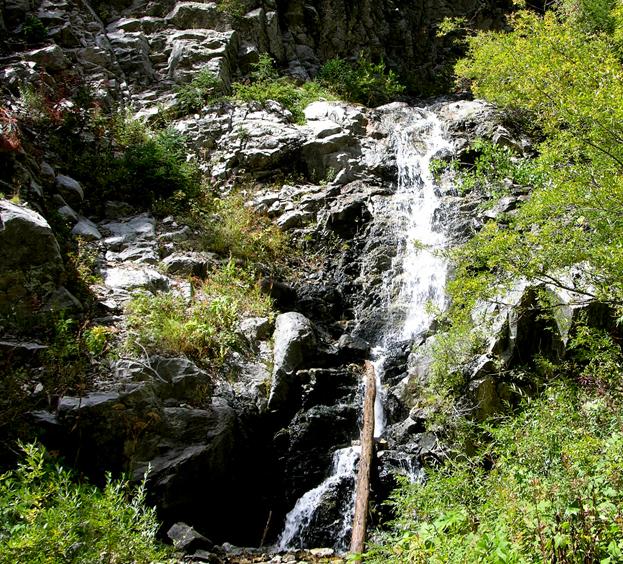 <![endif]>
This is the view of Gavilan Falls from the Gavilan Falls Trail that is discussed below. Gavilan Creek is near Taos Ski Valley.
It turns out that there are two more tiers above this that I cannot be see from here.
The photo below shows all four tiers of 50-foot high Gavilan Falls.
These photos were taken during low water in late September ...so late spring should be quite grand…!!!
<![if !vml]>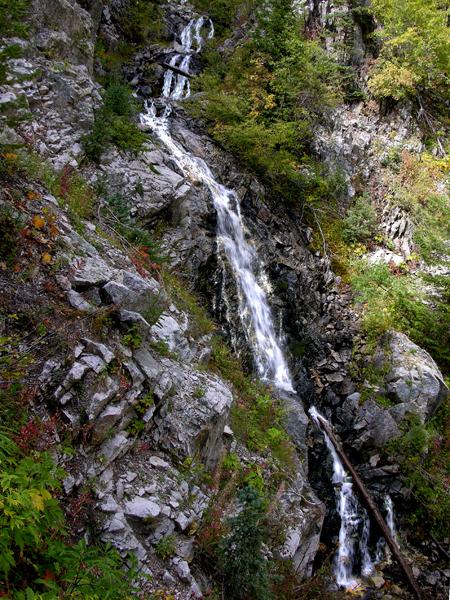 <![endif]>
<![if !supportEmptyParas]> <![endif]>
beta facts:
name- Gavilan Falls
height- 50 feet in 4 tiers
elevation- 9775'
GPS coordinates- ±36°36.200'N 105°29.316'W
flow- perennial spring fed
season- May to November
ownership- Carson National Forest
access- a one and a half mile hike up Gavilan Trail #60 then a one-quarter-mile side trail marked "Gavilan Falls ¼ mile"
nearest town- this falls is a mile and a quarter north of Taos Ski Valley
fun fact- ...a short hike ...to a fine waterfall...!!!
<![if !supportEmptyParas]> <![endif]>
essay bro
Gavilan Falls is a fairly easy waterfall to visit and a beautiful waterfall to see... please "right-click-save-as" and make yourself a copy of my map below... as this map shows more detail and has more correct information than other maps.
<![if !supportEmptyParas]> <![endif]>
About 1½-miles up Gavilan Trail #60 look for a trail forking off to the west. There will be a small wooden sign on a Douglas Fir tree about head high that will read "Gavilan Falls ¼ mile"... Here's a photo of it:
<![if !vml]>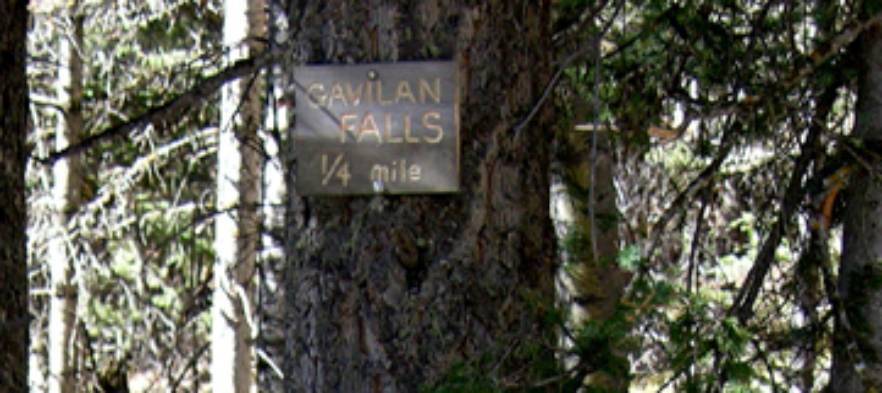 <![endif]>
<![if !supportEmptyParas]> <![endif]>
East Fork Gavilan
The trail ascending the near-by East Fork Gavilan Canyon is not shown on any map that I could find. I believe it is an old trail that the Forest Service has discontinued. However it is in quite good condition and is obviously maintained by somebody...???
<![if !supportEmptyParas]> <![endif]>
I enjoy a loop hike going up the West Fork and descending the East Fork... but on my way down the East Fork I prefer to hike down the creek instead of following the trail. There are an abundance of falls and cascades here. It is a nice water show even tho none of the individual falls are too spectacular alone.
<![if !supportEmptyParas]> <![endif]>
There are many small falls and cascades up East Fork of Gavilan Creek but only three are of worthy mention. These Three are about 15' high each. They are marked on the map below and two of them are shown in the photos below. These falls are not very sheer but they flow over solid clean bedrock.
<![if !supportEmptyParas]> <![endif]>
<![if !vml]>
<![endif]>
15' high Upper East Fork Gavilan Falls
<![if !supportEmptyParas]> <![endif]>
<![if !vml]>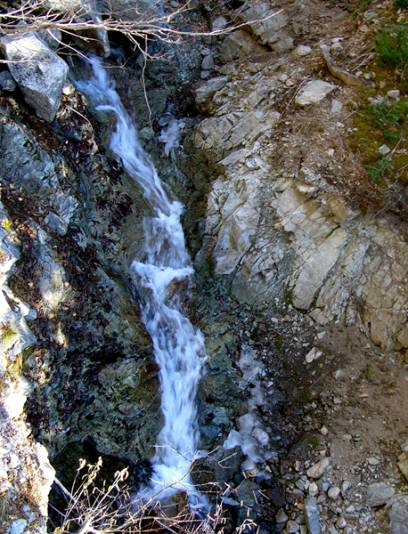 <![endif]>
15' high Lower East Fork Gavilan Falls
<![if !supportEmptyParas]> <![endif]>
<![if !supportEmptyParas]> <![endif]>
See also nearby: Heli-pad Falls, Williams Falls, Italianos Falls, Blake Fork Falls and more
<![if !supportEmptyParas]> <![endif]>
Enhanced National Geographic 7.5' topo map
<![if !vml]>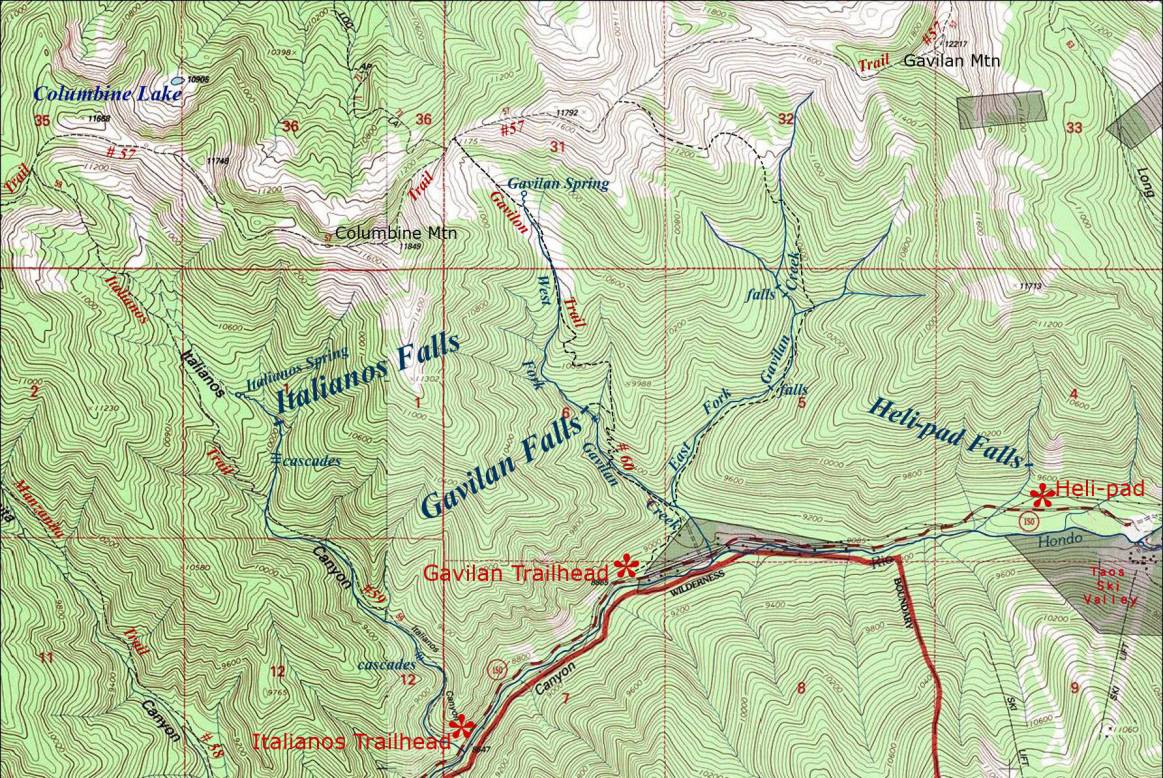 <![endif]>
________ONE MILE_________
<![if !supportEmptyParas]> <![endif]>
<![if !supportEmptyParas]> <![endif]>
Send questions and comments to dscott@TheMarbleSculptor.com