Diamond Falls
We have included this waterfall on this website only because it is marked as a waterfall on Forest Service maps.
Please know that Diamond Falls is dry or only dripping most of the time.
Photos by Leonard Rice
<![if !vml]>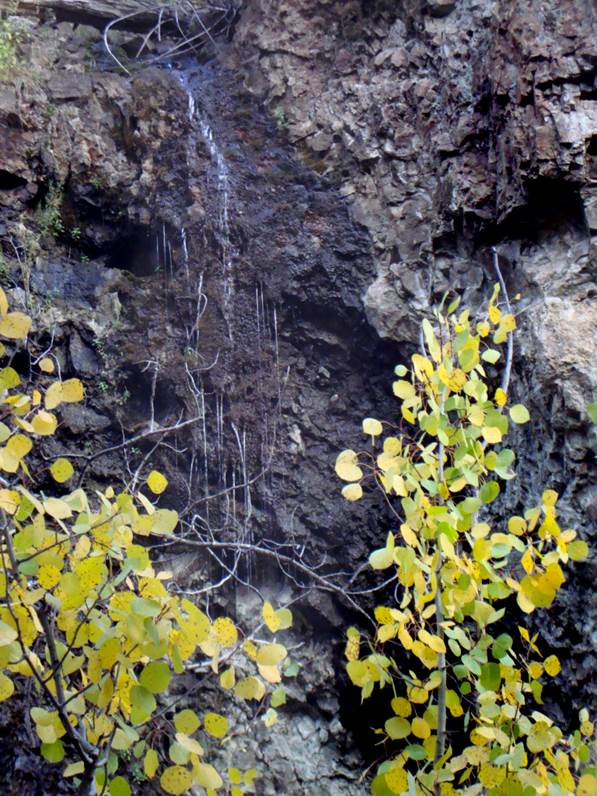 <![endif]>
50' high Diamond Falls in Oct 2010… a rather dry time of a dry year…
<![if !vml]>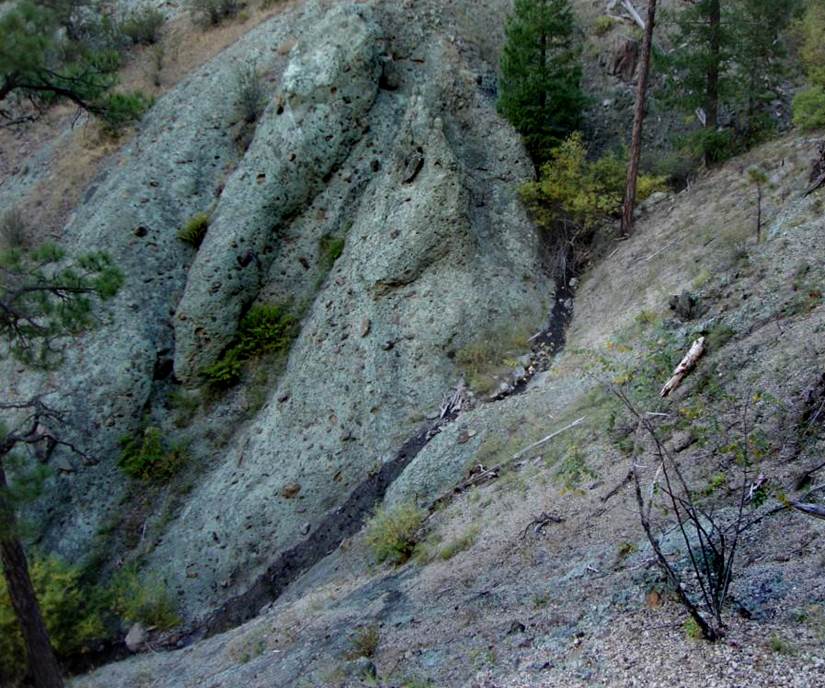 <![endif]>
This "waterslide" is between Diamond Falls and Diamond Creek… once again, a low water photo…
beta facts:
name-Diamond Falls
height- 35'
elevation- 8000'
GPS coordinates- ±33°17.870'N 107°51.100'W
flow- usgs topos show it perennial but it is known to go dry during dry years
season- most likely times of high water are March/April snow-melt and late July, August and into Sept rainy season 
accommodations- none
ownership- Gila National Forest
access- a half-mile hike on forest trail #42 from forest road #500
nearest town- Winston is 13 air-miles east of here.  Beaverhead is 20 air-miles NW of here
fun fact- Diamond Creek is home to the endangered specie "Gila Trout"
essay bro:
Mid-way between the towns of Winston and Dusty on State Highway 52, in southwestern New Mexico, State Highway 59 heads west thru Poverty Creek to Beaverhad.  About 15 miles west of that intersection, forest road #226 heads south or left from 59 at Burns Canyon Flat.  In 8 miles, at a drainage called Seventyfour Draw take Forest road #500 to the left. This road will climb over a hill and drop into a drainage called Turkey Run.  The trailhead parking for trail #42 is 8½ miles from the intersection of #226 and #500.  This waterfall is actually on an unnamed tributary of Diamond Creek.  Along the trail below the falls is a nice "waterslide" (see above photo)  and a short way farther… the beautiful main stream of Diamond Creek.  My kind of place.  
Enhanced USGS 7.5' topo map
<![if !vml]><![endif]>
_______________one mile_______________
Send questions and comments to dscott@TheMarbleSculptor.com