Crevice Falls
<![if !vml]>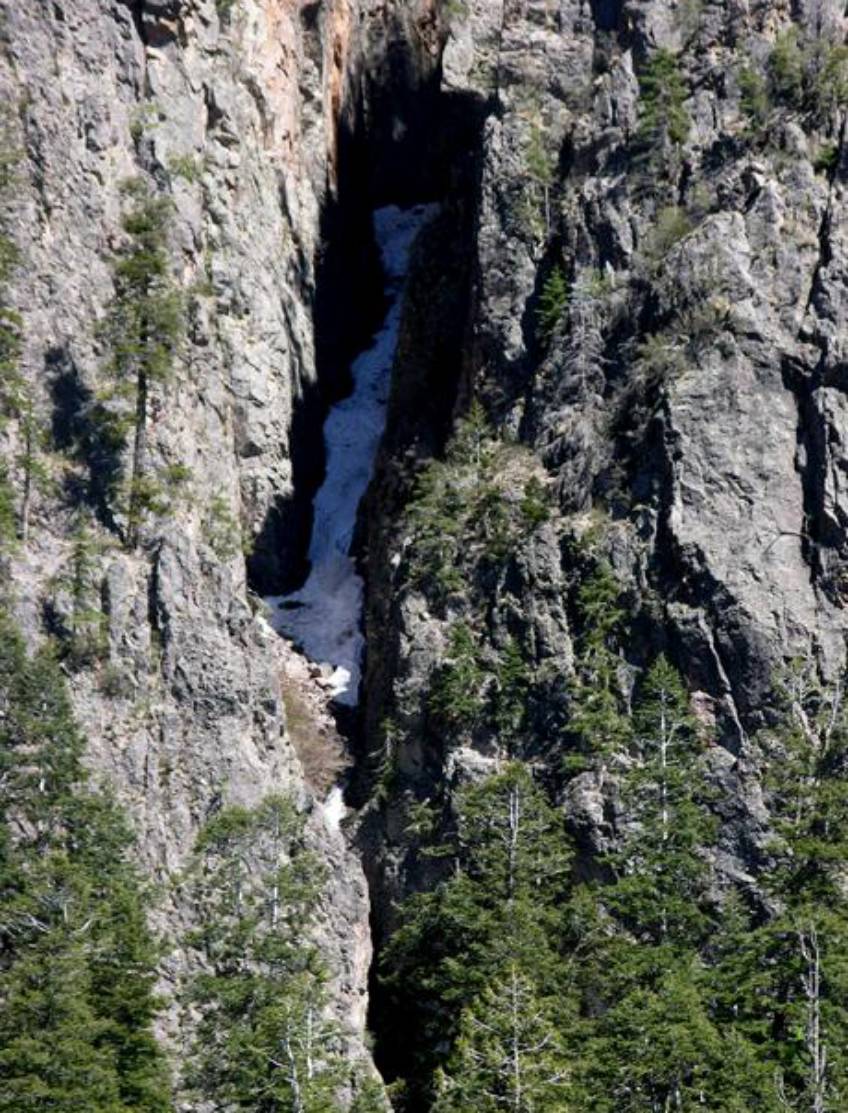 <![endif]>
Crevice Falls still had massive ice-build-up when we were there in mid-May.  I would love to see it without the ice...!!!
A little bit of whitewater shows in the middle of this photo just below a brown leafless bush.  This is the top of the lower tier dropping down into the dark crevice below.  Crevice Falls has unseen portions both above and below what shows in this photo.  This entire tiered waterfall is 400 feet high.
<![if !vml]>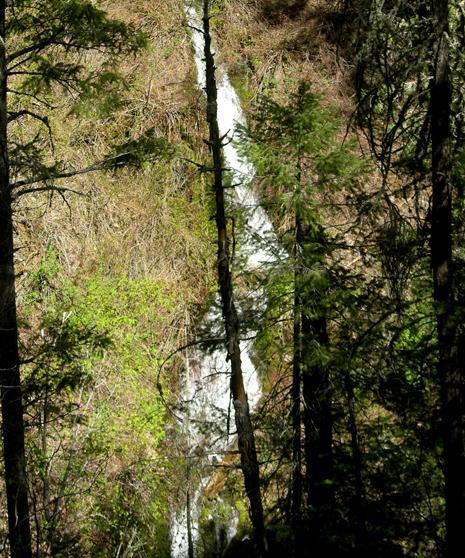 <![endif]>
This is a cascade that is about 50' high.  It is "Crevice Falls Creek" below Crevice Falls.  This shows that
Crevice Falls Creek does have good flow all the way down to it's Spruce Creek confluence.
beta facts:
name- Crevice Falls
height- 400' ...with several ledges and tiers
elevation- 8600'
GPS coordinates- ±33°17.984'N 108°41.425'W
flow- perennial spring fed
best season- the frozen ice-pack probably doesn't melt until Memorial Day or later...!!!
accommodations- Gila Wilderness
ownership- Gila National Forest
access-  11 miles on trail with an abundance of serious difficult bushwhacking
nearest town- Glenwood is about 11 miles west of here
fun fact- Gila high country's BEST…!!!!! …but very hard to get to…!!!!!
essay bro
Crevice Falls is amazing... but a killer to visit...  Long hard miles of grueling climbing and brush whacking... wheeeew... but I plan to return.  This upper Big Dry Creek, Mogollon high country is New Mexico's most wild and remote... ah... and... can I say most beautiful...!!!  400' high Crevice Falls are great significance and splendid eye candy.  It is best to view Crevice Falls from the opposite side canyon outcroppings.
Spruce Creek Cascades cut thru the Spruce Creek Box Canyon.  We found no waterfalls on Spruce Creek more than about 15 to 20 high.  However they are extra beautiful within the "Box" because the canyon walls are sculpted and sheer for hundreds of feet overhead.  This is a delightful place.  See: Spruce Creek Cascades.
We did not have time to explore the "slot canyon" farther up stream, but it likely holds beautiful waterfalls of it own.  In fact each tributary is a likely waterfall candidate because this whole area is waterfall prone.   Especially the two upper creeks that parallel Crevice Falls Creek flowing off the north slopes of 10,643' Black Mountain.  We expect the middle of these creeks to have a waterfall 200 feet or higher...!!! 
Hanging Rock Trail and Silver Drip Trail are the two most direct routes into the upper Big Dry Creek drainage.  Both have been abandon by the National Forest Service.  We will soon loose these "two most spectacular trails of the Gila Wilderness".  They are both marked on the map below as "unmaintained trail".  If we outdoor-people use these trails and care for them each time we hike them... they will be preserved... otherwise they will be lost.
Crevice Falls is found in the upper right-hand side of the map below.
For a new updated and much enlarged map of this area click here
Enhanced USGS 7.5' topo map
<![if !vml]>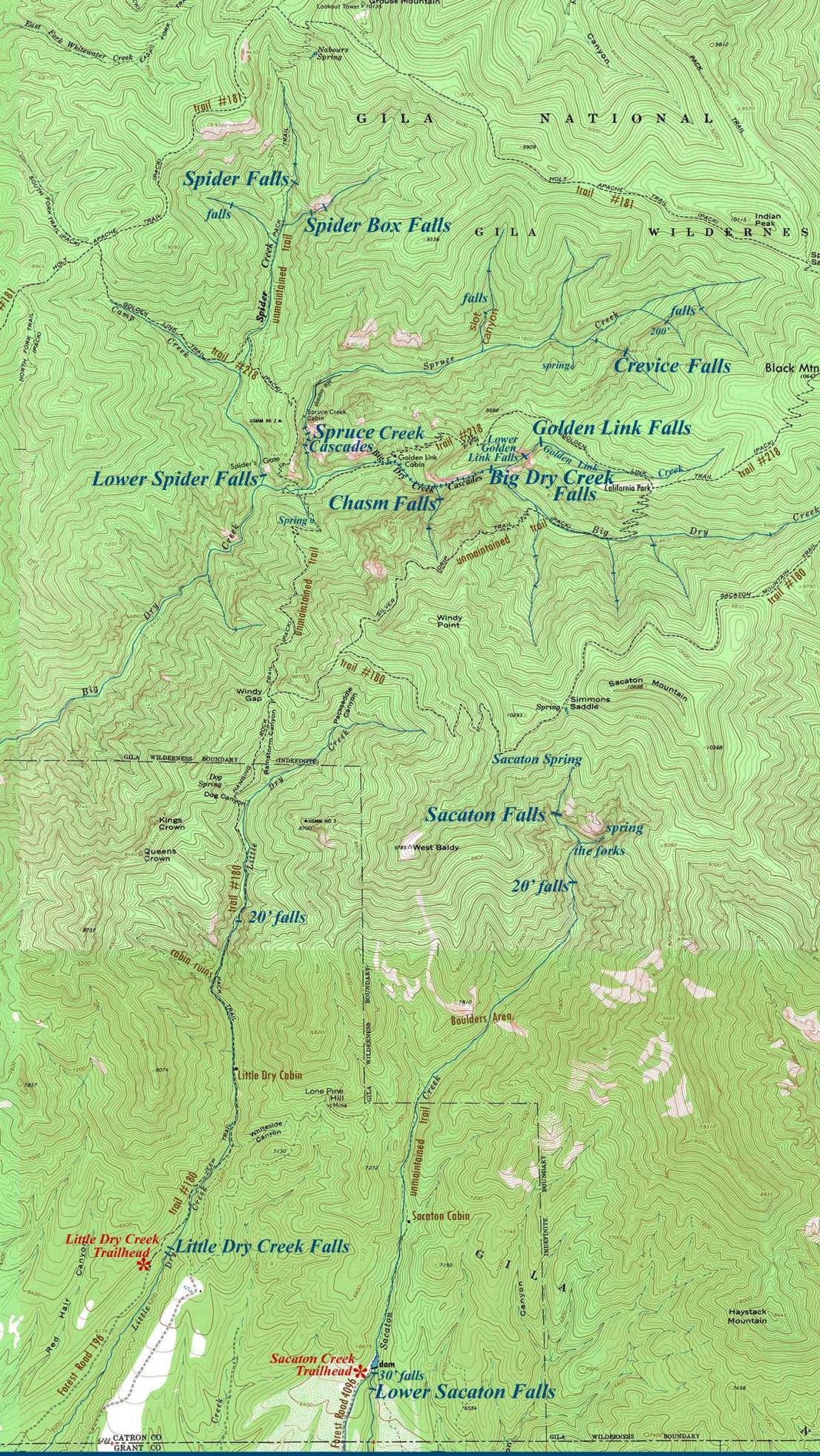 <![endif]>
________ONE MILE_______
This area has as fine a waterfall collection as New Mexico owns...!!!
Send questions and comments to dscott@TheMarbleSculptor.com