Columbine Falls
There are many waterfalls up on the upper stretches of Columbine Creek.  This 120' high cascade is a sweet hidden Gem.
<![if !vml]>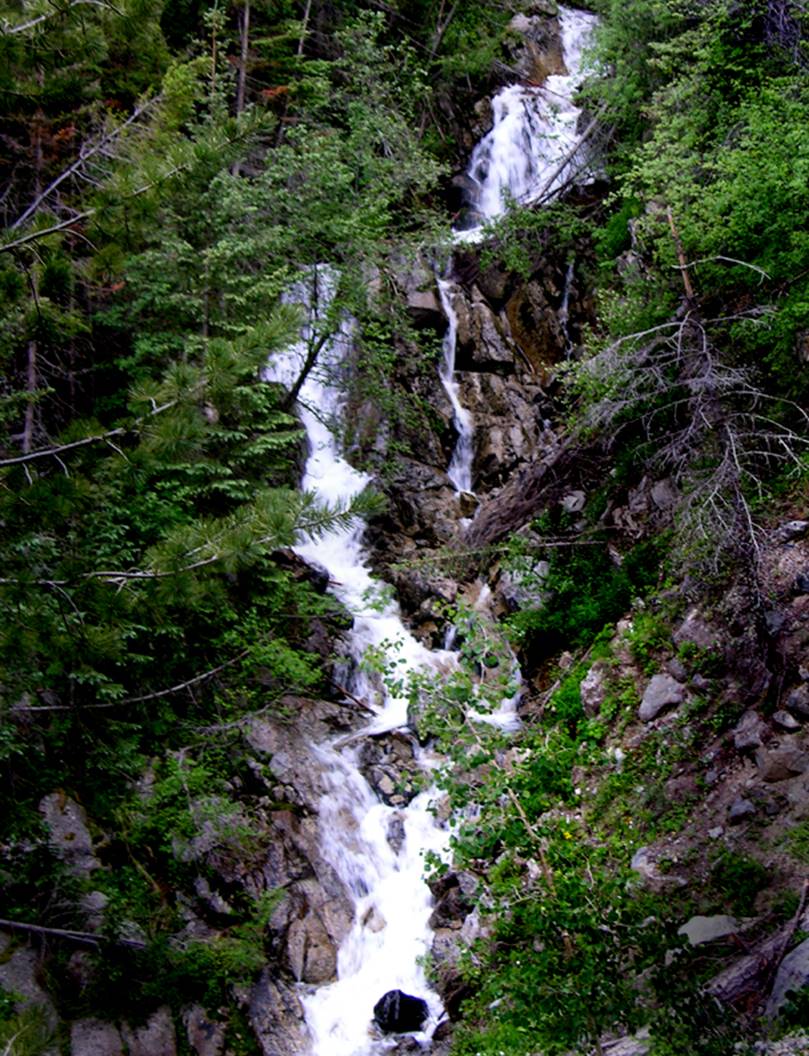 <![endif]>
My favorite way to find "new" waterfalls is by walking downstream.  That way I discover them from the upstream side.  It is very impressive to first see them from the top…!!!  They look way higher from above than they do from below.
...so I first went to Cow Lake and approached everyone of these many waterfalls on Columbine Creek from above.  Nice.
The photos below appear in the same order that I discovered them... and as they are on the map below.
a three tiered 30 foot cataract…
<![if !vml]>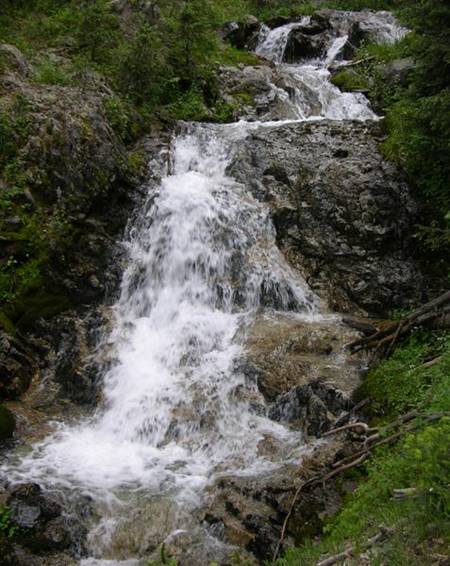 <![endif]>
then a 50' high waterfall with two tiers... I call…
Upper Columbine Cascades
two 25' live trees and a dead one are hanging over the falls...  so here's another shot of just the 30' high lower tier.
<![if !vml]>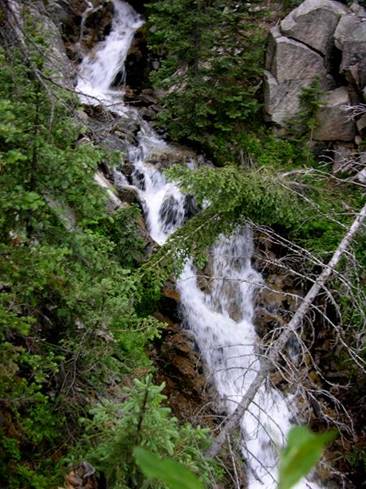 <![endif]>   <![if !vml]>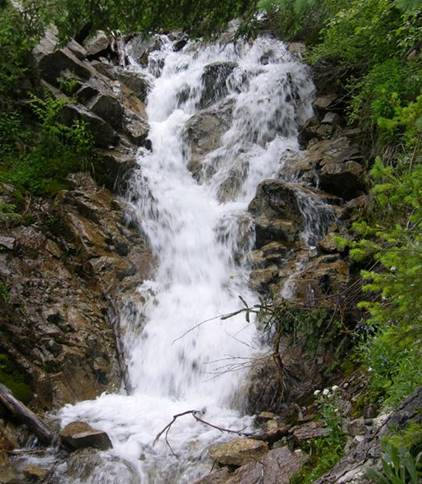 <![endif]>
next is this bouncy 30 footer…
<![if !vml]>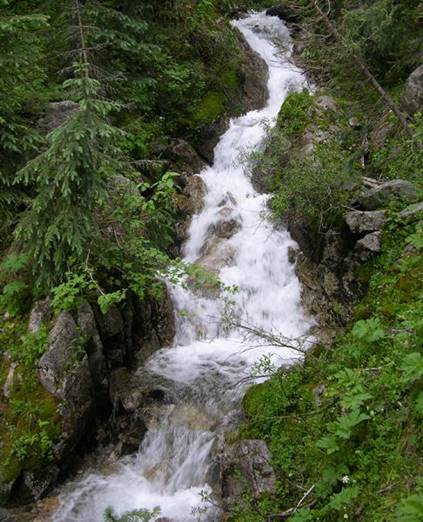 <![endif]>
and a'nuther…
<![if !vml]>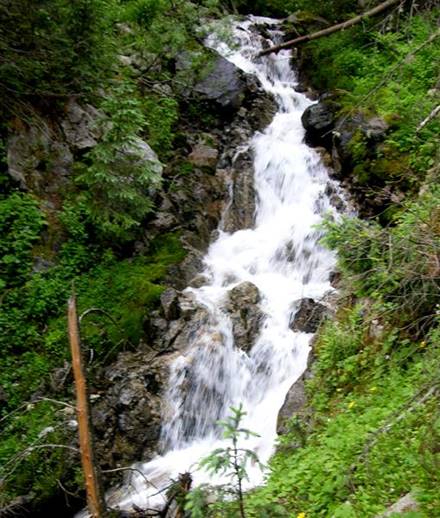 <![endif]>
then… the big one…
120' high- feast your eyes on the splendid multi-tiered Columbine Cascade…!!!
<![if !vml]>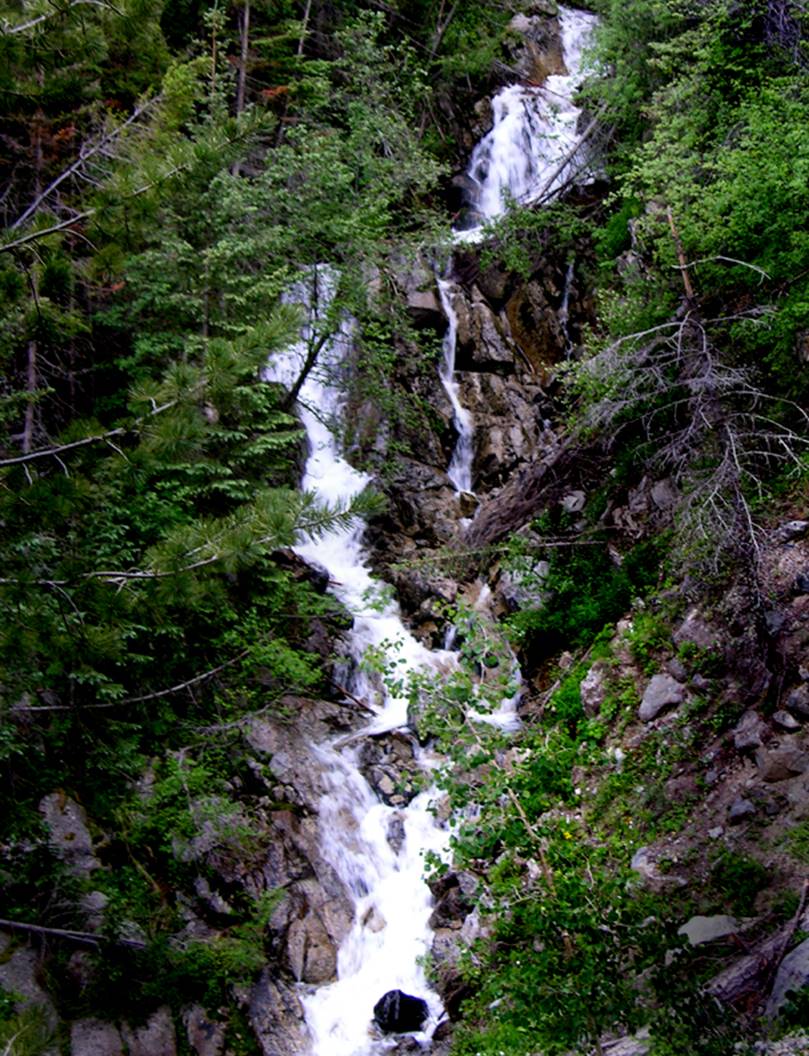 <![endif]>
…and a high water shot taken by Nate Bartnick in June of 2019
<![if !vml]>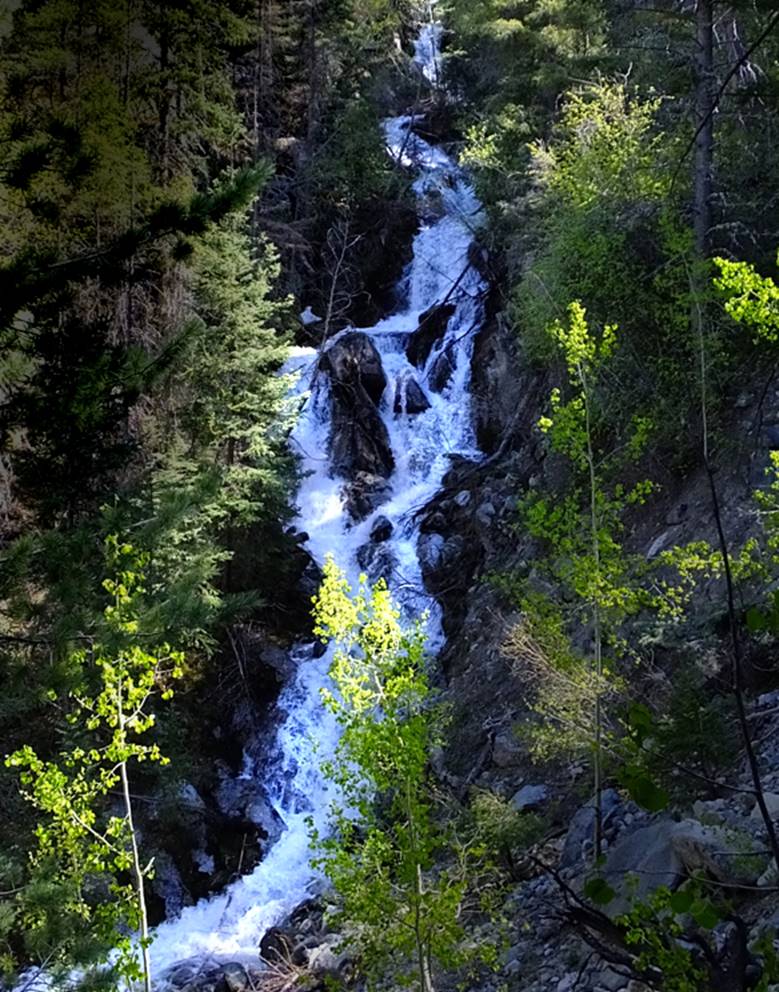 <![endif]>
-as well as this Nate Bartnick close-up shot of very top of Columbine Cascades showing the confluence of 2 cascading streams
<![if !vml]>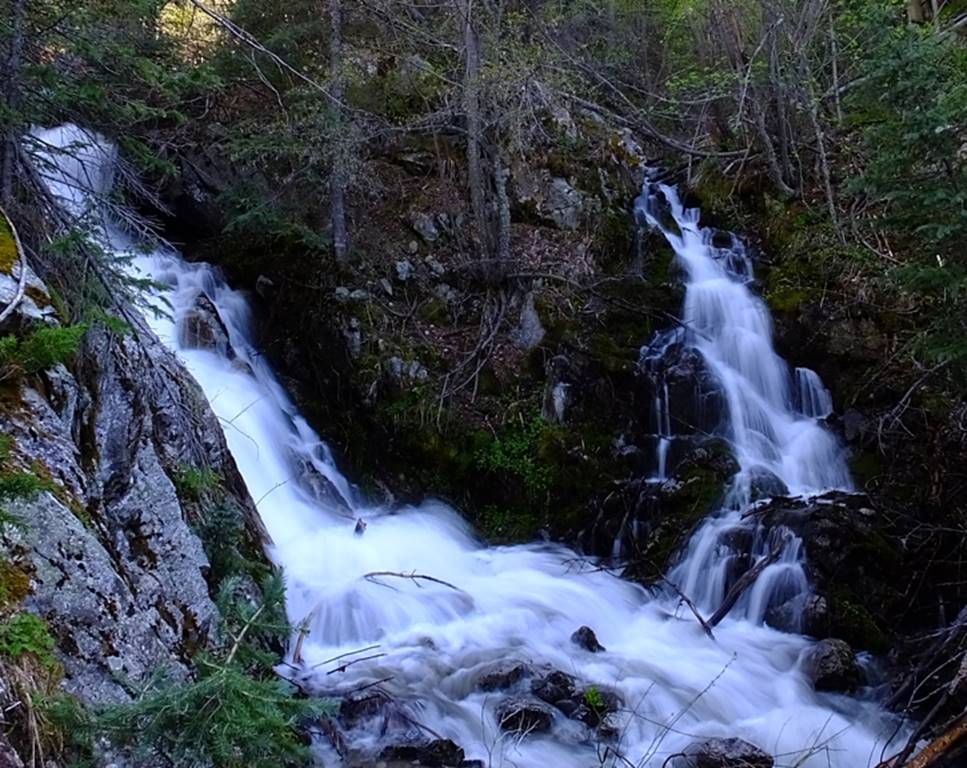 <![endif]>
This little 20' falls is within a steep, sheer-walled Box Canyon on what we call 11257 Creek… because a peak with a listed elevation of 11,257' is at the top of this drainage.  see the map below
­<![if !vml]>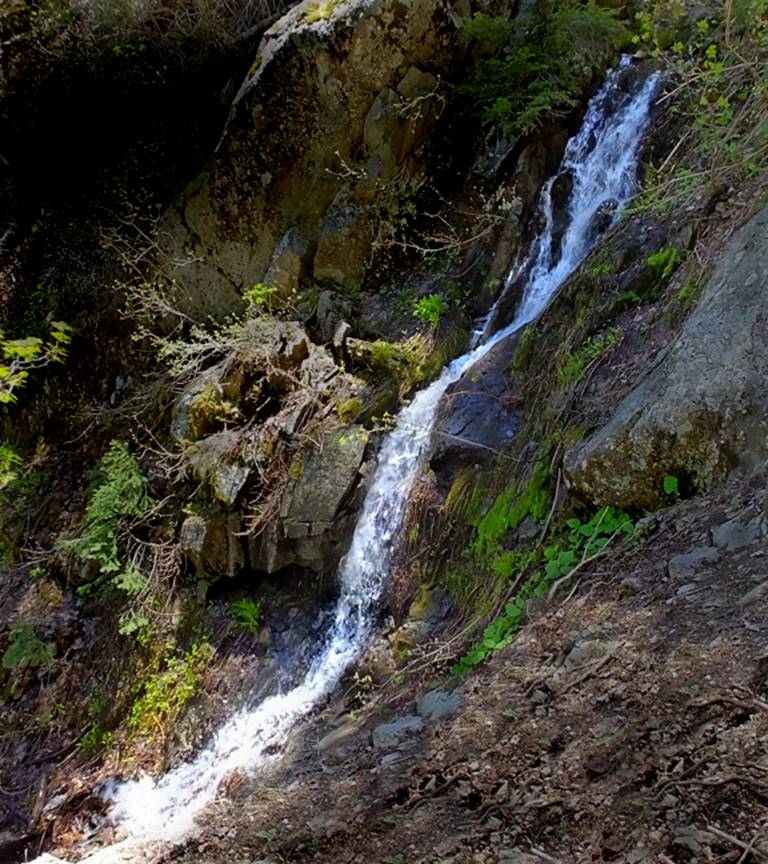 <![endif]>
11257 Creek cascades thru this beautiful gorge below- Nate Bartnick photo
<![if !vml]>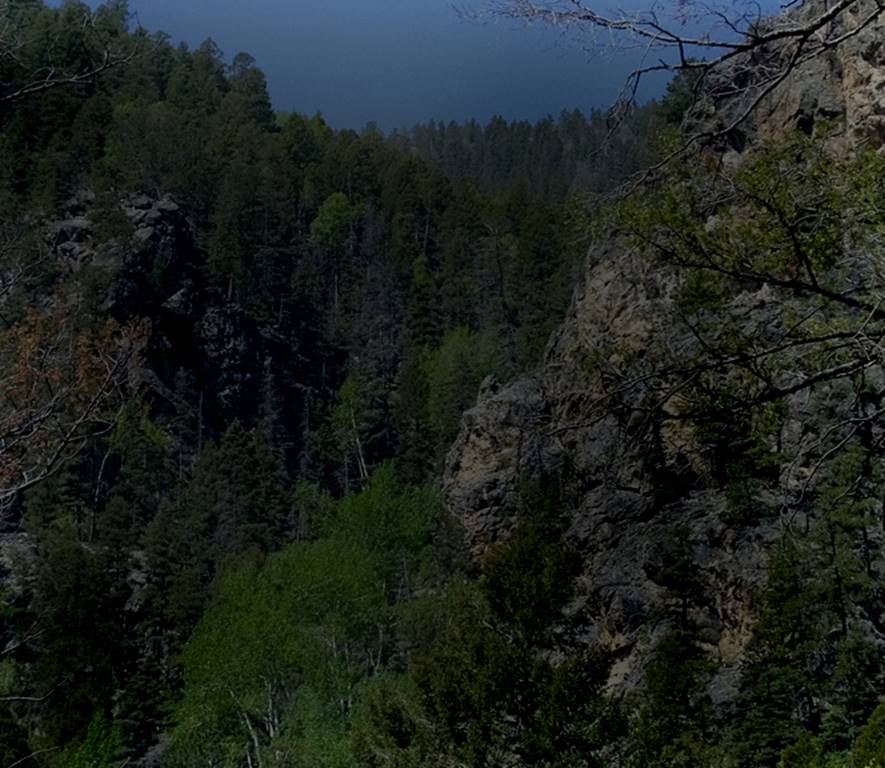 <![endif]>
beta facts:
name- Columbine Cascades or Columbine Falls
height- 120' high multi-tiered hanging falls
elevation- 9300'
GPS coordinates- ±36°38.398'N 105°31.400'W
flow- perennial
season- late spring is best but summer and fall are fine
accommodations- none
ownership- Carson National Forest
access- 3¼-mile hike with the last half mile being a steep dangerous bushwhack-a-rooster…!!!
nearest town- Questa is 7½ miles northwest and Red River is 8½ miles to the northeast
fun fact- hard to get to and wonderful…!!!
essay bro:
The entire Columbine Creek watershed is splendid and beautiful… one of my favorites.  More time there will uncover more waterfalls there.  Go feel it and love it like I do.  The Columbine Cascades are awesome.  Feel free to print your own copy of my map below.
Columbine Cascades is a fine New Mexico Treasure.
To see larger maps of this area click on the links below
http://www.dougscottart.com/hobbies/waterfalls/TaosMtnsNWquad.htm
http://www.dougscottart.com/hobbies/waterfalls/TaosMtnsMap.htm  
See also: Columbine Lake Photos Below this map as well as Courney Falls and Little Columbine Falls 
Enhanced USGS 7.5' topo map
<![if !vml]><![endif]>
_________--______one mile_________________                  
Columbine Lake
See the map above
Columbine Lake is an old lake that has filled in considerably.  However it is in a beautiful setting a thousand feet below Columbine Mountain.  I am not a Wildlife Biologist… but could beavers be planted here?  It is fed with a strong flowing perennial spring and their favorite trees (aspens) are all around… could beavers resurrect Columbine Lake's original beauty? …or is 10,900' elevation too high for them...???  
Beavers live at 10,500' in Lagunitas Lakes… farther north than here…
Also… Look at the extreme right-hand edge of my map up above… those abandon beaver dams are amazingly huge… the biggest I have ever seen.  Beavers could again thrive where they once thrived.  The old dams are up to eight feet high.
<![if !vml]>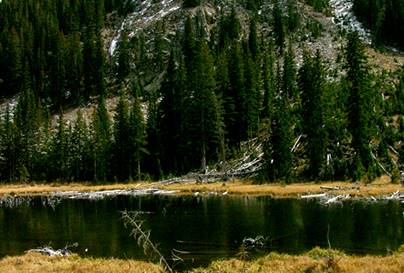 <![endif]>                 <![if !vml]>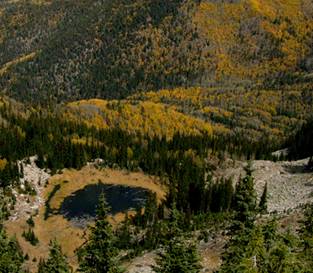 <![endif]>
Columbine Lake is at the headwaters of the Lake Fork of Columbine Creek.  It is within the Columbine-Hondo Wilderness Study Area.
Send questions and comments to art@DougScottArt.com