Chama Falls, Colorado
<![if !vml]>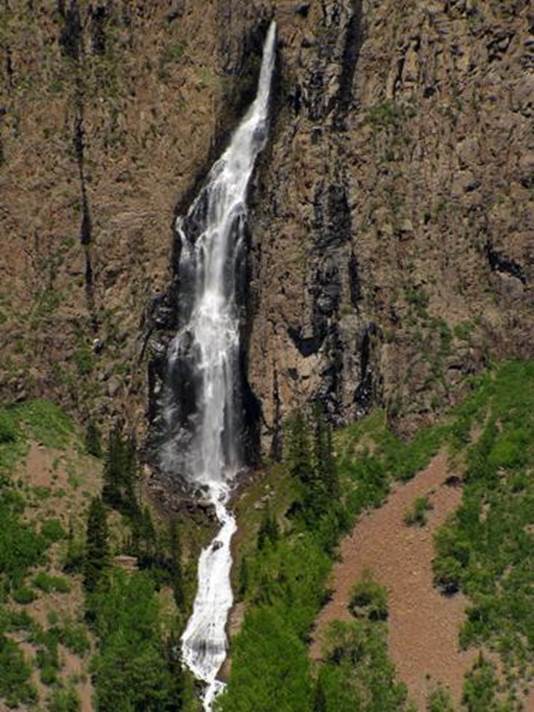 <![endif]>
Chama Falls 505' …AKA Ribbon Falls.  It is on the Middle Fork Chama River.
<![if !vml]>
<![endif]>
Lake Fork Chama Falls 310' on the Lake Fork Chama River below Chama Lake.  The ice is 90' high on July 15, facing south
<![if !vml]>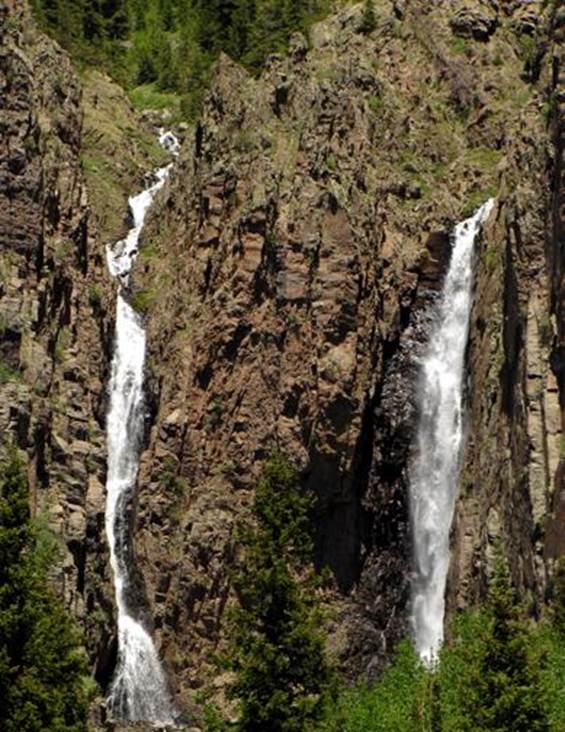 <![endif]>
East Fork Chama Falls AKA Twin Falls 300' high.  Twin Creek is on the left and East Fork Chama River is on the right.  These twins are a short distance below Dipping Lakes and they are within sight of Chama Falls
<![if !vml]>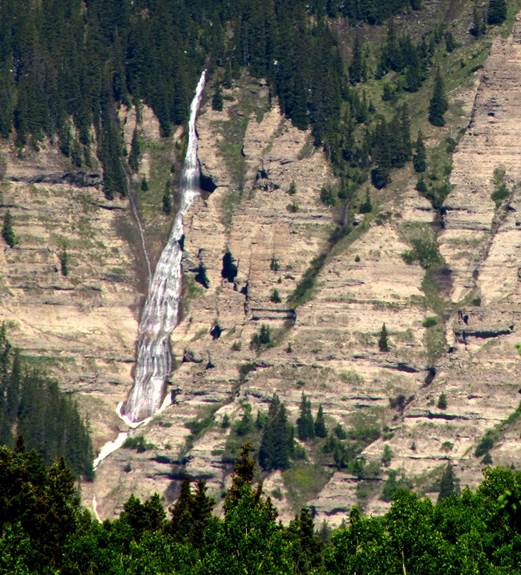 <![endif]>.
700' high West Fork Chama Falls is within sight of Lake Fork Chama Falls.
<![if !vml]>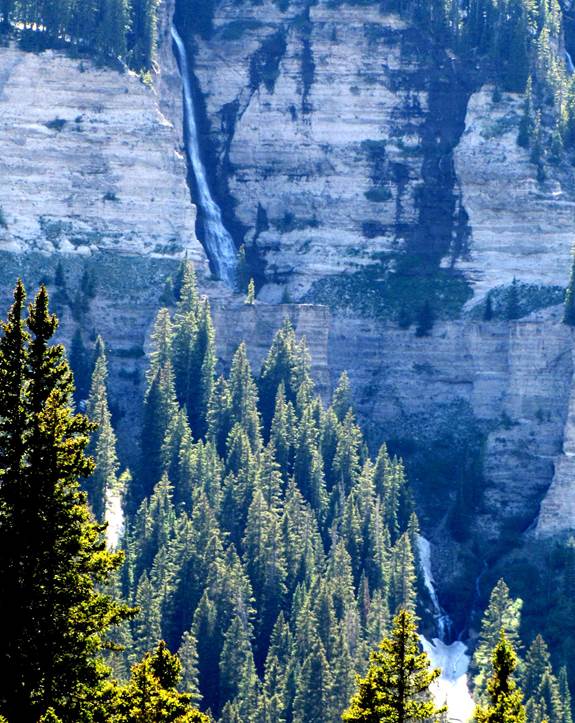 <![endif]>
700' high Banded Falls below Banded Peak and Banded Lake.
<![if !vml]>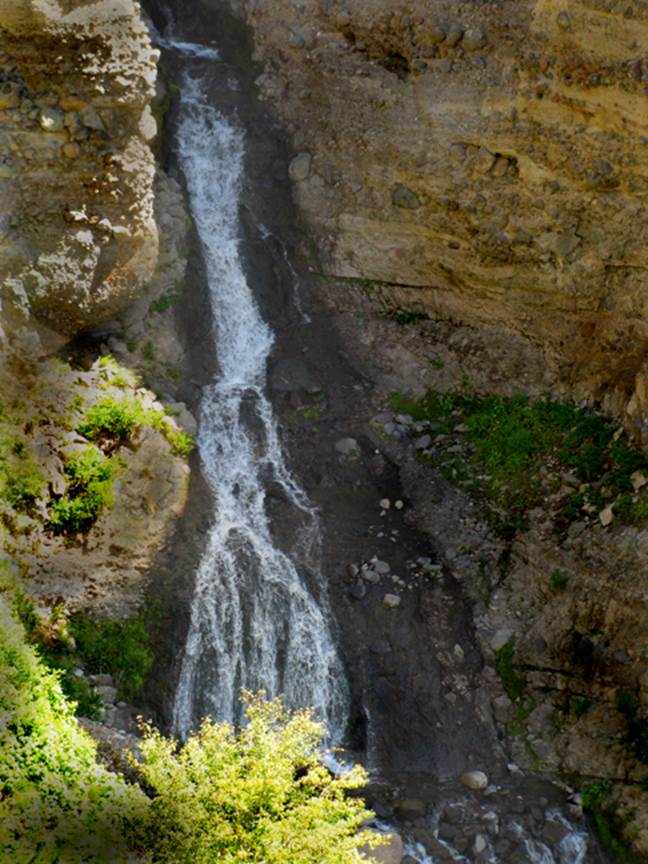 <![endif]>
50' high Cabin Creek Falls –see the right-hand side of the map below
<![if !vml]>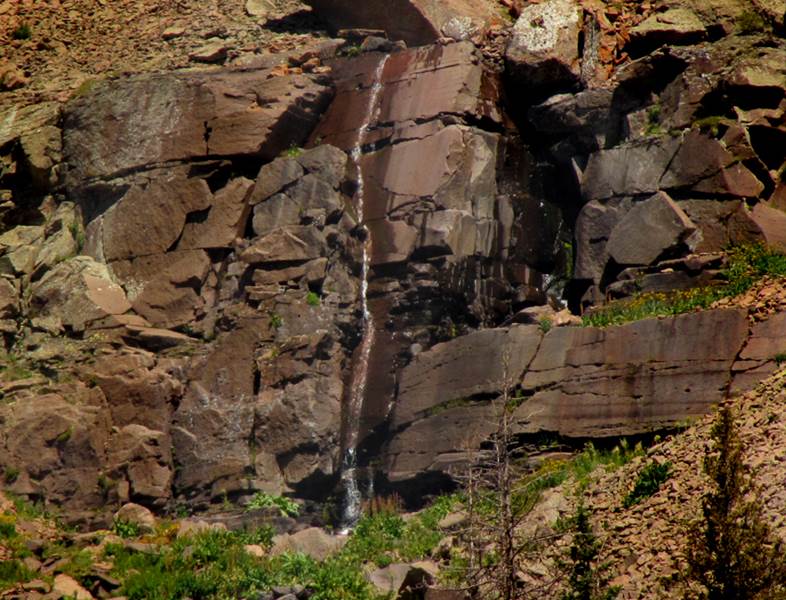 <![endif]>
100' high Upper Cabin Cr Falls shown here during a very low-water and dry september
New Mexico's own beautiful Chama River has its source in the high-country of extreme southern Colorado.  This basin holds many of the highest waterfalls in all of Colorado and its rugged grandeur equals or surpasses all other areas of that state… the Chama watershed displays the "Rocky Mountains" majesty every bit as fine as Rocky Mountain National Park.  The canyon that the Chama River carves in Colorado is three quarters of a mile deep, almost as deep as the Grand Canyon… and all of this is hard to the New Mexico border.
Chama Falls is 505' high.  This is much higher than the claimed "highest falls in Colorado" 385' high Bridal Vail Falls near Telluride.  700 feet is an unofficial height for Banded and West Fork Falls, but it is a very conservative estimate.  However they are not alone in that basin.  Waterfalls abound here very similar to Glacier National Park.
Access is difficult.  Trails, which are few, often end at an unfordable stream crossing.  Just north of Chama, NM two obscure Trailheads can be found via gravel roads heading west off of State Hwy 17.   These trails and their destinations are unmarked and void of signage.  It is easy to see why the upper Chama Basin is among the least visited places in Colorado.  I sincerely hope that the topo below will be a help to you.
About 5 miles north of Chama, NM on State Hwy 17, turn left on Rio Grande National Forest road to Chama River Campground.  This road will appear to be private as it passes thru a private ranch.  There will be NO TRESPASSING SIGNS posted on both sides of the road.  These signs mean: DO NOT DRIVE OFF THIS ROAD.  The road is a public road.  It is totally legal.  It is a beautiful road.  It is about 6 miles from Hwy 17 in to Chama River Campground.  Enjoy the exciting views of Chama Falls seen from this road…!!!
The trails have serious wet/wading crossings that are very dangerous during May and June... when the falls are the most beautiful..... This is NOT a difficult hike, but there are some problems...
<![if !vml]>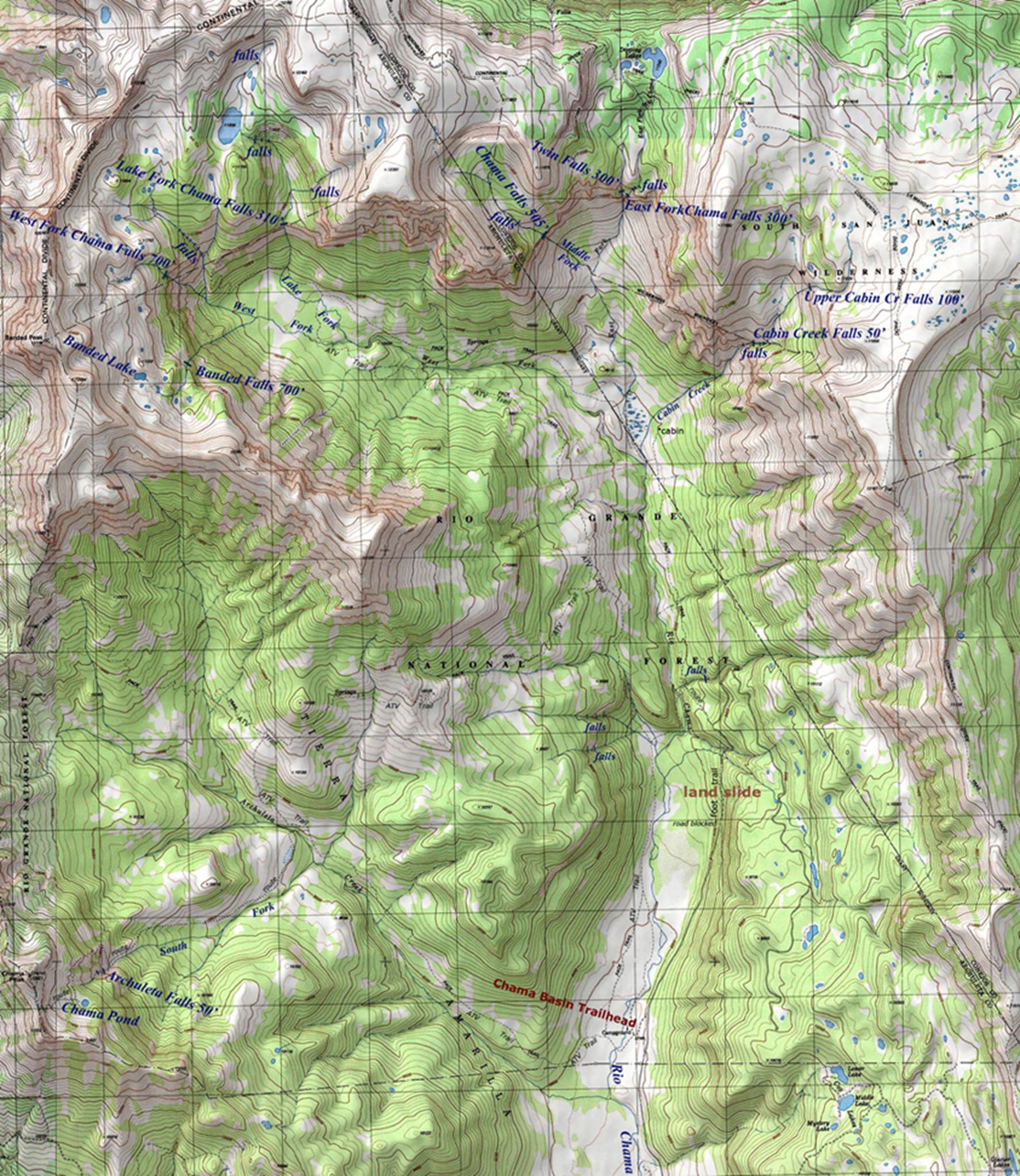 <![endif]>
Send questions and comments to doug.vivian@yahoo.com