Caballero Falls (spanish – Cowboy)
<![if !vml]>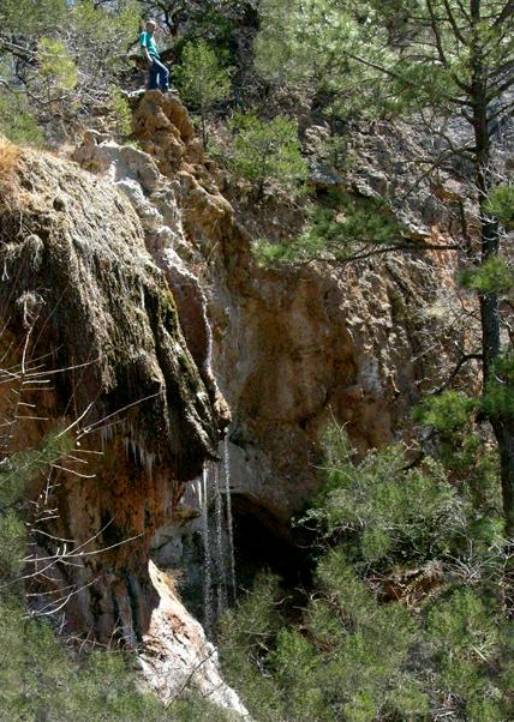 <![endif]>
The real waterfall cowboy poses with the top half of Caballero Falls
<![if !supportEmptyParas]> <![endif]>
beta facts:
name- Caballero Falls
height- 50'
elevation-7000'
GPS coordinates- ±32°52.563N 105°50.352'W
flow- perennial spring
season- anytime
accommodations- none
ownership- Lincoln National Forest
access- ¼ mile hike (west) down Caballero Canyon from forest road #90
nearest town- High Rolls is 8 miles north of here via West Side Road aka forest road #90
fun fact- there is a real nice old couch near the brink of the falls… sit back and enjoy the refreshing waterfall sound
<![if !supportEmptyParas]> <![endif]>
<![if !supportEmptyParas]> <![endif]>
essay bro:
<![if !supportEmptyParas]> <![endif]>
Following the directions in the beta facts above you should park your wheels at Caballero Canyon. You will know that you are at the right place because big round metal lids are scattered all over the face of the earth here. These metal caps are harvesting the spring water and running it into a pipeline connected directly to all the water faucets in the city of Alamogordo. Just imagine how much water used to flow over this waterfall before the city of Alamogordo stole all it's water….!!!!!
Oh well… don't feel too bad about it… just drive right down to Alamogordo and take in a nice big drink of water.
<![if !supportEmptyParas]> <![endif]>
Enhanced National Geographic 7.5' topo map
<![if !vml]><![endif]>
<![if !supportEmptyParas]> <![endif]>
<![if !supportEmptyParas]> <![endif]>
<![if !supportEmptyParas]> <![endif]>
Send questions and comments to dscott@TheMarbleSculptor.com