Bull-of-the-Woods Cascades
          <![if !vml]>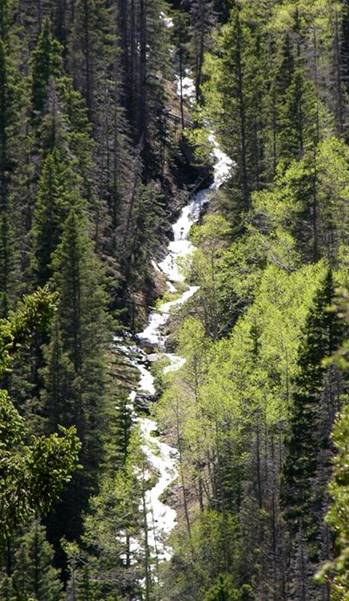 <![endif]>
250' high Bull-of-the-Woods Cascades
This is very difficult to photograph.  You need a sky-hook to hang out in mid-air to see it.
This shot was taken from about a mile away along the old abandon Elizabethtown Ditch...
Which is really the best place I know of to photograph it or even to just see it, because Bull-of-the Woods Canyon is so steep that mountain goats are the only things that can climb it and there is no trail...!!!
beta facts:
name- Bull-of-the-Woods Cascade
height- Approx. 250'
elevation- 10200'
GPS coordinates- ±36°36.294'N 105°24.938'W
flow- perennial
best season- late May and early June
accommodations- Wheeler Peak Wilderness
ownership- Carson National Forest
access- see the story below "essay bro"
nearest town- Red River is about 7 miles North of here
fun fact- people who never leave the trail, never see this waterfall
essay bro
This is a very high and beautiful cascading set of waterfalls.  The best way to experience these falls is to watch for the old abandon Elizabethtown Ditch shown on the map below.  It no longer looks much like a ditch... well here it kind-of-does...  you will find it just above the third set of switchbacks in the Middle Fork Lake Trail.  Just walk on this old abandon ditch grade northeast of the trail for a hundred yards or so... until you see the Bull-of-the-Woods Cascades all white and foamy, across the Middle Fork Canyon behind you.  It looks especially good in late May and Early June.  In fact the rest of the year it doesn't look like much. 
Right-click-save-as to make yourself a copy of our map below
To see a larger, updated and more detailed map of this entire Wheeler Peak Area, click here: http://www.dougscottart.com/hobbies/waterfalls/TaosMtnsSEquad.htm
and here: http://www.dougscottart.com/hobbies/waterfalls/TaosMtnsMap.htm
Enhanced USGS 7.5' topo map
<![if !vml]>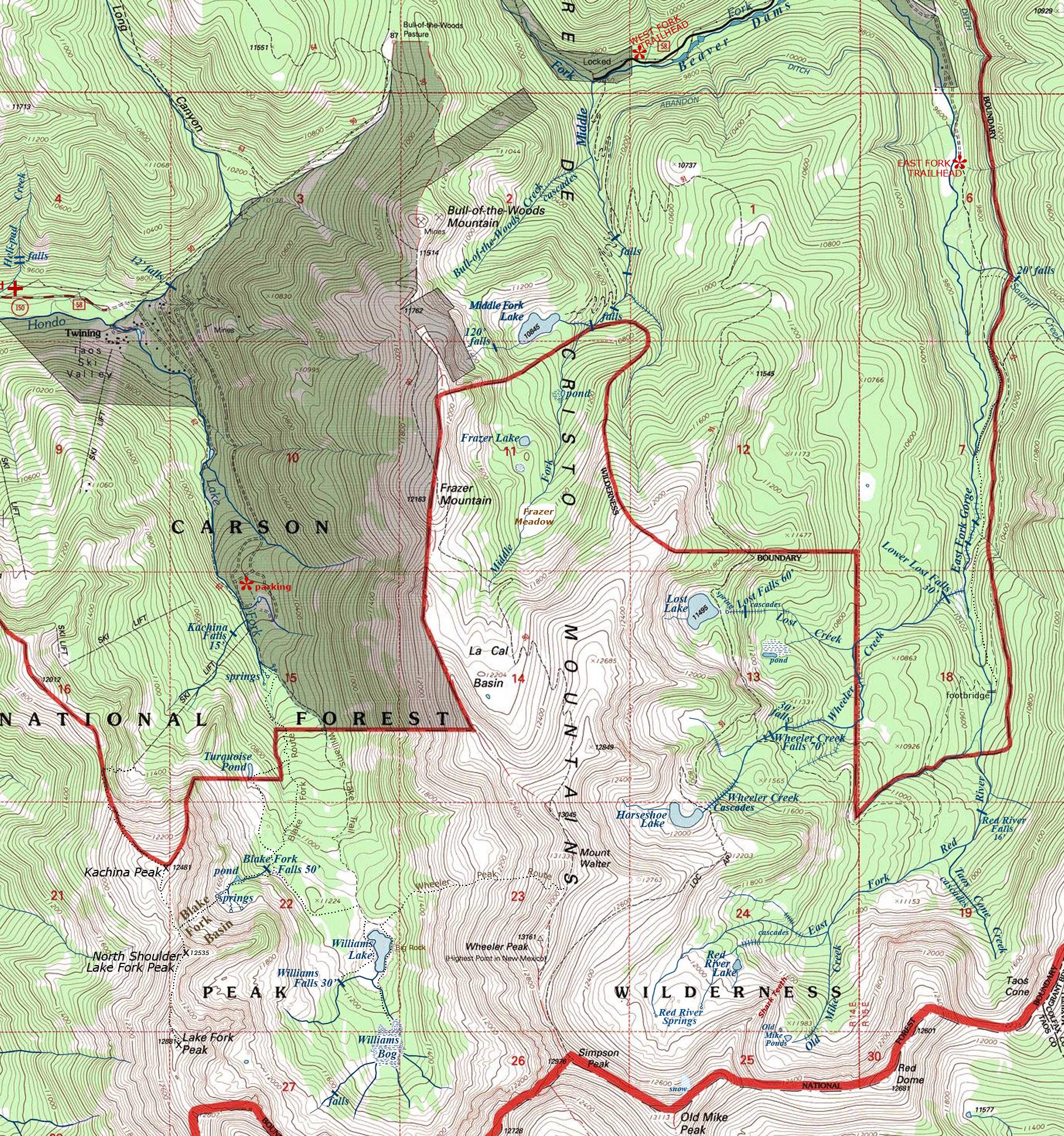 <![endif]>
_____________ONE-MILE_____________
Send questions and comments to dscott@TheMarbleSculptor.com