Brazos Falls
<![if !vml]>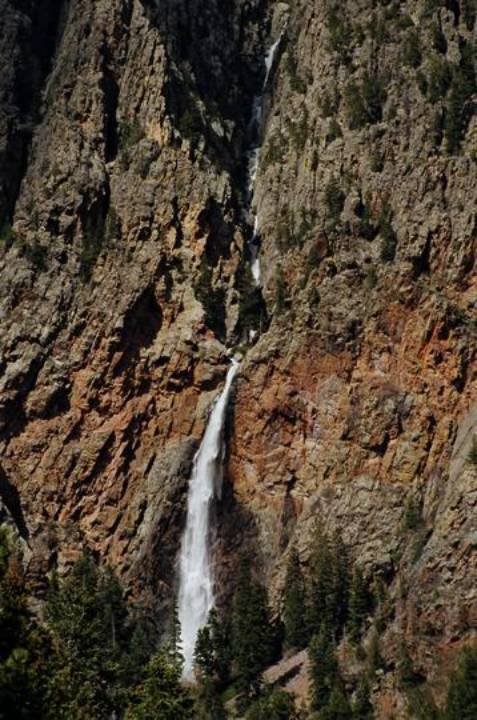 <![endif]> <![if !vml]>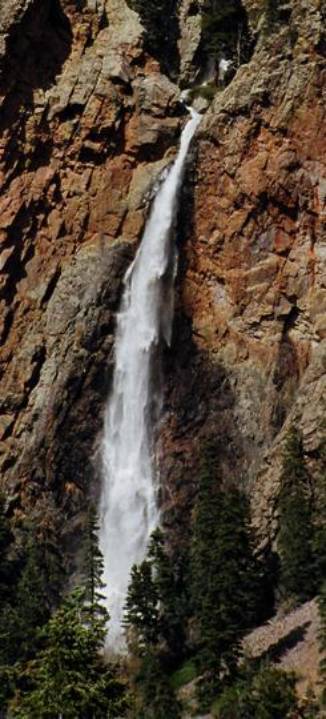 <![endif]>
Brazos Falls…1,300 feet high in two tiers Brazos Falls lower tier
<![if !supportEmptyParas]> <![endif]>
beta facts:
name- Brazos Falls
height- 1300'
elevation- between 8700 and 10,000 feet
GPS coordinates- ±36°45.000'N 106°25.700'W
flow- gushes white and foamy in May and June. The rest of the time it seeps, keeping the rock surface damp.
season- ±April 15 thru June 15
accommodations- Corkin's Lodge… and hey, Color TV……!!!!!!!
ownership- private – Corkin's Lodge
access- Drive up parking in front of your cabin.
nearest town- Chama is 16 miles north of here.
fun fact- Amazing beauty
<![if !supportEmptyParas]> <![endif]>
<![if !supportEmptyParas]> <![endif]>
essay bro:
<![if !supportEmptyParas]> <![endif]>
Brazos falls is the highest waterfall in New Mexico. Brazos Falls Creek, a tributary to the Brazos River, descends an amazing 2400 feet in its short 2-mile length. 1300 feet of this is near vertical. "It'sa thousand foot falls," say the locals… and I more than agree. The top 800' here are beautiful hanging falls. These can be seen in the photograph (above – left). With envy I have watched the rock-climbers… what wonderful views of the falls they must receive for their efforts… smile…
I recommend a multi-day vacation at Corkin's Lodge, as resorting here you will enjoy the beauty, accompanied with a peace – of – mind that trespassing can never afford.
<![if !supportEmptyParas]> <![endif]>
See also: Chavez Falls
Enhanced National Geographic 7.5' topo map
<![if !vml]>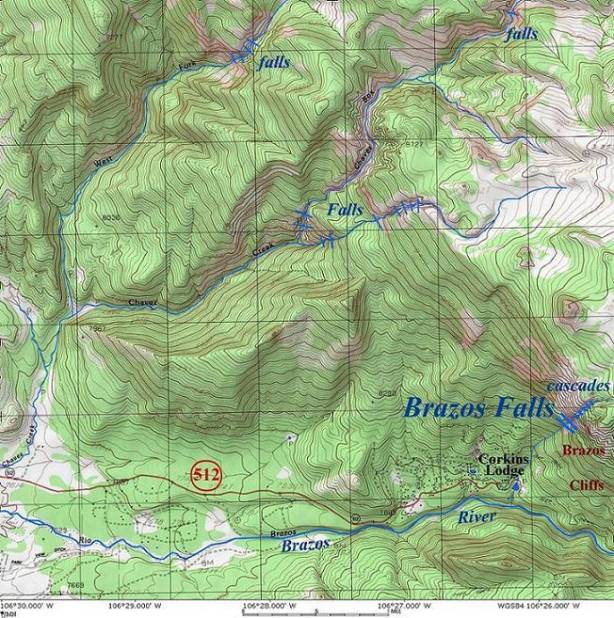 <![endif]>
<![if !supportEmptyParas]> <![endif]>
<![if !supportEmptyParas]> <![endif]>
<![if !supportEmptyParas]> <![endif]>
Send questions and comments to doug.vivian@yahoo.com