Blake Fork Falls
<![if !vml]>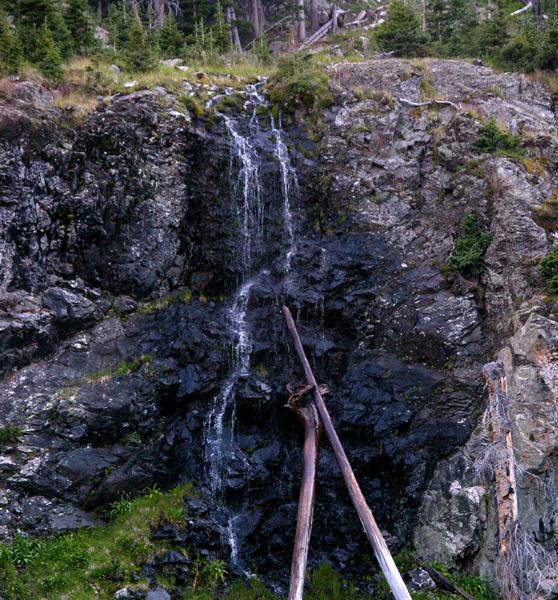 <![endif]>
Blake Fork Falls is on a creek that perhaps should be called "West Fork of Lake Fork"...
...but that's not a good name...
So... I call this beautiful perennial creek... "BLAKE FORK"
…after Ernie Blake the founder of Taos Ski Valley… and his family.
beta facts:
name- Blake Fork Falls
height- 50'
elevation- 11,200'
GPS coordinates- ±36°33.682'N 105°26.320'W
flow- perennial
season- late May thru Oct… but earlier is stronger flow
accommodations- none… Wheeler Peak Wilderness
ownership- Carson National Forest
access- …a short 1½ mile of unmaintained trail
nearest town- Taos Ski Valley is less than 3 miles north of here
fun fact- it's only right that "Lake Fork's" tributary be called "Blake Fork" in memory of famous Ernie Blake
"Lake fork – Blake Fork"
THANK YOU ERNIE for starting one of the best things Taos has…!!!
essay bro
There could be a fantastic alternative trail to the Williams Lake Trail that would take people by Blake Fork Falls and Emerald Pond… in fact up one way… and down the other would make a nice loop hike.  IS THERE ANY VOLUNTEER TRAIL MAKERS AROUND WHEN WE NEED 'EM… actually there is small trail there now that goes to the falls. 
Please feel free to make yourself a copy of my map below… and notice how Blake Fork Creek goes underground for quite a while below the waterfall.  In fact only the top and bottom of Blake Fork is perennial.
*Also… enjoy more photos from this beautiful area… shown below the map.
Right-click-save-as to make yourself a copy of our map below
To see a larger, updated and more detailed map of this entire Wheeler Peak Area, click here: http://www.dougscottart.com/hobbies/waterfalls/TaosMtnsSEquad.htm
and here: http://www.dougscottart.com/hobbies/waterfalls/TaosMtnsMap.htm
Enhanced USGS 7.5' topo map
<![if !vml]>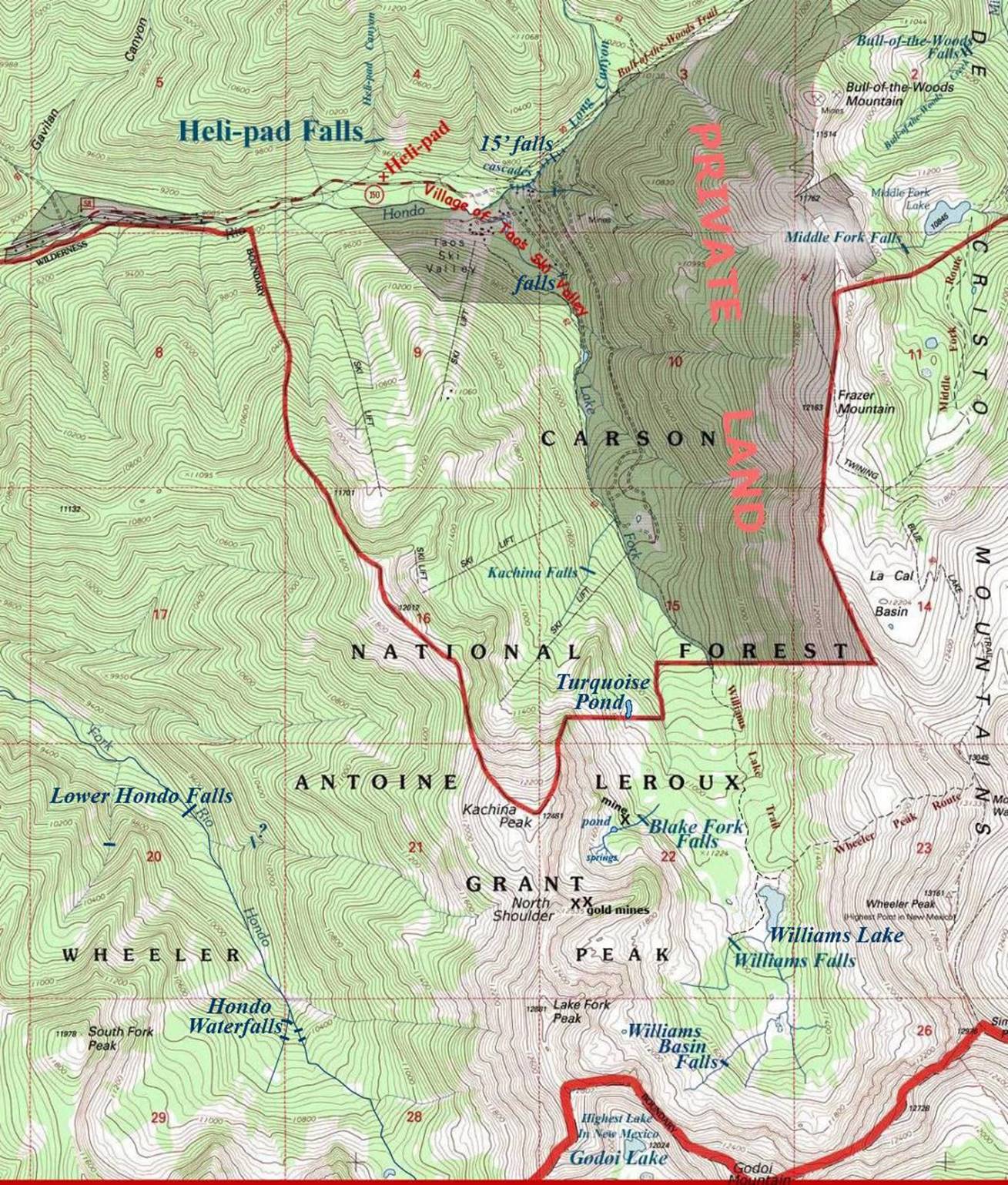 <![endif]>
___________________________one mile___________________________
       ...more photos of the Blake Fork Area...
<![if !vml]>
<![endif]>   <![if !vml]>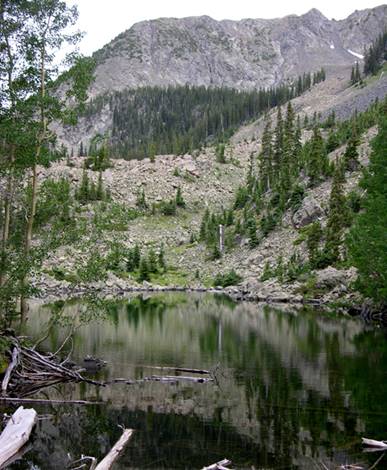 <![endif]>
Turquoise Pond is quite large... emerald green... and crystal clear.  Blake Fork Falls is in the dark timber that is seen (above right) between the pond and the jagged rocks of Lake Fork Peak's "North Shoulder" in the distance.
<![if !vml]>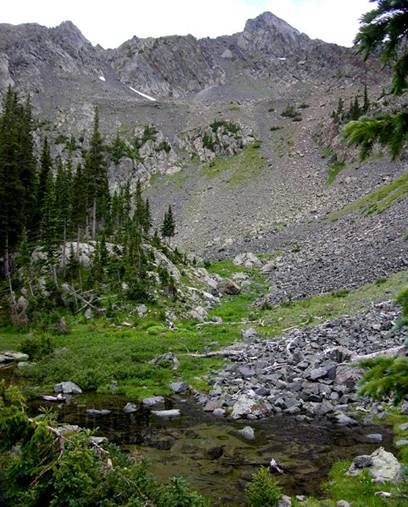 <![endif]>
This timberline, moraine pool sweetens the view of Lake Fork Mountain's steep and jagged "North Shoulder"...  the sheer rock faces found in this majestic unvisited basin offer several awesome "wilderness" climbing routes.
<![if !vml]>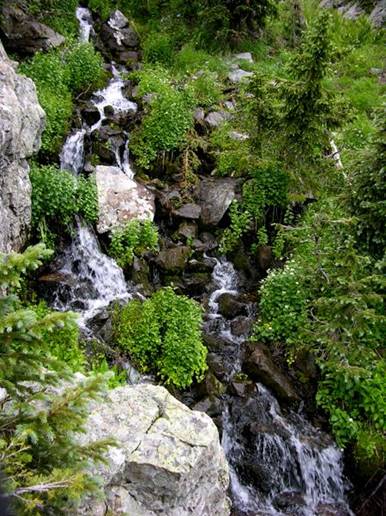 <![endif]>
High wonderful cascades can be enjoyed above Blake Fork Falls.
<![if !vml]>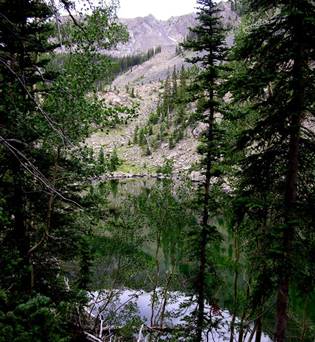 <![endif]>  <![if !vml]>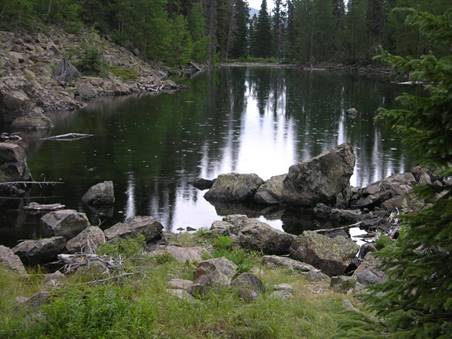 <![endif]>
<![if !vml]>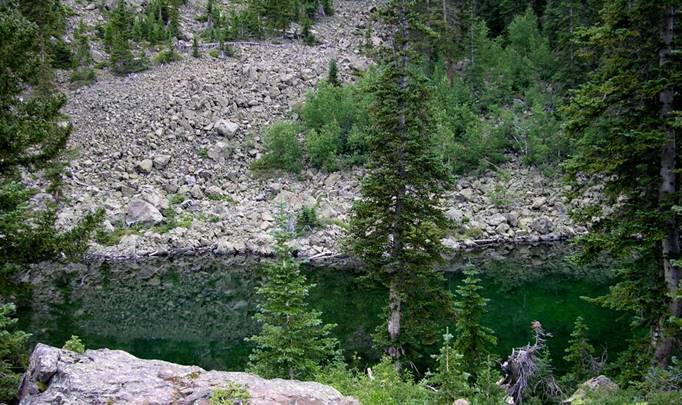 <![endif]>
...more shots of Turquoise Pond ...a nice place...
Send questions and comments to dscott@TheMarbleSculptor.com