Big Dry Creek Cascades
Big Dry Creek Cascades... which are NEVER dry and are full of trout... have continuous waterfalls up to 60' high.  They descend a total of 1200 feet in less one mile.
Here are some of the uncountable waterfalls that make up Big Dry Creek Cascades:
<![if !vml]>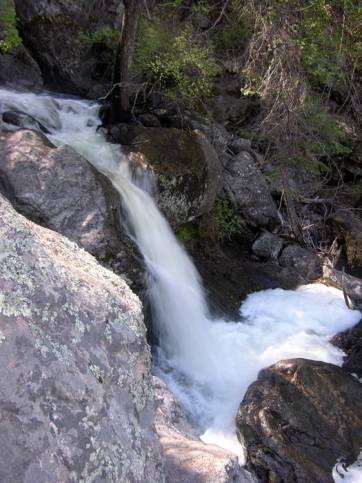 <![endif]> a 25 footer
a bouncy 30 footer <![if !vml]>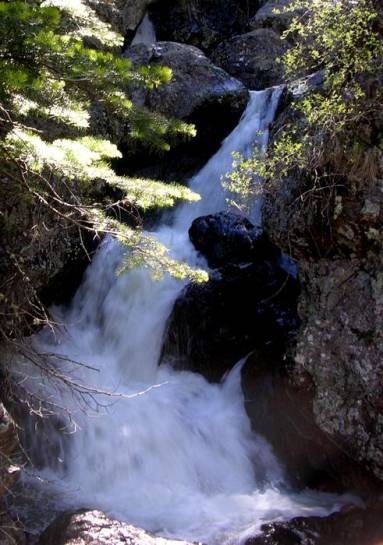 <![endif]>
<![if !vml]>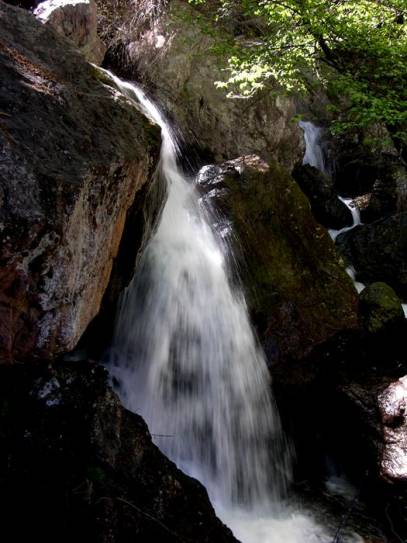 <![endif]>a 30' falls
a 40' high "twin" waterfall <![if !vml]>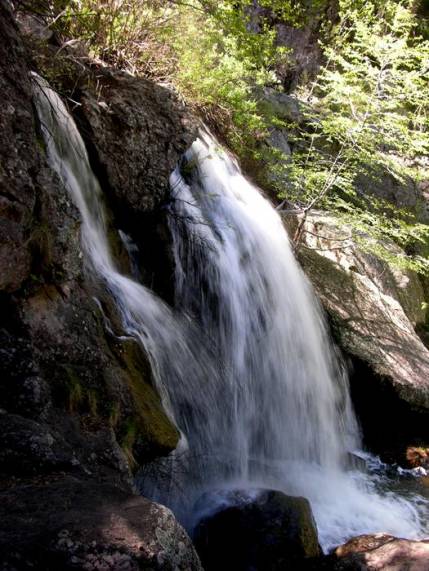 <![endif]>
<![if !vml]>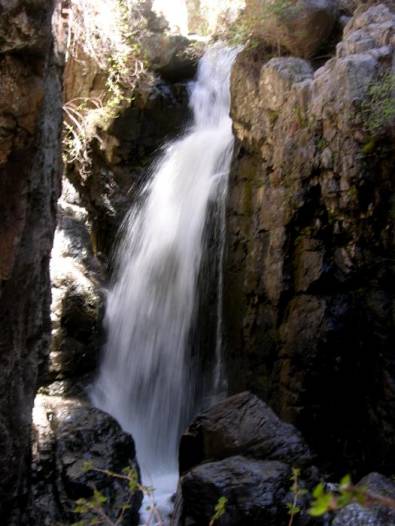 <![endif]>another 30 footer
<![if !vml]>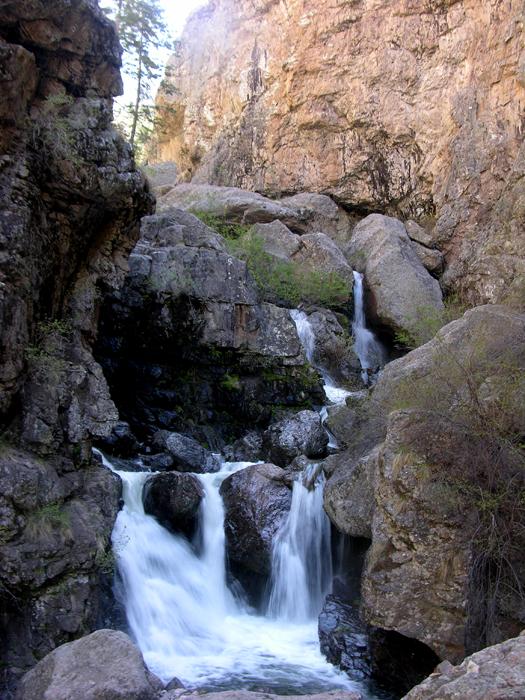 <![endif]>
a distant 40' waterfall is back behind the 20 footer in the forefront of this photo.
a 50' high two-tiered catarct <![if !vml]>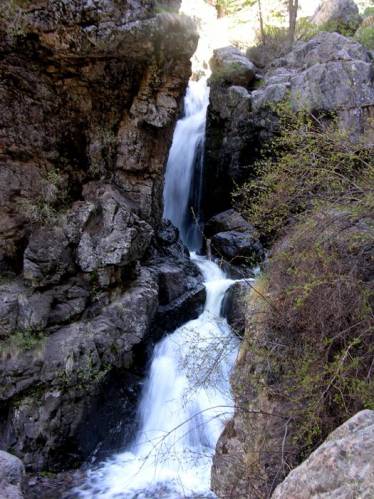 <![endif]>
<![if !vml]>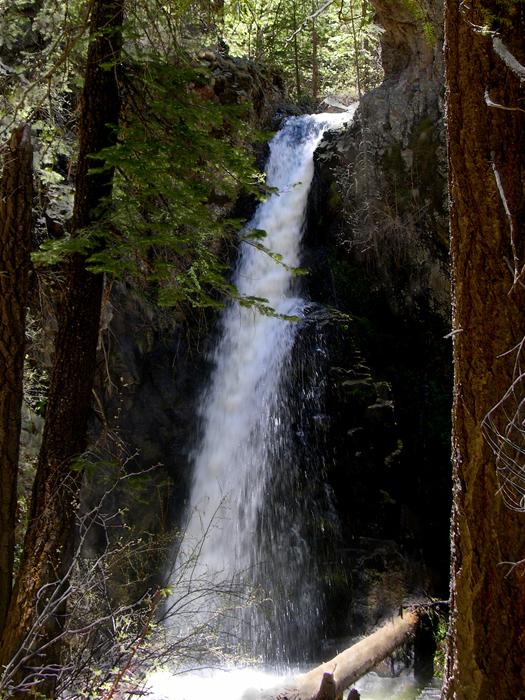 <![endif]>
60' high Big Dry Falls is the highest single waterfall within the Big Dry Cascades
beta facts:
name- Big Dry Creek Cascades
height- 1200' and almost one mile long having continuous waterfalls up to 60' high
elevation- 6800' to 8000'
GPS coordinates- ±33°17.404'N 108°42.216'W
flow- perennial trout stream
best season- wet times like Memorial Day of a wet year or July and August rainy season
accommodations- Gila Wilderness
ownership- Gila National Forest
access-  7 miles on trail with some bushwhacking and game trails
nearest town- Glenwood is about 10 miles west of here
fun fact- Gila high country's BEST…!!!!! …but hard to get to…!!!!!
Here is a special flow reference:
This photo above was taken at noon on May 19, 2010.

 

That day the Mogollon Creek Water Flow Gage was at 40

cfs

.
This information will help you gauge the moisture content of the area to get a feel for how the good falls will be flowing during your visit.
See: https://waterdata.usgs.gov/nm/nwis/uv/?site_no=09430600&PARAmeter_cd=00065,00060
essay bro
Big Dry Creek in the high Mogollon Mountains is as rough of country as New Mexico has.  I have both hiked and floated the Grand Canyon and I declare upper Big Dry Creek an equal in it's grandeur.  We lost count of 15 to 40 foot high waterfalls as we engineered our way up thru the 1200' high Big Dry Creek Cascades.  This steady string of waterfalls is almost one-mile long and provides a very special "canyoneering" experience.
From Golden Link Cabin, five hundred to one thousand feet high, sheer-walled terraces climb peaks towering more than a half-mile overhead.  This is as grand as mother Earth gets.  The four hundred foot free-falling ribbon of lace called Chasm Falls cascades into this canyon from the south... in splendor that very few know New Mexico even has. 
Golden Link Creek enters Big Dry Creek from the north, just above Big Dry Falls.  It has two high waterfalls of it's own 70' high Lower Golden Link Falls and 200' high Golden Link Falls.  Golden Link Creek's lower half-mile is all steep whitewater that cataracts thru a 600' deep twisting Chasm... with awe-inspiring wild grandeur.  More waterfalls wait to be found up each of the three creeks that desend the north slopes of 10,658' Sacaton Peak.
Hanging Rock Trail and Silver Drip Trail are the two most direct routes into the upper Big Dry Creek drainage.  Both have been abandon by the National Forest Service.  We will soon loose these "two most spactacular trails of the Gila Wilderness".  They are both marked on the map below as "unmaintained trail".  If we outdoor-people use these trails and care for them each time we hike them... they will be preserved... otherwise they will be lost.
For a new updated and much enlarged map of this area click here
Enhanced USGS 7.5' topo map
<![if !vml]>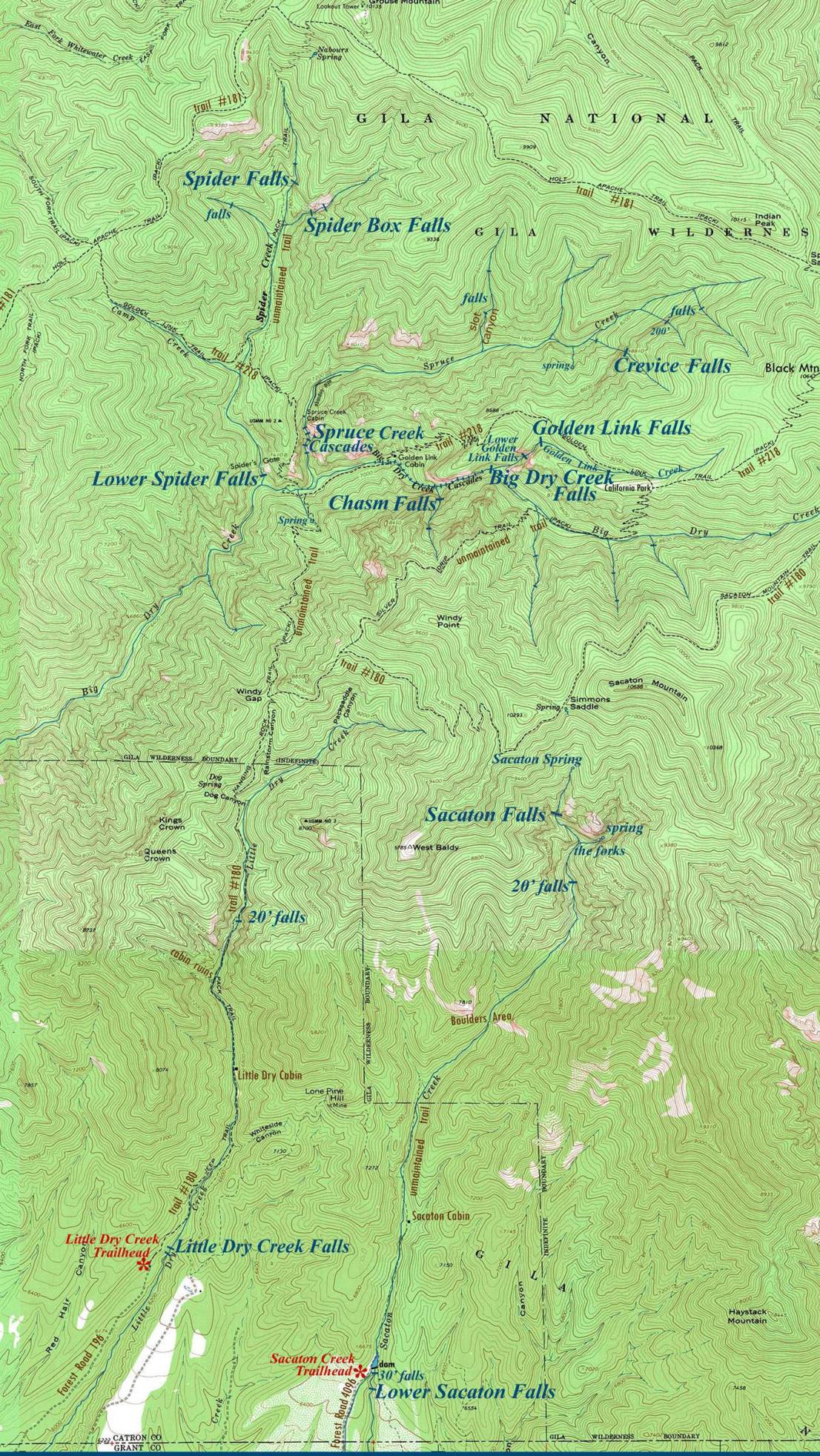 <![endif]>
________ONE MILE________
Upper Big Dry Creek has one of the finest collection of waterfalls in New Mexico…!!!
Send questions and comments to dscott@TheMarbleSculptor.com