Wheeler Creek Falls
There are many waterfalls on Wheeler Creek below Horseshoe Lake in the Wheeler Peak Wilderness Area. 
I separate them and describe them as three waterfalls:
Wheeler Creek Cascades ...is the upper portion 400' high
Wheeler Creek Falls ...is the middle portion 75' high – shown on this page
and
Wheeler Creek Lower Cascades ...is the lower portion 250' high
These are all wonderful waterfalls and each section of falls here are quite worthy of their own special recognition.
Wheeler Creek Falls has two tiers.  This photo below shows only the 50' high lower tier of Wheeler Creek Falls  
<![if !vml]>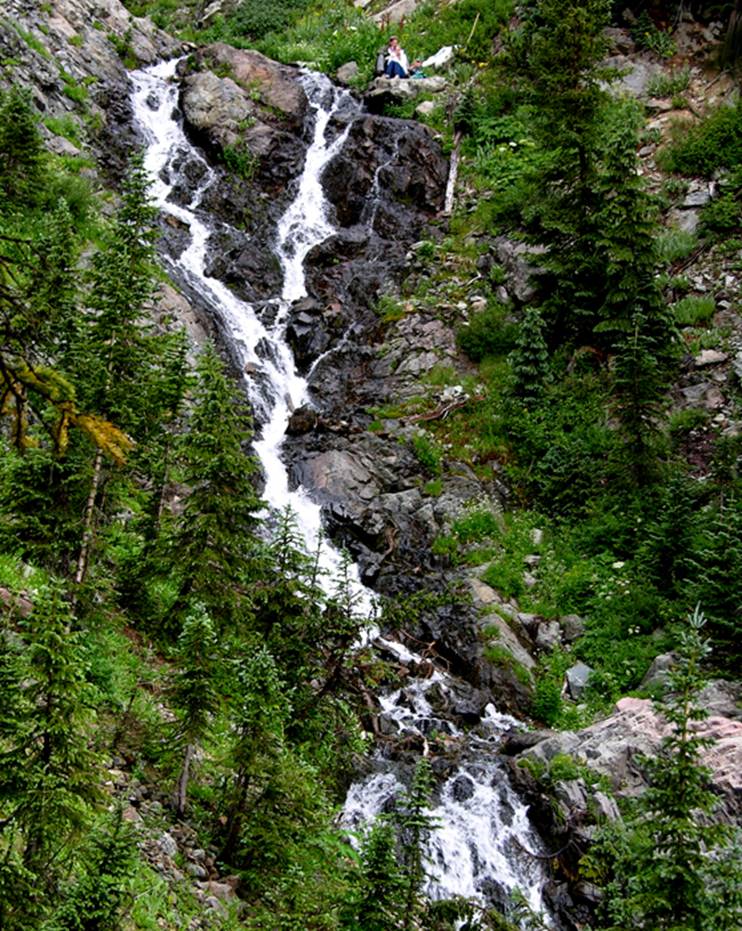 <![endif]>
John and Madison and I enjoyed lunch on the brink of the falls... very nice...!!!
Wheeler Creek Falls upper tiers are about 20' high.  This photo shows the average summer flow...
<![if !vml]>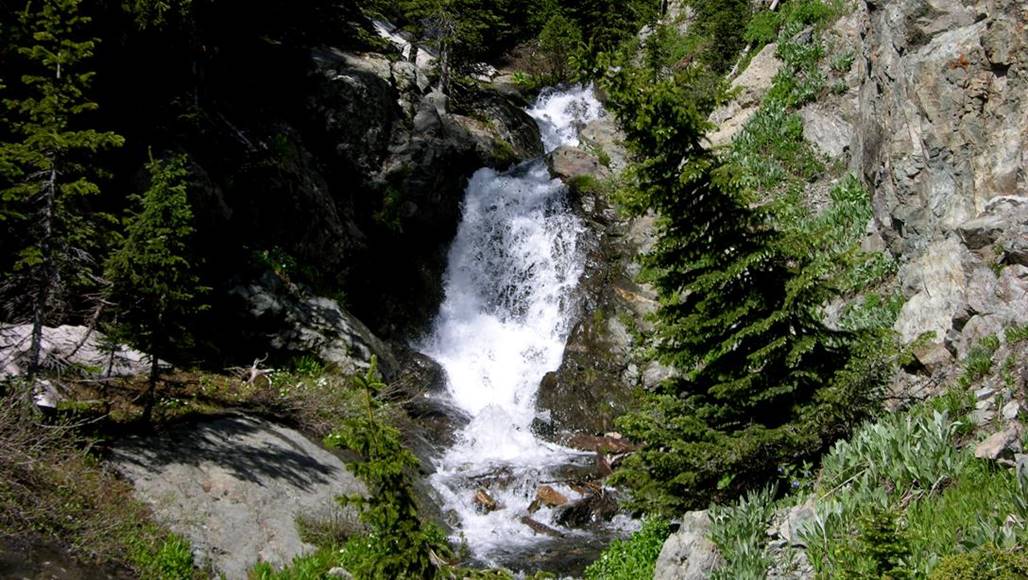 <![endif]>
beta facts:
name- Wheeler Creek Falls
height- 70' in two tiers – 50' and 20'
elevation- 11,300'
GPS coordinates- ±36°34.188'N 105°23.927'W
flow- always strong
season- June thru Oct…  the early bird will fight snowdrifts but will see the best water-show 
accommodations- Wheeler Peak Wilderness
ownership- Carson National Forest
access- 4½ miles on trail #56 to Wheeler Creek then downstream a hundred yards or so...
nearest town- Red River is about 10 miles North of here
fun fact- people who never leave the trail, never see these falls – AND they are just barely out of sight of over the edge of the trail…!!!
essay bro
The sight seen looking off the brink of Wheeler Creek Waterfall is among New Mexico's  most grand…!!!  - But don't slip and fall here…!!!
Wheeler Creek Falls appear on the right-hand side of this map.  Wheeler Creek Cascades as well as Wheeler Creek Lower Cascades are listed on a separate page of their own
Right-click-save-as to make yourself a copy of our map below
To see a larger, updated and more detailed map of this entire Wheeler Peak Area, click here: http://www.dougscottart.com/hobbies/waterfalls/TaosMtnsSEquad.htm
and here: http://www.dougscottart.com/hobbies/waterfalls/TaosMtnsMap.htm
Enhanced USGS 7.5' topo map
<![if !vml]>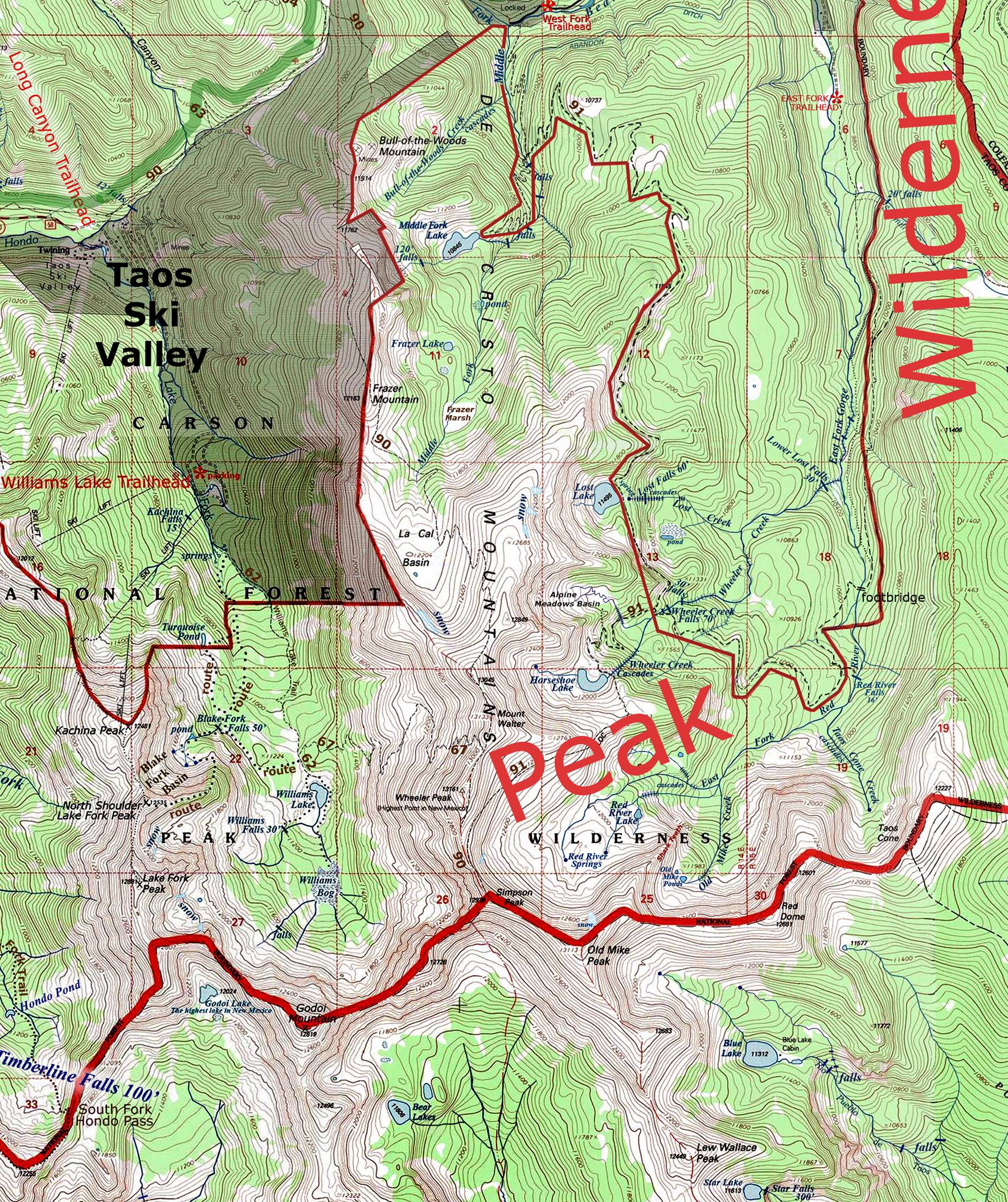 <![endif]>
_______________ONE-MILE_______________
Send questions and comments to dscott@TheMarbleSculptor.com