Palomas Falls
Spanish Palomas = Dove in English
Nate Bartnick stands atop 40' high Palomas Falls at 7600' on South Fork Palomas Creek in New Mexico's amazing Black Range
<![if !vml]>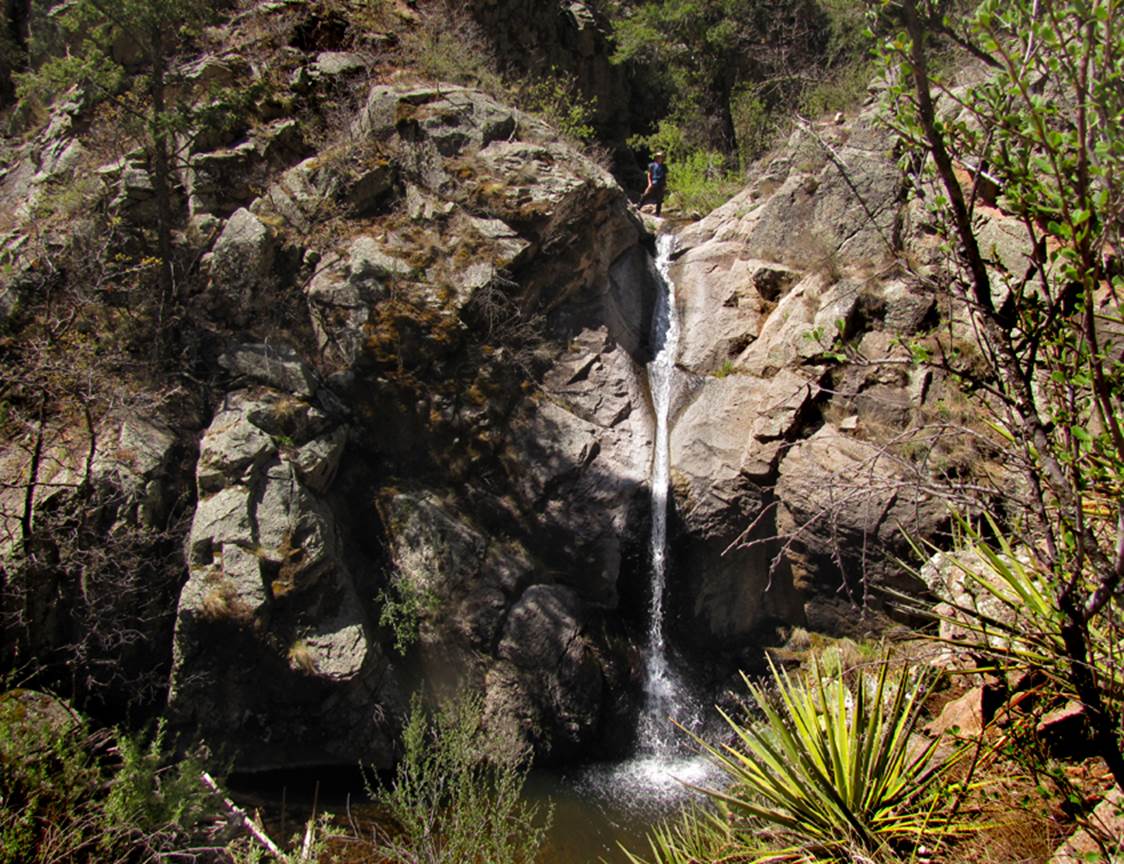 <![endif]>
The two photos below show both the upper and lower portions of 250' high Upper Palomas Falls at 8000' on South Fork Palomas Creek
<![if !vml]>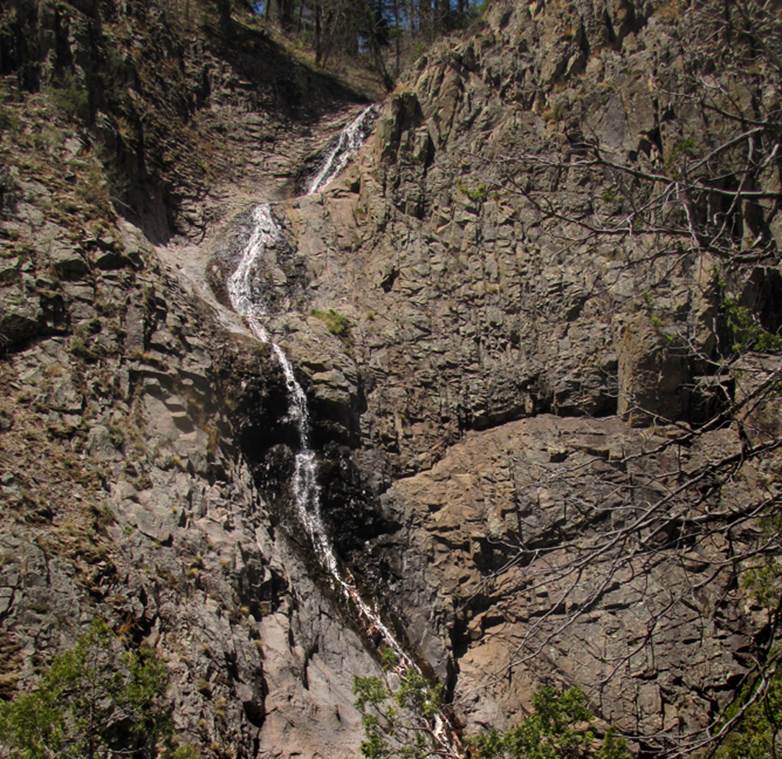 <![endif]> <![if !vml]>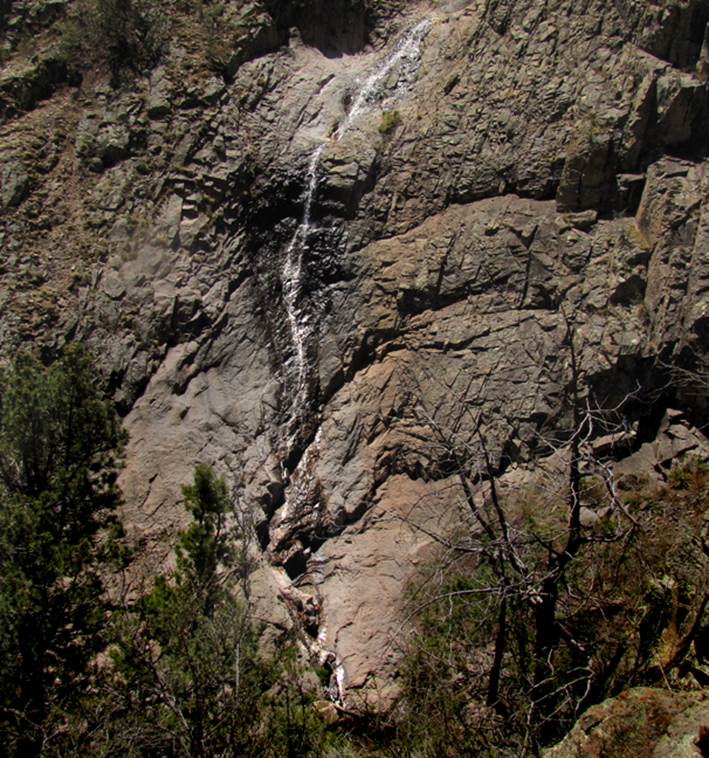 <![endif]>
In the photo below, Nate scaled cliffs 50 feet high to reach the top of Rebekah's Falls... also on South Fork Palomas Creek
<![if !vml]>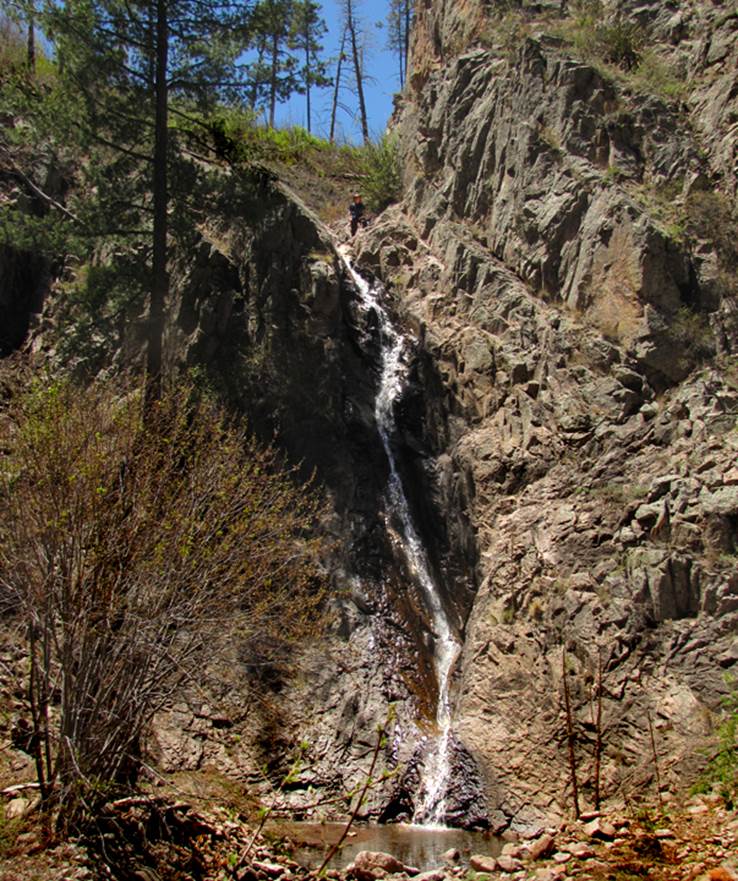 <![endif]>
The photo below shows 15' high Lower Palomas Falls at 7450' elevation –see the map below
<![if !vml]>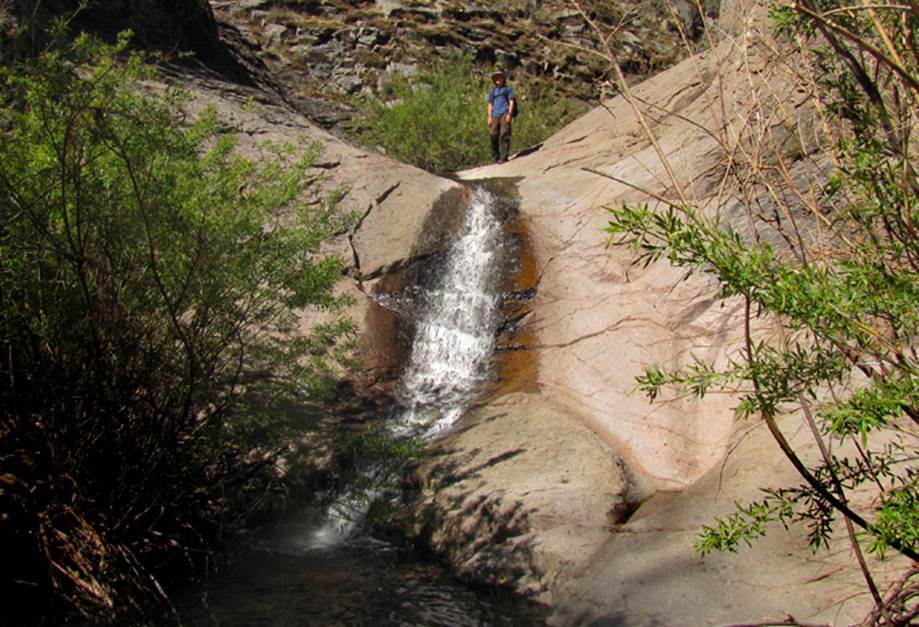 <![endif]>
A nice series of cascades 200' high are on the North Branch of South Fork Palomas Creek... the waterfall in the photo below is the finale of these cascades
–all of these images were taken during a dry time of low water flow altho... not an extreme drought-
<![if !vml]>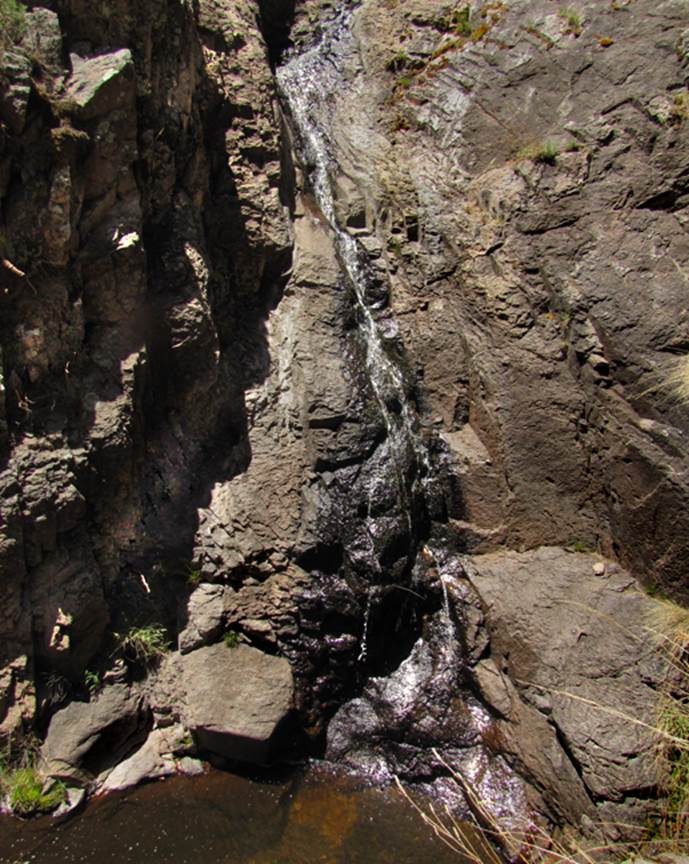 <![endif]>
These lower photos below are shot by my friend Nate Bartnick
This first Nate Bartnick photo is of the 100' high drop that begins the Upper Palomas Cascades on the North Branch of South Fork Palomas Creek
<![if !vml]>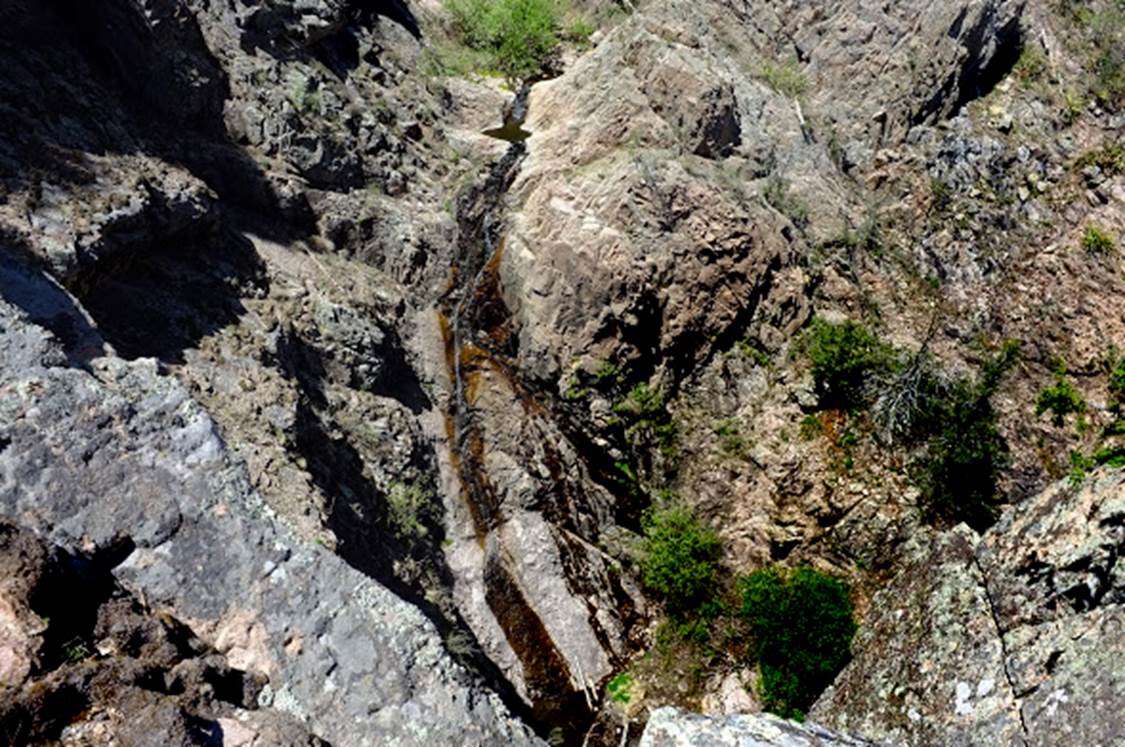 <![endif]>
His second photo here is of a small waterfall immediately upstream from Rebekah's Falls on the South Fork Palomas Creek
<![if !vml]>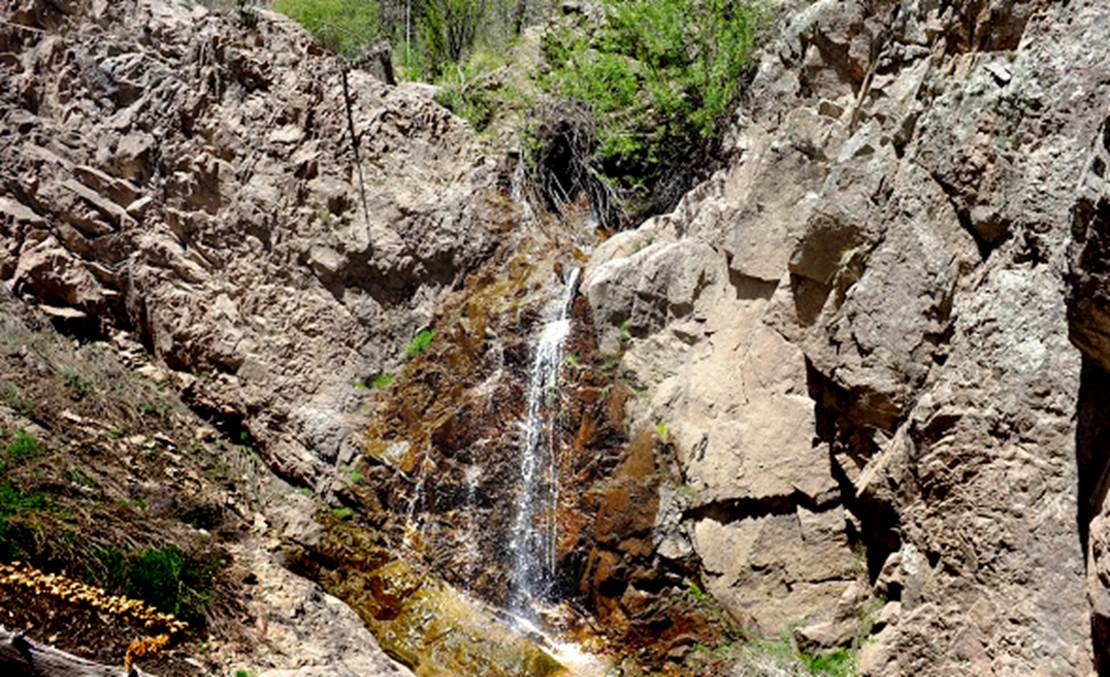 <![endif]>
This third photo shows the 1000 foot high cliffs of South Fork Palomas Canyon near it's Maple Canyon confluence –this is an astounding place...!!!
<![if !vml]>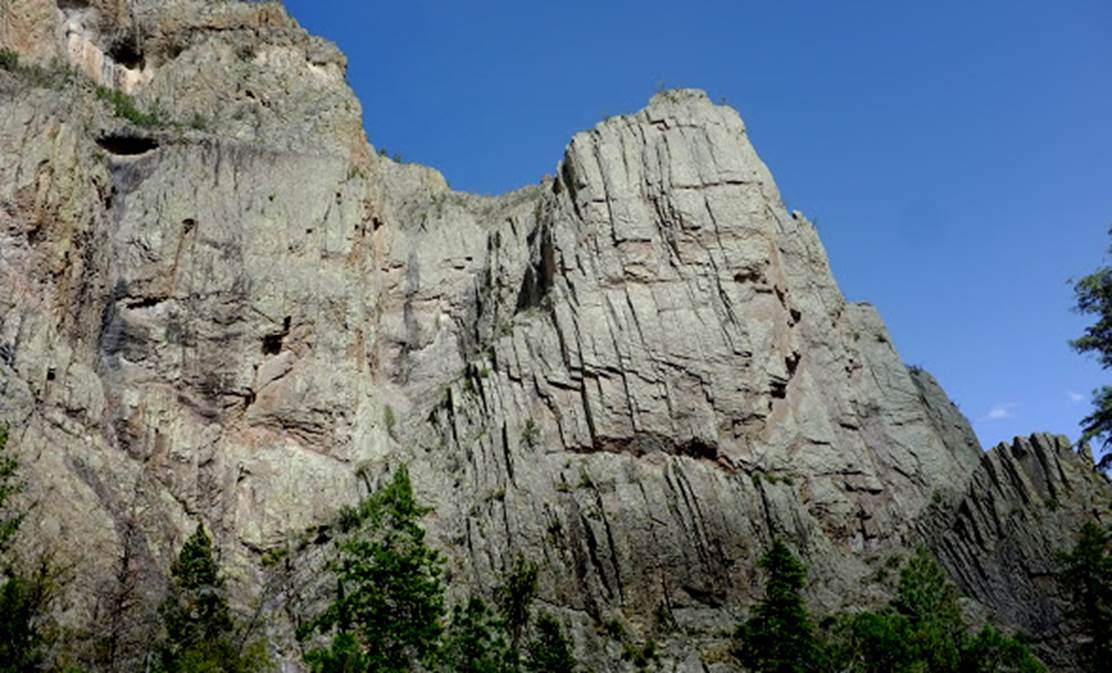 <![endif]>
His last photo is the Maple Grove of Maple Canyon –this grove is solid maples for 1/4 of a mile and is surrounded by sheer canyon walls several hundred feet high
<![if !vml]>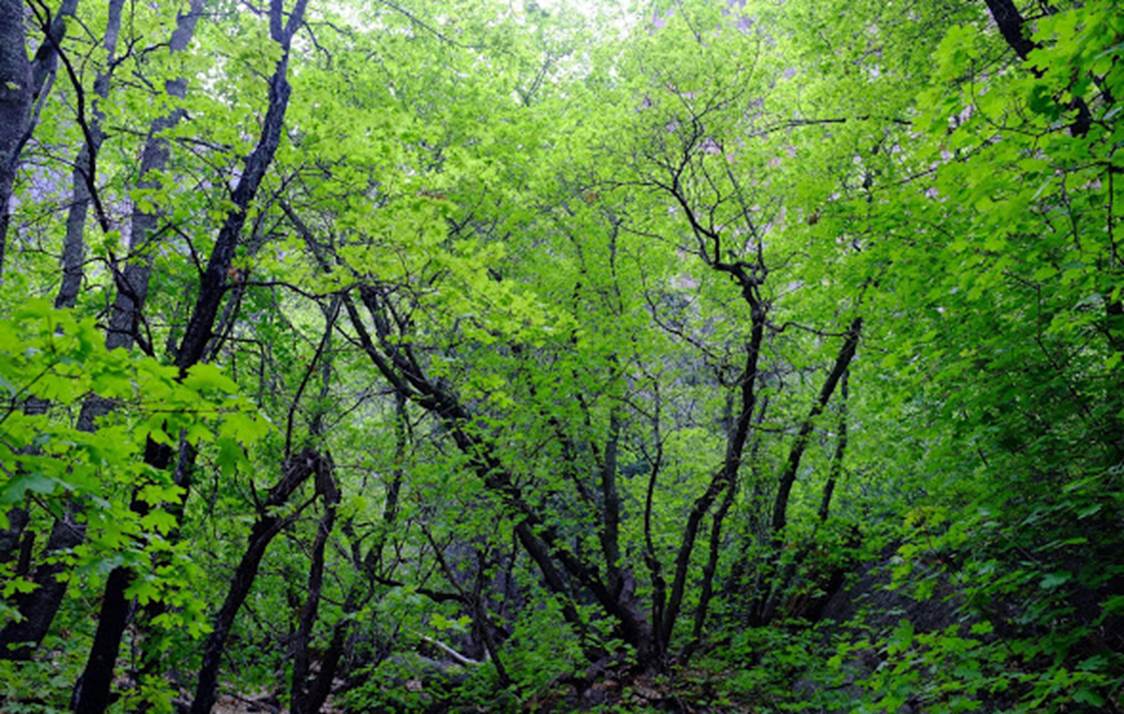 <![endif]>
Nate stands with outstretched arms, getting a shower under the free-falling portion of 100' high Maple Canyon Falls.  This photo depicts a dry time with small trickling flow. 
<![if !vml]>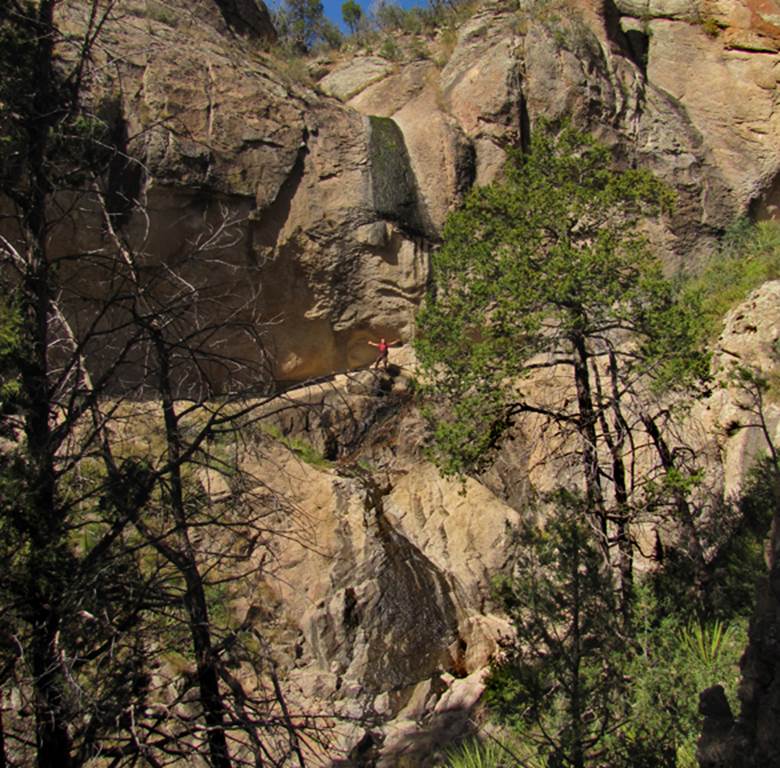 <![endif]>
beta facts:
name- Palomas Falls, Upper Palomas Falls, Lower Palomas Falls and Upper Palomas Cascades
flow- perennial except possibly during extreme drought
season- March, April, September, October and November
accommodations- none – Aldo Leopold Wilderness Area
ownership- Gila National Forest
access- Gila National Forest Road 157 to Hermosa.  Then a 4WD road up South Fork Palomas Creek, followed by 5.5 miles of hiking to Palomas Falls –see map below:
nearest town- Winston is about 17 air-miles northeast of Palomas Falls
fun fact- NOBODY GOES HERE...!!!
essay bro:
The South Fork Palomas Creek Canyon is extraordinaire... with un-comparable beauty...
Forest Road 157 from Winston to Hermosa is about 20 miles of dirt, but it is graded to be quite smooth.  Then the 2 miles of 4WD road getting into South Fork Palomas Creek, above Hermosa, is exciting..... but the hiking up to Palomas Falls is quite easy and often having remains of an old trail complete with occasional rock cairns.  We consider going all the way to the highest waterfalls... to be an epic 16 mile, round-trip, day-hike...!!! 
Even the scramble up the sharp, rocky, razor-back ridge between Upper Palomas Falls and Upper Palomas Cascades is quite hike-able.  It is the only way we found to access Rebekah's Falls and it provides splendid continual views of both of the high waterfalls on both sides of the ridge.  The Upper Palomas Cascades on the North Branch are within such a rugged and steep gorge that ropes and technical rock-climbing equipment are mandatory.
Lower Palomas Falls is at 7450' elevation with approximate GPS cords: ±33°09.360'N 107°49.255'W
Palomas Falls is at 7600' elevation with approximate GPS cords: ±33°09.344'N 107°49.538'W
Upper Palomas Falls is at 7450' elevation with approximate GPS cords: ±33°09.500'N 107°50.020'W
Rebekah's Falls is at 8100' elevation with approximate GPS cords: ±33°09.472'N 107°50.105'W
Upper Palomas Cascades are at about 8000' elevation with approximate GPS cords: ±33°09.550'N 107°50.074'W
Right-click-save-as on the map below and print yourself a hard copy to have in your hand when you take this hike
This map is the only map on earth with this information
Enhanced USGS 7.5' topo map
<![if !vml]><![endif]>
Send questions and comments to art@DougScottArt.com