Lost Falls
There are many individual cascades, cataracts and waterfalls on Lost Creek.  They all have their own personalities.  Several of these falls pictured below stack up on top of each other to form one very high continual waterfall.  This type of falls is called a "tiered waterfall."     See the map below.
<![if !vml]>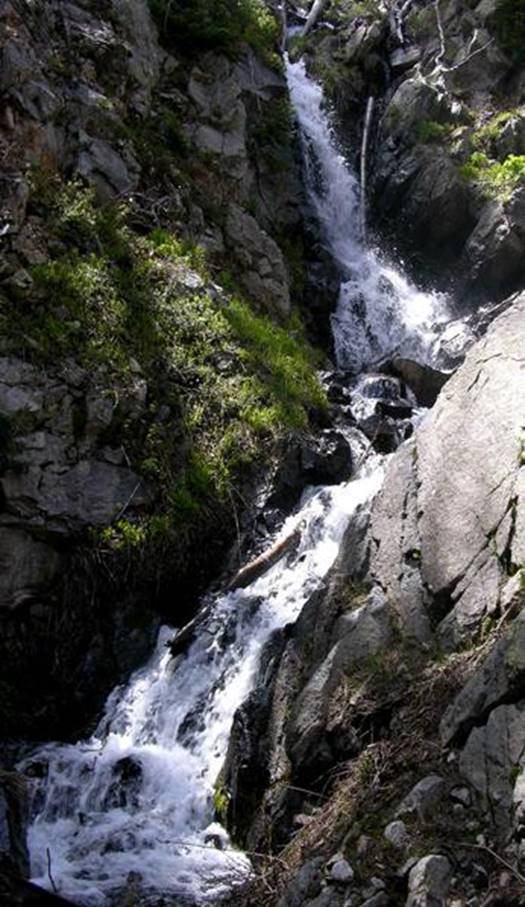 <![endif]>
This 2-tiered, 60' drop, is what I call "Lost Falls".  Lost Falls are found down within the middle of upper group of cascades on Lost Creek, which is the stream below Lost Lake.
These next photos are separate sections of "Upper Lost Creek Cascades" which drops a total of 320 feet continuous.  Each of these steeper falls… or tiers… are connected by cascades if not directly attached to each other… end to end…!!!
<![if !vml]>
<![endif]>       <![if !vml]>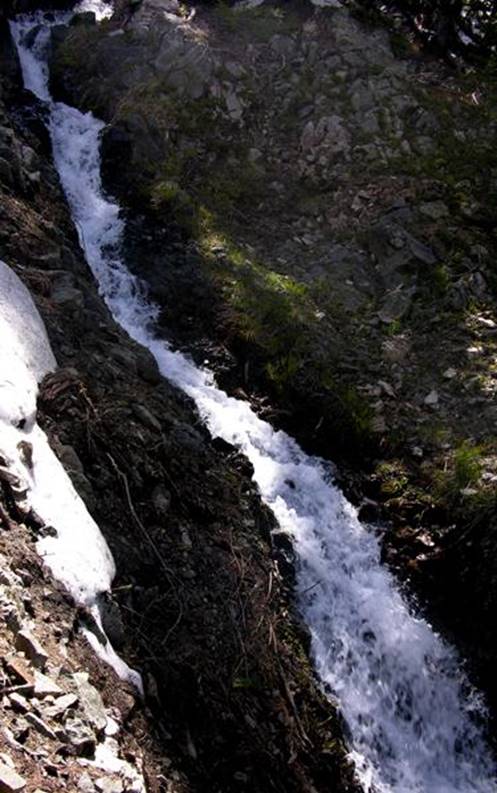 <![endif]>        <![if !vml]>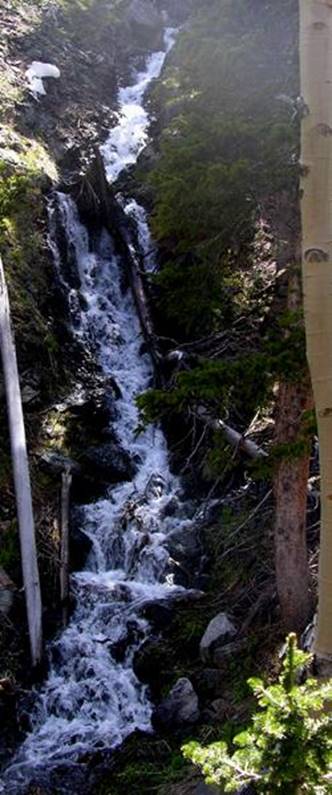 <![endif]>
The first tier is about 30' high.             These second and third tiers are connected directly to each other… 150 feet high or more.
<![if !vml]>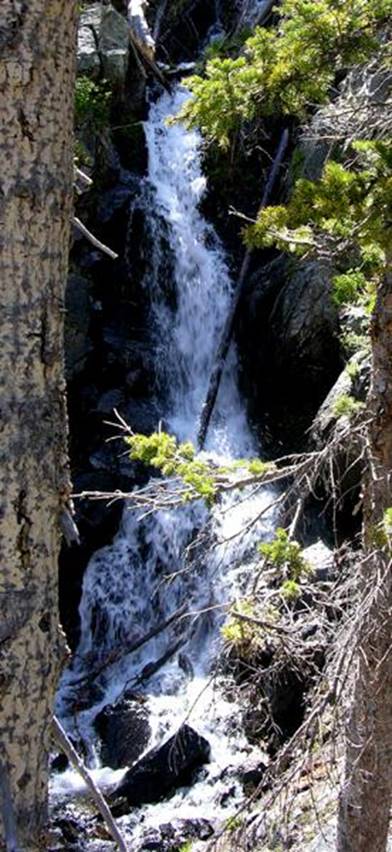 <![endif]>                 
…a 40 feet high tier
This photo below is 40 feet high Middle Lost Creek Cascades.
<![if !vml]>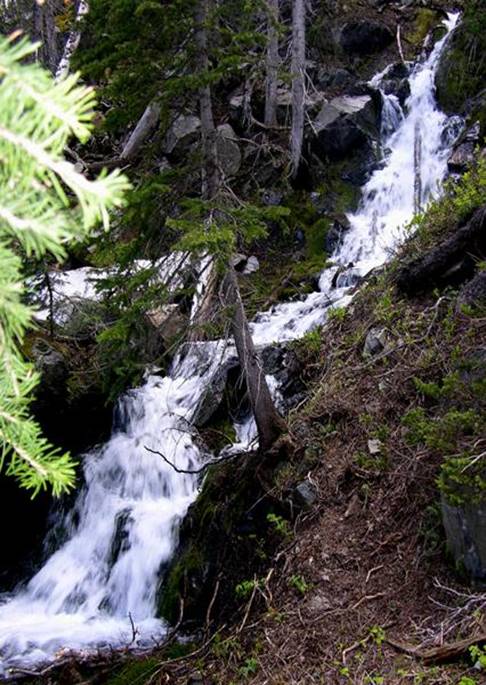 <![endif]> 
This final photo below is "Lower Lost Falls" my favorite.  It's about 35 feet high and is actually found in the lower portions of Wheeler Creek just before it conflues with East Fork Red River.  Wheeler Creek has grown into a nice size trout stream at this point.
<![if !vml]>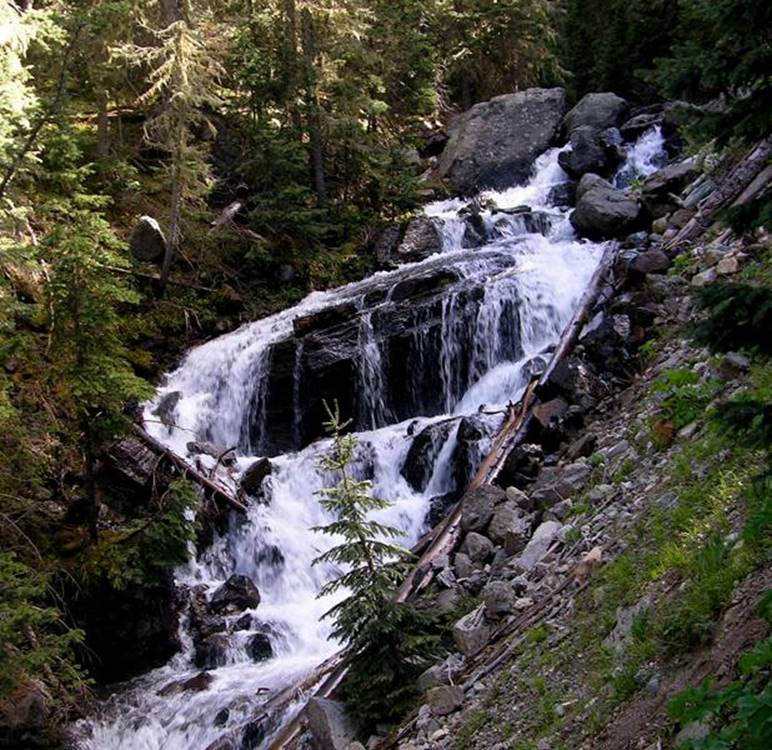 <![endif]> 
Assigning heights to each of these waterfalls is truly impossible, as cascades cradle them above and below.
ISN'T LOST CREEK A GOODERN'...
...CRAZY BEAUTIFUL...!!!
beta facts:
name- Lost Creek Falls
height- This 2 tiered, 60' high waterfall is within a 300' high continuous cascade.
elevation- 11,400' to 11,100'
GPS coordinates- ±36°34.651'N 105°24.123'W
flow- even tho water rarely flows out of Lost Lake… strong perennial springs pour out below a short ways.
season- June thru Oct… early birds will fight snowdrifts but will see the most powerful water-show. 
accommodations- Wheeler Peak Wilderness
ownership- Carson National Forest
access- 5½ miles on Lost Lake trail #56 then downstream… and enjoy the water-show back to the trailhead
nearest town- Red River is about 9 miles North of here
fun fact- people who never leave the trail, never see these glorious waterfalls
essay bro
Upper Lost Creek Cascades are a very high and beautiful cascades/cataracts/waterfalls…
How high… is hard to say.
They drop 300' and cut thru one single mass of bedrock.
Make yourself a copy of my map and please enjoy all of the many waterfalls of the upper Red River.
They're some of New Mexico's best…!!!
Right-click-save-as to make yourself a copy of our map below
To see a larger, updated and more detailed map of this entire Wheeler Peak Area, click here: http://www.dougscottart.com/hobbies/waterfalls/TaosMtnsSEquad.htm
and here: http://www.dougscottart.com/hobbies/waterfalls/TaosMtnsMap.htm
Enhanced USGS 7.5' topo map
<![if !vml]>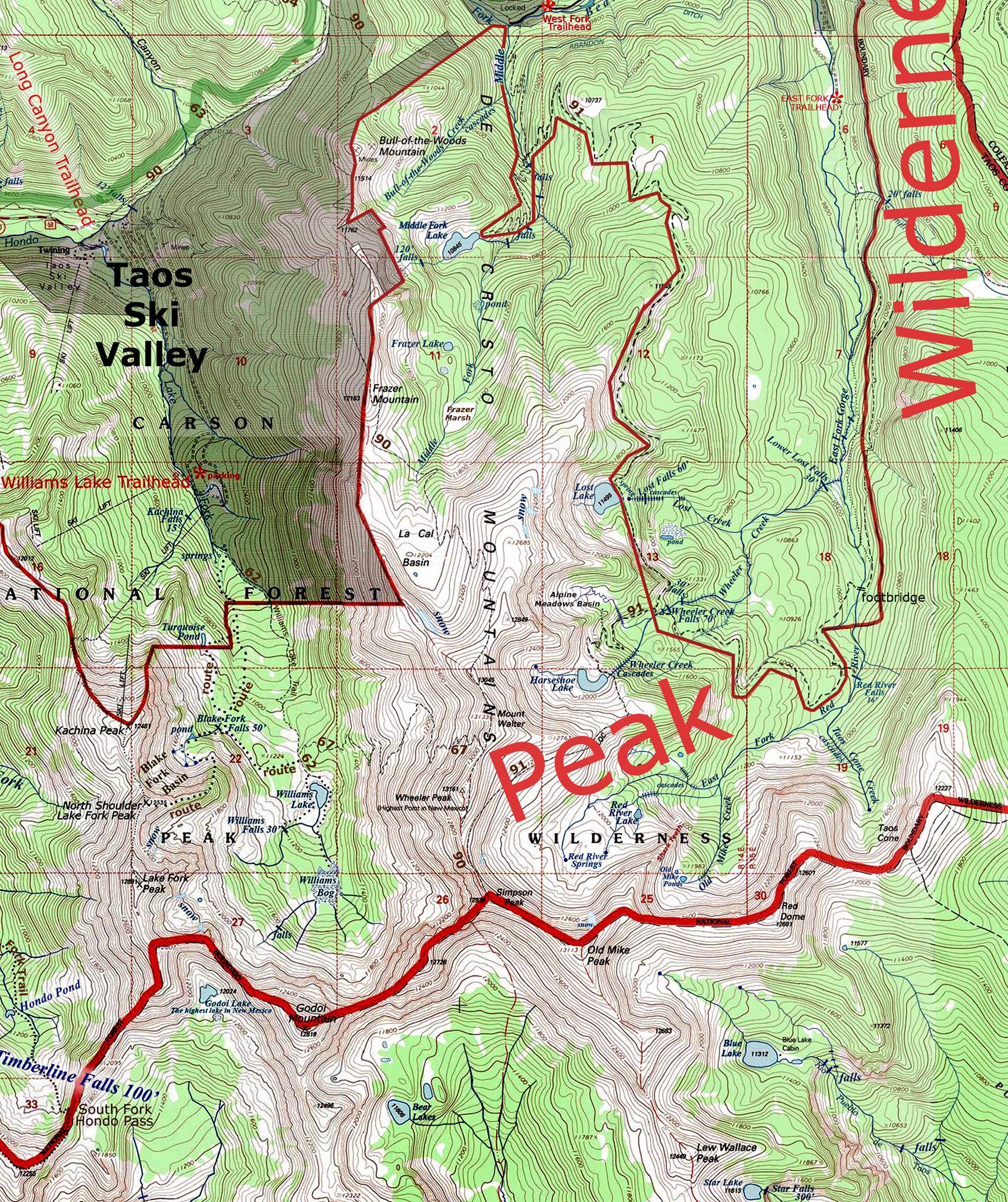 <![endif]>
_______________ONE-MILE________________
Send questions and comments to dscott@TheMarbleSculptor.com