Hondo Falls
Hondo means "deep" in English.  Hondo Falls are found high up South Fork Rio Hondo above "Taos East" Condos.  See the topo map near the bottom of this page. 
This photo shows an 80' high section of the very upper end of Hondo Falls at about 10,400' elev.
<![if !vml]>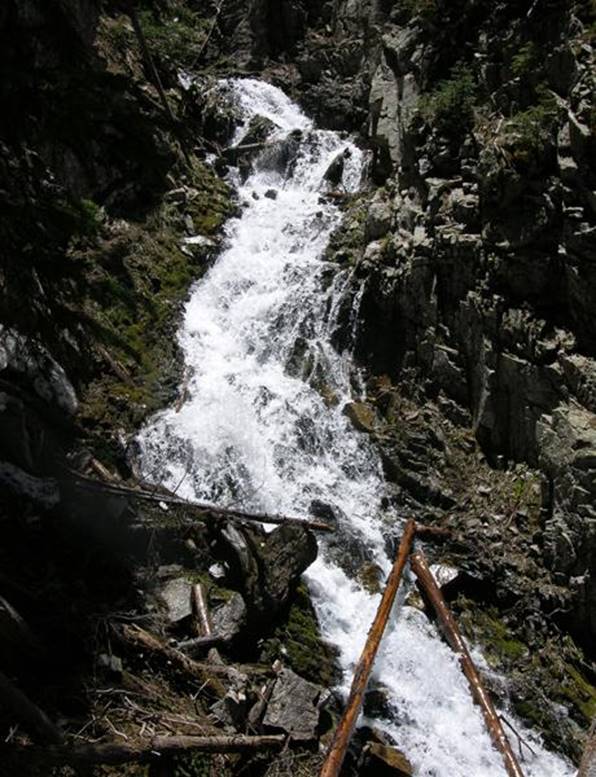 <![endif]>
As Hondo Falls descends elevation it becomes less of a waterfall and more like a cascade.  These cascades are continuous and more than 400 feet high cutting thru one solid mass of granite bedrock the whole way.  This photo below shows a 60' high portion of Hondo Falls also within it's upper reaches.
<![if !vml]>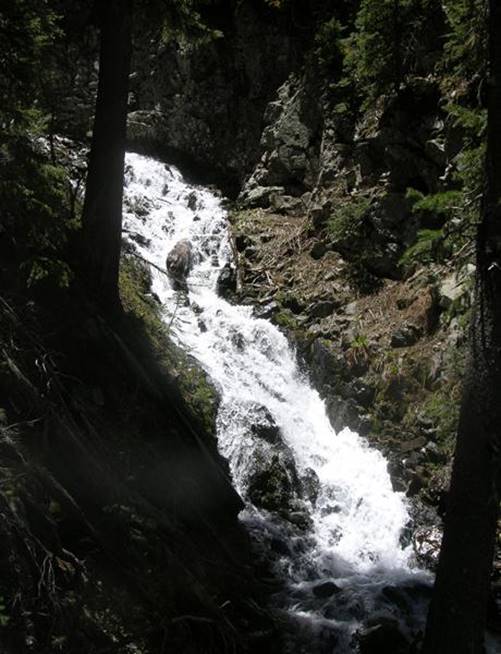 <![endif]> 
The middle reaches of Hondo Falls here, become less steep.
<![if !vml]>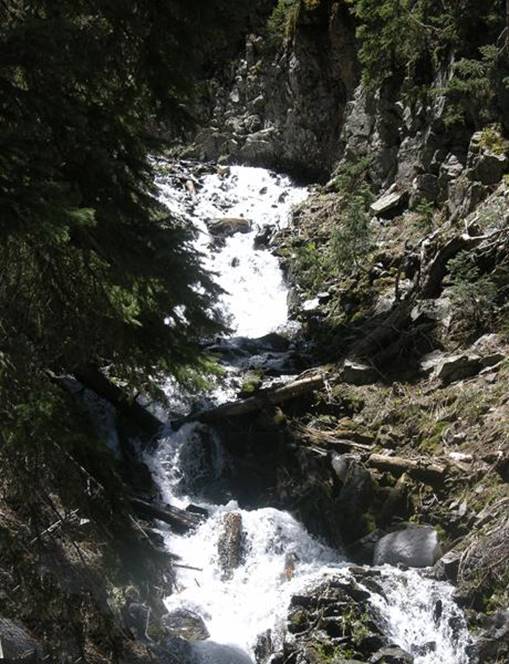 <![endif]> 
The lower reaches of Hondo Falls appear in the lower part of the photo below while in the upper part of this photo, Cataract Fork of the South Fork Rio Hondo is shown, beginning

it's

50' high "Lower Cataract Falls".

 

The Granite ridge between these two creeks is an amazing out-cropping.

 

Lower Cataract Falls is shown in the next photo, below this photo.
<![if !vml]>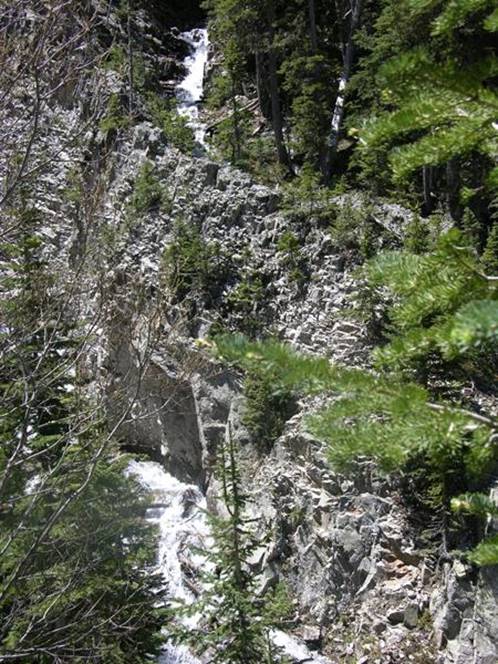 <![endif]>
This photo below shows 50' high Lower Cataract Fork Falls who's upper portion shows near the top of the photo above.
<![if !vml]>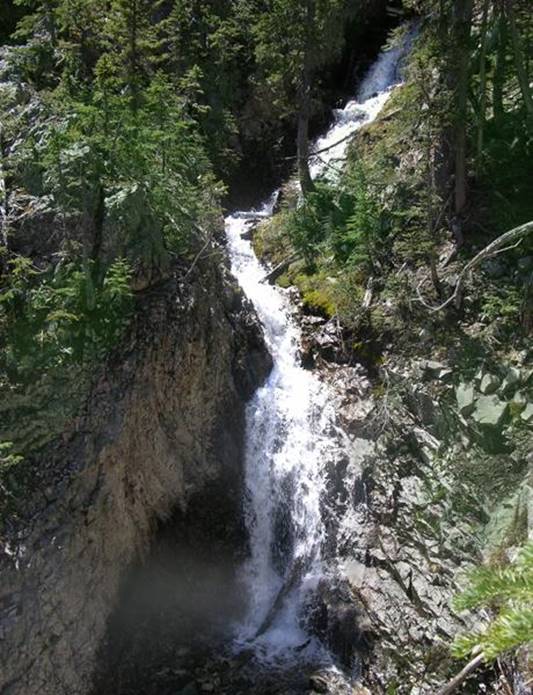 <![endif]>
A hundred yards or so upstream from this lower falls is another Cataract Fork Falls 60' high with 3 tiers.
<![if !vml]>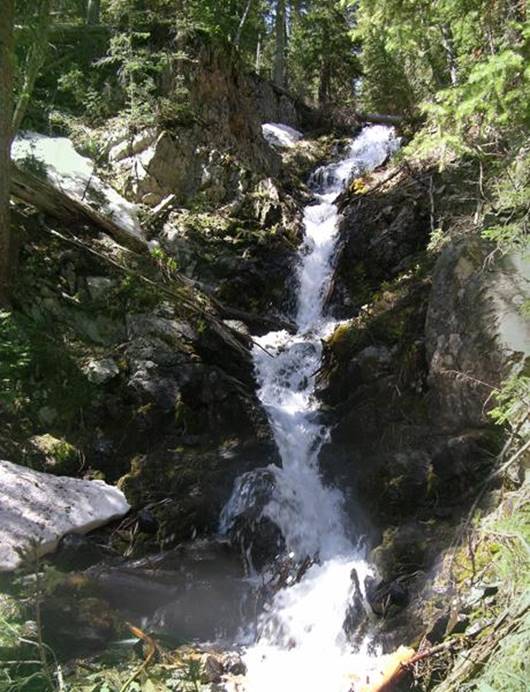 <![endif]>
25' high Lower Hondo Falls is downstream from Hondo Falls about one-third-mile at roughly 9800' elev.
<![if !vml]>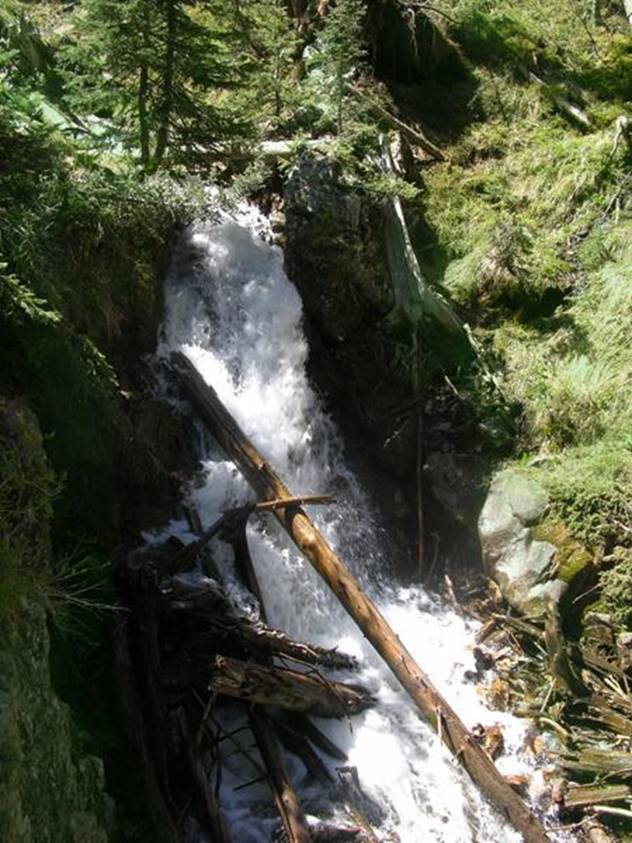 <![endif]>
See more photos at the bottom of this page.
beta facts:
name- Hondo Falls
height- 400' total elevation loss of the entire cascades.  The higher individual waterfalls are about 60' high.
type of waterfall- a tiered-cascade
elevation- 10,300'
GPS coordinates- ±36°32.916'N 105°27.768'W
flow- perennial
season-May thru Oct …earlier is better
accommodations- none
ownership- Carson National Forest
access- fairly difficult... ah... better read the essay below
nearest town- Taos Ski Valley is about 3½ miles north of here
NOT FUN fact- private land with "Keep Out" signs makes it difficult to access this South Fork Rio Hondo Canyon
essay bro
South Fork Rio Hondo is wonderful...!!! AND... difficult to access.  Private land of a small community known as Taos East, with its "Keep Out" signs creates a challenge to enter this South Fork Rio Hondo Canyon.  The first quarter mile has to be climbed around and the "climb" is a steep and crumbly class 3 scramble 400 to 600 feet high.   Some of the hillside is so steep that you must grab the earth with "all-fours" to keep from sliding on loose rocks and dirt back down to the bottom.
Then once you have by-passed the no trespassing area you will find a trail that is so old that much of it has reverted back to nature.  Many fallen trees must be either climbed over or scooted under.  However navigation does get easier as you progress up the canyon into higher elevation.
About 3½ miles in you will come upon a very interesting blockade... "The Rock Fall".  The creek flows thru a short section of gorge with sheer sidewalls almost 100 feet high.  This little box canyon is about 30 feet wide.  A large portion of the southwest wall recently collapsed completely filling the gorge from sheer wall to sheer wall with rocks and boulders... 40 feet deep...  Scrambling up the Rock Fall is easy enough.
I estimate that this rock fall has buried a 30-foot high waterfall... I sooo wish I could have seen it before it got buried.  I am sure it was a beauty.  The total absence of any moss or lichen on the freshly spalled wall as well as the fallen rock, tells me that this rock fall must have happened around February of 2010.
If anyone who reads this remembers this waterfall... please tell me about it!  Or better yet if anyone has a photo of this waterfall before the rocks covered it... please share it with me...  Today you can hear the water flowing deep down under the rock pile before it exits far below... neat place...
Another fifty yards upstream is a beautiful waterfall 25 feet high...  Lower South Fork Hondo Falls.  It is easy to get around.
About a third of a mile farther upstream is a wonderful water-show... in fact... a double water-show...  Two separate sets of waterfalls on two separate creeks.  The two largest tributaries of this drainage join here.  Both of these creeks dance beautifully between sheer granite walls down splendid cataracts and cascades over four hundred feet high.
Take notice on the map below that the northeast face of Vallecito Peak called Granite Wall, is about 900 feet high and sheer.  Has it ever been climbed... I wonder...???  Also notice the two creeks called Rescue Creek on the map below.  This is where the Taos Ski Valley Ski patrol find those who ski too far out-of-bounds and end up on the wrong side of the mountain.  Broken Waters Creek flows down from the Tummy of the Pregnant Lady Mountain.  Please see the photo at the bottom of this page and you will understand why this mountain received the name "The Pregnant Lady".
Please do a right-click "save as" to print yourself a copy of my map below as it is far more accurate than any other map available.
Enhanced USGS 7.5' topo map
<![if !vml]>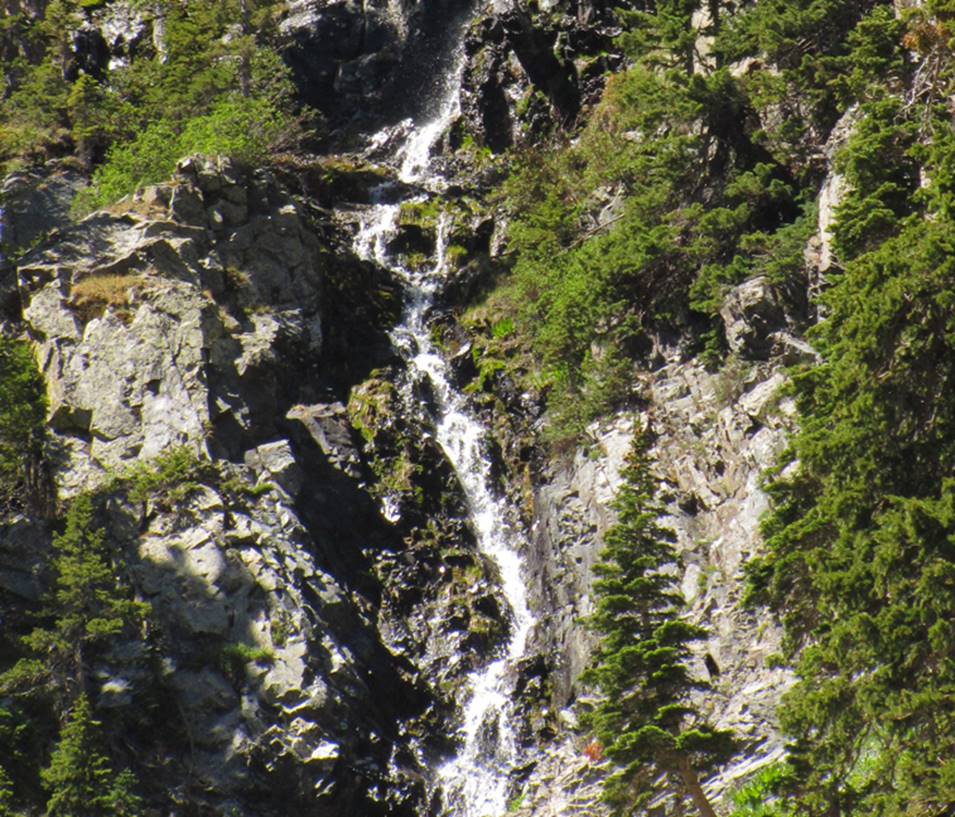 <![endif]>
Thin red lines above are one-mile squares
Here are two photos of South Fork Rio Hondo Pond where the elk like to wade.
<![if !vml]>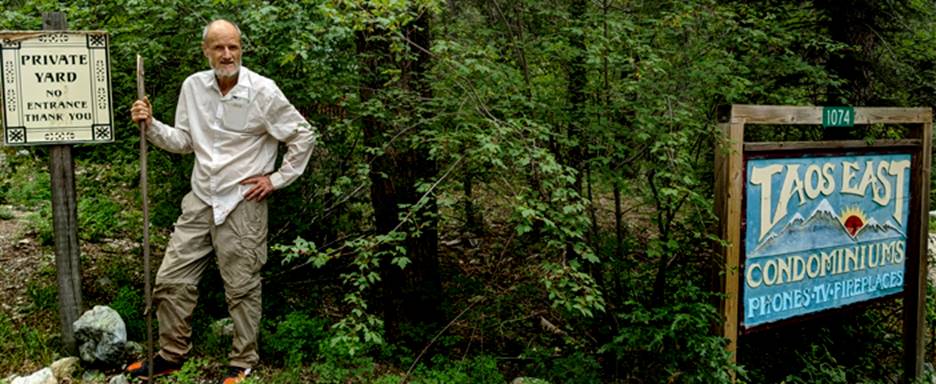 <![endif]>   <![if !vml]>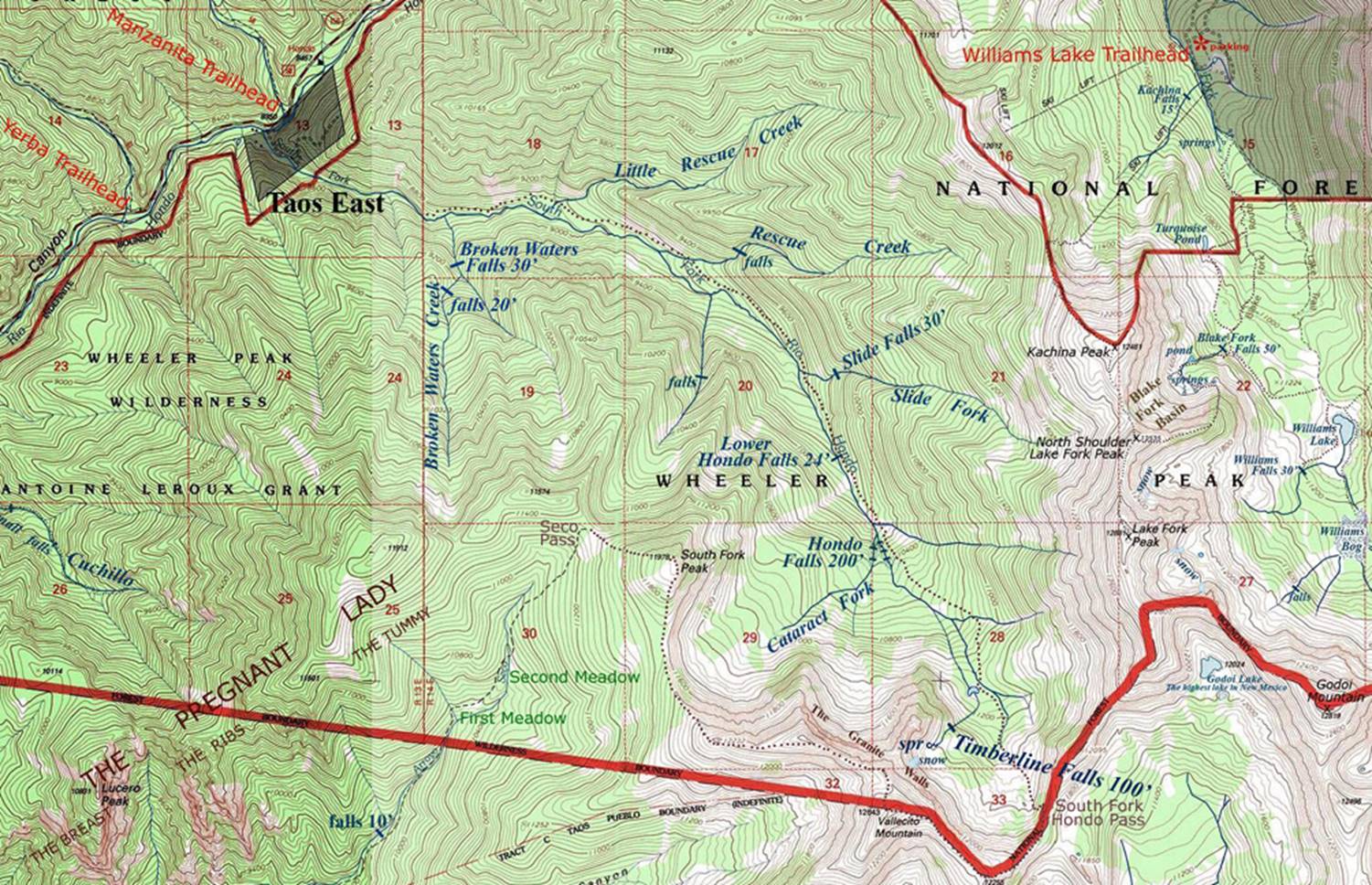 <![endif]>
<![if !vml]>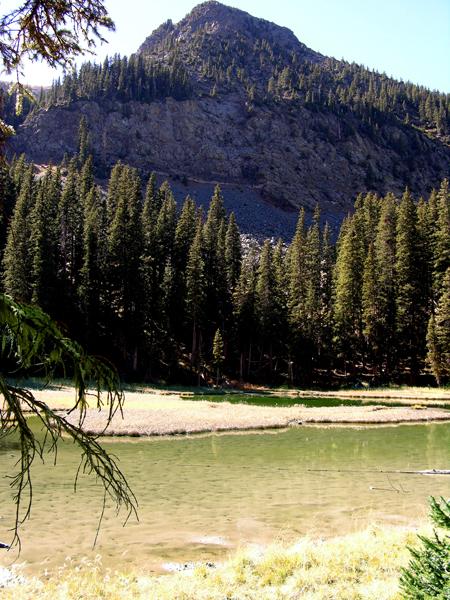 <![endif]>
Avalanche Creek is full of huge spruce logs deposited by many snow avalanches thru the years... but this 40' high waterfall is nice anyway...!!!  This photo was shot during a very low-water time.  I'm sure that all the exposed rock in this photo would be covered with beautiful frothy-white waterfall foam during late May and early June snow runoff.
The Northeast Face of Vallecito Peak… The "Granite Walls" can be seen here, just above timberline…and South Fork Rio Hondo Pond can be seen in the thick timber near the bottom of the photo.
<![if !vml]>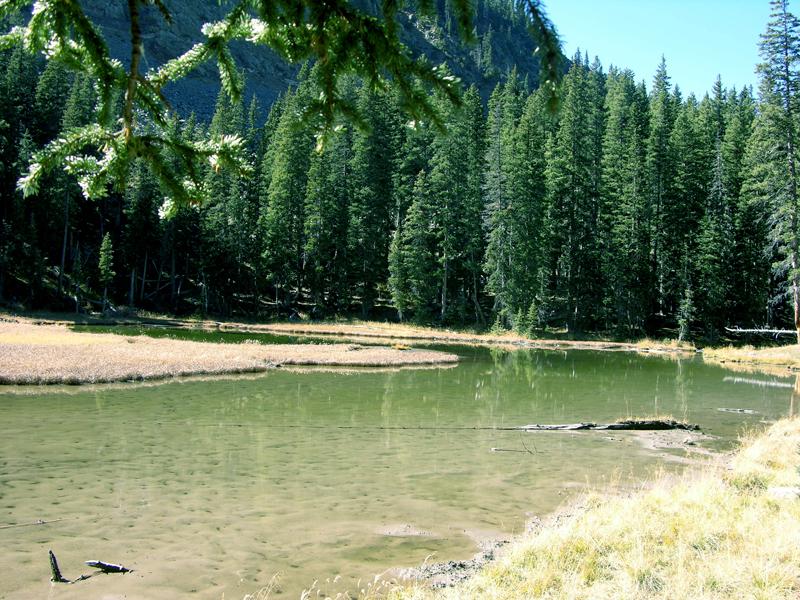 <![endif]> 
The Pregnant Lady Mountain as seen from Taos.  She is lying on her back here beyond Cid's Food Market.  You can see her breast, ribs and tummy very well in this photo.
<![if !vml]>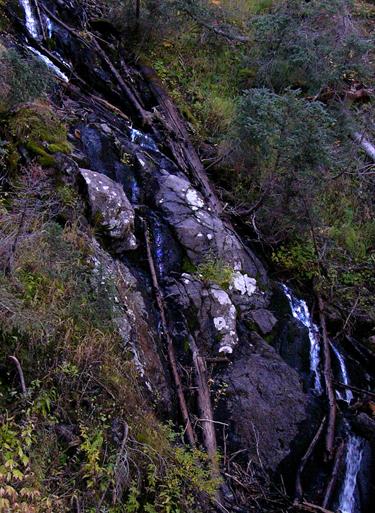 <![endif]>
Send questions and comments to dscott@TheMarbleSculptor.com