Cavern Falls
<![if !vml]>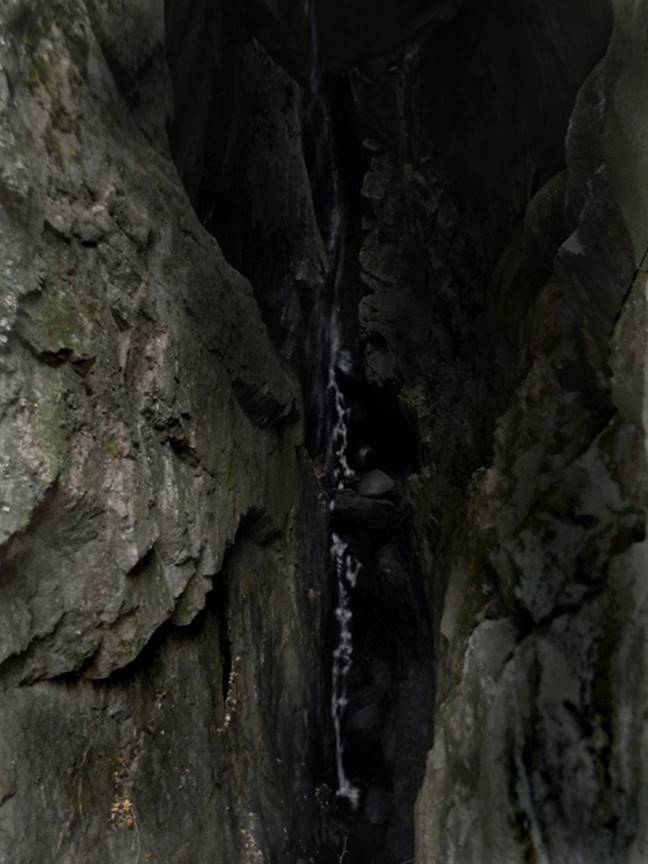 <![endif]>
Cavern Falls is roughly 100' high.  Cavern Falls Creek leaks down thru it's own creek-bed…… pouring it's water thru the earth and coming out below as a waterfall, thru the ceiling (where no hole exists) into the narrow and dark cavern below.  The upper half of Cavern Falls is a sheer, "free-fall" - filling the cavern with mist and loud reverberation of thrilling "falling-waters" sounds…!!!  The lower half of Cavern Falls is a dancing cascade, exiting the cavern down solid granite bedrock….!!!!
Wouldn't this 100-foot high granite monolith look beautiful with a white frothy waterfall leaping down it's bold and beautiful face….???  There is a waterfall here but it is hidden deep within that dark narrow crack.  The granite rock kisses at the mid-way point… closing off the middle and leaving an opening above as well as below… a natural bridge if you will.   Cavern Falls cascades out into the open, near the bottom of this dark crevasse. 
<![if !vml]>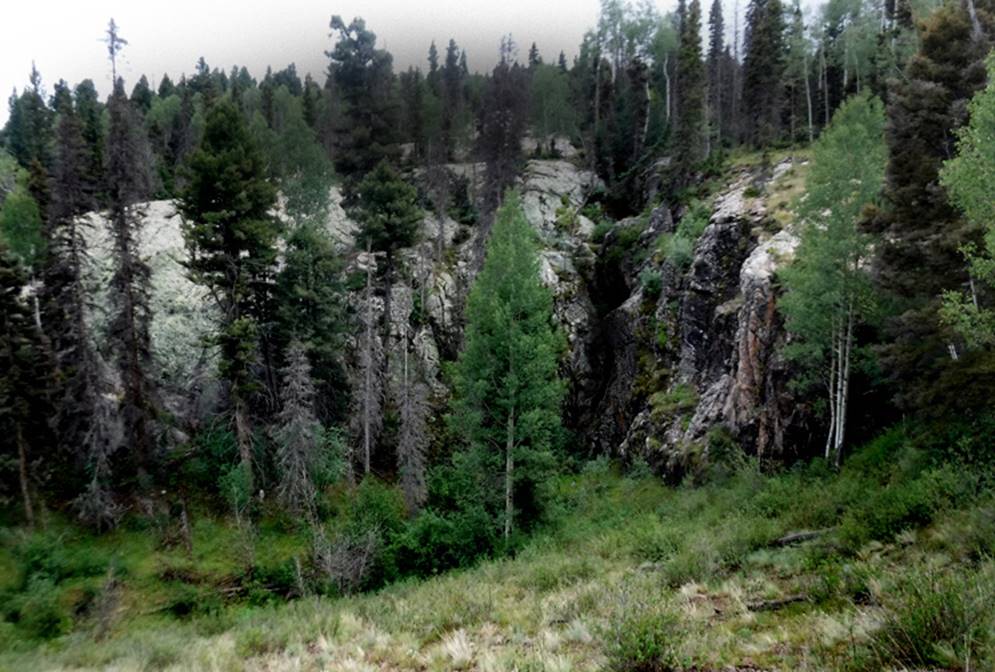 <![endif]> 
…the trees here are HUGE and healthy…
…the last little waterfall of the cascades…
<![if !vml]>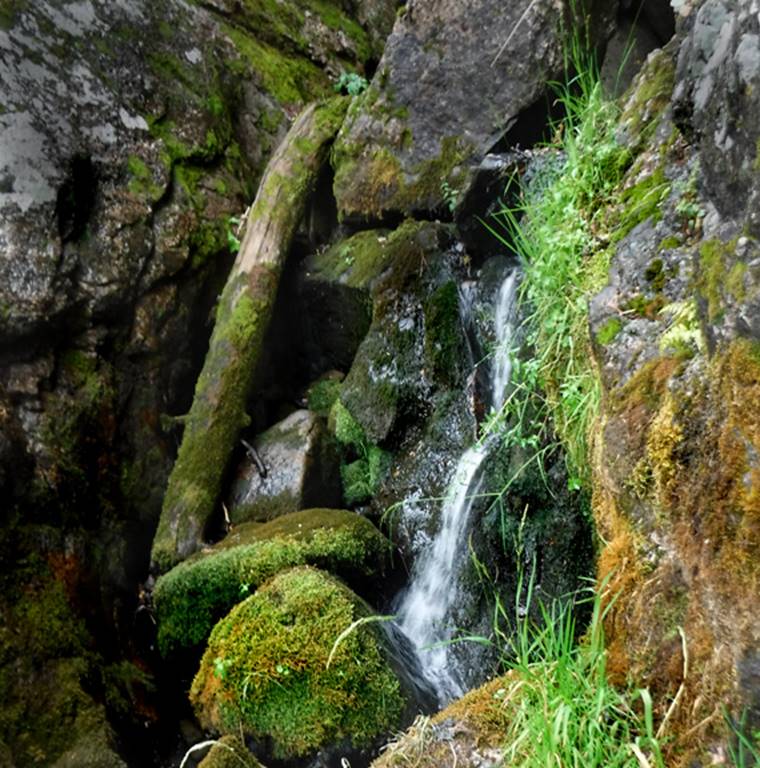 <![endif]>
beta facts:
name- Cavern Falls
height- 100 feet est. – upper half a sheer free-fall and the lower half is bedrock cascades
elevation- 9500'
GPS coordinates- ±36°55.830'N 106°18.530'W
flow- perennial
season- summer and fall
accommodations- Cruses Basin Wilderness Area
ownership- Carson National Forest
access- from Forest Road 87, drive FR 572 north for two miles to Osha Trailhead and follow the trails shown on the map below.  It's a 2-mile hike one way.
nearest town- Chama is about 17 miles west of here
fun fact- yes… it is a mildly dangerous place but beautiful and easy to get to… so enjoy and be careful…!!!
essay bro
I do not know why it took me sooooo long to discover Cavern Falls.  My waterfall radar messaged me… years ago… that there was a waterfall there.  But finally on August 18th of our year 2020 ….I finally mader in thar…!!!  -and this was exciting….!!!!  Now I cannot wait to visit her again during HIGH WATER…!!!  Like at snow-melt run-off time, during late May or early June.  These photos above were shot a few days ago and this year's rainy season is wimpy… very little rain has fallen this summer and this month of August, is New Mexico's rainiest month of the year…!!!!  However, this summer has been quite dry, which explains why there is so little water flowing in these photos above.
I discovered this wonderful waterfall from it's top side, after hiking Cavern Falls Creek Trail down from 35' high- Upper Beaver Creek Falls.  You can observe that route on our map below.  The trail veers around to the north of the falls on a smooth grassy hillside.  The water flow was low and the cascades were gentle enough, allowing me to climb up into the cavern from below.  This was exciting and amazing.
This photo below shows the start of Cavern Falls Canyon Trail at Beaver Creek.  Heading up Cavern Falls Canyon from Beaver Creek, the trail immediately climbs up this small hill with this sweet little aspen grove.  Cavern Falls is a quarter of a mile upstream from the Beaver Creek confluence.  Cavern Falls Canyon Trail runs the entire 2.5-mile length of Cavern Falls Canyon.  This is a good route to follow when hiking between Cavern Falls and 35' high- Upper Beaver Creek Falls (see map below).
<![if !vml]>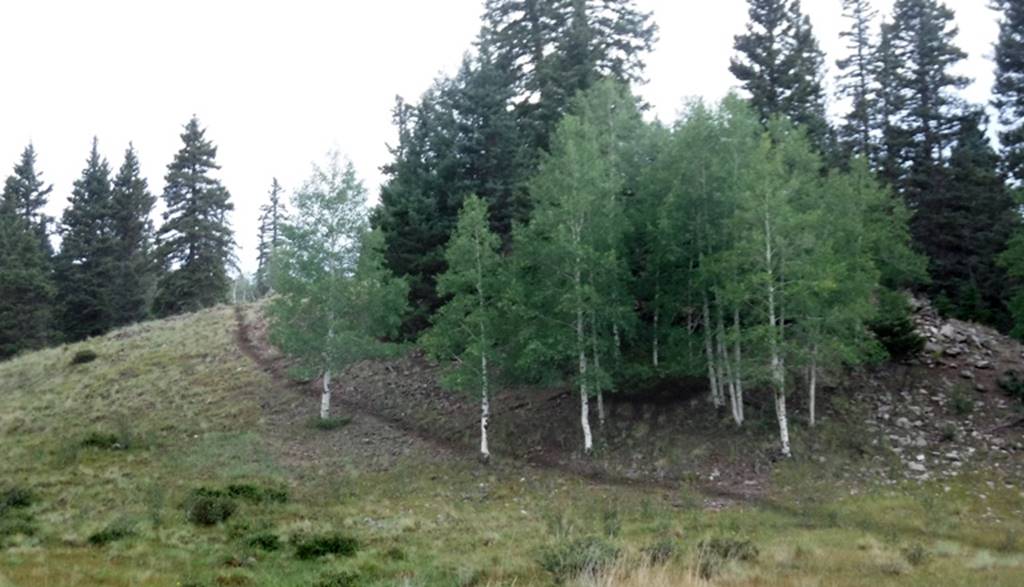 <![endif]> 
Right-click-save-as on our map below, to print your own "hand-held" copy for your hike
Enhanced USGS topo map
<![if !vml]>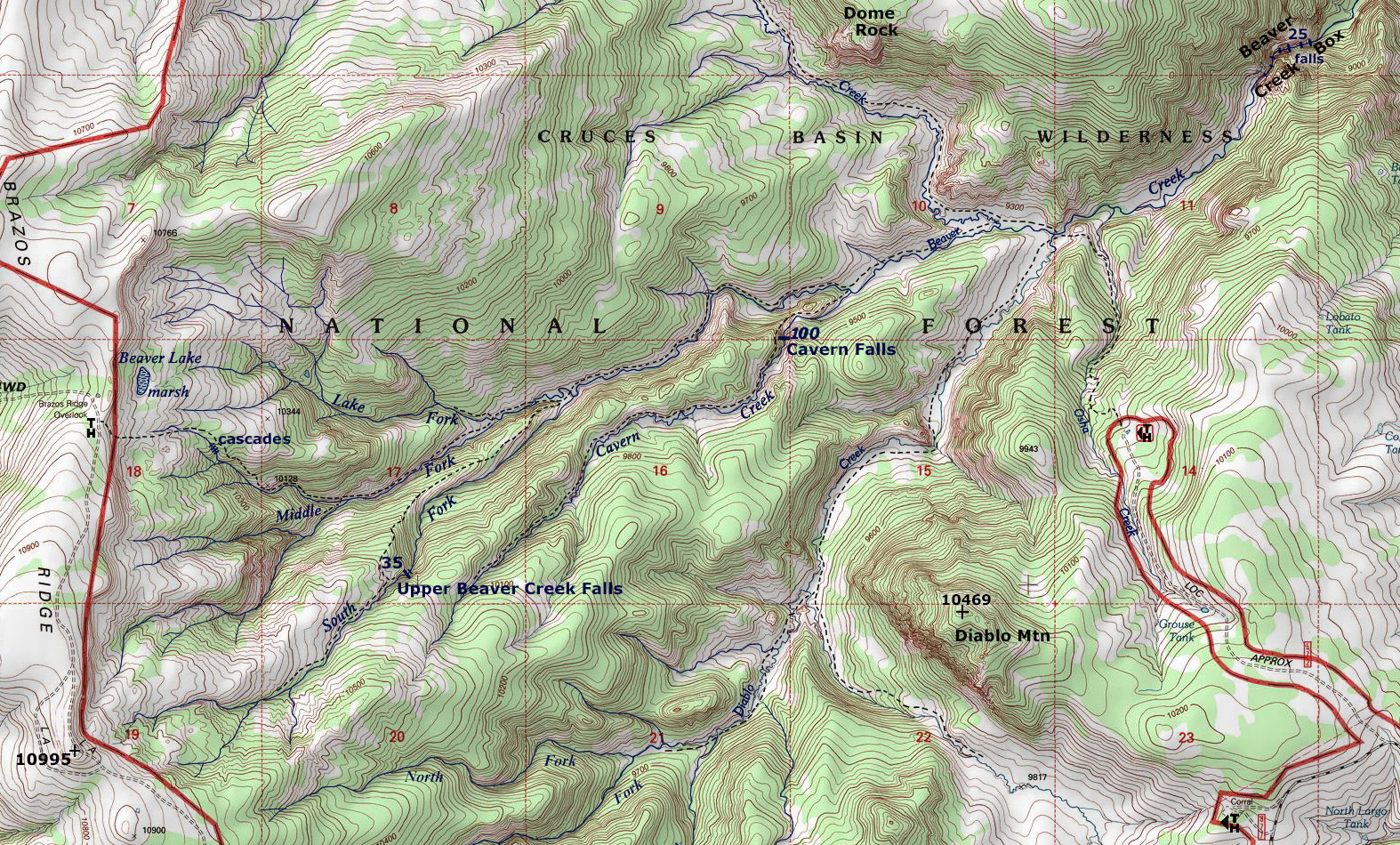 <![endif]>
Send questions and comments to dscott@themarblesculptor.com